25 Photos of Native American History
Updated on Nov 30, 2020. Originally added on Nov 21, 2017 by
Daniel Pinna
Before European explorers arrived in North America, scholars believe that there were upwards of 50 million Native Americans living across all of the Americas. Today, there are over 550 Federally recognized tribes existing in the United States alone.

These proud people have a fascinating history, and thanks to early photographers we have these photos today to remember their historic way of life.
Topics: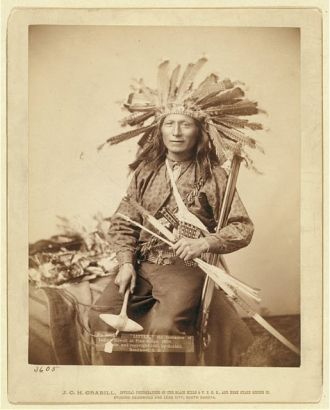 25 Photos of Native American History
Alaska Eskimo with toy kayak for his son
Sioux Lakota Native American "Little" who was a warrior at Wounded Knee
Shoshoni Indian tepee
"Bread" - a member of the Crow Nation
Hamasaka, a Kwakiutl chief, in Tluwulahu costume
Member of the council protesting against the change of names of mountains, lakes and rivers in the Glacier National Park
Washakie, Chief of Shoshones
Chief Red Cloud of the Oglala Lakota, taken 1898
Stands Hard - what an appropriate name!
When this photo was taken circa 1915 the photographer labelled this photo "Old Indian Witch Doctor"
Chief of the Shoshones circa 1900
Blackfoot tipi, 1927
Have photos that you'd like to see included? Share
your photos
, or discover more photos of Native Americans on the next page.
Back to Top