Loading...one moment please

The family of Fred and Mary Anne Trump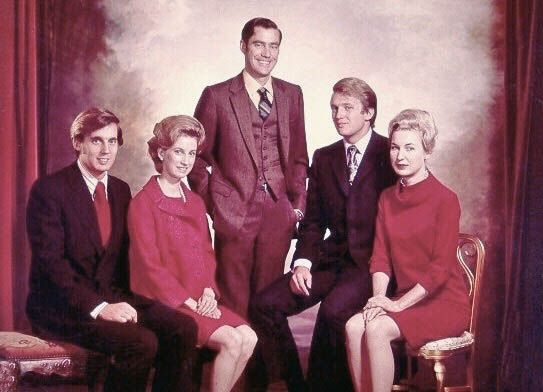 Fred and Mary Anne Trump went on to have 5 children - (left to right) Robert (formerly part of the Trump Organization), Elizabeth (a former employee of Chase Manhattan Bank), Freddy (who died in 1981 of alcoholism), Donald, and Maryanne (a Federal judge). Fred became a successful builder, building homes for middle-class families in Queens and more than 27,000 apartments in New York City. In 1954, he was investigated by the U.S. Senate for wartime profiteering in relation to contracts to build barracks and other public contracts.
Fred and son Donald in 1987
Manhattan, Central Park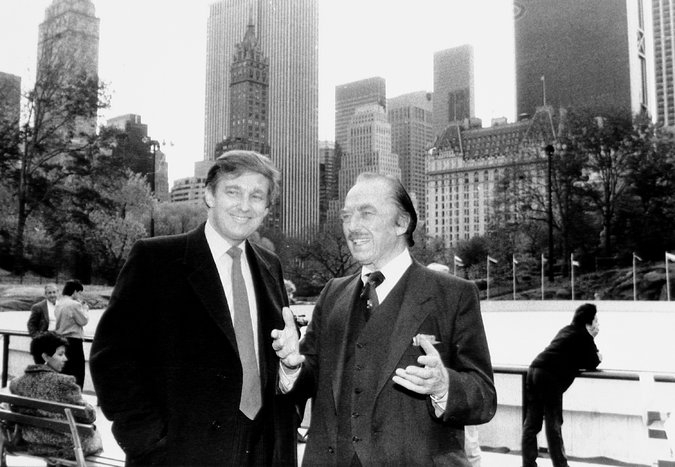 As a landlord, Fred Trump wasn't popular. In 1973, the Department of Justice filed a civil rights suit against the Trump Organization - the original Elisabeth Trump and Son company, renamed. By then, Donald was the President, Fred was the Chairman. They were sued for denying black applicants as renters. The Trump Organization sued back, but settled after two years. Fred was also Woodie Guthrie's landlord in Brooklyn for two years in the early 1950's. Later, Woodie wrote about it in these lyrics:

I suppose that Old Man Trump knows just how much racial hate
He stirred up in that bloodpot of human hearts
When he drawed that color line
Here at his Beach Haven family project

Beach Haven ain't my home!
No, I just can't pay this rent!
My money's down the drain,
And my soul is badly bent!
Beach Haven is Trump's Tower
Where no black folks come to roam,
No, no, Old Man Trump!
Old Beach Haven ain't my home!

Ironically Fred, fearing the anti-German prejudice that his father experienced, claimed he was Swedish for decades in order to curry acceptance with his Jewish residents. His son, Donald, repeated this claim - also for decades. Both of Fred's parents were born in Germany and their lineage can be traced back to Germany for several hundred years.
Fred, Mary Anne, and Donald Trump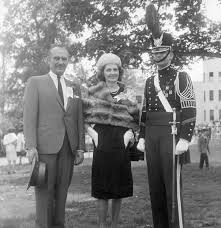 (photo taken at Donald's Military School)

Fred was concerned that Donald wasn't adequately disciplined - he was prone to pranks and acting out , neighbors accused him of bullying - so Donald was sent to military school. Like his German grandfather Frederick, however, Donald later evaded the draft - several times.
Donald and Ivana Trump Family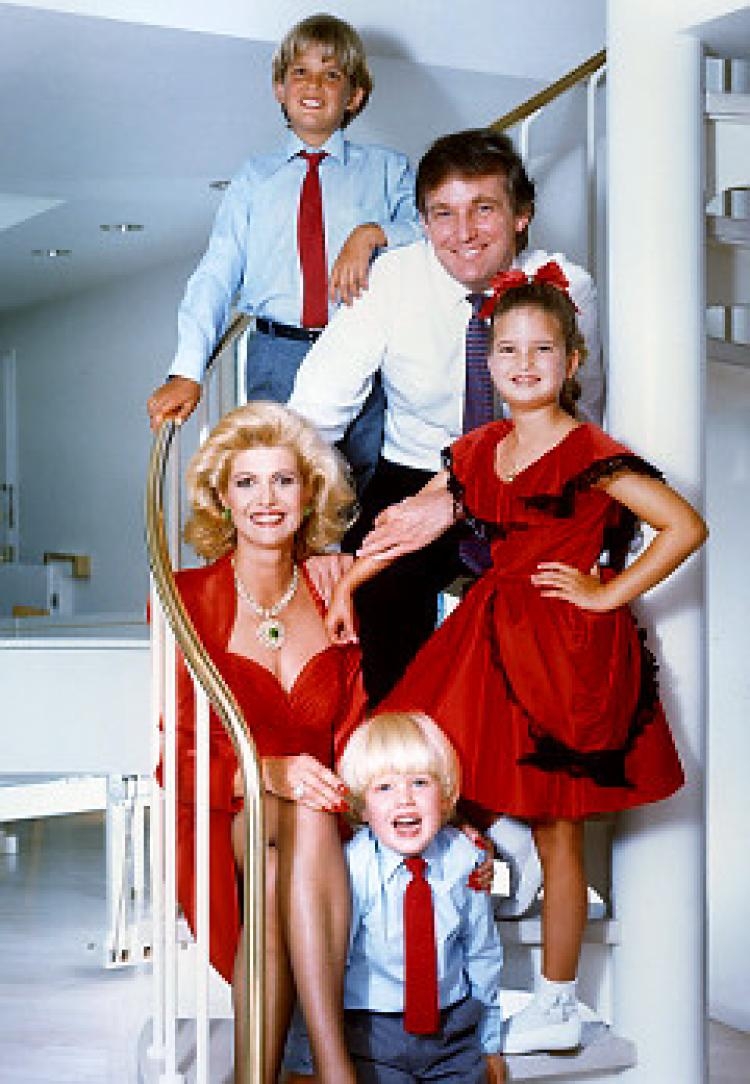 (1980's photo of Ivana, Donald, Donald Jr, Ivanka, and Eric)

The son and grandson of immigrants, Donald Trump has also married immigrants. His first wife, Ivana Marie Zelníčková, was born in Zlín, Czechoslovakia and became a U.S. citizen 11 years after she married Donald.
Donald and Marla Trump Family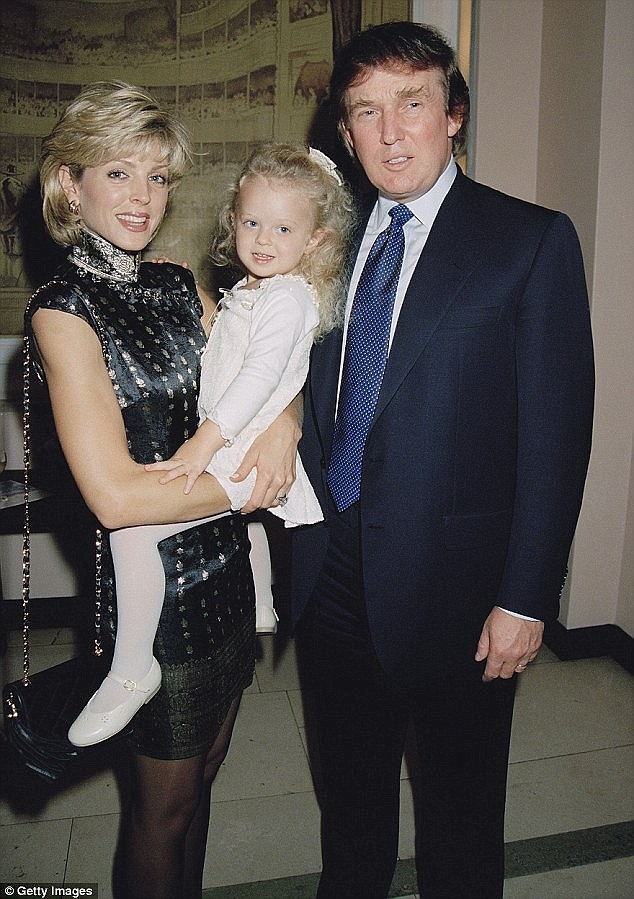 Donald's second wife was the only wife who wasn't an immigrant. Marla (Maples) Trump was born in Cohutta Georgia - making their daughter Tiffany Donald's only child to not be the child of an immigrant.
Donald and Melania Trump Family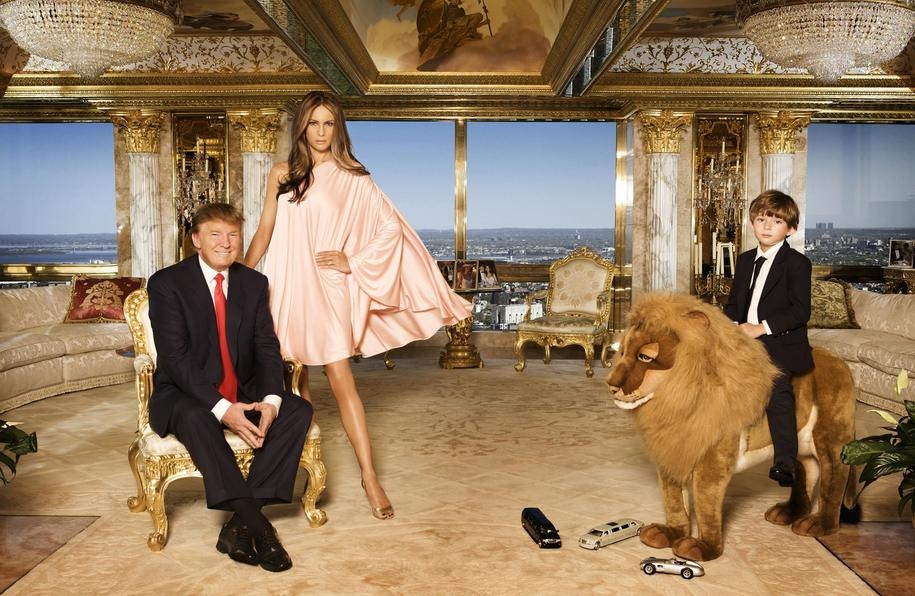 His third wife, Melanija (Knavs) Trump, was born in Novo Mesto in Slovenia in 1970. She became a permanent resident of the U.S. in 2001 and a citizen in 2006. She had married Donald in 2005.
The former President of the United States, Donald J. Trump, is the grandson
and
son of immigrants - and two of Donald's wives are immigrants to the U.S. Some would say that immigration is a strength that encourages innovation and creativity. Others would say that immigration is a competitive threat to the people who currently occupy the nation. Whatever your view, the family history of the Trumps illustrates how one immigrant family, starting with nothing - neither a profession nor the ability to speak English - can quickly make a name for themselves and influence the course of a nation.
Did you know?
Trump's paternal grandfather, Freidrich Trump, at the age of 16 in 1885 immigrated to the United States from Germany. He did not become a United States citizen until 7 years later. With the American dream ethos alive, Freidrich had an equal opportunity to achieve success and prosperity through hard work, determination, and initiative. He accumulated a fortune operating boom-town boarding houses and restaurants (bordellos) in Seattle and Canada.
A brief note about immigrants:
Most of us are immigrants to North America - even those who are now called "Native Americans". Current understanding is that humans originated in Africa and migrated through time to other continents. "Native Americans" are believed to have migrated over the Bering land bridge from Asia to Alaska around 10,000 to 15,000 years ago (or perhaps some migrated even earlier by boat from other areas of the world). So current thinking about immigration is based on the Eurocentric view of North America - that the continent was "discovered" by Europeans - and that the length of time a family has spent on the continent determines who is an immigrant.
Have photos that you'd like to see included? Share
your photos
or read about Presidential Scandals through the early 1900's on the next page.