Arthur Prysock
(1924 - 1997)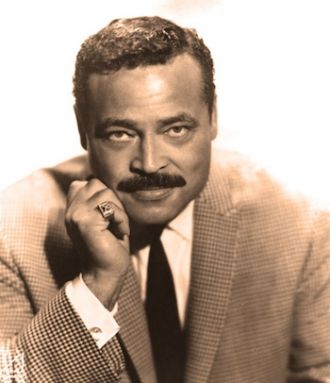 Summary
Arthur Prysock was born on January 1, 1924. He died on June 21, 1997 at age 73.
Updated: October 29, 2019
2 Followers
Arthur Prysock
Arthur Prysock
(1924 - 1997)
Arthur Prysock
Birth name Arthur Prysock Jr.
Born January 1, 1924
Spartanburg, South Carolina, United States
Died June 14, 1997 (aged 73)
Hamilton, Bermuda
Genres Jazz, R&B, easy listening, disco
Occupation(s) Singer
Instruments Vocals
Years active 1944–1990
Labels Decca, Old Town, Verve
Arthur Prysock Jr. (January 1, 1924 or 1929 – June 14, 1997) was an American jazz and R&B singer best known for his live shows and his baritone, influenced by Billy Eckstine. According to his New York Times obituary, "his heavy, deep voice projected a calm, reassuring virility."[6]

Prysock was born in Spartanburg, South Carolina. Many sources give his birth year as 1929, but researchers Bob Eagle and Eric LeBlanc state 1924 on the basis of official records. He moved to North Carolina as a young child, and then to Hartford, Connecticut to work in the aircraft industry during World War II, singing with small bands in the evenings. In 1944 bandleader Buddy Johnson signed him as a vocalist, and Prysock became a mainstay of the live performance circuits. Prysock sang on several of Johnson's hits on Decca Records including "They All Say I'm the Biggest Fool" (1946), "Jet My Love" (1947) and "I Wonder Where Our Love Has Gone" 1948), and later "Because" (1950).

In 1952 Prysock went solo. He signed with Decca, who marketed him as a younger rival to Billy Eckstine, and recorded the #5 R&B hit, "I Didn't Sleep a Wink Last Night", with Sy Oliver's orchestra. Over the years Prysock gained a reputation as an emotive balladeer and as one of the most popular acts on the chitlin' circuit. He recorded R&B classics such as Roy Brown's "Good Rocking Tonight". In the 1960s, Prysock joined Old Town Records and did an R&B cover of Ray Noble's ballad "The Very Thought of You" (1960) and a pop hit "It's Too Late Baby, It's Too Late" (1965). For Verve Records he recorded Arthur Prysock and Count Basie (12, 13, 14, 20 and 21 December 1965, at Van Gelder Studios, Englewood Cliffs, New Jersey), and A Working Man's Prayer (1968). He read verses from Walter Benton's book of poems against a jazz instrumental backdrop on his 1968 album, This is My Beloved.[10] Between 1960 and 1988, he released over 30 LPs. He also briefly had his own television show in the 1960s.

In the 1970s, Prysock mainly played cabaret engagements, but – responding to his teenage daughter's affection for the film Saturday Night Fever[8] – had a surprise disco hit with the Gamble and Huff song "When Love Is New" (Old Town, 1977). In 1985, he recorded his first new album in almost a decade, A Rockin' Good Way (Milestone). He gained further attention for his tender, soulful singing on a beer commercial, "Tonight, tonight, let it be Löwenbräu." The selection whose lyrics were revised for the Löwenbräu Beer jingle was originally titled "Here's To Good Friends."[citation needed] In 1987 he received a Grammy nomination for "Teach Me Tonight," a duet with Betty Joplin, and the following year received another nomination for This Guy's in Love With You. His brother, Wilbur "Red" Prysock, was a noted tenor sax player who appeared on many of Arthur's later records.

Prysock received a Pioneer Award from the Rhythm and Blues Foundation in 1995. In later years he lived in Bermuda. He died after several years' illness from an aneurysm at King Edward Hospital, Hamilton, Bermuda, in 1997.

Discography
Chart singles
Year Single Chart Positions
US Pop US
R&B
1946 "They All Say I'm the Biggest Fool"
with Buddy Johnson Orchestra - 5
1950 "Because"
with Buddy Johnson Orchestra - 8
1952 "I Didn't Sleep a Wink Last Night" - 5
1960 "The Very Thought of You" - 19
1961 "One More Time" - 30
1965 "It's Too Late, Baby Too Late" 56 11
1968 "A Working Man's Prayer" 74 -
1973 "In the Rain" - 36
1976 "When Love Is New" 64 10
1977 "I Wantcha Baby" - 43
"You Can Do It" - 33
Albums
I Worry About You (Old Town LP-102, 1960)
Arthur Prysock Sings Only For You (Old Town LP-2004, 1962)
Coast To Coast (Old Town LP-2005, 1963)
A Portrait of Arthur Prysock (Old Town LP-2006, 1963; reissue: Verve V6-5012, 1967)
Everlasting Songs For Everlasting Lovers (Old Town LP-2007, 1964)
Intimately Yours (Old Town LP-2008, 1964)
A Double Header With Arthur Prysock (Old Town LP-2009, 1965)
In A Mood With Arthur Prysock (Old Town LP-2010, 1965)
Strictly Sentimental (Decca DL-4581, 1965) compilation of material recorded 1951–1953.
Arthur Prysock Showcase: Songs That Made Him Famous (Decca DL-4628, 1965) compilation of early material featuring Buddy Johnson and His Orchestra.
Arthur Prysock and Count Basie (Verve V6-8646, 1965 [rel. 1966])
Mr. Arthur Prysock and Guest (Old Town LP-2011, 1966) 3 tracks with Count Basie, plus 8 tracks released on singles.
Art & Soul (Verve V6-5009, 1966)
Mister Prysock (Verve V6-5014, 1967) reissue of Sings Only For You, plus 2 tracks from Intimately Yours.
Love Me (Verve V6-5029, 1967)
To Love Or Not To Love (Verve V6-5048, 1968)
I Must Be Doing Something Right (Verve V6-5059, 1968)
This Is My Beloved (Verve V6-5070, 1968 [rel. 1969])
Funny Thing (MGM SE-4694, 1968 [rel. 1970])
The Country Side of Arthur Prysock (King KSD-1064, 1969)
Where The Soul Trees Grow (King KSD-1066, 1969)
The Lord Is My Shepherd (King KSD-1067, 1969)
Fly My Love (King KSD-1088, 1970)
Unforgettable (King KSD-1134, 1971)
Arthur Prysock '74 (Old Town 12-001, 1973)
Love Makes It Right (Old Town 12-002, 1974)
All My Life (Old Town 12-004, 1976)
Does It Again (Old Town 12-005, 1977)
Here's To Good Friends (MCA 3061, 1978)
A Rockin' Good Way (Milestone 9139, 1985)
This Guy's In Love With You (Milestone 9146, 1986)
Today's Love Songs, Tomorrow's Blues (Milestone 9157, 1988)
Share your memories, family stories, & photos so that Arthur is always remembered.
Photos and snapshots taken of Arthur Prysock, his Prysock family, and locations and places or events from his life.
Share Arthur's obituary or write your own to preserve his legacy.
In the early 1950s, many Americans thought that Arthur Prysock's soothing baritone might match Billy Eckstine's in popularity, but the rock'n'roll era effectively crushed both careers. Despite many satisfying records, Prysock never fulfilled his potential and, in particular, his work is little known in the United Kingdom.
He was born in 1929 in Spartanburg, South Carolina. His brother, Wilbert, born three years earlier, learnt many instruments whilst on military service in the Second World War and later established himself as the saxophonist Red Prysock. Arthur also left home during the war years and worked repairing cars in Hertford, Connecticut. However, he soon discovered his vocal talent and began to rehearse with a pianist. He left his regular employment when a club-owner offered him $3 a night.
In 1945, Buddy Johnson and his Walk 'Em Rhythm Orchestra visited Connecticut, but their resident male vocalist was sick. Johnson heard Prysock sing and immediately offered him a job. He was a member of the band for eight years, singing on several of their successful records for the US Decca label - "They Say I'm The Biggest Fool" (1945), "Jet My Love" (1947), "I Wonder Where Our Love Has Gone" (1948) and "Because" (1950).
When Johnson left Decca in 1952, Prysock remained as a solo artist. As a nod to his old friend, Johnson's greatest composition, the searing ballad "Since I Fell For You", was always part of his repertoire. His new career began well as he reached No 5 on the rhythm and blues charts with "I Didn't Sleep a Wink Last Night". But he never did as well again. His versions of "It's No Sin" and "Wheel of Fortune" were released in the UK, but the spoils went elsewhere.
By going solo, Prysock hoped to challenge Billy Eckstine as the leading black ballad singer of the day. Like Eckstine, he possessed a commanding baritone but he failed to establish his own individuality through new, well-crafted material. Eckstine was sophisticated, while one of Prysock's singles was called "Oho-Oh-Yeh!" Indeed he sometimes covered Eckstine's hits, which was scarcely a wise move. Nevertheless, readers of the Pittsburgh Courier voted him the Best Male Singer of 1953 ahead of such luminaries as Nat "King" Cole and Johnnie Ray.
Although Prysock recorded "Good Rockin' Tonight" and "I Just Want To Make Love To You", he did not want to change his style to fall in with the popularity of rock'n'roll music. On the other hand, his brother, Red, recorded a classic, honking sax album Rock'n'Roll. From time to time, he worked with Red in shows billed as "The Sax and the Voice".
Prysock still had his moments and a revival of the standard "The Very Thought of You" was reasonably successful in 1960, as was "I Worry About You" two years later. He moved to Old Town Records and recorded several romantic albums, including Arthur Prysock Sings Only For You (1961), Coast To Coast (1962), Everlasting Songs for Everlasting Lovers and Intimately Yours (both 1964).
In 1964, Prysock signed with the famed jazz label Verve, and made the best records of his career including Art and Soul (1966), I Must Be Doing Something Right and This Is My Beloved (both 1968). During this period, he also appeared at Carnegie Hall and hosted his own television show. He was teamed with Count Basie, notably for the album Arthur Prysock/Count Basie (1965), which featured seven saxophonists, but Basie does not even mention Prysock in his autobiography.
Prysock's deep voice was well suited to commercials and his series for Lowenbrau beer was well-known in America. He also made the charts with a narration, "A Working Man's Prayer" (1968), written by the country singer Ed Bruce. As with many black vocalists, Prysock made a country album: Today, I Started Loving You Again (1979).
By the 1970s, Prysock was playing cabaret and club engagements around America. In 1976, prompted by his 14-year-old daughter Janine's enthusiasm for the film Saturday Night Fever, he cut a disco album with Billy Paul's producer, John Davis, and the Monster Orchestra called When Love Is New. The title track was a Top Ten R&B single and was followed by "I Wantcha Baby" and "You Can Do It".
He returned to cabaret work, and subsequently received critical acclaim for two albums that were more in keeping with his personality, A Rockin' Good Way (1985) and This Guy's In Love With You (1986).
Arthur Prysock has left a legacy of around 500 recordings. Very few have been released on CD - nothing in the UK - and those that have are usually on compilation albums. They are waiting to be rediscovered. The first moves were made by Michael Parkinson in his Sunday Supplement on BBC Radio 2. He has been featuring Prysock in past months and no doubt record buyers are looking for his work in the stores. If a complete collection were to be reissued, it could be filed variously under Jazz, Blues, Easy Listening and even Country with CDs also being filed in the pockets for Count Basie and Buddy Johnson.
Spencer Leigh
Arthur Prysock, singer: born Spartanburg, South Carolina 2 January 1929; died Hamilton, Bermuda 21 June 1997.
Source(s):
Social Security Death Index
Refresh this page to see various historical events that occurred during Arthur's lifetime.
In 1924, in the year that Arthur Prysock was born, Macy's department store in New York held its first "Thanksgiving parade" on November 27th at 9a - during church services but leaving plenty of time to attend the big football game between Syracuse and Columbia universities. The parade was held as a way to promote the opening of the "World's Largest Store" and its 1 million square feet of retail space in Manhattan's Herald Square. The parade was 6 miles long and included floats, Macy's employees dressed as clowns, cowboys, and sword-wielding knights, and animals from Central Park Zoo. Santa Claus, of course, brought up the rear - opening the Christmas shopping season for Macy's.
In 1969, he was 45 years old when in August, a previously planned small concert turned into a (free) more than 400,000 strong gathering of attendees and bands at Max Yasgur's farm in upstate New York - now called Woodstock. Just some of the 32 acts: Richie Havens, Joe Cocker, Janis Joplin, Jimi Hendrix, The Who, Joan Baez, Crosby, Stills, Nash and Young, Jefferson Airplane, Country Joe, Santana, The Band, and Sly and the Family Stone.
In 1973, when he was 49 years old, in October, Vice President Spiro Agnew resigned - President Nixon nominated Gerald Ford for Vice President. Nixon's tax returns came under investigation. Nixon offered the recently discovered Oval Office tapes be heard by one person and summarized - his offer was rejected by the Special Prosecutor. Nixon ordered the Attorney General, then the assistant Attorney General, to fire the Special Prosecutor. Both refused and were fired. The Solicitor General became the acting Attorney General and fired the Special Prosecutor (the Saturday Night Massacre). Nixon releases some of the tapes, under extreme pressure because of the firings.
In 1987, he was 63 years old when on October 19th, stock exchanges around the world crashed. Beginning in Hong Kong then spreading to Europe, the crash then hit the United States. It was called Black Monday. The Dow Jones fell 508 points to 1,738.74 (22.61%).
In 1997, in the year of Arthur Prysock's passing, on August 31st, Princess Diana of Great Britain was killed when her car crashed into a pillar in the tunnel under the Pont de l'Alma bridge in Paris. The car she was riding in was trying to evade the paparazzi but it was also discovered later that the driver of the car, who was also killed, had three times the legal limit of alcohol which likely contributed to the accident.
"Thank you for helping me find my family & friends again so many years after I lost them. I get the chance to remember them all this time later."

Highlights of just a few of the many successes of sharing memories on AncientFaces. From reuniting lost or 'orphan' photos with their families, seeing faces of relatives for the first time, to the many connections made with family & friends.

These special moments are why it's important we share.
Back to Top