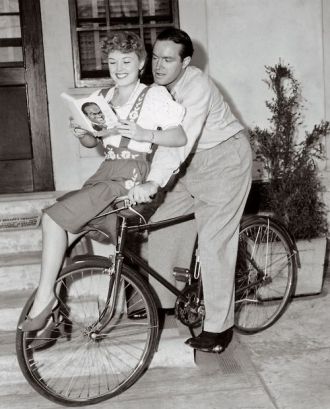 Actor Bob Hope, born as Leslie Townes Hope, was known for his roles in vaudeville, Broadway, radio, television, and movies. He was also a very successful singer and dancer, his work appearing in the very famous, Oscar-winning "Buttons and Bows". Actress Phyllis Ruth was known for her roles in "Let's Face it" and "Louisiana Purchase".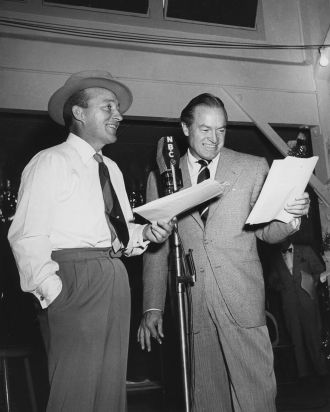 Bing Crosby and Bob Hope partnered many times over their careers, probably most notably in the "Road" movies with Dorothy Lamour. (There were seven Road movies, such as Road to Zanzibar and Road to Morocco.) They also appeared together on stage, radio, and television. Here, they are doing a 1945 radio appearance for NBC - it looks like they're fooling around as they always did! Photo courtesy of SMU.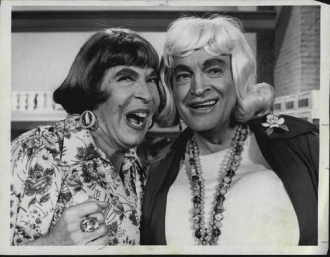 A photo of Milton Berle and Bob Hope in drag.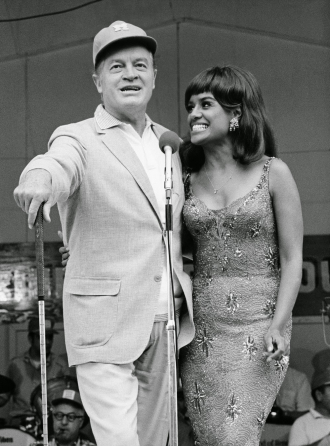 A photo of Barbara Mcnair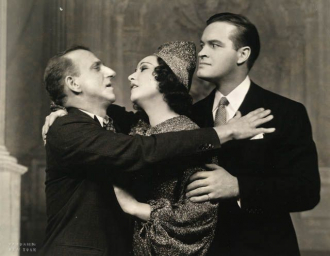 A photo of Jimmy Durante with Bob Hope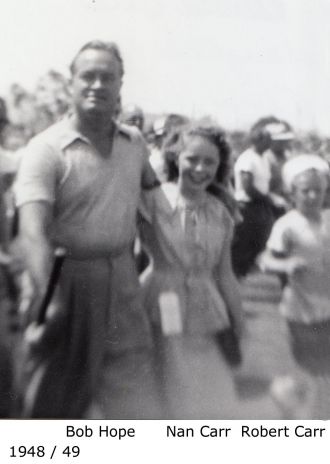 A photo of Bob Hope with Nan and Bob Carr. Two of Robert F. and Eloise M. Carr's Children - Nan and Robert Carr, with Bob Hope at one of the golf tournaments in California. 1948 - 1949.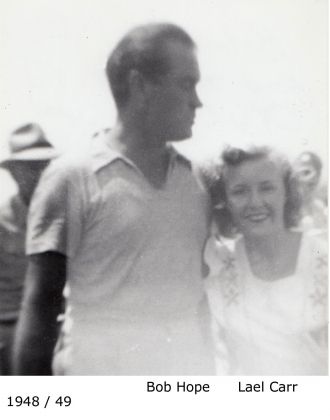 A photo of Lael Carr with Bob Hope. Robert F. Carr was what our family called a Golf Pro, he played in many tournaments as well as taught Golf in California. All of his children played golf too. This was one of the tournaments that Bob Hope was also playing in. Lael is one of Eloise M. and Robert F. Carr's daughters. I am not sure, but this may have been in Long Beach or Palm Springs, California around 1948 - 49.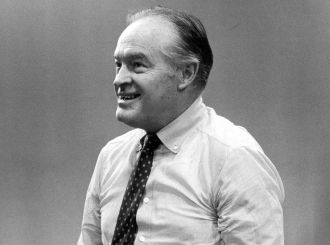 Bob Hope (born Leslie Townes Hope) was an actor, singer (kind of!), comedian, friend of Presidents, perennial host of the Academy Awards, and entertainer of the troops for decades. Actually, you name it, he did it. He was also a golfer and sponsored his own tournament. (As did his movie partner, Bing Crosby). If you were in the military from WW II on, you probably saw a Bob Hope show in the field of combat. He always took beautiful (female) stars with him to thrill the troops. He appeared in and/or hosted at least 199 shows. He and his family emigrated from England to the U.S. in 1908 but he certainly became known as the ultimate American. Emilio Grossi photography.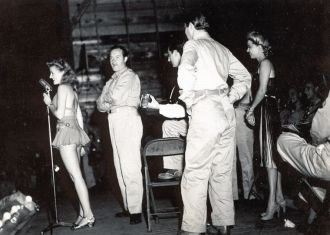 This is Bob Hope's USO unit, and Frances Langford is standing off to the right. But who is at the mic?
People in this photo: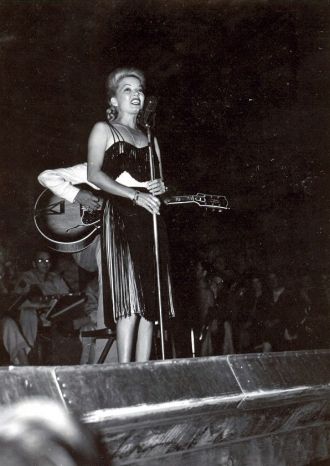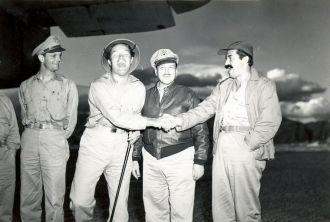 The man laughing hard is Bob Hope. I believe the gentleman with the mustache was a trombone player, and I don't know who the others are.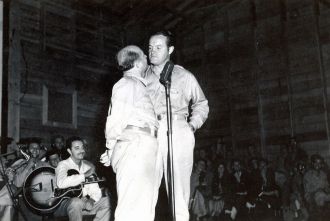 This is Bob Hope and an unidentified individual during a USO Camp Show performance.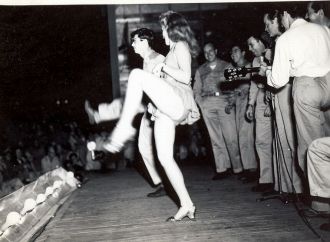 This is a picture taken from the side of the stage during a USO performance. In the background, the 3rd man from the right, the one holding the microphone, is Bob Hope.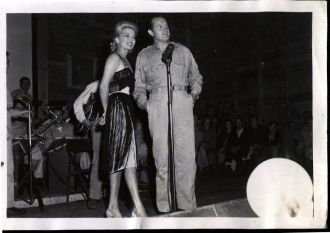 This is a picture of Bob Hope and and Frances Langford performing at a USO event overseas, most liking during the Korean War.

Back to Top