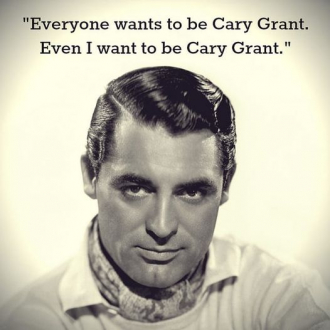 Add photo
Born
January 18, 1904
Horfield, Bristol County, United Kingdom
Death
November 29, 1986
Davenport, Iowa USA
Other Names
Archibald Alexander Leach, Cary Grant
Summary
Cary Grant was born on January 18, 1904 in Horfield, United Kingdom. He was born to
Elias James Leach
and
Elsie Maria Leach
. According to his
family tree
, Cary was father to 1 child. He married
Dyan Cannon
. They were married until Cary's death in 1986. They gave birth to
Jennifer Diane Grant
. He died on November 29, 1986 in Davenport, Iowa USA at 82 years old. We know that Cary Grant had been residing in Beverly Hills, Los Angeles County, California 90210.
6 Followers
Cary Grant
Cary Grant
(1904 - 1986)
Came into the world as Archibald Leach. Cary Grant.
Born January 18, 1904 in Horfield, Bristol, England, UK
Died November 29, 1986 in Davenport, Iowa, USA (cerebral hemorrhage)
Birth Name Archibald Alec Leach
Height 6' 1½" (1.87 m)

Once told by an interviewer, "Everybody would like to be Cary Grant," Grant is said to have replied, "So would I."

Cary Grant was born Archibald Alexander Leach on January 18, 1904 in Horfield, Bristol, England, to Elsie Maria (Kingdon) and Elias James Leach, who worked in a factory. His early years in Bristol would have been an ordinary lower-middle-class childhood, except for one extraordinary event. At age nine, he came home from school one day and was told his mother had gone off to a seaside resort. However, the real truth was that she had been placed in a mental institution, where she would remain for years, and he was never told about it (he would not see his mother again until he was in his late 20s).

He left school at age 14, lying about his age and forging his father's signature on a letter to join Bob Pender's troupe of knockabout comedians. He learned pantomime as well as acrobatics as he toured with the Pender troupe in the English provinces, picked up a Cockney accent in the music halls in London, and then in July 1920, was one of the eight Pender boys selected to go to the United States. Their show on Broadway, "Good Times", ran for 456 performances, giving Grant time to acclimatize. He would stay in America. Mae West wanted Grant for She Done Him Wrong (1933) because she saw his combination of virility, sexuality and the aura and bearing of a gentleman. Grant was young enough to begin the new career of fatherhood when he stopped making movies at age 62.

One biographer said Grant was alienated by the new realism in the film industry. In the 1950s and early 1960s, he had invented a man-of-the-world persona and a style - "high comedy with polished words". In To Catch a Thief (1955), he and Grace Kelly were allowed to improvise some of the dialogue. They knew what the director, Alfred Hitchcock, wanted to do with a scene, they rehearsed it, put in some clever double entendres that got past the censors, and then the scene was filmed. His biggest box-office success was another Hitchcock 1950s film, North by Northwest (1959) made with Eva Marie Saint since Kelly was by that time Princess of Monaco.

Although Grant retired from the screen, he remained active. He accepted a position on the board of directors at Faberge. By all accounts this position was not honorary, as some had assumed. Grant regularly attended meetings and traveled internationally to support them. The position also permitted use of a private plane, which Grant could use to fly to see his daughter wherever her mother Dyan Cannon, was working. He later joined the boards of Hollywood Park, the Academy of Magical Arts (The Magic Castle - Hollywood, California), Western Airlines (acquired by Delta Airlines in 1987) and MGM.

Grant expressed no interest in making a career comeback. He was in good health until almost the end of his life, when he suffered a mild stroke in October 1984. In his last years, he undertook tours of the United States in a one-man-show, "A Conversation with Cary Grant", in which he would show clips from his films and answer audience questions. On November 29, 1986, Cary Grant died at age 82 of a cerebral hemorrhage in Davenport, Iowa.

In 1999, the American Film Institute named Grant the second male star of Golden Age of Hollywood cinema (after Humphrey Bogart). Grant was known for comedic and dramatic roles; his best-known films include Bringing Up Baby (1938), The Philadelphia Story (1940), His Girl Friday (1940), Arsenic and Old Lace (1944), Notorious (1946), An Affair to Remember (1957), North by Northwest (1959) and Charade (1963).
- IMDb Mini Biography By: Dale O'Connor

Spouse (5)
Barbara Harris (11 April 1981 - 29 November 1986) ( his death)
Dyan Cannon (22 July 1965 - 21 March 1968) ( divorced) ( 1 child)
Betsy Drake (25 December 1949 - 13 August 1962) ( divorced)
Barbara Hutton (8 July 1942 - 30 August 1945) ( divorced)
Virginia Cherrill (9 February 1934 - 26 March 1935) ( divorced)
Share your memories, stories, and photos so that Cary is always remembered.
What's this?
Biography
Archibald Alexander Leach, Cary Grant
Beverly Hills, Los Angeles County, California 90210
Cary Grant was born on in Horfield, Bristol County, United Kingdom
Cary Grant died on in Davenport, Iowa USA
Cary Grant was born on in Horfield, Bristol County, United Kingdom
Cary Grant died on in Davenport, Iowa USA
Heritage
Ethnicity & Lineage
English.
Nationality & Locations
England. U.S.
Childhood
Education
Merry Old England.
Baptism
Adulthood
Professions
Trade Mark (5)
Mid-Atlantic accent
Often played a handsome bachelor
Roles in romantic comedies
Chin dimple
Often played characters who were much younger than his actual age.
Trivia (152)
In October 1997 he was ranked #7 in "Empire" (UK) magazine's "The Top 100 Movie Stars of All Time" list.
Became a father for the first time at age of 62 when his fourth wife Dyan Cannon gave birth to their daughter Jennifer Diane Grant (aka Jennifer Grant) on February 26, 1966.
Ian Fleming modeled the James Bond character partially with Grant in mind.
Suffered a major stroke prior to performing in his one-man show "An Evening with Cary Grant" at the Adler Theater in Davenport, Iowa on November 29, 1986. Passed away later that night at St. Luke's Hospital at 11:22 p.m., almost two months away from what would have been his 83rd birthday on January 18, 1987.
From 1932-44 he shared a house with Randolph Scott, whom he met on Hot Saturday (1932). Scott often jokingly referred to Grant as his spouse. The 1940 census report shows Scott as head of household and Grant as his partner. Many studio heads threatened not to employ them together, unless they lived separately. Grant's marriage to Barbara Hutton permanently dissolved his living arrangement with Scott.
Cary Grant passed away on November 29, 1986, almost two months away from what would have been his 83rd birthday on January 18, 1987.
He gave his entire fee for The Philadelphia Story (1940) to the British war effort.
He once phoned hotel mogul Conrad Hilton in Istanbul, Turkey, to find out why his breakfast order at the Plaza Hotel, which called for muffins, came with only 1-1/2 English muffins instead of two. When he insisted that the explanation (a hotel efficiency report had found that most people ate only three of the four halves brought to them) still resulted in his being cheated out of a half, the Plaza Hotel changed its policy and began serving two complete muffins with breakfast. From then on, he often spoke of forming an English Muffin-Lovers Society, members of which would be required to report any hotel or restaurant that listed muffins on the menu and then served fewer than two.
Turned down the role of James Bond in Dr. No (1962), believing himself to be too old at age 58 to play the hero. The role went to Sean Connery instead.
In 1995 he was chosen by "Empire" (UK) magazine as one of the 100 Sexiest Stars in film history (#22).
Donated his entire salary for Arsenic and Old Lace (1944) ($100,000) to the U.S. War Relief Fund.
He never said "Judy, Judy, Judy" in the movies, which he credits to Larry Storch, but he did say "Susan, Susan, Susan" in Bringing Up Baby (1938).
Was a great fan of Elvis Presley and attended his Las Vegas shows. He is seen discussing Elvis' performance with him backstage during the closing credits of Elvis: That's the Way It Is (1970).
On American Film Institute's list of top 100 U.S. love stories, compiled in June 2002, Grant led all actors with six of his films on the list. His An Affair to Remember (1957) was ranked #5; followed by: #44 The Philadelphia Story (1940) #46 To Catch a Thief (1955) #51 Bringing Up Baby (1938) #77 The Awful Truth (1937) #86 Notorious (1946)
Pictured on a 37¢ USA commemorative postage stamp in the Legends of Hollywood series, issued 15 October 2002.
He was originally supposed to play Humphrey Bogart's role in, Sabrina (1954), but turned it down, supposedly because he did not want to carry an umbrella onscreen.
Although he became a Paramount Pictures contract player early in his film career, when the contract was up he made an unusual decision for the time: he decided to freelance. Because his films were so successful at the box office, he was able to work at any studio he chose for the majority of his career.
Biography in: "Who's Who in Comedy" by Ronald L. Smith, pg. 191-193. New York: Facts on File, 1992. ISBN 0816023387
Thanks mainly to the strength and physical dexterity he gained as an acrobat when he was young, he did a majority of his own stunts during his film career (far more than people would think).
Douglas Fairbanks was his boyhood idol, with Fairbanks' "healthy" tan being the inspiration for Grant's constantly dark skin.
He remained close to Barbara Hutton's son Lance Reventlow after their divorce. The boy regularly stayed with Grant on some weekends. Grant referred to him as his son, was devastated when he died in a plane crash and helped Barbara with the funeral arrangements.
People were surprised by his retirement in 1966 and, despite the attempts of directors as important as Howard Hawks, Billy Wilder, and even Stanley Kubrick to get him out of retirement and into their films, he never worked again.
Paramount Pictures named him Cary Grant when he began his film career, because of the similarity of the name to Gary Cooper, their biggest male star (C.G. being an inversion of G.C.) and possibly because Clark Gable had the same initials. Gable and Cooper were born with their last names, however, with Grant having been born Archibald Leach.
Named the #2 Greatest Actor on The Greatest Screen Legends list by the American Film Institute.
According to his will (dated November 26, 1984), his body was to be cremated and no funeral service held. His ashes were scattered in the Pacific Ocean.
He was voted the sixth Greatest Movie Star of all time by "Entertainment Weekly".
The late Christopher Reeve said that he based his portrayal of Clark Kent in the "Superman" films on Grant in the early part of his career.
In His Girl Friday (1940), his character remarks, "Archie Leach said that", a reference to his real name.
Was hyperopic or "far-sighted". That is why in many publicity stills, he is seen holding a pair of glasses.
John Cleese's character in A Fish Called Wanda (1988) was named "Archie Leach" after Grant's real name.
Was largely self-educated, as he had dropped out of school at age 14. However, he was a voracious reader throughout his life.
Personal Life
Actor, Stilt Walker
Average Age
Cary Grant lived 14 years longer than the average Grant family member when he died at the age of 82.
Life Expectancy
The average age of a Grant family member is 68.
Looking for a different Cary Grant?
View other bios of people named
Cary Grant
Relationships
+ Add
Dyan Cannon
&
Cary Grant
Cause of Separation:
Cary's Death
Friends
Friends can be as close as family. Add Cary's family friends, and his friends from childhood through adulthood.
Photos and snapshots taken of Cary Grant, his Grant family, and locations and places or events from his life.
Share Cary's obituary or write your own to preserve his legacy.
Cary Grant, the dashing former acrobat whose gift for sophisticated comedy made him one of Hollywood's greatest stars, died of a stroke late Saturday night in Davenport, Iowa, where he had been scheduled to appear in a fund-raising event. He was 82 years old and lived in Beverly Hills, Calif.
Devastatingly handsome, practically imperturbable and as elegant as a Cole Porter lyric, Mr. Grant was a beloved figure in American film for over 30 years. From his first leading role in ''She Done Him Wrong'' (1933) - it was to Mr. Grant that Mae West uttered the famous, oft-misquoted line ''Why don't you come up sometime and see me?'' - through his last film, ''Walk Don't Run'' (1966), he seemed an ageless personification of debonair grace.
Mr. Grant made 72 films, including ''Sylvia Scarlett'' (1936), ''Topper'' (1937), ''Bringing Up Baby'' (1938), ''Holiday'' (1938), ''Gunga Din'' (1939), ''Only Angels Have Wings'' (1939), ''His Girl Friday'' (1940), ''The Philadelphia Story'' (1941), ''Arsenic and Old Lace'' (1944), ''Night and Day'' (1946), ''Notorious'' (1946), ''I Was a Male War Bride'' (1949), ''To Catch a Thief'' (1955), ''An Affair to Remember'' (1957), ''North by Northwest'' (1959), ''That Touch of Mink'' (1962) and ''Charade'' (1963).
Although he was twice nominated for an Academy Award - for his portrayal of a star-crossed newspaperman in ''Penny Serenade'' (1941) and for his impersonation of a London street tough in the 1944 film ''None but the Lonely Heart'' - it was not until 1970, after his career was over, that he received a special Oscar, inscribed ''to Cary Grant, for his unique mastery of the art of film acting.''
On screen, Mr. Grant seemed a born aristocrat. In fact, he grew up as plain Archie Leach, the only surviving child of a garment industry employee in the noisy British port of Bristol. He broke into show business as an acrobatic dancer with a troupe that toured vaudeville houses in Britain's provinces. Stilt walking was one of his specialties. Despite the cool reserve of Mr. Grant's film persona, there remained an understated physicality to his comedic approach.
One reason for Mr. Grant's enduring stardom was his distinctive presence, which The New York Times critic Vincent Canby once described as ''slim, buoyant, and projecting humorous intelligence.''
His personal style had some endearingly quirky ingredients, including a Cockney-flavored but cosmopolitan manner of speaking, a knack of lifting his eyebrows to register comic disbelief and a flair for managing to seem irresistible to the heroine while remaining rather passive and indifferent to her at the same time.
His acting style was crisp, clipped, economical. ''He never wasted a moment on the screen,'' the director Alan J. Pakula said in 1977. ''Every movement meant something to him.'' 'A Delicious Personality'
''Cary Grant, I think, is a personality functioning, a delicious personality who has learnt to do certain things marvellously well,'' Katharine Hepburn, who appeared opposite the actor in some of his best-remembered films, once said.
In a New York Times Magazine profile in 1977, Warren Hoge observed: ''Nobody doesn't like Cary Grant. He's a Hollywood monument, and nobody wants to tamper with that.''
In the profile, Mr. Hoge analyzed Mr. Grant's enduring appeal: ''While he is of the moment in a very literal way because of his exposure on late-night television movies and his resilient good looks, in another sense he survives the end of his own career in a manner that will probably never happen again. It will be different for the De Niros and Pacinos.''
''He was everyone's favorite uncle, brother, best friend and ideal lover: more than most stars he belonged to the public,'' David Shipman wrote in his book ''The Great Movie Stars: The Golden Years.'' ''He stayed young. We loved Gable, Crosby, Cooper as much, but they aged. The appeal of many of them lay in familiarity: unlike us and the world, Grant was changeless.''
Archibald Alexander Leach, who would attain world fame under the name Cary Grant, was born on Jan. 18, 1904, the son of Elias and Elsie Kingdom Leach. While still a schoolboy, he ran away from home and joined the Bob Pender troupe, a group of knockabout acrobats and pantomimists. With them he sang, danced, juggled and traveled to the United States in 1920.
He liked it here and decided to stay, supporting himself with odd jobs, such as selling painted neckties and working in a vaudeville mind-reading act. ''I used to earn $5 a day, $10 Saturdays and Sundays, as a stilt-walker at George Tilyou's Steeplechase Park in Coney Island,'' he recalled.
He returned to Britain in 1923, where he played small parts in several musical comedies. The producer Arthur Hammerstein saw him and brought him back to New York to play the juvenile in ''Golden Dawn,'' a musical with lyrics by Hammerstein's nephew Oscar Hammerstein 2d and music by Otto Harbach.
He later appeared in ''Polly'' with Fred Allen, in ''Wonderful Night,'' in ''Street Singer'' with Queenie Smith and in ''Boom-Boom'' with Jeanette MacDonald. Both Mr. Grant and Miss MacDonald were given screen tests during their run in ''Boom-Boom'' but nothing immediately came of it.
He then drove his second-hand Packard across the country to Hollywood. B. P. Schulberg, the president of Paramount Studios, saw a new screen test that Mr. Grant took and immediately offered him a contract.
Mr. Grant based his screen persona largely on Noel Coward, spending endless hours on practicing his walk, speaking voice and subtle facial expressions. ''I pretended to be somebody I wanted to be and I finally became that person,'' he once said. ''Or he became me. Or we met at some point. It's a relationship.''
He made his first film, ''This is the Night,'' in 1932, appearing opposite Charles Ruggles, Lily Damita and Roland Young. It was a good part, and Mr. Grant achieved a modest success. Chance to Play a Scoundrel
He appeared in several other films before ''She Done Him Wrong'' firmly established him as a star in 1933. In this film, Mr. Grant played a lawman, disguised as a church missionary, who wins the heart of Mae West's bawdy saloonkeeper. Because he was immediately cast in several other films that called for a breezy, laconic, impeccably well-bred young man, he welcomed the challenge of playing a scoundrel in the RKO Radio Production ''Sylvia Scarlett'' (1936) with Katharine Hepburn.
Mr. Grant's reputation as Hollywood's leading exponent of sophisticated comedy was solidified by a series of classic films in the late 1930's -''Topper'' (1937), ''The Awful Truth'' (1937) and ''Bringing Up Baby'' (1938). The 1938 film, directed by Howard Hawks, was particularly hilarious and teamed Mr. Grant with both a troublesome leopard and a wonderfully dizzy Miss Hepburn.
Now firmly established as one of Hollywood's reigning stars, Mr. Grant played in a succession of films, including ''Holiday'' (1938), ''Gunga Din'' (1939), ''Only Angels Have Wings'' (1939), ''His Girl Friday'' (1940) - a remake of ''The Front Page'' - ''My Favorite Wife'' (1940) and ''The Philadelphia Story'' (1941). Mr. Grant donated the $125,000 he received for his part in ''The Philadelphia Story'' to British War Relief. After the United States entered World War II, he was among the Hollywood stars who entertained the armed forces; he became an American citizen in 1942.
In 1941 Mr. Grant also appeared in ''Suspicion,'' the first of four suspense films he starred in under the direction of Alfred Hitchcock. The others, all top box-office money makers, were ''Notorious'' (1946), ''To Catch a Thief'' (1955) and ''North by Northwest' (1959). A
One of his most challenging dramatic roles was that of Ernie Mott, a Cockney drifter, in ''None but The Lonely Heart'' (1944), based on a novel by Richard Llewellyn. Clifford Odets wrote and directed the screen version, which depicted the slums of London with a vivid realism that some found oppressive, but Mr. Grant's performance was considered by many to be his finest in a dramatic role.
Mr. Grant was one of the first actors to declare personal independence from the studio system; he was a free agent by the early 1940's. By 1950, his price for a film had gone up to $300,000 and, as a result, he made fewer appearances. Although not all of his later films were critical successes, very few lost money. In his later life, Mr. Grant received 10 percent of the gross profits of any film he appeared in and reportedly owned his films outright after seven years. He chose roles sparingly and usually timed his releases to reach Radio City Music Hall for the holiday season.
Mr. Grant had been scheduled to appear at the Adler Theater in Davenport on Saturday night in what was billed as ''A Conversation With Cary Grant,'' which was suppposed to be part of a ''Festival of Trees'' celebration the town was sponsoring. He seemed healthy during rehearsals but then complained of headaches and nausea and was taken to St. Luke's Hospital.
Mr. Grant's first and third wives, Virginia Cherrill and Betsy Drake, were also actresses. His second wife was the heiress Barbara Hutton. He is survived by his fifth wife, Barbara Harris, whom he married in 1981, and his daughter.
Refresh this page to see various historical events that occurred during Cary's lifetime.
In 1904, in the year that Cary Grant was born, the Russo-Japanese war began. The Russian Empire and the Japanese Empire began fighting over the territories of Manchuria and Korea. Russia wanted a warm water port on the Pacific Ocean while Japan feared growing encroachment from Russia into Asia. So the Japan fleet launched a surprise attack on the Russian Navy and a one year war began. President Roosevelt of the United States brokered peace between the two nations. It was the first time in the modern era that an Asian power showed its dominance over a European power.
In 1915, Cary was just 11 years old when in May, the RMS Lusitania was sunk by a German torpedo. The Lusitania was a British passenger ship that was sailing from New York to Liverpool England. She sank in 18 minutes - 1,198 died and 761 survived. While travelers were the main casualty - and commodity - the Lusitania did carry wartime weapons. "Remember the Lusitania" became the rallying cry of World War 1.
In 1930, at the age of 26 years old, Cary was alive when on August 6th, N.Y. Supreme Court Judge Joseph Crater went through papers in his office, destroyed some of them, withdrew all his money from the bank - $5,150, sold his stock, met friends at a restaurant for dinner and disappeared after getting into a taxi (or walking down the street - his friends' testimony later changed). His disappearance was reported to the police on September 3rd - almost a month later. His wife didn't know what happened, his fellow Justices had no idea, and his mistresses (he had several) said that they didn't know. While his disappearance was front page news, his fate was never discovered and after 40 years the case was closed, still without knowing if Crater was dead or alive.
In 1960, Cary was 56 years old when on September 26th, the first televised debate for a Presidential campaign in the United States - Kennedy vs Nixon - was held. Seventy million people watched the debate on TV. The debate pre-empted the very popular Andy Griffith Show.
In 1986, in the year of Cary Grant's passing, on September 8th, the Oprah Winfrey Show went into national syndication. A popular talk show, it was number 1 in the ratings since its debut. The last show aired on May 25, 2011.
"Thank you for helping me find my family & friends again so many years after I lost them. I get the chance to remember them all this time later."

Highlights of just a few of the many successes of sharing memories on AncientFaces. From reuniting lost or 'orphan' photos with their families, seeing faces of relatives for the first time, to the many connections made with family & friends.

These special moments are why it's important we share.
Back to

Top