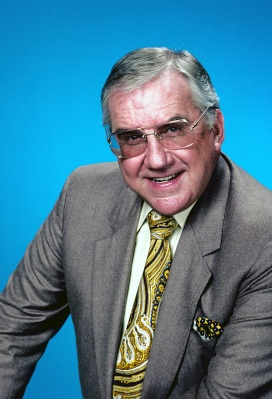 Born
March 6, 1923
Detroit, Wayne County, Michigan United States
Death
June 23, 2009
Los Angeles, Los Angeles County, California United States
Summary
Ed McMahon was born on March 6, 1923 in Detroit, Michigan. He died on June 23, 2009 in Los Angeles, California at 86 years old.
Updated: February 23, 2021
2 Followers
Ed McMahon
Ed McMahon
(1923 - 2009)
Ed McMahon
Born: Edward Leo Peter McMahon Jr. March 6, 1923 Detroit, Michigan, U.S.
Died: June 23, 2009 (aged 86) Los Angeles, California, U.S.
Education Boston College
Alma mater Catholic University of America
Occupation Comedian actor singer game show host announcer spokesman Marine Corps aviator
Years active 1957–2009
Notable work The Tonight Show, Star Search, TV's Bloopers & Practical Jokes
Spouse(s) Alyce Ferrell ​(m. 1945; div. 1974)​
Victoria Valentine ​(m. 1976; div. 1989)​
Pam Hurn ​(m. 1992) ​children 5
Military career Allegiance United States Service/branch United States Marine Corps USMC Reserves
Years of service 1941–1966 Rank Colonel Battles/wars World War II Korean War

Edward Leo Peter McMahon Jr. (March 6, 1923 – June 23, 2009) was an American announcer, game show host, comedian, actor, singer and combat aviator. McMahon and Johnny Carson began their a**ociation in their first TV series, the ABC game show Who Do You Trust?, running from 1957 to 1962. McMahon then made his famous thirty-year mark as Carson's sidekick, announcer and second banana on NBC's The Tonight Show Starring Johnny Carson from 1962 to 1992.
McMahon also hosted the original Star Search from 1983 to 1995, co-hosted TV's Bloopers & Practical Jokes with Dick Clark from 1982 to 1998, presented sweepstakes for the direct marketing company American Family Publishers (not, as is commonly believed, its main rival Publishers Clearing House), annually co-hosted the Jerry Lewis MDA Telethon from 1973 to 2008 and anchored the team of NBC personalities conducting the network's coverage of the Macy's Thanksgiving Day Parade during the 1970s and 80s.
McMahon appeared in several films, including The Incident, Fun With Dick and Jane, Full Moon High and Butterfly, as well as briefly in the film version of the TV sitcom Bewitched and has also performed in numerous television commercials. According to Entertainment Weekly, McMahon is considered one of the greatest "sidekicks".[3]

Early years
McMahon was born in Detroit, Michigan, to Edward Leo Peter McMahon Sr., a fund-raiser and entertainer, and Eleanor (Russell) McMahon. He was raised in Lowell, Ma**achusetts, often visiting his paternal Aunt Mary Brennan at her home on Chelmsford Street. After three years as a carnival barker in Mexico, Maine, McMahon served as a fifteen-year-old bingo caller in Maine. He put himself through college as a pitchman for vegetable slicers on the Atlantic City boardwalk. His first broadcasting job was at WLLH-AM in Lowell, and his television career launched in Philadelphia at WCAU-TV.

The Catholic University of America
After World War II, McMahon studied at The Catholic University of America in Washington, D.C., under the GI Bill and graduated in 1949. He majored in speech and drama while studying under Rev. Fr. Gilbert Hartke and was a member of Phi Kappa Theta fraternity. After graduation, McMahon led the effort to raise funds for a theater to be named for Hartke and attended its dedication in 1970 with Helen Hayes and Sidney Poitier.[8] While working as Carson's sidekick during The Tonight Show, McMahon served as the president of the national alumni a**ociation from 1967 to 1971 and would often return to campus, especially for homecoming. During the university's centennial celebration in 1987, McMahon and Bob Newhart performed. He received an honorary Doctor of Communication Arts in 1988.

"I owe so much to CU," McMahon once said. "That's where my career got its start."[8] Today, the Ed McMahon Endowed Scholarship helps outstanding students and provides scholarship a**istance to juniors and seniors who are pursuing a bachelor's degree in either the Department of Drama or the Department of Media Studies within the School of Arts and Sciences.

Entertainment career
Who Do You Trust?
McMahon and Carson first worked together as announcer and host on the ABC daytime game show Who Do You Trust? running from 1957 to 1962.

The Tonight Show Starring Johnny Carson
The pair joined The Tonight Show Starring Johnny Carson on October 1, 1962, on NBC. He describes what happened when the pair first met, the whole meeting being "about as exciting as watching a traffic light change". For almost 30 years, McMahon introduced the show with a drawn-out "Heeere's Johnny!" His booming voice and constant laughter alongside the "King of Late Night" earned McMahon the nickname the "Human Laugh Track" and "Toymaker to the King". As part of the introductory patter to The Tonight Show, McMahon would state his name out loud, pronouncing it.

Aside from his co-hosting duties, it also fell upon McMahon during the early years of Carson's tenure (when the show ran 105 minutes) to host the first fifteen minutes of Tonight, which did not air nationally. McMahon also served as guest host on at least one occasion, substituting for Carson during a week of programs that aired between July 29 and August 2, 1963, and again for two nights in October 1963. McMahon served as a counter to the notoriously shy Carson. Nonetheless, McMahon once told an interviewer that after his many decades as an emcee, he would still get "butterflies" in his stomach every time he would walk onto a stage and would use that nervousness as a source of energy.

His famous opening line "Heeere's Johnny!" was used in the 1980 horror film The Shining by the character Jack Torrance (played by Jack Nicholson) as he goes after his wife and child with an axe. He did in-program commercials for many sponsors of The Tonight Show, most notably Budweiser beer and Alpo dog food, and also did commercials for them that ran on other programs.

Star Search
McMahon was also host of the successful weekly syndicated series Star Search, which began in 1983 and helped launch the careers of numerous actors, singers, choreographers and comedians. He stayed with the show until it ended in 1995 and in 2003, he made a cameo appearance on the CBS revival of the series, hosted by his successor Arsenio Hall.

His long a**ociation with brewer Anheuser-Busch earned him the nickname "Mr. Budweiser" and he used that relationship to bring them aboard as one of the largest corporate donors to the Muscular Dystrophy A**ociation. Since 1973, McMahon served as co-host of the long-running live annual Labor Day weekend event of the Jerry Lewis MDA Telethon. His 41st and final appearance on that show was in 2008, making him second only to Jerry Lewis himself in number. McMahon and Dick Clark hosted the television series (and later special broadcasts of) TV's Bloopers and Practical Jokes on NBC from 1982 to 1993.

In 1967, McMahon had a role in the film The Incident and appeared as Santa Claus on The Mitzi Gaynor Christmas Show. From 1965 to 1969, McMahon served as "communicator" (host) of the Saturday afternoon segment of Monitor, the weekend news, features and entertainment magazine on the NBC Radio Network. The 1955 movie Dementia, which has music without dialogue, was released as Daughter of Horror in 1970. The newer version, which had a voice over by McMahon, still has music without dialogue, but with an added narration read by him. McMahon had a supporting role in the original Fun with Dick and Jane in 1977.

He then played himself in "Remote Control Man", a season one episode of Steven Spielberg's Amazing Stories. In 2004, McMahon became the announcer and co-host of Alf's Hit Talk Show on TV Land. He has authored two memoirs, Here's Johnny!: My Memories of Johnny Carson, The Tonight Show, and 46 Years of Friendship as well as For Laughing Out Loud. Over the years, he emceed the game shows Missing Links, Snap Judgment, Concentration, and Whodunnit!.

McMahon also hosted Lifestyles Live, a weekend talk program aired on the USA Radio Network. Additionally, he also appeared in the feature documentary film, Pitch People, the first motion picture to take an in-depth look at the history and evolution of pitching products to the public. In the early 2000s, McMahon made a series of Neighborhood Watch public service announcements parodying the surprise appearances to contest winners that he was supposedly known for. (In fact, it is not clear whether the company McMahon fronted, American Family Publishers, regularly performed such unannounced visits, as opposed to Publishers Clearing House and its oft-promoted "prize patrol".)

Towards the end of the decade, McMahon took on other endorsement roles, playing a rapper for a FreeCreditReport.com commercial[12] and in a Cash4Gold commercial alongside MC Hammer. McMahon was also the spokesman for Pride Mobility, a leading power wheelchair and scooter manufacturer. His final film appearance was in the independent John Hughes themed rom-com Jelly as Mr. Closure alongside actress Natasha Lyonne. Mostly in the 1980s through the 1990s, McMahon was the spokesperson for Colonial Penn Life Insurance Company.[11]

Personal life
Marriage and children
McMahon married Alyce Ferrell on July 5, 1945, while he was serving as a flight instructor in the Marines.[13] The couple had four children: Claudia (b. 1946), Michael Edward (1951–1995), Linda and Jeffrey.[14] They separated in 1972 and divorced in 1974.[15] McMahon married Victoria Valentine on March 6, 1976.[16] They adopted a daughter in 1985, Katherine Mary. The couple divorced in 1989. McMahon paid $50,000 per month in spousal and child support.[17] On February 22, 1992, three months before his Tonight Show run came to a close, in a ceremony held near Las Vegas,[17] McMahon married 37-year-old Pamela "Pam" Hurn, who had a son named Alex. McMahon's daughter Katherine served as best person at the wedding.[citation needed] McMahon was a longtime summer resident of Avalon, New Jersey.[18]

Financial problems
In June 2008, it was announced that McMahon was $644,000 behind on payments on $4.8 million in mortgage loans and was fighting to avoid foreclosure on his multimillion-dollar Beverly Hills home.[19] McMahon was also sued by Citibank for $180,000. McMahon appeared on Larry King Live on June 5, 2008, with his wife to talk about this situation. In the interview, McMahon's wife Pam said that people a**umed that the McMahons had a lot of money because of his celebrity status. Pamela McMahon also commented that they do not have "millions" of dollars.[20] On July 30, 2008, McMahon's financial status suffered another blow. McMahon failed to pay divorce attorney Norman Solovay $275,168, according to a lawsuit filed in the Manhattan federal court. McMahon and his wife, Pamela, had hired Solovay to represent Linda Schmerge, his daughter from another relationship, in a "matrimonial matter", said Solovay's lawyer, Michael Shanker.[21]

On August 14, 2008, real estate mogul Donald Trump announced that he would purchase McMahon's home from Countrywide Financial and lease it to McMahon, so the home would not be foreclosed.[22] McMahon agreed instead to a deal with a private buyer for his hilltop home, said Howard Bragman, McMahon's former spokesman.[23] Bragman declined to name the buyer or the selling price, but he said it was not Trump. In early September, after the second buyer's offer fell through, Trump renewed his offer to purchase the home.[24]

Health problems
On April 20, 2002, McMahon sued his insurance company for more than $20 million, alleging that he was sickened by toxic mold that spread through his Beverly Hills house after contractors failed to properly clean up water damage from a broken pipe. McMahon and his wife, Pamela, became ill from the mold, as did members of their household staff, according to the Los Angeles County Superior Court suit. The McMahons blamed the mold for the death of the family dog, Muffin. Their suit, one of many in recent years over toxic mold, was filed against American Equity Insurance Co., a pair of insurance adjusters, and several environmental cleanup contractors. It sought monetary damages for alleged breach of contract, negligence, and intentional infliction of emotional distress.

On March 21, 2003, the long legal battle ended with McMahon being awarded $7.2 million from several companies who were negligent for allowing toxic mold into his home, sickening him and his wife and killing their dog.[25] McMahon was injured in 2007 in a fall and, in March 2008, it was announced he was recovering from a broken neck and two subsequent surgeries. He later sued Cedars-Sinai Medical Center and two doctors claiming fraud, battery, elder abuse, and emotional distress, and accused them of discharging him with a broken neck after his fall and botching two later neck surgeries.

On February 27, 2009, it was reported that McMahon had been in an undisclosed Los Angeles hospital (later confirmed as Ronald Reagan UCLA Medical Center) for almost a month. He was listed in serious condition and was in the intensive care unit. His publicist told reporters that he was admitted for pneumonia at the time, but could not confirm nor deny reports that McMahon had been diagnosed with bone cancer.[26]

Death
McMahon died on June 23, 2009, shortly after midnight at the Ronald Reagan UCLA Medical Center in Los Angeles, California. He was 86 years old. His nurse, Julie Koehne, RN, stated he went peacefully. No formal cause of death was given, but McMahon's publicist attributed his death to the many health problems he had suffered over his final months.[27] McMahon had said that he still suffered from the injury to his neck in March 2007.[28]

Tributes and legacy
The night of McMahon's death, Conan O'Brien paid him tribute on The Tonight Show:
It is impossible, I think, for anyone to imagine The Tonight Show With Johnny Carson without Ed McMahon. Ed's laugh was really the soundtrack to that show. He created the most iconic two-shot in broadcasting history. There will never be anything like that again.[29]

He received a Star on the Hollywood Walk of Fame for Television on March 20 1986.

The Broadcast Pioneers of Philadelphia posthumously inducted McMahon into their Hall of Fame in 2010.

Resources in other libraries
Ed McMahon's Barside Companion. World Publishing Company. 1969. ISBN 0671772155. LCCN 70-94527.
Here's Ed: The Autobiography of Ed McMahon With Carroll Carroll (Putnam; 1976) ISBN 0399116915
Ed McMahon's Superselling by Ed McMahon with Warren Jamison (Prentice Hall Press, Copyright 1989 by Ed McMahon), ISBN 0-13-943366-X
For Laughing Out Loud: My Life and Good Times (Warner Books, 1998), co-written with David Fisher ISBN 0446523704
Here's Johnny! My Memories of Johnny Carson, The Tonight Show, and 46 Years of Friendship (Berkley Publishing Group – Penguin Group, 2005) ISBN 0425212297
Backstage at the Tonight Show by Don Sweeney, Ed McMahon (Foreword) (Taylor Trade Publishing), 2006 ISBN 978-1589793033
When Television Was Young: The Inside Story with Memories by Legends of the Small Screen With David Fisher (Thomas Nelson 2007) ISBN 1401603270
ReferencesBorn in Detroit, Michigan.
Share your memories, family stories, & photos so that Ed is always remembered.
Photos and snapshots taken of Ed McMahon, his Mcmahon family, and locations and places or events from his life.
Share Ed's obituary or write your own to preserve his legacy.
Ed McMahon, Top Second Banana, Dies at 86
By Richard Severo
June 23, 2009
Ed McMahon, who for nearly 30 years was Johnny Carson's affable second banana on "The Tonight Show," introducing it with his ringing trademark line, "Heeeeere's Johnny!," died early Tuesday in Los Angeles. He was 86.

His publicist, Howard Bragman, said Mr. McMahon died at Ronald Reagan Medical Center of the University of California, Los Angeles, surrounded by his family. Mr. Bragman said Mr. McMahon had many health problems, including bone cancer and pneumonia, for which he had been hospitalized in February.

Mr. McMahon was one of the most recognizable men in America. With his broad, genial, regular-guy features, he had the face of someone you would buy a used car from. Indeed, for decades he was one of television's most ubiquitous pitchmen, selling everything from boats to beer. He also took a few acting roles and in later years was the host of the long-running television talent show "Star Search" and wrote some popular books, including his memoirs.

But it was in the role of the faithful Tonto to Carson's wry Lone Ranger that Mr. McMahon made his sideman's mark. After he rolled out his introduction like a red carpet for the boss, and after Carson delivered his nightly monologue, Mr. McMahon, in jacket and tie, would take his seat on the couch beside the host's desk, chat and banter with Carson a bit before the guests came on and almost invariably guffaw at his jokes, even when he was the butt of them. When the guests did arrive, he would slide over to make room and rarely interrupt.

The work paid handsomely — some reports said $5 million a year — and it made Mr. McMahon a familiar face, and voice, in millions of households. "The Tonight Show" became the country's most popular late-night television diversion, and the "Heeeeere's Johnny!" introduction became a national catchphrase.

"I laugh for an hour and then go home," Mr. McMahon once said. "I've got the world's greatest job."

Off camera he and Carson were friends and occasional drinking buddies, although Mr. McMahon noted that Carson, who died in 2005, was not terribly social. "He doesn't give friendship easily or need it," he said. "He packs a tight suitcase."

Mr. McMahon rarely ran the risk of upstaging Carson. "To me, he's the star and I'm on the sidelines, just nudging him a bit," he said. But early in their a**ociation he slipped up.

It happened one night when Carson was telling the audience about a study concluding that mosquitoes preferred to bite "warm-blooded, pa**ionate people." Before Carson could deliver his punch line, Mr. McMahon slapped his own arm, as if crushing a mosquito. The audience roared. Carson coolly produced a giant can of insect spray from under his desk and said, glaring at Mr. McMahon, "I guess I won't be needing this prop, will I?"

It was a rare flare-up in an a**ociation that began in the late 1950s, when Carson was the host of the ABC comedy quiz show "Do You Trust Your Wife?" and Mr. McMahon was hired to announce the show and read the commercials. (The title was later changed to "Who Do You Trust?") In 1962, when Carson moved to "The Tonight Show," replacing Jack Paar, he took Mr. McMahon with him.

Mr. McMahon warmed up the studio audience, read commercials and served as Carson's straight man until Carson left the show in 1992. Though Mr. McMahon sometimes projected the image of an amiable lush and got laughs for it, the cup that was always before him on "The Tonight Show" held only iced tea, he said. Years later, he said he had missed only three tapings in 30 years, because of colds or the flu.

Edward Leo Peter McMahon Jr. was born in Detroit on March 6, 1923. His father, a vaudevillian, had to move a lot to find work, and young Ed had attended 15 high schools by the time he was a senior. Edward Sr.'s career was so erratic that one year, awash in money, the McMahons lived in the Mark Hopkins hotel, atop Nob Hill in San Francisco; another year, flat broke, they existed in a cold-water flat in Bayonne, N.J.

As a boy in Bayonne, Mr. McMahon recalled, he dreamed of becoming an entertainer and did impersonations of stars, using a flashlight as his microphone and his dog, Valiant Prince, as his audience. He shined shoes, sold newspapers, dug ditches, sold peanuts, worked as an usher, labored on a construction gang and sold stainless-steel cookware door to door.

At his request he spent his last high school years in Lowell, Ma**., where his grandmother lived. By the time he was 18 he had been a traveling bingo announcer in New England and had sold a gadget called the Morris Metric Slicer to tourists on the Atlantic City Boardwalk and in Times Square. He also took elocution lessons at Emerson College in Boston.

Mr. McMahon enlisted in the Marine Corps toward the end of World War II and became a fighter pilot, but did not see combat. After his discharge he attended the Catholic University of America in Washington, receiving a bachelor's degree in 1949. He then landed a job at a Philadelphia radio station and began appearing on television as, among other things, a clown and the host of a cooking show.

But his budding television career was interrupted when he was recalled into military service during the Korean War. He flew 85 combat missions in 15 months, winning six Air Medals, and remained active in the Marine Corps Reserve afterward.

Returning from the war, he resumed his television work in Philadelphia while traveling to New York hoping to break into network television. He also pursued a separate career as a businessman. By the time he made it as an announcer, he had acquired a stationery company, a company that made knickknacks, two television and film companies and a talent agency. He also speculated in real estate.

Even when he got his big break with Carson, he never let up on his business activities. Carson would tweak him about them on "The Tonight Show," suggesting that after that night's show was over, Mr. McMahon would be selling jams and jellies in the elevator.

Over the years Mr. McMahon became a paid spokesman for many products and companies, including Budweiser beer, Alpo dog food, Chris-Craft boats, Texas Instruments, Breck shampoo, Sara Lee baked goods and Mercedes-Benz. His name and photograph were fixtures on the form letters mailed by American Family Publishers announcing sweepstakes winners. He marketed his own brand of liquor, McMahon Perfect Vodka. Most recently, he and the rapper MC Hammer promoted a gold-buying business called Cash4Gold. (In a commercial for the business during the Super Bowl this year, he spoofed himself with the line "Heeeeere's money.")

And for more than 40 years, Mr. McMahon appeared with Jerry Lewis on Mr. Lewis's Muscular Dystrophy A**ociation telethon over Labor Day Weekend. He did some film acting as well. Among the movies he appeared in were "The Incident" (1967), in which he played a pa**enger brutalized by young thugs on a New York subway train; "Slaughter's Big Rip-Off" (1973); and "Fun With Dick and Jane" (1977).

After leaving "The Tonight Show," Mr. McMahon appeared in summer stock and kept his hand in television, appearing as a guest star on various series and taking supporting roles in television movies. For 12 years he was the host of the talent show "Star Search"; he joined Dick Clark on "TV's Bloopers and Practical Jokes"; he was Tom Arnold's sidekick on the short-lived sitcom "The Tom Show." For the USA Radio Network, he broadcast "Ed McMahon's Lifestyles Live" weekly from his home.

There were books, too, most recently the best-selling "Here's Johnny! My Memories of Johnny Carson, the Tonight Show, and 46 Years of Friendship" (2005). Others were "For Laughing Out Loud: My Life and Good Times" (1998), written with David Fisher; "Ed McMahon's Barside Companion" (1969); and "Here's Ed, or How to Be a Second Banana, From Midway to Midnight" (1976).

Despite his many business ventures, Mr. McMahon encountered hard times in his last years. He faced foreclosure on his Beverly Hills mansion last year after falling behind in payments on $4.8 million in mortgages. In the end a deal was worked out allowing him to stay in his home, but he was also being sued over other debts.

Mr. McMahon, who appeared on "Larry King Live" with his wife, Pam, to discuss his financial problems, blamed two divorces, bad money management and bad investments for his woes. "I made a lot of money, but you can spend a lot of money," he said by way of explanation.

He was plagued by health problems as well, undergoing a series of operations after breaking his neck in a fall in 2007.

Mr. McMahon married Alyce Ferrell during World War II. They were divorced in 1976. They had four children, Claudia, Michael, Linda and Jeffrey. His second marriage, to Victoria Valentine, in 1976, ended in divorce in 1989. They adopted a daughter, Katherine Mary McMahon. Mr. McMahon and his third wife, Pam Hurn, a fashion designer, were married in 1992, and Mr. McMahon adopted her son, Lex. His wife and children survive him.

Mr. McMahon regarded his friendship with Johnny Carson as a marriage of sorts. "Most comic teams are not good friends or even friends at all," he wrote in "Here's Johnny." "Laurel and Hardy didn't hang out together, Abbott and Costello weren't best of friends." But, he added, "Johnny and I were the happy exception."

"For 40 years Johnny and I were as close as two non-married people can be," he wrote. "And if he heard me say that, he might say, 'Ed, I always felt you were my insignificant other.' "Ed McMahon pa**ed away in June 2009 at 86 years of age. He was born on March 6, 1923.
Source(s):
Refresh this page to see various historical events that occurred during Ed's lifetime.
In 1923, in the year that Ed McMahon was born, Harlem's Cotton Club opened in New York City. Owned by a bootlegger and gangster, it was a 700 seat speakeasy that catered to a "white only" clientele. But most of the entertainers were African-American and featured some of the best entertainers of the time such as Lena Horne, the Nicholas Brothers, Ethel Waters, and Cab Calloway.
In 1939, when he was 16 years old, in May, Disney's Snow White and the Seven Dwarfs, the first full-length animated film, reached a total international gross of $6.5 million which made it (to then) the most successful sound film of all time. First released in December 1937, it was originally dubbed "Disney's Folly" but the premiere received a standing ovation from the audience. At the 11th Academy Awards in February 1939, Walt Disney won an Academy Honorary Award - a full-size Oscar statuette and seven miniature ones - for Snow White.
In 1943, he was 20 years old when on June 20th through June 22nd, the Detroit Race Riot erupted at Belle Isle Park. The rioting spread throughout the city (made worse by false rumors of attacks on blacks and whites) and resulted in the deployment of 6,000 Federal troops. 34 people were killed, (25 of them black) - mostly by white police or National Guardsmen, 433 were wounded (75 percent of them black) and an estimated $2 million of property was destroyed. The same summer, there were riots in Beaumont, Texas and Harlem, New York.
In 1972, Ed was 49 years old when on September 5th, the Palestinian terrorist group Black September, with the assistance of German neo-nazis, kidnapped and killed 11 Israeli athletes at the Olympic Games in Munich. The attackers crept into the Olympic Village and abducted the athletes while they were sleeping. A German policeman was also killed.
In 1989, at the age of 66 years old, Ed was alive when on January 20th, George Herbert Walker Bush became the 41st President of the United States. Previously Ronald Regan's Vice President, he ran against Michael Dukakis and won the popular vote by 53.4% to 45.6%.
Other Mcmahons
Other Bios
What Life Was Like 100 Years Ago in 1917
In 1917 (100 years ago this year), President Woodrow Wilson was just beginning his second term in office. The United State...
Pearl Harbor - A Day That Will Live In Infamy
On Sunday, December 7th 1941, the Japanese launched a surprise attack on Pearl Harbor, a U.S. naval base in Hawaii. On Mon...
Thanksgiving Traditions & Memories
You've probably spent your whole life with the same traditions on Thanksgiving: Family and friends gathering for turkey, d...
"Thank you for helping me find my family & friends again so many years after I lost them. I get the chance to remember them all this time later."

Highlights of just a few of the many successes of sharing memories on AncientFaces. From reuniting lost or 'orphan' photos with their families, seeing faces of relatives for the first time, to the many connections made with family & friends.

These special moments are why it's important we share.
Back to Top