Gwen Verdon
(1925 - 2000)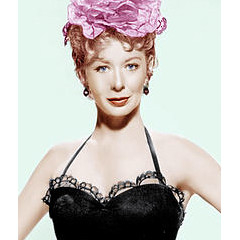 Born
January 16, 1925
Culver City, Los Angeles County, California United States
Other Names
Gwyneth Evelyn Verdon, Gwen Verdon
Summary
Gwen Verdon was born on January 16, 1925 in Culver City, California. She died on October 18, 2000 at 75 years old. We know that Gwen Verdon had been residing in Quogue, Suffolk County, New York USA 11942.
2 Followers
Gwen Verdon
Gwen Verdon
(1925 - 2000)
Born January 13, 1925 in Culver City, L. A. California, USA
Died October 18, 2000 in Woodstock, Vermont, USA (heart attack)
Birth Name Gwyneth Evelyn Verdon
Height 5' 4" (1.63 m)
Gwen Verdon was born to the theater. Her mother, Gertrude, was a vaudevillian and dancer. Her father, Joseph, was an MGM studio electrician. She had to wear corrective boots as a child to straighten out her legs, which were misshapen by childhood illness. Nonetheless, she first appeared as a tapper on stage at age 6. She got her break in Bob Fosse's "Damn Yankees" in 1955. She married Fosse in 1960 and separated from him, although never divorcing him, in the mid-'70s. More stage and screen work quickly followed with highlights in "New Girl In Town", "Redhead", "Sweet Charity", and "Chicago". She and her daughter, Nicole Fosse, created the current stage musical "Fosse". Upon her death, Broadway dimmed all of its marquee lights in tribute.
A star was born January 13, 1925 in Culver City, California. Her name was Gwyneth Evelyn Verdon, and she was the only Broadway star who had the capability of outshining greats, such as Ethel Merman. Her parents were English emigrants, Joseph William and Gertrude Verdon and she had one brother, William Vernon. Joseph was an electrician at MGM and Gertrude was a former dancer and vaudeville veteran. When she was a child, Gwen was afflicted with rickets, a disease that left her legs so badly misshapen that she was called "Gimpy" by other children and had to wear orthopedic boots and stiff braces. Gertrude placed her daughter in dance classes at the age of 3 in hopes of strengthening her legs and improving her carriage. By the age of 6, Gwen was studying many dance forms (ballroom, Balinese, tap, jazz, juggling, flamenco). She attended Hamilton High School in LA, where she was cast in a revival of "Show Boat". However, she shocked her parents and instructors by abandoning her budding career to elope with tabloid reporter James Henaghan. The marriage last 5 years and left Gwen 22-years-old, divorced and with a son, Jim Henaghan (aka Jimmy). She trusted Jimmy to the care of her parents and went to work as temperamental Jack Cole's assistant choreographer, where she helped him with shows like "Magdalena" and "Alive and Kicking". Although she landed a few small film roles as a "specialty dancer", Gwen was more often delegated to instruct actresses such as Jane Russell, Lana Turner, Betty Grable and Marilyn Monroe. Cole cast Gwen in his show "Alive and Kicking", but the show was a bitter disappointment to both Cole and Gwen and closed quickly. Ms. Verdon returned to Hollywood to raise her son and teach dance. However, 1953 brought 28-year-old Gwen a big break in the Cole Porter musical "Can Can", which was choreographed by Michael Kidd. Her role as "Claudine" in "Can Can" brought Gwen a Tony. At the conclusion of the "Garden of Eden" number, the house went wild. Verdon left the stage, went to her dressing room and changed into her bathrobe. The audience would not stop applauding until she took another bow... which she did--dressed in her bathrobe. Her next role was as "Lola", the sexy, volatile seductress and assistant to the Devil in "Damn Yankees", a role choreographed by Bob Fosse (she also played the part in the film version). Gwen won her second Tony for this role. Fosse chose Verdon over Marilyn Monroe. Fosse and Verdon collaborated on "New Girl In Town" and "Redhead", bringing her her third and fourth Tony's. Fosse and Gwen were married in 1960. Ms. Verdon took a six-year hiatus to have daughter Nicole Fosse. In 1966, she returned to the stage to portray the role of "Charity Hope Valentine" in "Sweet Charity", with a Cy Coleman/Dorothy Fields score, book by Neil Simon and choreography by none other than Fosse, himself. It ran over 600 performances. This musical was turned into a movie in 1969 with Shirley MacLaine in the lead. Gwen coached MacLaine throughout. Gwen and Bob legally separated in 1971 due to Fosse's extramarital affairs, but never actually divorced. They remained close friends and worked together on "Chicago", where Gwen played "Roxie Hart", the musical "Dancin'" and Fosse's autobiographical film, All That Jazz (1979). In recent years, Gwen and daughter Nicole collaborated to create the Broadway show "Fosse", about Bob. Along with her two children, Verdon had four grandchildren and one great-grandchild. Gwen continued to instruct dance and musical theatre up until 1999. Best known for her verve, sass and vivacity, Gwen was not only perhaps the best dancer this world has ever seen, but she could act and sing, a triple-threat. Her voice had a rough-hewn, grainy quality and yet... it was still very feminine and beautiful. Unfortunately, while at the home of her daughter, Gwen passed away on October 18, 2000 in Woodstock, Vermont due to natural causes. The same day, the lights on Broadway were dimmed in honor of the passing of one of its brightest stars.
Share your memories, family stories, & photos so that Gwen is always remembered.
Biography
Gwyneth Evelyn Verdon, Gwen Verdon
Quogue, Suffolk County, New York USA 11942
Gwen Verdon was born on in Culver City, Los Angeles County, California United States
Gwen Verdon was born on in Culver City, Los Angeles County, California United States
Heritage
Ethnicity & Lineage
Her parents were English Immigrants.
Nationality & Locations
American, USA
Childhood
Education
Child of English Immigrant vaudevillians.
Adulthood
Professions
Movie Star. Theater Star.- Musicals.
Personal Life
Tony Award Winner.
Obituary
Average Age
Gwen Verdon lived 12 years longer than the average Verdon family member when she died at the age of 75.
Photos and snapshots taken of Gwen Verdon, her Verdon family, and locations and places or events from her life.
Share Gwen's obituary or write your own to preserve her legacy.
Gwen Verdon, Redhead Who High-Kicked Her Way to Stardom, Dies at 75
By ROBERT BERKVIST OCT. 19, 2000
Gwen Verdon, whose high-kicking artistry, flaming red hair and head-turning figure made her an unforgettable presence in musicals like ''Can-Can,'' ''Damn Yankees'' and ''Chicago,'' died yesterday in Woodstock, Vt. She was 75 and had homes in Bronxville, N.Y., and Quogue, N.Y.
She died at the home of her daughter, Nicole Fosse.
Widely regarded as the best dancer ever to brighten the Broadway stage, Ms. Verdon was also a performer who brought more than physical excitement to her roles. A highly capable actress as well as an exceptional dancer, she was adept at enriching the characters she played. Whether oozing seductive come-ons as the Devil's sexy troubleshooter in ''Damn Yankees'' or brooding over a whiskey as a disillusioned prostitute in a waterfront dive in ''New Girl in Town,'' a musical adaptation of O'Neill's ''Anna Christie,'' she always reached for, and found, her character's heart.
The League of American Theaters and Producers said yesterday that the lights of Broadway's marquees would be dimmed in her memory at 8 p.m. last night.
Ms. Verdon's first Broadway success was explosive. In 1953 she auditioned for the Cole Porter musical ''Can-Can,'' and won a part as a featured dancer in the show, which was written and directed by Abe Burrows and had choreography by Michael Kidd. The show's star was the temperamental French actress and singer Lilo, who was not amused by the way audiences were applauding this redheaded newcomer during out-of-town tryouts and who saw to it that Ms. Verdon's part was cut back. Ms. Verdon, in turn, was disgusted enough to announce that she was quitting the show, and maybe even giving up dancing.
But on opening night on Broadway, she delivered a fiery Apache dance that brought the audience to its feet -- and kept them there. She was already back in her dressing room for a costume change when one of the producers came pounding in to tell her that the audience was chanting her name and cheering and that she had to come back for a curtain call so that the show could continue. She took her bows, wearing a bathrobe, and knew she had arrived. Brooks Atkinson, in his review in The New York Times, cheered the ''impudence, recklessness and humor'' of her dancing and called her ''the practical star of the show.'' It was a late arrival for a dancer -- she was 28 and had been performing since the age of 3 -- but it was unforgettable.
''Can-Can'' made Ms. Verdon a marquee name and brought her her first Tony Award. Nevertheless, she left the show before it ended its run and returned to working with the Hollywood choreographer Jack Cole, whose assistant she had been in the early 1950's. She was working on a film with Cole when she was approached by the producers of a new Broadway musical to be called ''Damn Yankees.'' Written by George Abbott and Douglass Wallop, the story centered on a Faustian deal made by a passionate baseball fan who agrees to sell his soul to the Devil for the chance to help his beloved Washington Senators beat the New York Yankees. Ms. Verdon was offered the part of Lola, the Devil's No. 1 helper. She wasn't eager to return to Broadway despite her success in ''Can-Can,'' but finally signed on. It would be her first experience with an up-and-coming choreographer named Bob Fosse, fresh from his first Broadway success with ''The Pajama Game.''
From that point on, Ms. Verdon's life and career were inextricably linked to Fosse. She was to become the living embodiment of his work on Broadway, and he in turn became her mentor, her lover and eventually her husband. Fosse soon found that working with Ms. Verdon was more of a collaboration than a tutorial. ''The happiest times I ever had with Gwen were when we were working together'' he said in an interview in 1971. ''They stimulated all sorts of things.''
For Ms. Verdon, working with Fosse provided ''direction like I've never had in my life.'' Years later, looking back on that experience, she recalled how ''Bob choreographs down to the second joint of your little finger.'' ''Damn Yankees'' opened to bravos in May 1955. Ms. Verdon's co-stars were Ray Walston as the Devil and Stephen Douglass as the hapless fan who is transformed into the home-run-hitting Joe Hardy. As Lola, Ms. Verdon brought the house down with her slinky rendition of ''Whatever Lola Wants,'' a locker-room seduction scene in which her sultry yet playful striptease for Shoeless Joe was hot enough to tempt the Devil himself. ''Damn Yankees'' racked up over a thousand performances and brought Ms. Verdon her second Tony. It was an impressive showing for a performer who spent her early childhood years laced into orthopedic boots to correct legs that had been weakened and deformed by a series of illnesses.
Gwyneth Evelyn Verdon was born on Jan. 16, 1925, in Culver City, Calif. Her parents were British expatriates. Her mother, Gertrude, had been a member of Denishawn, the influential modern dance troupe.Her father, Joseph, was an electrician at MGM. Show business was part of the household, and baby Gwyneth was pointed toward the stage from the time she could walk. When she wasn't wearing those knee-high corrective boots, she was being taught basic ballet, ballroom dancing and learning how to tap and do the old soft-shoe. At age 6, she was already performing in theaters where she was billed as ''the fastest little tapper in the world.'' By the time she graduated from high school, her career seemed well on its way.
But then, at 17, she eloped with a writer for The Hollywood Reporter, James Henaghan. The marriage lasted five years, until Mr. Henaghan's freewheeling lifestyle brought it to an end. The couple had a son, Jimmy, and after the divorce Ms. Verdon left him in the care of her parents and resumed her career. She auditioned for Cole and was hired by the talented, ferociously abrasive dance director. She became a member of Cole's troupe for five years and made her Broadway debut in his 1950 flop, ''Alive and Kicking.'' Cole's connections with Hollywood studios brought her work as a ''specialty dancer'' in several films, including ''On the Riviera.'' She also coached stars like Jane Russell in the art of moving sexily on screen. When Mr. Kidd made his offer of a part in ''Can-Can,'' she was weary of anonymity, weary of Cole -- a perfectionist given to tantrums -- and ready to leave Hollywood for a second chance at success on Broadway. She wouldn't be seen on screen again until 1958, when she got star billing opposite Tab Hunter in the film adaptation of ''Damn Yankees.'' Ms. Verdon's fourth Broadway show was ''New Girl in Town,'' based on O'Neill's bleak tale about a waterfront prostitute's redemption through love. Directed by Abbott, with music and lyrics by Bob Merrill and choreography by Bob Fosse, ''New Girl in Town'' opened in May 1957 with Ms. Verdon in the title role. Brooks Atkinson called her performance ''sobering and admirable'' but found the show an uneasy blend of the antic and tragic. Nevertheless, Ms. Verdon came away with Tony No. 3, which she shared with her co-star, Thelma Ritter. The musical that became the perfect showcase for Ms. Verdon's gifts as both dancer and actress was also the first of her shows to be both choreographed and directed by Fosse. The 1959 ''Redhead,'' which had music by Albert Hague and lyrics by Dorothy Fields had been written for the British music hall star Beatrice Lillie. But Ms. Lillie turned out to be otherwise engaged and Ms. Verdon agreed to star on the condition that Fosse be the director. And in the dances created for her by Fosse, she did everything from a tango to a ragtime strut, from Chaplinesque comedy to a brassy music-hall routine. She won another Tony Award, her fourth.
The following year, when ''Redhead'' was on tour in Chicago, Miss Verdon and Fosse were married, and by the time the tour reached Los Angeles she had decided to retire from show business with the intention of concentrating on family life. In 1963 their daughter, Nicole, was born. She is also survived by her son, Jimmy Henaghan of Los Angeles; four grandchildren and a great-grandchild. It wasn't until 1966 that Ms. Verdon returned to the stage, in ''Sweet Charity.'' The musical had its unlikely roots in Fellini's film classic ''Nights of Cabiria.'' Once again, Fosse was director and choreographer. Ms. Verdon played the role immortalized by Giulietta Masina although the character had been changed from a Roman prostitute to a New York dance-hall hostess.
Even though the critics were less than ecstatic about ''Sweet Charity,'' Ms. Verdon was given numbers like ''Hey, Big Spender'' that added to her legend as a peerless performer on Broadway. The musical ran for more than 600 performances and became something of a cult favorite long after it closed.
Source(s):
Social Security Death Index
Refresh this page to see various historical events that occurred during Gwen's lifetime.
In 1925, in the year that Gwen Verdon was born, gangster Al "Scarface" Capone took over the Chicago bootlegging racket at age 26. Previously right hand man to boss Johnny Torrio, Capone took over when Torrio was shot and severely injured and decided to resign. The bootlegging and brothel organization was massive and when asked what he did, Capone often replied "I am just a businessman, giving the people what they want".
In 1942, Gwen was 17 years old when from January 7th through April 9th, the Battle of Bataan was fought in the Philippines. At the end of the battle, the U.S. and Filipino forces surrendered and a three-year occupation of the Philippines by Japan began. Between 60,000 and 80,000 American and Filipino soldiers surrendered and were marched around 60 to 69 miles - most were beaten, abused, or killed. Named the Bataan Death March, it was later declared to be a war crime.
In 1958, Gwen was 33 years old when on January 31st, Explorer I, the United States' answer to Sputnik I (and 2,) was launched. America had entered the Space Race. The first spacecraft to detect the Van Allen radiation belt, it remained in orbit until 1970.
In 1960, at the age of 35 years old, Gwen was alive when on September 26th, the first televised debate for a Presidential campaign in the United States - Kennedy vs Nixon - was held. Seventy million people watched the debate on TV. The debate pre-empted the very popular Andy Griffith Show.
In 1975, by the time she was 50 years old, on September 5th, Lynette "Squeaky" Fromme tried to assassinate President Ford in Sacramento, California. She failed when her gun wouldn't fire. President Ford escaped a second assassination attempt 17 days later on September 22 when Sarah Jane Moore tried to shoot him in San Francisco. A bystander saw her raise her arm, grabbed it, and the shot went wild.
Highlights of just a few of the many successes of sharing memories about the people important to us on AncientFaces. From reuniting lost or 'orphan' photos with their families, seeing the faces of relatives for the first time, to connecting unknown and lost family.

These stories will warm your heart and inspire you to share your memories of the people important to you.
Back to Top