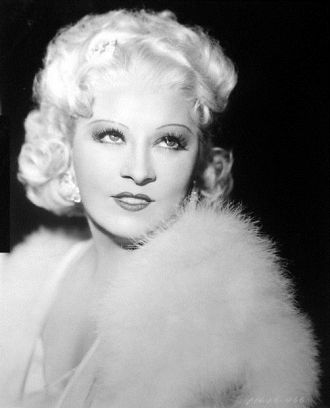 Mae West was born on August 17, 1893 at Bushwick, Brooklyn, New York. She died on November 22, 1980 in Los Angeles, California at 87 years of age.

Mae West
American actress
Mary Jane "Mae" West was an American actress, singer, playwright, screenwriter, comedian, and sex symbol whose entertainment career spanned seven decades. Wikipedia
Born: August 17, 1893, Bushwick, Brooklyn.
Died: November 22, 1980, Hollywood, Los Angeles, CA
Height: 5′ 0″
Plays: Sex, The Drag, Pleasure Man, Diamond Lil
Quotes
When choosing between two evils, I always like to try the one I've never tried before.
When I'm good I'm very, very good, but when I'm bad, I'm better.
Too much of a good thing can be taxing.
Mae West
Born Mary Jane West
August 17, 1893
Brooklyn, New York, United States
Died November 22, 1980 (aged 87) Los Angeles, California, United States
Occupation Actress, singer, playwright, screenwriter, comedian
Years active 1907–1978
Spouse(s) Frank Szatkus, stage name Frank Wallace (1911–43; dissolved)
Partner(s) Paul Novak (1954–80)
Known for her lighthearted bawdy double entendres, and breezy sexual independence, West made a name for herself in vaudeville and on the stage in New York City before moving to Hollywood to become a comedian, actress, and writer in the motion picture industry, as well as appearing on radio and television. For her contributions to American cinema, the American Film Institute named West 15th among the greatest female stars of classic American cinema.
One of the more controversial movie stars of her day, West encountered many problems, especially censorship. She bucked the system, making comedy out of prudish conventional mores, and the Depression-era audience admired her for it. When her cinematic career ended, she wrote books and plays, and continued to perform in Las Vegas, in the United Kingdom, and on radio and television, and to record rock and roll albums. Asked about the various efforts to impede her career, West replied: "I believe in censorship. I made a fortune out of it." While true, she also suffered greatly because of it, even going to jail for her right to freedom of speech.
Early life, career, and jail
West was born in Bushwick, Brooklyn on August 17, 1893, having been delivered at home by an aunt who was a midwife. She was the eldest surviving child of John Patrick West and Matilda "Tillie" Delker (sometimes spelled "Dilker"). Delker and her five siblings emigrated with their parents, Jacob and Christiana, from the German state of Bavaria in 1886. West's parents married on January 18, 1889, in Brooklyn and reared their children as Protestants, although John West was of mixed Catholic-Protestant descent. Her father was a prizefighter known as "Battlin' Jack West" who later worked as a "special policeman", and later had his own private investigations agency. Her mother was a former corset and fashion model. Her paternal grandmother, Mary Jane (née Copley), for whom she was named, was of Irish Catholic descent, and West's paternal grandfather, John Edwin West, was of English-Scots descent and a ship's rigger.
Her eldest sibling, Katie, died in infancy. Her other siblings were Mildred Katherine West, later known as Beverly (December 8, 1898 – March 12, 1982), and John Edwin West, II (sometimes inaccurately called "John Edwin West, Jr."; February 11, 1900 – October 12, 1964). During her childhood, West's family moved to various parts of Woodhaven, as well as the Williamsburg and Greenpoint neighborhoods of Brooklyn. In Woodhaven, at Neir's Social Hall (which opened in 1829 and is still extant), West supposedly first performed professionally.
West was five when she first entertained a crowd at a church social, and she started appearing in amateur shows at the age of seven. She often won prizes at local talent contests. She began performing professionally in vaudeville in the Hal Clarendon Stock Company in 1907 at the age of 14. West first performed under the stage name "Baby Mae:, and tried various personas, including a male impersonator, She used the alias "Jane Mast" early in her career. Her trademark walk was said to have been inspired or influenced by female impersonators Bert Savoy and Julian Eltinge, who were famous during the Pansy Craze. Her first appearance in a Broadway show was in a 1911 revue A La Broadway put on by her former dancing teacher, Ned Wayburn. The show folded after eight performances, but at age 18, West was singled out and discovered by The New York Times. The Times reviewer wrote that a "girl named Mae West, hitherto unknown, pleased by her grotesquerie and snappy way of singing and dancing." West next appeared in a show called Vera Violetta, whose cast featured Al Jolson. In 1912, she appeared in the opening performance of A Winsome Widow as a "baby vamp" named La Petite Daffy.

She Done Him Wrong
1933
I'm No Angel
1933
Sextette
1978

Mae West
ORIGINAL NAME Mary Jane West
BIRTH 17 Aug 1893
Brooklyn, Kings County (Brooklyn), New York, USA
DEATH 22 Nov 1980 (aged 87)
Los Angeles, Los Angeles County, California, USA
BURIAL
Cypress Hills Cemetery
Brooklyn, Kings County (Brooklyn), New York, USA Show Map
PLOT Cypress Hills Abbey, Aisle EE, Special Section #2
MEMORIAL ID 1089 · View Source
ADVERTISEMENT BY ANCESTRY.COM
Mae West Biography
Vital facts & highlights of Mae's life to share with the world.
Los Angeles, Los Angeles County, California United States
Mae West was born on at Bushwick, in Brooklyn, Kings County, New York United States
Mae West died on in Los Angeles, Los Angeles County, California United States
Mae West was born on at Bushwick, in Brooklyn, Kings County, New York United States
Mae West died on in Los Angeles, Los Angeles County, California United States
There is no cause of death listed for Mae.
at Cypress Hills Cemetery, in Brooklyn, New York, Kings County, New York United States
Ethnicity & Lineage
German American
Nationality & Locations Lived
American
Education
Little attention was paid to her schooling; occasional private tutoring ended when she went onto the vaudeville circuit at 13. Determined to become as big a star as Sarah Bernhardt and Nora Bayes, she teamed onstage with William Hogan, an actor and family friend.
Professions
Occupation Actress, singer, playwright, screenwriter, comedian
Years active 1907–1978
Mary Jane "Mae" West (August 17, 1893 – November 22, 1980)[1] was an American actress, singer, playwright, screenwriter, comedian, and sex symbol whose entertainment career spanned seven decades.
First Movie in 1932
In 1932, two years after ''Diamond Lil'' played in Los Angeles, Miss West was back in Hollywood to make her first movie - ''Night After Night,'' George Raft's first starring picture. William LeBaron, the producer, gave her permission to rewrite her own role. Miss West described her most notable addition to the scenario as follows:
''On screen I walked into George Raft's fashionable clip joint, and the checkroom girl took one look at all the diamonds I was wearing and exclaimed, 'Goodness, what beautiful diamonds!'
'' 'Goodness had nothing to do with it, Dearie,' I replied.'' Miss West went on to make motion-picture history with ''She Done Him Wrong,'' the film version of ''Diamond Lil,'' and ''I'm No Angel,'' both of which were made in 1933.
For the first time, Miss West selected as the male lead a ''sensational-looking young man'' whom she spotted walking along the studio street. ''If he can talk,'' she said, ''I'll take him.''
Having thus chosen an unknown actor named Cary Grant, she starred him again in ''I'm No Angel.'' The film was the most profitable picture produced during the 1933 season, according to The Motion Picture Herald, and contributed to the $339,166.65 that Miss West earned in 1934.
One Film With Fields
Although Miss West and W.C. Fields are frequently associated in the public mind, they made only one film together, ''My Little Chickadee'' (1940). Her other films were ''Belle of the Nineties'' (1934), ''Goin' to Town'' (1935), ''Klondike Annie'' (1936), ''Go West, Young Man'' (1936), ''Every Day's a Holiday'' (1938) and ''The Heat's On'' (1943).
Personal Life & Organizations
Actress
Military Service
''I only knew two rules of playwriting,'' Miss West said. ''Write about what you know, and make it entertaining. So that's why I wrote it the way I did, on a subject I was interested in - sex.'' And ''Sex'' was finally selected as the name of the play, which was produced by Miss West, her mother and James Timony, a lawyer who became her manager and long-time associate.
''Sex'' opened in New London, Conn., before an audience of 85 people, but by the second performance the men from the naval base had assured the play's financial success. When it opened in New York in April 1926, with Miss West as its star, the play's notoriety had preceded it, and it played to a full house despite the refusal of New York newspapers to carry advertisements for it. They did review it, however. ''A crude, inept play, cheaply produced and poorly acted - that, in substance, is 'Sex,' '' The Times critic said.
Miss West soon thereafter became the target of a campaign instigated by the Society for the Suppression of Vice. In the 41st week of performances of ''Sex,'' Miss West and 20 other members of the cast were arrested in the theater. After a jury trial, she was found guilty of a performance that ''tended to corrupt the morals of youth and others'' and was fined $500 and sentenced to 10 days in prison.
In October 1928, the entire cast of her play ''The Pleasure Man'' was arrested onstage during the first performance. After a second raid two days later, the play closed. In court, it was decided that the show was ''not basically an immoral performance,'' but Miss West chose not to reopen it.
Mae West and diamonds were almost synonymous even before the creation of her most memorable character, Diamond Lil. ''I hadn't started out to collect diamonds, '' she said, ''but somehow they piled up on me.'' The onstage Diamond Lil was a singer in a Bowery saloon of the 1890's - a bad girl with a good heart, who murdered her girlfriend, wrecked a Salvation Army hall and sang ''Frankie and Johnny.''
The play opened in Brooklyn in April 1928, and Robert Garland, drama critic of The New York Evening Telegram, said that ''it's worth swimming to Brooklyn to see her descend those dance hall stairs and be present while she lolls in a golden bed reading The Police Gazette.'' ''Diamond Lil'' ran for 323 performances in New York and then went on tour.
In one of her last Broadway appearances, Miss West dramatized the story of Catherine the Great of Russia, and surrounded herself with ''an imperial guard'' of muscular young actors, all over 6 feet tall. ''Catherine Was Great,'' produced by the late Mike Todd, opened in New York in 1944, and went on a long national tour in 1945.
Her autobiography, ''Goodness Had Nothing to Do With It,'' was published by Prentice-Hall in 1959. In 1967, Joseph Weintraub's illustrated collection, ''The Wit and Wisdom of Mae West,'' was published by G.P. Putnam's Sons.
Average Age
Mae West lived 17 years longer than the average West family member when she died at the age of 87.
Looking for a different Mae West?
View other bios of people named Mae West
Back to Top
Mae's Family Photos
Photos and snapshots taken of Mae West, her West family, and locations and places or events from her life.
ADVERTISEMENT BY ANCESTRY.COM
Mae West Obituary
Show you care by clicking the heart and adding to Mae's obituary.
Mae West, Stage and Movie Star Who Burlesqued Sex, Dies at 87
Special to the New York Times
LOS ANGELES, Nov. 22 -- Mae West, the Diamond Lil of filmdom, died at 7:00 this morning at her home in Los Angeles. She was 87 years old.
Her death was confirmed by the Los Angeles County Police Department, which said she died apparently of natural causes in the wake of a stroke she suffered three months ago.
Miss West's body will be shipped back Tuesday to her birthplace, Brooklyn. She is to be buried in the same cemetery where her mother, father and brother are buried, in one of the five crypts she bought when her mother died in 1930. A younger sister survives her.
According to Stanley Musgrove, her longtime friend and former manager, Miss West became ill this morning. A doctor who was called by Paul Novak, her companion for the last 26 years, informed him that Miss West was dying. Although she was a Presbyterian, Mr. Novak summoned a priest from a Roman Catholic church a hundred yards away from their Ravenswood apartment. Immediately after the priest's blessing, she fell into a peaceful sleep, according to Mr. Musgrove, and within five minutes she was dead. Funeral arrangements are being made by Mr. Novak, who met Miss West when he was a member of her nightclub act. There will be a private, invitational funeral service Tuesday morning at Forest Lawn cemetery in Hollywood Hills.
Miss West's death occurred three weeks after a three-month hospitalization for a mild stroke that left her speech impaired. Two days ago, Mr. Musgrove visited Miss West's apartment, where Mr. Novak was enthusiastic about her progress, although she had roundthe-clock nursing care. Her condition was said to be complicated by the diabetes from which she had suffered for the last 15 years.
Lighthearted Sex Goddess
Mae West stood as the epitome of playfully vulgar sex in the United States, portraying the role of a woman who made men slaver when she crossed a room in her sinuous walk.
Dressing in skin-tight gowns, bedecking herself in jewels, maintaining a n impeccable blondness and offering innuendos in a sultry voice, Miss West posed as a small-town Lothario's dream of sexual abandonment in Sodom and Gomorrah.
Her heyday spanned the 1920's and 30's when as Diamond Lil she devised her own legend in films, on stage, in nightclubs and on records, not only performing, but also writing much of her own material. She continued acting on into the 70's, and in a career stretching over six decades she became a millionaire.
''It isn't what I do, but how I do it,'' she said. ''It isn't what I say, but how I say it, and how I look when I do it and say it.'' Her invariable role borrowed heavily from the popular conception of a strumpet of the Gay Nineties. She swathed her petite, hourglass figure in garish furs and gowns, and she sashayed on five-inch stiletto heels; she purred witticisms that evoked both the atmosphere of the bawdyhouse and the raucous laughter of the honky-tonk.
Vanity Fair magazine was right in calling Miss West ''the greatest female impersonator of all time.'' It was a remark passed without malice because the actress, although flamboyant, was bascially sedate, neither smoking nor drinking.
Some Memorable Lines
Some of the actress's lines have entered the American vocabulary. In the mid-30's, her suggestive invitation to ''come up 'n' see me sometime'' became the most-repeated phrase of the day. ''Peel me a grape,'' another utterance that hinted at sybaritic sex, was almost as frequently imitated.
Other memorable Mae West lines included: ''Too much of a good thing can be wonderful.'' ''I'm not good and tired, just tired.'' ''When a girl goes bad, men go right after her.'' ''It's hard to be funny when you have to be clean.'' ''It's better to be looked over than overlooked.'' ''Between two evils I always pick the one I never tried before.'' ''I generally avoid temptation unless I can't resist it.'' ''The man I don't like doesn't exist.'' During World War II, Miss West's name was applied to various pieces of military equipment and was thus listed in Webster's New International Dictionary, Second Edition. The Royal Air Force named its inflatable life jackets ''Mae Wests'' and United States Army soldiers referred to twin-turreted combat tanks as ''Mae Wests.''
Made Debut in Brooklyn
Miss West was born in Brooklyn on Aug. 17, 1893, and by 1900 made her first stage appearance. She was the first of three children of John Patrick West, an occasional prizefighter and livery-stable owner, and Matilda Delker Doelger, who had been a corset and fashion model. The blond Mae took dancing lessons and then participated in the first of many amateur-night performances at the Ro yal Theater on Fulton Street in Brooklyn. Wearing a pink and green satin dress with gold spangles, she sang and danced ''Movin' D ay'' with what she latercalled ''innocent brazenness'' and won first prize.
Within a year, she had worked her way into Hal Clarendon's stock company, and from the ages of 8 to 11 played such roles as the moonshiner's daughter, Little Nell, and the child who stepped through swinging saloon doors looking for a drunken father.
On the same bill was Frank Wallace, a song-and-dance man. They worked out what Miss West later described as a ''very flashy act - loud opening, chic costumes, patter, comic love song ('I Love It') and a good get-off.''
The young entertainers were secretly married on April 11, 1911, in Milwaukee. Miss West then developed a single act, helped Mr. Wallace find a job with a show that was going on the road for 40 weeks, and thus informally dissolved both her professional and conjugal unions.
Show-Stopper in Revue
By September of that year, Miss West was a show-stopper in her first major theatrical revue, ''A La Broadway and Hello Paris,'' doing a song and dance titled ''They Are Irish,'' in which she was backed by an ensemble of 24.
Secretly, during rehearsals, she had written extra choruses in various dialects for her production numbers. On opening night, she was called back for seven encores and stunned the producers by having a new verse ready for each.
Two months later, Miss West appeared with Al Jolson in a Shubert show, ''Very Violetta.'' After these successes, she returned to vaudeville as a star. When she reached New Haven with her new act, the Mae West style that had been evolving caused an interruption in the tour. As a newspaper headline put it: ''Her Wriggles Cost Mae West Her Job. '' Disturbed by her ''curves in motion,'' the management discharged Miss West. Disappointed Yale students then rioted and wrecked the theater.
Miss West changed her act as often as she changed her costumes. However, the essential ingredients remained constant: a swaying, sin-promising strut; a nonchalant and lazy delivery of lines, breaking every word into as many syllables as possible and accenting each one (''fas-cin-a-tin' ''); the simultaneous caress of her undulating hip with one hand and her chiseled blond hair with the other; and arrogant gestures, one of the best known of which was the impatient kick with which she flipped aside the train of her gown.
Playing opposite Ed Wynn in Arthur Hammerstein's ''Sometime,'' with music by Rudolf Friml, Miss West introduced the shimmy to the Broadway stage in 1918. In the shimmy, there was hardly any movement of the feet, but continuous movement of the shoulders, torso and pelvis. She had seen the dance at black cafes in Chicago.
After World War I, Miss West developed a nightclub act, and with Harry Richman as her pianist and straight man, took it on the road before turning to playwriting.
85 Attended Her First Play
Other Records of Mae West
1893 - 1980 World Events
Refresh this page to see various historical events that occurred during Mae's lifetime
In 1893, in the year that Mae West was born, on March 4th, Grover Cleveland became the 24th President of the United States. On July 1st, President Cleveland was operated on for a non-cancerous tumor in his mouth. He chose to have the operation secretly because he didn't want to worsen the financial depression that was occurring at the time.
In 1909, at the age of 16 years old, Mae was alive when Polish physician and medical researcher Paul Ehrlich found a cure for syphilis, which was a prevalent (but undiscussed) disease. He found that an arsenic compound completely cured syphilis within 3 weeks.
In 1922, by the time she was 29 years old, on December 6th, the Irish Free State, a self-governing dominion of the British Empire, was officially proclaimed. While establishing some independence for the people of Ireland, it did not create a fully independent Ireland and the fighting continued.
In 1953, at the age of 60 years old, Mae was alive when on July 27th, the Korean Armistice Agreement was signed. The Armistice was to last until "a final peaceful settlement is achieved". No peaceful settlement has ever been agreed upon.
In 1980, in the year of Mae West's passing, on April 24th, a rescue attempt was begun in the Iranian Hostage Crisis. The attempt failed and 8 US servicemen were killed. Eight helicopters had been sent for the mission, but only 5 arrived in operating condition., Since the military had advised that the mission be aborted if there were fewer than 6 helicopters, President Carter stopped it. Upon leaving, a helicopter collided with a transport plane and the men were killed.
Other Mae Wests
Other Wests
Other Bios
Success Stories from Biographies like Mae West
Highlights of just a few of the many successes of sharing memories about the people important to us on AncientFaces. From reuniting lost or 'orphan' photos with their families, seeing the faces of relatives for the first time, to connecting unknown and lost family.

These stories will warm your heart and inspire you to share your memories of the people important to you.