Peter Sellers
(1925 - 1980)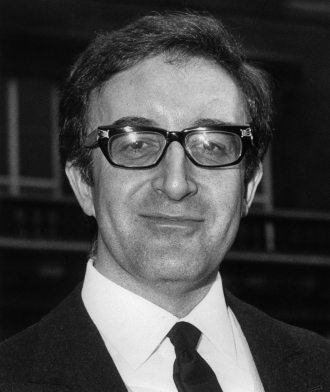 Born
September 8, 1925
Southsea, Portsmouth County, England United Kingdom
Death
July 24, 1980
London, England
Other Names
Peter Sellers
Summary
Peter Sellers was born on September 8, 1925 in Southsea, England United Kingdom. He died on July 24, 1980 in London, England at 54 years of age.
Updated: September 09, 2019
2 Followers
Peter Sellers
Peter Sellers
(1925 - 1980)
Peter Sellers
Born September 8, 1925 in Southsea, Hampshire, England, UK
Died July 24, 1980 in Lambeth, London, England, UK (heart attack)
Birth Name Richard Henry Sellers
Height 5' 8½" (1.74 m)
Mini Bio (1)
Often credited as the greatest comedian of all time, Peter Sellers was born Richard Henry Sellers to a well-off acting family in 1925 in Southsea, a suburb of Portsmouth. He was the son of Agnes Doreen "Peg" (Marks) and William "Bill" Sellers. His parents worked in an acting company run by his grandmother. His father was Protestant and his mother was Jewish (of both Ashkenazi and Sephardi background). His parents' first child had died at birth, so Sellers was spoiled during his early years. He enlisted in the Royal Air Force and served during World War II. After the war he met Spike Milligan, Harry Secombe and Michael Bentine, who would become his future workmates. After the war, he set up a review in London, which was a combination of music (he played the drums) and impressions. Then, all of a sudden, he burst into prominence as the voices of numerous favorites on the BBC radio program "The Goon Show" (1951-1960), and then making his debut in films in Penny Points to Paradise (1951) and Down Among the Z Men (1952), before making it big as one of the criminals in The Ladykillers (1955). These small but showy roles continued throughout the 1950s, but he got his first big break playing the dogmatic union man, Fred Kite, in I'm All Right Jack (1959). The film's success led to starring vehicles into the 1960s that showed off his extreme comic ability to its fullest. In 1962, Sellers was cast in the role of Clare Quilty in the Stanley Kubrick version of the film Lolita (1962) in which his performance as a mentally unbalanced TV writer with multiple personalities landed him another part in Kubrick's Dr. Strangelove or: How I Learned to Stop Worrying and Love the Bomb (1964) in which he played three roles which showed off his comic talent in play-acting in three different accents; British, American, and German.
The year 1964 represented a peak in his career with four films in release, all of them well-received by critics and the public alike: Dr. Strangelove or: How I Learned to Stop Worrying and Love the Bomb (1964), for which he was Oscar nominated, The Pink Panther (1963), in which he played his signature role of the bumbling French Inspector Jacques Clouseau for the first time, its almost accidental sequel, A Shot in the Dark (1964), and The World of Henry Orient (1964). Sellers was on top of the world, but on the evening of April 5, 1964, he suffered a nearly fatal heart attack after inhaling several amyl nitrites (also called 'poppers'; an aphrodisiac-halogen combination) while engaged in a sexual act with his second wife Britt Ekland. He has been working on Billy Wilder's Kiss Me, Stupid (1964). In a move Wilder later regretted, he replaced Sellers with Billy Wilder rather than hold up production. By October 1964, Sellers made a full recovery and was working again.

The mid-1960s were noted for the popularity of all things British, from the Beatles music (who were presented with their Grammy for Best New Artist by Sellers) to the James Bond films, and the world turned to Sellers for comedy. What's New Pussycat (1965) was another big hit, but a combination of his ego and insecurity was making Sellers difficult to work with. When the James Bond spoof Casino Royale (1967) ran over budget and was unable to recoup its costs despite an otherwise healthy box-office take, Sellers received some of the blame. He turned down an offer from United Artists for the title role in Inspector Clouseau (1968), but was angry when the production went ahead with Alan Arkin in his place. His difficult reputation and increasingly erratic behavior, combined with several less successful films, took a toll on his standing. By 1970, he had fallen out of favor. He spent the early years of the new decade appearing in such lackluster B films as Where Does It Hurt? (1972) and turning up more frequently on television as a guest on The Dean Martin Show (1965) and a Glen Campbell TV special. In 1974, Inspector Clouseau came to Sellers rescue when Sir Lew Grade expressed an interest in a TV series based on the character. Clouseau's creator, writer-director Blake Edwards, whose career had also seen better days, convinced Grade to bankroll a feature film instead, and The Return of the Pink Panther (1975) was a major hit release during the summer of Jaws (1975) and restored both men to prominence. Sellers would play Clouseau in two more successful sequels, The Pink Panther Strikes Again (1976) and Revenge of the Pink Panther (1978), and Sellers would use his newly rediscovered clout to realize his dream of playing Chauncey Gardiner in a film adaptation of Jerzy Kosinski's novel "Being There". Sellers had read the novel in 1972, but it took seven years for the film to reach the screen. Being There (1979) earned Sellers his second Oscar nomination, but he lost to Dustin Hoffman for Kramer vs. Kramer (1979). Sellers struggled with depression and mental insecurities throughout his life. An enigmatic figure, he often claimed to have no identity outside the roles that he played. His behavior on and off the set and stage became more erratic and compulsive, and he continued to frequently clash with his directors and co-stars, especially in the mid-1970s when his physical and mental health were at their worst. He never fully recovered from his 1964 heart attack because he refused to take traditional heart medication and instead consulted with 'psychic healers'. As a result, his heart condition continued to slowly deteriorate over the next 16 years. On March 20, 1977, Sellers barely survived another major heart attack and had a pacemaker surgically implanted to regulate his heartbeat which caused him further mental and physical discomfort. However, he refused to slow down his work schedule or consider heart surgery which might have expanded his life by several years. On July 25, 1980, Sellers was scheduled to have a reunion dinner in London with his Goon Show partners, Spike Milligan and Harry Secombe. However, at around 12 noon on July 22, Sellers collapsed from a massive heart attack in his Dorchester Hotel room and fell into a coma. He died in a London hospital just after midnight on July 24, 1980 at age 54. He was survived by his fourth wife, Lynne Frederick, and three children: Michael, Sarah and Victoria. At the time of his death, he was scheduled to undergo an angiography in Los Angeles on July 30 to see if if he was eligible for heart surgery. His last movie, The Fiendish Plot of Dr. Fu Manchu (1980), completed just a few months before his death, proved to be another box office flop. Director Blake Edwards' attempt at reviving the Pink Panther series after Sellers' death resulted in two panned 1980s comedies, the first of which, Trail of the Pink Panther (1982), deals with Inspector Clouseau's disappearance and was made from material cut from previous Pink Panther films and includes interviews with the original casts playing their original characters.
- IMDb Mini Biography By: Ashley G. Mackinnon
Spouse (4)
Lynne Frederick (18 February 1977 - 24 July 1980) ( his death)
Miranda Elizabeth Louise Quarry (24 August 1970 - 27 September 1974) ( divorced) Britt Ekland (19 February 1964 - 18 December 1968) ( divorced) ( 1 child)
Anne Hayes (15 September 1951 - 7 March 1963) ( divorced) ( 2 children)
Share your memories, family stories, & photos so that Peter is always remembered.
Photos and snapshots taken of Peter Sellers, his Sellers family, and locations and places or events from his life.
Share Peter's obituary or write your own to preserve his legacy.
Actor Peter Sellers, Star of 'Pick Panther' Film Series, Dies
By Gary Arnold July 24, 1980
Peter Sellers, the gifted British mimic and comic actor who delighted Anglo-American radio audiences as a founding zany of the BBC's "Goon Show" and later achieved international popularity as a film star -- notably for sustaining the character of Inspector Clouseau, a pompous, bumbling French police detective, through five successful movies -- died yesterday at London's Middlesex Hospital after a heart attack. He was 54.
Mr. Sellers had narrowly survived heart seizures in 1964 and 1977. While working on a film in Hollywood, Mr. Sellers was stricken with a massive coronary thrombosis in April 1964, and was rushed to Cedars of Lebanon Hospital. There, emergency treatment succeeded in reviving his heart on six separate occasions.
Following this remarkable recovery he resumed his screen-acting career, then at one of its high points, with apparently undiminished energy. Mr. Sellers had been fitted with a pacemaker; three years ago it was reported that he had suffered another attack when the device failed.
Mr. Sellers was in his suite at the Dorchester Hotel in London when he complained of chest pains on Tuesday. He was rushed to the hospital and underwent intensive resuscitation procedures after his heart stopped.
According to a statement issued by the hospital at 7:28 p.m. EDT yesterday, "It is with very great regret that we have to inform you that Mr. Sellers died. . . . His wife and children were at his side. Mr. Sellers' death was entirely due to natural causes. His heart just faded away."
Mr. Sellers' fourth wife, British actress Lynne Frederick, had flown to his bedside from Los Angeles earlier in the day. Mr. Sellers' second wife, Swedish actress Britt Ekland, had also arrived from Stockholm with their 15-year-old daughter Victoria.
The Sellers-Ekland marriage had ended in divorce in 1969. Ekland's account of their four-year union in a recent published autobiography had reportedly angered Mr. Sellers, who was characterized as a suspicious, impossible-to-please husband.
Mr. Sellers had two children by his first marriage to Australian actress Ann Hayes. His third wife was Miranda Quarry, the stepdaughter of a British peer. He also had been linked romantically with Sophia Loren and Liza Minnelli.
Blake Edwards, who directed several of Mr. Sellers' films, including all the 'Pink Panther' comedies, said, "I'm saddened because the world has lost a very big talent. One lived with the realization that Peter could go at any time because of his recurrent heart attacks, but it still comes as a blow."
Writer Joe Hyams, who had collaborated with Mr. Sellers on his autobiography, "Sellers' Market," recalled the late actor as "a very courageous man who refused to allow his heart problems to interfere with his professional life. He had a heart attack while we were doing the book, but when I visited him in the hospital, he wanted to get to work on the manuscript the very next day. When I told him he was too ill to work, Peter said 'Not at all. You have to live before you die, or you will die before you live.'"
He went on to speculate that this vagueness of personality, a frequent source of criticism among British reviewers, may have inspired his considerable gifts for dialect and impersonation. "I could never be a real star," he contended. "I am a character actor. I couldn't play Peter Sellers -- the way Cary Grant plays Cary Grant, for instance -- because I have no concrete image of myself. But I could do one helluva Cary Grant."
Mr. Sellers was twice nominated for the Academy Award as best actor -- in 1965 for his triple role as the meek American president, the phlegmatic British officer and the crazed German rocket scientist in "Dr. Strangelove," Stanley Kubrick's satire about nuclear doomsday, and again this year for his portrayal of the simpleton who is mistaken for a savant in the droll political satire, "Being There."
Mr. Sellers won the 1959 British Film Academy Award as best actor for his impeccably deadpan characterization of a pompous trade union official in "I'm All Right, Jack." He appeared in 52 feature films, almost all of them comedies, in the course of a 30-year movie career. His most recent production, "The Fiendish Plot of Dr. Fu Manchu," is scheduled for national release within the next few weeks. Mr. Sellers had agreed to star in a sixth and final Inspector Clouseau comedy later this year.
Mr. Sellers was born on Sept. 8, 1925, in Southsea, Hampshire, England.
His parents, Bill and Peg Sellers, were vaudeville entertainers. Mr. Sellers' youth was spent backstage at music halls or in a succession of theatrical boarding schools. At the age of 17 he joined the Royal Air Force and entertained servicemen in India and the Middle East.
After the war he appeared as a stand-up comic at London's Windmill Theater and got his big break (allegedly aided by his own vocal impersonations of two other actors in phone calls to a producer, recommending himself for employment) when he joined Spike Milligan, Harry Secombe, and Michael Bentine as the original cast of "The Goon Show," a pace-setting BBC radio show for seven years.
Mr. Sellers' first film appearances were in wacky, off-the-cuff shorts made in collaboration with Milligan and Secombe. Several years later the team contrived to recapture the spirit of these amateur romps (and the spirit of "Goon Show" humor) in a widely seen short called "The Running, Jumping and Standing Still Film," directed by a relative unknown named Richard Lester, soon to be entrusted with the movie debut of the Beatles.
Mr. Sellers' first significant character acting role came in 1954 in the Alec Guinness comedy "The Ladykillers." Mr. Sellers played one of the members of Guiness' ill-fated robbery gang -- a rather lumpish obtuse youth named Lenny.
Subsequently, Mr. Sellers' career seemed to duplicate that of Guinness, whom he often cited in interviews as a model and inspiration. Moviegoers alert to British film comedy in its late '50s heyday were impressed by his performances as an aging projectionist in "The Smallest Show on Earth" and a fatuous emcee in "Your Past Is Showing" ("The Naked Truth" in England). However, the vehicle that put him over in a big way with the American public was a comedy that had been shrugged off in Britain -- a mild spoof of international power politics called "The Mouse That Roared."
The Guinness connection was firmly established by the fact that Mr. Sellers played multiple roles in "The Mouse That Roared" -- a dowager, a Blimpish officer and an ingenious personable young diplomat. The earliest banner year for moviegoers who had discovered Peter Sellers was 1959: "The Mouse That Roared," Carlton-Browne of the F.O.," "Man in a Cocked Hat," "I'm All Right Jack" and "The Battle of the Sexes" were all in release.
Pauline Kael testified to the inventive character actor that Americans seemed to respond to when she praised his performance as the insolent deceiver Clare Quilty in Kubrick's movie version of Vladimir Nabokov's "Lolita." In Kael's estimation, "Peter Sellers works with miserable physical equipment, yet he has somehow managed to turn his lumbering, wide-hipped body into an advantage by acting to perfection the man without physical assets. The soft, slow-moving, paper-pushing middle-class man is his special self-effacing type, and though only in his mid-30s he all too easily incarnates sly, smug middle-aged man. Even his facial muscles are kept flaccid, so that he always look wary, too tired and cynical for much of a response . . . He does something that seems impossible: he makes unattractiveness magnetic."
The movie that halted his pathetic decline was "The Return of the Pink Panther," a triumph revival of the Clouseau character for both Mr. Sellers and writer-director Edwards, whose own career had been fading simultaneously. The collaborators seemed to rediscover their engaging, expert old form with the star's first entrance: Patrolman Clousseau promptly poked himself in the eye with his own billyclub while saluting an attractive woman and then scolded a blind beggar for soliciting without a license while a bank was being robbed in plain sight. If anything, Clousseau had been ripened into a greater comic archetype that before almost every move he made produced instant embarrassment, injury or chaos.
Source(s):
Refresh this page to see various historical events that occurred during Peter's lifetime.
In 1925, in the year that Peter Sellers was born, on November 28th, radio station WSM broadcast the Grand Ole Opry for the first time. Originally airing as "The WSM Barn Dance", the Opry (a local term for "opera") was dedicated to honoring country music and in its history has featured the biggest stars and acts in country music.
In 1931, by the time he was just 6 years old, on May 1st, the Empire State Building opened in New York City. At 1,454 feet (including the roof and antenna), it was the tallest building in the world until the World Trade Center's North Tower was built in 1970. (It is now the 34th tallest.) Opening at the beginning of the Great Depression, most of the offices in the Empire State Building remained unoccupied for years and the observation deck was an equal source of revenue and kept the building profitable.
In 1957, when he was 32 years old, on September 24th, the "Little Rock Nine" (nine African-American students) entered Little Rock High School. Arkansas Gov. Orval Faubus had previously prevented the students from entering the school at the beginning of the term with the Arkansas National Guard - they blocked the door. President Eisenhower ordered federal troops - the 101st Airborne Division of the United States Army - to guard the students and allow them entry.
In 1967, at the age of 42 years old, Peter was alive when on October 2nd, Thurgood Marshall was sworn in as the first black US Supreme Court justice. Marshall was the great-grandson of a slave and graduated first in his class at Howard University Law School. His nomination to the Supreme Court was approved by the Senate, 69 to 11.
In 1980, in the year of Peter Sellers's passing, on December 8th, ex-Beatle John Lennon was shot and killed by Mark David Chapman in front of his home - the Dakota - in New York City. Chapman was found guilty of murder and still remains in jail.
Those Magnificent Men (And Women) In Their Flying Machines
From the flight of the Wright brothers in 1903 to the first man on the moon in 1969 (July 20th), there have been daring me...
Christmas Trees Over The Years
Do you remember the Christmas trees of your childhood? Everyone does - my grandmother used to tell stories of her family's...
Before Child Labor Laws - When Every Boy And Girl Had A Job
You may be surprised to know that until the Great Depression, children were an important part of the work economy in the U...
"Thank you for helping me find my family & friends again so many years after I lost them. I get the chance to remember them all this time later."

Highlights of just a few of the many successes of sharing memories on AncientFaces. From reuniting lost or 'orphan' photos with their families, seeing faces of relatives for the first time, to the many connections made with family & friends.

These special moments are why it's important we share.
Back to Top