Loading...one moment please

01/07/2012
Carrie Nation
A photo of Carrie Nation
People tagged
in this photo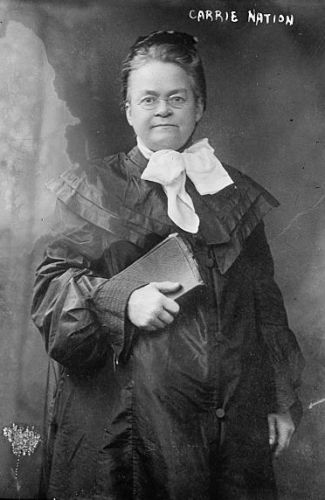 Carrie Amelia (Moore) Nation was born on November 25, 1846, and died at age 64 years old on June 9, 1911. Family, friend, or fan, this family history biography is for you to remember Carrie Amelia (Moore) Nation.
AncientFaces
This account is shared by Community Support (Kathy Pinna & Daniel Pinna & Lizzie Kunde) so we can quickly answer any questions you might have. Please reach out and message us here if you have any questions, feedback, requests to merge biographies, or just want to say hi!
2020 marks 20 years since the inception of AncientFaces. We are the same team who began this community so long ago. Over the years it feels, at least to us, that our family has expanded to include so many. Thank you!
Daniel Pinna
I want to build a place where my son can meet his great-grandparents. My grandmother Marian Joyce (Benning) Kroetch always wanted to meet her great-grandchildren, but she died just a handful of years before my son's birth. So while she didn't have the opportunity to meet him, at least he will be able to know her. For more information about what we're building see About AncientFaces. For information on the folks who build and support the community see Daniel - Founder & Creator.
My father's side is full blood Sicilian and my mother's side is a combination of Welsh, Scottish, German and a few other European cultures. One of my more colorful (ahem black sheep) family members came over on the Mayflower. He was among the first to be hanged in the New World for a criminal offense he made while onboard the ship.
Back to

Top