Clair Kirchner with German relatives
Description:
Clair Kirchner is the little girl in this picture. She is my husband's mother. We believe the woman on her left is her great grandmother and the rest are relatives from Seerappen, Germany, which is now Ljublino in Russia. The photo was taken in 1930 & the notation on the back reads: Clair, her great grandma, Grandma Schaffer, Martha, my aunt, Olga & Paula - sisters, & Anna, Lori and husband, but so far, we have yet to put last names to anyone or figure out how they are related. The photo was found with Ella Wilke Kirchner's collection - (Clair's mother). Any help would be appreciated!

Any help figuring out who these people are would be greatly apprectiated. There is something written on the bottom of the picture that appears to be "WEER?KIRC" I'm wondering if it's another name, or the abbreviation of "WERMERT" & "KIRCHNER" as they are possible the 2 surnames involved.
Date & Place:
at Seerappen, in Germany
People: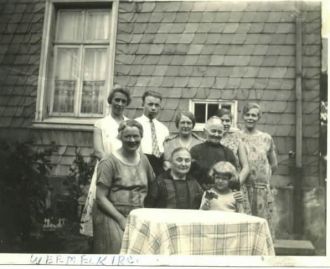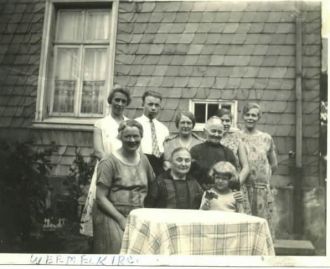 Back to Top