Rebecca Thacher (Clarke) Evans
Rebecca Thacher (Clarke) Evans
Loading...one moment please

Rebecca Thacher (Clarke) Evans
A photo of Rebecca Thacher (Clarke) Evans
Date & Place:
Not specified or unknown.
People tagged
in this photo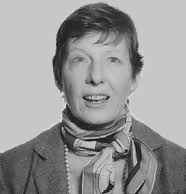 Rebecca "Becky" Thacher (Clarke) Evans, 88, of Southbury, died on January 10, 2012. Evans was born in Rochester, N.Y., on April 25, 1923. She was the daughter of Hans Thacher Clarke, a biochemist, and Frieda Planck Clarke. She attended Barnard School for girls in Manhattan and Dwight High School in Englewood, N.J. Evans received her B.A. from Lawrence University in Wisconsin. After graduation, she traveled to Seattle and worked at Boeing, after which she 'adventured' back east by hitchhiking with a co-worker. In the early 1940s, she enlisted in the Navy as a WAVE. After her Navy service, Evans joined the CIA. She married Joseph Culver Evans in 1964 and became close to his twin daughters. The two divorced in 1972. She worked in Beirut, Rome, and in the nation's capital for the rest of her career. Upon retirement, she moved to New York City to take care of her aunt and namesake, Rebecca Thacher Clarke, the renowned composer. Evans worked at Lincoln Center until she moved to Southbury, where she spent the last two decades of her life. She was active and involved in her community, was a member of the , and spent many holidays bicycling on this continent and in Europe. She is predeceased by her two brothers, Eric Thacher Clarke and John Thacher Clarke; and one nephew, Joseph Thacher Clarke. She is survived by her sister Heidi (Clarke) Schultz of West Tisbury, Mass.; her nieces and nephews: Rebecca Thacher Clarke of Billerica, Mass., Hans Thacher Clarke of Berlin, Mass., Heidi (Clarke) Palmer of Tamworth N.H., Benjamin Wing Clarke of Acushnet, Mass., Abigail (Clarke) Karner of Ludlow Vt., Elizabeth (Clarke) Nill of Barnstable, Mass.; Eric Thacher Clarke of Bryan, Texas; Sarah Richards of Coupeville, Wash.; and Ruth Richards of Cabot, Vt.; her two step-daughters, Amy (Evans) Hunt of Annapolis, Md.; and Margo Evans of Annapolis, Md.; plus all their partners, numerous grandnieces and nephews and a step-grandchild. Services: A memorial service will take place at 2 p.m. Saturday, Feb. 4, at the , 122 South Pomperaug Ave., Woodbury. Memorials: A memorial page for Rebecca Thacher Clarke Evans was created by loved ones. In lieu of flowers, the family asks that people send contributions in memory of Evans to Mattatuck Unitarian Universalist Society, P.O. Box 876, Woodbury, CT 06798-0876.
Amanda S. Stevenson
For fifty years I have been a Document Examiner and that is how I earn my living. For over 50 years I have also been a publicist for actors, singers, writers, composers, artists, comedians, and many progressive non-profit organizations. I am a Librettist-Composer of a Broadway musical called, "Nellie Bly" and I am in the process of making small changes to it. In addition, I have written over 100 songs that would be considered "popular music" in the genre of THE AMERICAN SONGBOOK.
My family consists of four branches. The Norwegians and The Italians and the Norwegian-Americans and the Italian Americans.
Back to

Top
Rebecca Thacher (Clarke) Evans