Loading...one moment please

William Lyman
Date & Place:
Not specified or unknown.
People tagged
in this photo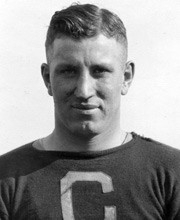 Hall of Fame Football Player. Born in Table Rock, Nebraska, he joined the Canton Bulldogs as a defensive tackle in 1922. He played for thirteen seasons with the Canton Bulldogs 1922, 1923, 1925, Cleveland Bulldogs 1924 and Chicago Bears 1926 to 1934. In his career, he helped the Cleveland Bulldogs win the NFL Championship in 1924 and Chicago Bears win the NFL Championship in 1933. He is also credited for pioneering the sophisticated defensive play of constant shifting and sliding on the line which confused opponents. He was inducted into the Pro Football Hall of Fame in 1964. Suncrest Lawn, Gate 17, Section 5, Lot 1663, Grave 1
Jeremy Henner
About me:
I haven't shared any details about myself.
Back to

Top