About AncientFaces
AncientFaces is a community that remembers our loved ones and ancestors to keep the memory of them alive, connect with others who know them, and together discover more.
See What AncientFaces Does for more details.
We believe our past - and the people in it - are important, and that Everyone Deserves to be Remembered. People live on through our memories, and by sharing our photos and stories, we discover more together.

We are a community that shares about yesterday, to make meaningful connections with others today, and preserve for tomorrow.
---
A Safe & Family Friendly Community

We strive to maintain a healthy, safe, and family friendly community. We take our roles as stewards and storytellers of our past with earnest intent.
In documenting the past we are chroniclers of history, and hold a responsibility to be honest, accurate to the best of our abilities, and to present factual information in a non-toxic, inflammatory, or just plain mean way.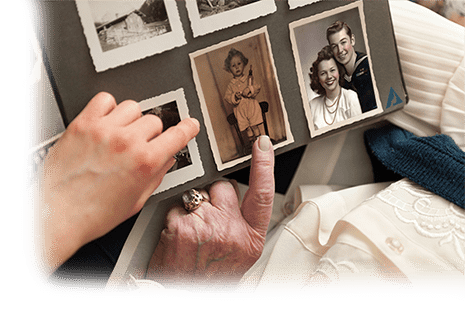 Where anger and divisiveness may exist elsewhere, AncientFaces is a place where supportiveness, empathy, and understanding is valued most.

All memories, stories, photos, updates to biographies, and comments shared on AncientFaces are human reviewed.
If you find something that you believe does not adhere to our Community Standards, and is not conducive to the spirit of our community, please Contact Us to let us know about it.
---
Family History - Fact or Fiction?

Chronicling the past presents interesting challenges. What we were told, experienced, or discovered ourselves while 'digging for our roots', are all interpreted through our own unique lenses.
Information recorded by governments, organizations, & religious institutions might contain specific facts, or snapshots in time (if recorded and transcribed accurately), but they don't show & tell a complete story about the 'why'.
It's the family stories passed down through generations, the family photos and genealogy research, and our own memories, when shared together, that begin to tell the whole story.
In a world where facts themselves are often debated, we take the accuracy of information shared at AncientFaces very seriously. We also recognize that people's perceptions of events that take place today often conflict, bringing even greater challenges for agreement on historical events that took place in our past.
AncientFaces provides a platform where everyone can share For Free their personal memories, photos, family stories they've heard, and research and records they've compiled. By sharing together and supporting each other, we strive to paint accurate portraits of our loved ones to remember them today, and preserve for future generations.

Inaccurate Information
All of the information contained on AncientFaces is managed by the community. Whenever there are inaccurate facts we encourage the community to update the page with the correct details and information.
Anyone, for free, can Join the Community and update Collaborative Biographies and Share Photos. When there are varying sources with conflicting facts, these details will be included on the biography pages themselves.

Stories & comments are unique to the members who shares them, and are not to be modified or changed in any way but by the members themselves.
---
Moral Standards

At AncientFaces we follow the Golden Rule - treat others as you'd like to be treated yourself. We aim to treat people, both living and deceased, with the respect we all deserve.
Infrequently there are rare cases where members will share what we deem offensive and against our Community Standards.
Leaving a comment saying that "J Smith was an *** ** * ***** who deserved to die and I'm glad he is dead!!!" runs the risk of being deleted.

We don't want to rewrite history nor sugarcoat the past. People can be particularly cruel and act with evil intent. It's okay to share the bad qualities about an individual, but there are more appropriate ways to say it. As opposed to above, saying "J Smith was abusive and his actions haunt me even today. I'm glad he can no longer harm anyone." would be more appropriate.
Remember, our community is a safe place for people & families to share their stories of their past and the people in it. Please refrain from using foul and profane language.

Bullying is NOT tolerated. If a member is found to share information and photos about a person with the sole intent to badmouth, defame, or bully, their account will be immediately banned from AncientFaces. We have ZERO tolerance nor patience for this type of activity.

Be Sensitive with your Comments. Sometimes a particular event or person can stimulate powerful emotions. Examples include particularly memorable events and/or influential people who impacted a great number of people, the world, and helped shape the course of history.

In general, it is permissible to share your opinions about political and celebrity figures and your personal feelings about who they were and what they did. However, when it comes to leaving comments about common everyday people (think grandparents, spouses, friends and family) that you did not personally know, please be mindful and respectful when leaving comments.
Remember, you are making comments about loved ones who mean a great deal to the people that Share Their Memories about them.
---
Right to Privacy

Everyone has a right to privacy. Everyone also has the right to share their memories, grieve their own way, and share their family history and stories about their loved ones and ancestors.
Any biography that is requested to be deleted that is about themselves is immediately deleted. If a biography exists of a spouse, parent, or child that is not actively updated, or has previously been updated, and is requested to be deleted, we will typically honor these requests.
What about living people?
There are a number of biographies about living people. After all, we all are at the bottom of our family trees.
If you build a biography about a living individual, please be mindful of their right to privacy and respect their wishes if they do not want to be included on AncientFaces.
If you have a biography that you'd like removed, please Contact Us and select "Request to Remove Information". We often reply and handle these requests within hours of receiving them - sometimes within minutes!

---
Maintaining a Safe Community

All of the photos, memories, stories, and information shared on AncientFaces is managed and updated by members of the community. In order to share or edit information a Free Account is required.
All of the User Generated Content (UGC) is human reviewed to maintain a safe & healthy community that adheres to these Community Standards. Some UGC is automatically filtered for the protection of all members.
For example, when links to external websites are shared, an "[ external link ]" hyperlink replaces the actual URL so that it is apparent that you are leaving AncientFaces and alerts members that we do not control information on these external websites.
Also, anytime members include their email addresses we replace the email with a "[ contact link ]". We do this for the protection of our members from spammers that scrape websites for email addresses. As with external links, the contact link will still work.

Finally, profanity is automatically replaced with a series of asterisks (***).
As mentioned above, all UGC is human reviewed to maintain a safe & friendly environment that adheres to our Community Standards.
We also assist new members by modifying their contributions to make sure that data is correctly inputted to the best of our ability. For example, if information is inserted into the incorrect fields (E.g. a maiden name inserted into middle name) we will move this information to the correct location.
If we have incorrectly changed information you provided, please fix our mistake and Contact Us so we know to do better next time!
In the unusual circumstances where a member routinely does not embody the spirit of our community, we will ban this member's account and email the member as to why their account has been banned.

When content of an inappropriate nature about a person (including but not limited to foul language, a photo containing nudity, and/or accusations of a defamatory nature of a living person) is uploaded within 24 hours of registration, one of two consequences may occur: The member is warned and the content is deleted, or the member is banned.
---
Age Restrictions

While all are welcome at AncientFaces, and we love to see young people take an interest in history, there are age limitations due to local laws: No one 13 years old or younger may have a membership on AncientFaces. This age limit has been dictated by US law through the Children's Online Privacy Protection Act (COPPA).
We reserve the right to make individual decisions based on our Terms of Service for age 13 and over.
---
Family Disputes

In the case of disputes between family members regarding facts and information shared on AncientFaces we ask that those disputes be resolved between the parties involved. We can only remove information when requested by the person about whom the information is presented.
If there is a dispute between two parties re: a third party, this will be resolved by the members.
---
Request to Remove Information

Our members own their content and provide AncientFaces with the ability to display this information. See our Terms of Service for more details.
Any photos, comments, or edits to biographies a member contributes and wishes to delete has the tools available to do so within their account.

As Biographies are Collaborative, to remove a biography please Contact Us and select "Request to Remove Information". If the biography has only been updated by you then the biography will be promptly deleted. If other members are sharing about the individual then all members must agree to remove the biography from AncientFaces.
Non-Member Removal Requests
In general, we honor the majority of requests for removal of biographies and photos.
Whenever a person requests content about themselves deleted from AncientFaces we do so immediately. We reply to the requesting party, and then notify the member who shared this biography or photo (if applicable) about the change.

However, there are cases where we do not remove biographies or photos upon request. Some such examples include:



A relative requests a biography or photo deleted of a deceased individual which another relative has shared, and


Someone with the same name wants the biography deleted because they share a first and last name (this is more common than you'd think).


In the first example above we ask the two parties to discuss and agree together.

When content is removed by request, and the member who shared this information is notified, they agree to not share about the requestor in the future.
A member's account will be temporarily banned if they continue to add information about an individual who previously requested to be removed from AncientFaces.
---
Thank you for taking the time to read the
AncientFaces Community Standards
. These guidelines are always evolving and frequently updated based on the consensus of the community.
Have a suggestion on how our Community Standards can improve?
Please
Contact Us
to share your thoughts!