AncientFaces is a Family Friendly Community that remembers our loved ones and ancestors to keep the memory of them alive. A place to store our family stories and photos, and to share our memories and discoveries.
Through sharing what we know, together we discover more. See what some of our members have to say about the community and what they discovered.
Reuniting Lost Family
Lost contact with an uncle for 26 years and found out he's doing well at 91 years old!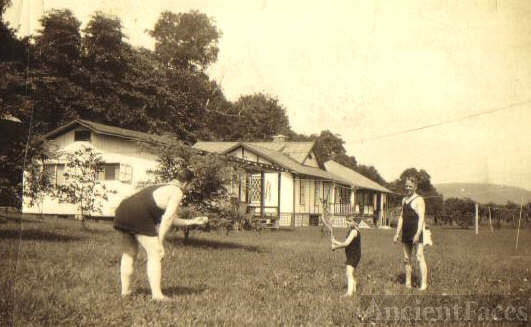 Member Arba Morrow added this photo of his grandfather and mother's younger brother from 1927. His family had lost contact with his uncle many years prior.

Almost a year later Arba was contacted by a member who reported that his uncle is still alive and at age 91 in good health.

Arba's message to the world:
"I hope everyone posts their family photos to AncientFaces...you might just find a long lost relative or make contact with relatives you didn't know you had."
---
A Brother's Memory
"I had dropped by AncientFaces for many years prior to writing about my brother. I wasn't ready -- but clearly AncientFaces was -- at any time. For a long time, I just couldn't find the internal will to remember my love for my brother in detail.
I used to think that what I knew about my brother would be handed down to family members. As time has gone by, though, the family has remained apart.
I don't have access to those who might benefit from hearing these stories about their relative who died way too young. I want them to feel pride and perhaps an 'aha!' moment when they think about what they might have inherited from him.

Maybe, also -- there is just no interest. That's why AncientFaces is such a critical way for people like me to preserve history. The person I write about had a great, interesting life and his effect on me lingers to this day. He deserves to be remembered.
Someday, someone out there will stumble on my musings and learn something about their distant relative. He was a young man with hopes, dreams, and a bright future. He was and would have been a valuable member of society, contributing in many positive ways. His death made the world a poorer and less happy place."
For glimpses into Stephen's brother's life visit Paul Sardi's Biography.
---
An 'orphan' photo found it's way to her Great-Great Grandaughter
This picture was found in an antique shop in the San Francisco Bay Area. Like many of us, Pam Marks couldn't let this one-of-a-kind 'Orphan Photo' live in a store collecting dust. So she purchased the photo then began on a mission.
Written on the back of this photo were more than enough clues to re-unite this treasure with it's family.

"Grandma [Emily], wife of Col. Jack C. Johnson (age about 40) and mama, Mary 'Mamie' E. Johnson-Robb...(about 6 months old)...born April 8, 1876 in Placerville in Bruster House...great-grandmother and grandmother to Philip Brock"

Pam researched the people on the back of the photo, matching names with their dates and location, then shared these details along with the photo on AncientFaces.
Within 2 years of sharing, the great-great-granddaughter of Emily contacted Pam with additional information and included this photo in her upcoming book dedicated to her grandfather.
---
Thanks to you I am meeting my little sister for the first time next month.
AncientFaces helped an adopted member in search of her mother find her biological family.
"I never knew my biological family. My family is my mother and father who raised me. But, as I got older I got curious about my heritage. It took me years of investigation to finally discover my parents' names."

"Well, I get goosebumps just writing this, I have found my biological family because of AncientFaces. Yes!!"
"I did a search for [mother's name] and was shocked to find a photo of her on AncientFaces! I cannot tell you the feeling that came over me when I saw this photo - to see the face of my biological mother…JUST LIKE THAT."
"I left a comment on the photo and you won't believe this - the owner of the photo is MY SISTER!!! Yes, I have a LITTLE sister!
It turns out my parents were too young when they had me and had to give me up. My little sister knew I existed and wanted to find me but had no way of doing it.
Thanks to you I am meeting my little sister for the first time next month. GOD BLESS YOU ANCIENTFACES."
- [ Anonymous for privacy reasons ]

These stories are just a small representation of the connections AncientFaces builds between the past, present, and future. Each and everyday our AncientFaces Team is blessed to receive narratives like these. They remind us of the importance of connecting through sharing, and the supportive community that makes AncientFaces.
For additional stories of reuniting families through sharing photos checkout these Success Stories.
---
Do you have a story that you'd like to share about how AncientFaces has benefitted you?
Contact Us
and let us know - we'd love to hear about it!