Wallace Morin
Loading...one moment please

Wallace Morin
Wallace Morin, WWII
Date & Place:
Not specified or unknown.
People tagged
in this photo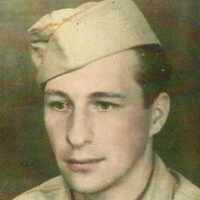 Wallace had one son born to his first wife while he served overseas during WWII. After returning home to New Jersey he married Arlene, with whom he had six more children, all daughters. He and Arlene bought a modest 2 bedroom / 1 bath Cape Cod style home in Hawthorne, NJ where they raised all 6 daughters (converting part of the upstairs/attic into an additional large bedroom) and where he lived until his death. Occupationally, Wallace followed in his father's footsteps. His father was a sawyer and Wallace worked in a saw mill for most of his working life and was blessed to live to see several grandchildren born during his lifetime though many more grandchildren were born after his death. His oldest grandchildren remember fondly "Grandpa Morin" who used to say after sitting down and closing his eyes after a long, hard day of working "I'm not sleeping, I'm just resting my eyes."
A Czebotar
About me:
I haven't shared any details about myself.
Lizzie Kunde
My name is Lizzie Kunde and I am the newest member of the AncientFaces Support team! See more info about me here:
Lizzie - Community Support
and I look forward to getting to know our wonderful members. Feel free to reach out with any questions, happy to help :)
My mom's side of the family is Swedish (and still lives in Sweden) and she instilled in me lots of Swedish heritage and traditions which has made me who I am today. My dad's side of the family is German and Irish and the most likely the side of the family I get all my freckles from. Family is so important, and welcome everyone to discover more about them, their history, and share about their loved ones who make up the history of who we are!
Back to

Top
Wallace Morin