Billy Wilder
(1906 - 2002)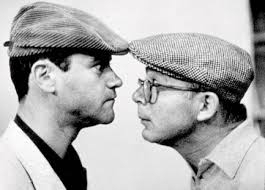 Billy Wilder was born on June 22, 1906 in Sucha Beskidzka, Lesser Poland Voivodeship Poland. He died on March 27, 2002 in Los Angeles, California at 95 years of age. We know that Billy Wilder had been residing in Encino, Los Angeles County, California 91316.
ADVERTISEMENT BY ANCESTRY.COM
Billy Wilder Biography
Vital facts & highlights of Billy's life to share with the world.
Encino, Los Angeles County, California 91316
Billy Wilder was born on in Sucha Beskidzka, Sucha County, Lesser Poland Voivodeship Poland 33
Billy Wilder died on in Los Angeles, Los Angeles County, California United States
Billy Wilder was born on in Sucha Beskidzka, Sucha County, Lesser Poland Voivodeship Poland 33
Billy Wilder died on in Los Angeles, Los Angeles County, California United States
There is no cause of death listed for Billy.
Do you know the final resting place - gravesite in a cemetery or location of cremation - of Billy Wilder?
Ethnicity & Lineage
What is Billy's ethnicity and where did his parents, grandparents & great-grandparents come from?
Nationality & Locations Lived
Wilder put his indelible stamp on some 50 films, beginning in 1929 with German scripts he wrote in Berlin through his final pictures: the very American "The Front Page" in 1974, "Fedora" in 1978 and the poorly received "Buddy Buddy" in 1981. He was content to let his body of work stand, kept no prints or tapes, and rarely watched his movies in later years. When friends tried to trick him into attending a Los Angeles Conservancy showing of his "Double Indemnity" a few years ago, Wilder refused, commenting: "I don't want to see all those dead people."

But Wilder the comic writer and director could also be a poet of cynicism and despair. His direction of novelist James M. Cain's "Double Indemnity" (which Wilder co-wrote with Raymond Chandler) in 1944 resulted in a film noir classic, and he startled audiences in 1950 when his "Sunset Boulevard," perhaps Hollywood's definitive look at itself, turned out to be narrated by a corpse.
Religion
Unknown. Was Billy a religious man?
Education
Did Billy finish grade school, get a GED, go to high school, get a college degree or masters? What schools or universities did Billy attend?
Professions
Billy Wilder
Biography
Born June 22, 1906 in Sucha, Galicia, Austria-Hungary [now Sucha Beskidzka, Malopolskie, Poland]
Died March 27, 2002 in West Los Angeles, California, USA (pneumonia)
Birth Name Samuel Wilder
Nickname The Viennese Pixie
Height 5' 11" (1.8 m)
Mini Bio (2)
Originally planning to become a lawyer, Billy Wilder abandoned that career in favor of working as a reporter for a Viennese newspaper, using this experience to move to Berlin, where he worked for the city's largest tabloid. He broke into films as a screenwriter in 1929 and wrote scripts for many German films until Adolf Hitler came to power in 1933. Wilder immediately realized his Jewish ancestry would cause problems, so he emigrated to Paris, then the US. Although he spoke no English when he arrived in Hollywood, Wilder was a fast learner and thanks to contacts such as Peter Lorre (with whom he shared an apartment), he was able to break into American films. His partnership with Charles Brackett started in 1938 and the team was responsible for writing some of Hollywood's classic comedies, including Ninotchka (1939) and Ball of Fire (1941). The partnership expanded into a producer-director one in 1942, with Brackett producing and the two turned out such classics as Five Graves to Cairo (1943), The Lost Weekend (1945) (Oscars for Best Picture, Director and Screenplay) and Sunset Blvd. (1950) (Oscars for Best Screenplay), after which the partnership dissolved. (Wilder had already made one film, Double Indemnity (1944) without Brackett, as the latter had refused to work on a film he felt dealt with such disreputable characters.) Wilder's subsequent self-produced films would become more caustic and cynical, notably Ace in the Hole (1951), though he also produced such sublime comedies as Some Like It Hot (1959) and The Apartment (1960) (which won him Best Picture and Director Oscars). He retired in 1981.
- IMDb Mini Biography By: Michael Brooke

The second of two sons, his father ran a chain of railway station cafes. As a youth he was obsessed with everything American. encouraged by his mother he enrolled as a law student at the University of Vienna but quit after 3 months to be a writer on a magazine which although poorly paid it gave him a great amount of experience interviewing such as Richard Strauss and Sigmund Freud. In 1926 he worked as an interpreter for jazz band leader Paul Whiteman on a European tour which ended in Berlin. There he became a freelance journalist mixing with the show business set and becoming friendly with Marlene Dietrich, a then small part actress. A fast and prolific writer he got introduced to prominent figures in the growing German film industry resulting in him being hired as a ghost writer writing scripts for established writers who didn't have time to meet their contractual obligations. His break came when he worked on 'People on Sunday', a modest film directed by Robert Siodmak, assistant cameraman Fred Zinneman and co-director Edgar Ulmer who would all later become prominent in the industry. When Hitler came to power Billy, a Jew, moved to Paris where he directed his first film, 'Mauvaise Graine' (Bad Seed) starring a 17 year old Danielle Darieux. Sending a script to Joe May, a former friend who was now a producer at Columbia Studios resulted in a ticket to USA and a promise of work. A continual rejection of his scripts put him on the bread line for awhile and then he was teamed with writer Charles Brackett to write a script for 'Bluebeard's Eighth Wife' which was followed by such as 'Ninotchka', 'Hold Back the Dawn' and 'Ball of Fire'. Billy wanted to direct, mainly to protect his scripts which other directors had ruined. His chance came with 'The Major and the Minor' with Ginger Rogers. After a few more scripts with Charles which Billy directed and Charles produced Billy collaborated with Raymond Chandler on 'Double Indemnity' - the house used as Barbara Stanwyck's character's home still stands today at 6301 Quebec Drive. Billy rejoined Charles for 'the Lost weekend' which won Oscars for Screenplay, director, film and actor (Ray Milland). At the end of WWII Billy returned to Germany as a colonel in the U.S. Army's Psychological warfare Division with the task of salvaging the German film industry. Using the background of Berlin's ruins he made 'A Foreign Affair' with his friend from early days, Marlene Dietrich. Returning to the States he rejoined Charles for what would be their last collaboration - 'Sunset Boulevard' which ended their 14 year partnership. Billy wanted Mae West for the role of Norma Desmond, but she turned it down so he spoke to Pola Negri, but visualized her thick accent causing too many problems. Willam Holden was a last minute casting for the role of Joe after Montgomery Clift dropped out 2 weeks before shooting was due to start.
- IMDb Mini Biography By: tonyman5

Spouse (2)
Audrey Young (30 June 1949 - 27 March 2002) ( his death)
Judith Frances Coppicus (22 December 1936 - 1947) ( divorced) ( 2 children)
Trade Mark (8)
His movies frequently started with narration
Films feature a sharp wit and characters who frequently try to change their identity.
A few of his films feature scenes where characters play cards (Sunset Blvd. (1950), Stalag 17 (1953), The Apartment (1960)). Wilder himself was an avid bridge and poker player.
Frequently cast Marilyn Monroe, William Holden, Jack Lemmon and Fred MacMurray. Wilder directed Jack Lemmon in seven movies: The Apartment (1960), Avanti! (1972), Buddy Buddy (1981), The Fortune Cookie (1966), The Front Page (1974), Irma la Douce (1963) and Some Like It Hot (1959).
Films often featured low key lighting
Featured dangerous, manipulative women in his films
Characters often look themselves on a little mirror
Cynical yet humorous films
Trivia (56)
Father of the twins Victoria and Vincent (born 1939). Their mother was Judith. Vincent died shortly after birth.
Met Audrey Young at Paramount Studios on set for The Lost Weekend (1945), as his divorce from Judith was in progress and he had a liaison with the actress Doris Dowling.
He used "Billie" as his first name until his emigration in 1933.
Estranged brother of producer/director W. Lee Wilder, uncle of Myles Wilder.
Long famous for the modern-art collection he put together over his lifetime (he sold only a portion of it in 1989 for $32.6 million)
Awarded Austria's Golden Order, First Class for Meritorious Services. [1991]
An inveterate clotheshorse, at age 83 he still owned over 60 cashmere sweaters.
Tom Cruise and Cameron Crowe begged Wilder to appear in Jerry Maguire (1996), but he turned them down flat.
He wanted to direct Schindler's List (1993), but Steven Spielberg preferred doing it himself. Wilder has been quoted saying it would have become his most personal film.
Had a long-standing partnership with screenwriter I.A.L. Diamond, with whom he won an Oscar for The Apartment (1960).
At least three of his films have been made into Broadway musicals. The Apartment (1960) was the basis for "Promises, Promises" in 1968. Some Like It Hot (1959) was the basis for "Sugar" in 1973. And Sunset Blvd. (1950) was adapted into a musical by Andrew Lloyd Webber in 1993.
Once told Billy Bob Thornton that he was too ugly to be an actor and he should write a screenplay for himself in which he could exploit his less than perfect features. Thornton later collected an Oscar for his Sling Blade (1996) screenplay.
At one point he was slated to direct a movie about the Marx brothers running the United Nations. This was around 1960. The project fell apart after Chico Marx's death in 1961, which was followed by Harpo Marx's death in 1964.
He collaborated closely with Steven Spielberg on the script for Schindler's List (1993), and was one of several directors considered to direct it (Roman Polanski and Martin Scorsese; both turned down the project). Although Wilder strongly considered directing Schindler's List (1993), he felt he was a little too old (he had already retired) and the subject was almost too personal (his mother, step-father and grandmother were killed in the Holocaust). It was ultimately Wilder who told Spielberg he should direct it.
His mother, Gitla Siedlisker, was murdered in 1943 in the Plaszow concentration camp. His stepfather, Bernard (Berl) Siedlisker, died in 1942 in the Belzec concentration camp, while his grandmother, Balbina Baldinger, died in 1943 in the ghetto of Nowy Targ.
In 1949 he married Audrey Young, an actress and former singer with the Tommy Dorsey band, whom he met on the set of The Lost Weekend (1945).
In the early 1950s, Wilder had planned on doing a film with Stan Laurel and Oliver Hardy. The film was to open with Stan and Ollie each sleeping in one of the "o"s of the Hollywood sign. The plot centered on a woman coming between them. The film was never made due to Hardy's failing health.
His idol and mentor was German director Ernst Lubitsch. Wilder always kept a sign hanging in his office that asked, "How would Lubitsch do it?"
Although born as Samuel Wilder, he was called "Billy" by his mother from infancy and it stuck. Some theorize it was due to her fascination with the western character Buffalo Bill Cody, but it may have been just because she thought it sounded American (she was obsessed with American culture).
Was voted the 24th Greatest Director of all time by Entertainment Weekly.
Because of his rounded face and non-stop elfin energy, people often pictured him as short and wiry, but he was in fact near 6 feet tall (taller than his favorite star, Jack Lemmon).
Biography in: John Wakeman, editor. "World Film Directors, Volume One, 1890-1945". Pages 1206-1210. New York: The H.W. Wilson Company, 1987.
Liked the name "Sheldrake" so much that he used it in three different films, most prominently in The Apartment (1960), but also in Sunset Blvd. (1950) and Kiss Me, Stupid (1964).
Was the subject of the 1999 book "Conversations with Wilder," written by director/writer Cameron Crowe.
It is thought that Wilder gained his acerbic view of people early on. His family, Austrian Jews, traveled constantly, and Wilder almost never made friends among his peers at school and instead found himself the subject of persecution as both a Jew and a foreigner.
Not having seen his parents since he went to Berlin to make films, he joined American patrols through war-torn Europe shortly after the war. Through intense research he found out that both his mother and grandmother were killed in concentration camps, a subject that he usually declined to discuss. However, when shooting a film with Wilder, an actor expressed sympathy for his own Nazi character, to which the usually cool-headed Wilder roared, "Those bastards killed my mother!!!"
Wilder had tried to enter the U.S. via Mexico, where U.S. officials repeatedly denied him entry for several months. At the point of losing hope, he went to a new immigration officer who asked him his profession. After stating he was a filmmaker, the officer stamped his papers, and upon entering the U.S. the officer said,"Make good ones, then."
He directed 14 different actors in Oscar-nominated performances: Barbara Stanwyck, Ray Milland, William Holden, Gloria Swanson, Erich von Stroheim, Nancy Olson, Robert Strauss, Audrey Hepburn, Charles Laughton , Elsa Lanchester, Jack Lemmon, Jack Kruschen, Shirley MacLaine and Walter Matthau. Milland, Holden and Matthau won Oscars for their performances in a Wilder film.
He is among an elite group of nine directors who have won Best Picture, Best Director and Best Screenplay (Original/Adapted) for the same film. In 1961 he won all three for The Apartment (1960). The others are Leo McCarey, Francis Ford Coppola, James L. Brooks, Peter Jackson, Joel Coen and Ethan Coen, Alejandro G. Iñárritu, and Bong Joon Ho.
Is portrayed by Howard Caine in Marilyn: The Untold Story (1980), by Allan Corduner in Norma Jean & Marilyn (1996) and by Peter Feder in The Audrey Hepburn Story (2000)
As a writer, he had odd habits. On the one hand, he hated writing alone, so he almost always used a partner, someone to be in the room with him while he worked. On the other hand, many of the partners complained that if he heard an idea he did not like, he could be cruel and insulting. Many writers quit on him because they could not take his abuse.
One of the most eclectic writer-directors ever. He excelled in film noir (Double Indemnity (1944)), drama (The Lost Weekend (1945)), comedy (Some Like It Hot (1959)) and war (Stalag 17 (1953)).
He died on the same day as Dudley Moore and Milton Berle. He and Moore both died of pneumonia. Of the three, Wilder is the only one who never made a guest appearance in The Muppet Show (1976).
In his last years he became patron of the "Billy-Wilder-Institute" located in Germany, a film school founded to educate only producers and screenwriters. The school was closed after just two years because of the death of its founder and dean Lothar Rhode.
He was awarded the American National Medal of the Arts in 1993 by the National Endowment of the Arts in Washington, DC.
On the first page of every screenplay of his own he used to write "Cum Deo" (With God), a habit he said he had taken from Pauline Kael. "It's not harmful, anyway," Wilder explained, "and could corrupt that guy dwelling up there".
His directorial debut was The Major and the Minor (1942).
His favorite film was Battleship Potemkin (1925).
Profiled in "Conversations with Directors: An Anthology of Interviews from Literature/Film Quarterly", E.M. Walker, D.T. Johnson, eds. Lanham, MD: Scarecrow Press, 2008.
The song, "Isn't it Romantic?" is featured in many of Wilder's films, not particularly because he liked the song, but, as he said of himself, "I'm cheap." Wilder got a great deal when he originally licensed the song for use, which allowed him to use it over and over.
He wrote five of the American Film Institute's 100 Funniest Movies: Some Like It Hot (1959) at #1, The Apartment (1960) at #20, The Seven Year Itch (1955) at #51, Ninotchka (1939) at #52 and Ball of Fire (1941) at #92.
Directed four of the American Film Institute's 100 Greatest Movies: Sunset Blvd. (1950) at #16, Some Like It Hot (1959) at #22, Double Indemnity (1944) at #29 and The Apartment (1960) at #80.
He worked closely with two co-writers in his career: earlier in his career with Charles Brackett, an older man who frequently provided a strong argumentative counterpoint in the writing room and later with I.A.L. Diamond, who possessed a cynical, humorous world view more in line with Wilder's.
Ingmar Bergman claimed that Wilder was his favorite Hollywood director.
Honored on a US Postage Stamp in May 2012 (along with Frank Capra, John Ford, and John Huston).
Was a fan of the British film Brief Encounter (1945). It inspired him to make the movie The Apartment (1960). The premise for The Apartment is based on a male character who loans out his flat to a friend and doesn't care what happens while he's out.
He was always uncomfortable around children and was an absentee father to his two children from his first marriage. He and his second wife, Audrey, agreed that they didn't want children.
He directed two Best Picture Academy Award winners: The Lost Weekend (1945) and The Apartment (1960). He also directed three other Best Picture nominees: Double Indemnity (1944), Sunset Blvd. (1950) and Witness for the Prosecution (1957).
Gaylord Larsen's 1988 novel "A Paramount Kill" features Wilder as a character. A whodunit set in 1940s Hollywood, it has Raymond Chandler as the hero and Wilder as his antagonist, causing trouble for Chandler because of their bad blood during the making of Double Indemnity (1944).
Despite directing some of the most iconic female performances of all time, such as Barbara Stanwyck in Double Indemnity (1944), Gloria Swanson in Sunset Blvd. (1950), Marilyn Monroe in Some Like It Hot (1959), and Shirley MacLaine in The Apartment (1960) none of them won an Oscar, although Swanson, Monroe and MacLaine all won a Golden Globe for their respective performances.
He was asked to direct Cabaret (1972).
He was asked to direct The Sound of Music (1965). He joked that he would have focused on the Nazis.
Jerry Lewis asked him to direct The Bellboy (1960). He declined and suggested that Lewis direct it himself.
He has directed seven films that have been selected for the National Film Registry by the Library of Congress as being "culturally, historically or aesthetically" significant: Double Indemnity (1944), The Lost Weekend (1945), Sunset Blvd. (1950), Ace in the Hole (1951), Sabrina (1954), Some Like It Hot (1959) and The Apartment (1960). He wrote all of those films in addition to Midnight (1939), Ninotchka (1939) and Ball of Fire (1941), all of which are in the registry as well.
Michael Caine tells in his biography that he was surprised to see Billy Wilder living in a flat instead a villa. Caine visited the apartment and said that it was full of paintings, with no room left to hang them on the walls.
While shooting the barnstorming sequence in "The Spirit of St. Louis," on a bet from Jimmy Stewart, Wilder was persuaded to fly on top of a biplane as a wing-walker.
Personal Quotes (56)
[after directing Marilyn Monroe for the second time in Some Like It Hot (1959)] I have discussed this with my doctor and my psychiatrist and they tell me I'm too old and too rich to go through this again.
Some pictures play wonderfully to a room of eight people. I don't go for that. I go for the masses. I go for the end effect.
Anyone who doesn't believe in miracles isn't a realist.
My English is a mixture between Arnold Schwarzenegger and Archbishop [Desmond Tutu].
A bad play folds and is forgotten, but in pictures we don't bury our dead. When you think it's out of your system, your daughter sees it on television and says, "My father is an idiot."
The Wilder message is don't bore--don't bore people.
I just made pictures I would've liked to see.
[opon seeing Sigmund Freud's therapy couch] It was a very tiny little thing. All his theories were based on the analysis of very short people!
[in 1976] They say Wilder is out of touch with his times. Frankly, I regard it as a compliment. Who the hell wants to be in touch with these times?
Making movies is little like walking into a dark room. Some people stumble across furniture, others break their legs but some of us see better in the dark than others. The ultimate trick is to convince, persuade.
I was not a guy writing deep-dish revelations. If people see a picture of mine and then sit down and talk about it for 15 minutes, that is a very fine reward, I think.
Today we spend 80% of the time making deals and 20% making pictures.
[to a cameraman on one of his pictures] Shoot a few scenes out of focus. I want to win the foreign film award.
A director must be a policeman, a midwife, a psychoanalyst, a sycophant and a bastard.
[on Marilyn Monroe] Breasts like granite and a brain like Swiss cheese.
Hollywood didn't kill Marilyn Monroe; it's the Marilyn Monroes who are killing Hollywood.
I have ten commandments. The first nine are, thou shalt not bore. The tenth is, thou shalt have right of final cut.
[about the Hotel Marmont on Sunset Blvd., a piece of Hollywood history] I would rather sleep in a bathroom than in another hotel.
[asked if it was important for a director to know how to write] No, but it helps if he knows how to read.
People copy, people steal. Most of the pictures they make nowadays are loaded down with special effects. I couldn't do that. I quit smoking because I couldn't reload my Zippo.
Trust your own instinct. Your mistakes might as well be your own, instead of someone else's.
You have to have a dream so you can get up in the morning.
You're only as good as the best thing you've ever done.
Hindsight is always 20/20.
France is the only country where the money falls apart and you can't tear the toilet paper.
[on Ace in the Hole (1951)] I was attacked by every paper because of that movie. They loathed it. It was cynical, they said. Cynical, my ass. I tell you, you read about a plane crash somewhere nearby and you want to check out the scene, you can't get to it because 10,000 people are already there: they're picking up little scraps, ghoulish souvenir hunters. After I read those horrifying reviews about "Ace in the Hole", I remember I was going down Wilshire Boulevard and there was an automobile accident. Somebody was run over. I stopped my car. I wanted to help that guy who was run over. Then another guy jumps out of his car and photographs the thing. "You'd better call an ambulance," I said. "Call a doctor, my ass. I've got to get to the 'L.A. Times'. I've got a picture. I've got to move. I just took a picture here. I've got to deliver it." But you say that in a movie, and the critics think you're exaggerating.
[on Marlene Dietrich] Mother Teresa with better legs.
[on Marilyn Monroe] An endless puzzle without any solution.
The Austrians are brilliant people. They made the world believe that [Adolf Hitler] was a German and [Ludwig van Beethoven] an Austrian.
If you're going to tell people the truth, be funny or they'll kill you.
An audience is never wrong. An individual member of it may be an imbecile, but 1000 imbeciles together in the dark--that is critical genius.
The subtlest comedy you can get right now is MASH (1970). They don't want to see a picture unless Peter Fonda is running over a dozen people or unless Clint Eastwood has got a machine gun bigger then 140 penises. It gets bigger all the time, you know; it started out as a pistol and now it's a machine gun. Something which is warm and funny and gentle and urbane and civilized hasn't got a chance today. There is a lack of patience which is sweeping the nation--or the world, for that matter.
In certain pictures I do hope they will leave the cinema a little enriched, but I don't make them pay a buck and a half and then ram a lecture down their throats.
You watch, the new wave will discover the slow dissolve in ten years or so.
What critics call dirty in our movies, they call lusty in foreign films.
An actor enters through a door, you've got nothing. But if he enters through a window, you've got a situation.
The best director is the one you don't see.
The close-up is such a valuable thing--like a trump at bridge.
[asked what the purpose of making films is] Well, number one, it's too late for me now to change and to become a gardener. Number two is to get away from the house and the vacuum cleaner. I want to be in my office and think. And number three, it's very exciting. I like to tell stories. Ultimately it's interesting. You meet nice people, it's glamorous, and, if you get lucky, very profitable. You suffer a great deal, but to paraphrase President [Harry S. Truman], if you can't take all that crap, get out of the studio. Believe me, this is not a profession for a dignified human being. I can see the interest in pictures when I talk to you students [at the American Film Institute], especially now that almost every university has something connected with movies. But if I had a son I would beat him with a very large whip trying to make a gardener, a dentist or something else out of him. Don't do it. It's just too tough. It hurts, and the moments of glory are very far between. Well, it's too late for me to turn back, too late for me to become a gardener. I can't bend over the azaleas. Not anymore.
[on Jack Lemmon] I'm terribly fond of Jack. We understand each other very well and it's a pleasure to work with him. He is a thinking actor, but not an argumentative one. By that way I mean if we start shooting at nine o'clock, he would be there at 8:15 and would come to my office and say, "Hey, I've got a great idea! Look, why don't we do this? Blah, blah, blah, blah." And I just look at him, and he says, "I don't like it either." And he walks out.
Everybody in the audience is an idiot, but taken together they're a genius.
When you say that I am searching for truth, and uh so and so, you French really know how to flatter somebody. I'm just trying to make a living. Get two hours of film, and I don't really give a shit if whether how true it is, great it is. Just get it over with. Where's that?
I don't think that making movies is my entire life. But there's one thing, you know, that I hate more than not being taken seriously, is to be taken too seriously.
[on why his films rarely feature children]: I could direct a dog. Kids, I don't know.
There was an actress named Marilyn Monroe. She was always late. She never remembered her lines. She was a pain in the ass. My Aunt Millie is a nice lady. If she were in pictures she would always be on time. She would know her lines. She would be nice. Why does everyone in Hollywood want to work with Marilyn Monroe and no one wants to work with my Aunt Millie? Because no one will go to the movies to watch my Aunt Millie.
[on film critic Judith Crist] Inviting her to review one of your pictures is like inviting the Boston Strangler to massage your neck.
[on William Holden's death] If someone had said to me, "Holden's dead", I would have assumed that he had been gored by a water buffalo in Kenya, that he had died in a plane crash approaching Hong Kong, that a crazed, jealous woman had shot him, and he drowned in a swimming pool. But to be killed by a bottle of vodka and a night table--what a lousy fade-out of a great guy!
[his thumbnail example of how he pictured existentialism] This boy falls in love with his mother and marries her. They live together quite happily until one day he learns that she isn't his mother. So he commits suicide.
[on Marilyn Monroe] I had no problem with Monroe. Monroe had a problem with Monroe.
[on Greta Garbo] Garbo had a sense of the mood, of the texture, of the instinct, without perhaps being very bright. Others can act their ass to shreds and nothing happens. But Garbo has a sixth sense, like [Marilyn Monroe], a sense for what is appropriate.
[on Audrey Hepburn] She gives the distinct impression that she can spell "schizophrenia".
[after hearing actor Cliff Osmond audition for a singing part] You have Van Gogh's ear for music.
[on his abortive attempts to get projects off the ground in the 1980s] I was retired but I didn't know it, because I was too busy.
If there are two guys that think the same way, that have the same background, that have the same political convictions and all the rest, it's terrible. It's not collaboration. It's like pulling on one end of the rope.
[of Raymond Chandler] He was a mess, but he could write a beautiful sentence.
I don't do cinema. I make movies.
Personal Life & Organizations
Share some highlights of Billy's personal life & organizations in which they participated.
Military Service
Did Billy serve in the military or did a war or conflict interfere with his life?
Average Age
Billy Wilder lived 24 years longer than the average Wilder family member when he died at the age of 95.
Looking for a different Billy Wilder?
View other bios of people named Billy Wilder
Back to Top
Billy's Family Photos
Photos and snapshots taken of Billy Wilder, his Wilder family, and locations and places or events from his life.
ADVERTISEMENT BY ANCESTRY.COM
Billy Wilder Obituary
This obit of Billy Wilder is maintained by Billy's followers. Contribute to her obituary and include details such as cemetery, burial, newspaper obituary and grave or marker inscription if available.
By MYRNA OLIVER
MARCH 29, 2002
TIMES STAFF WRITER
Billy Wilder, the director, writer and producer of both antic farce and serious drama who was nominated for 21 Academy Awards and won six, has died. He was 95.

Wilder, who had been in failing health for some time, died of pneumonia Wednesday at 11 p.m. at his home in Beverly Hills, his wife, Audrey, said Thursday.

As his health declined during the last few years, Wilder began lumping his various physical problems—including diminished eyesight, a cancer battle and frailties of old age—into what he called his "malady."

Yet the ever-dapper Wilder continued to go to his Beverly Hills office almost daily well into his 90s, reading and keeping tabs on film as well as art, of which he was an extremely knowledgeable collector. And he remained an icon to those around the world who make—and love—motion pictures.

"There are few filmmakers who don't crave being compared to him. His is a tough-minded romanticism and elegance; the lack of sentimentality has left him forever relevant as an artist," wrote director Cameron Crowe in his 1999 book, "Conversations With Billy Wilder."

"Wilder was a great collaborator," Times critic Kenneth Turan said. "Working first with Charles Brackett and then with I.A.L. Diamond, he co-wrote and directed films that have become the standard by which others are judged. He did this not once, but several times, in genres ranging from sex farce ('Some Like It Hot') and romantic comedy ('Ninotchka') to the darker areas of film noir ('Double Indemnity') and the social-problem picture ('The Lost Weekend'). And in 'Sunset Boulevard,' he made the ultimate Hollywood-on-Hollywood film as well."

"His mind and personality were so strong, it was easy to be lulled into thinking he would go on forever," Curtis Hanson, director and co-writer of "L.A. Confidential," said Thursday in a statement. "As a man he was witty and irreverent, of course, but he was also a humanist. And he was a relentless enemy of pomposity, particularly refreshing in this age of inflated self-importance. As a writer-director, he was an inspiration and teacher to us all."

"The great master is finished here," actress Shirley MacLaine, who starred in Wilder's films "The Apartment" and "Irma la Douce," said in a statement. "He will write and direct another masterpiece in heaven. I learned more from him than anyone else. I will miss him till we meet again."

Wilder put his indelible stamp on some 50 films, beginning in 1929 with German scripts he wrote in Berlin through his final pictures: the very American "The Front Page" in 1974, "Fedora" in 1978 and the poorly received "Buddy Buddy" in 1981. He was content to let his body of work stand, kept no prints or tapes, and rarely watched his movies in later years. When friends tried to trick him into attending a Los Angeles Conservancy showing of his "Double Indemnity" a few years ago, Wilder refused, commenting: "I don't want to see all those dead people."

"I don't like the idea of redoing," he told The Times in January 2000, when he was honored by the Academy of Motion Picture Arts and Sciences before a retrospective of 27 of his films presented by the UCLA Film and Television Archive and the American Cinematheque. "I did the best I could at the time. I want to leave it that way."

Although he respected certain contemporary directors, including Steven Spielberg, Wilder didn't envy them and came to believe that modern audiences flock to theaters because of stars rather than directors. "The glamour of being a director is over," he said in 2000. "So is the fun."

Although Wilder arrived in this country from Europe in 1934 with minimal knowledge of English, his use of the language on and off screen became legendary for its pithiness and sharp wit. And though he was nominated eight times by the Academy of Motion Picture Arts and Sciences as best director, a total bested only by William Wyler, all of his films were well and truly written before they were anything else.

Wilder's words were not only stylish, they brought a wide variety of material to life. Few creators of knockabout comedies as popular as "Some Like It Hot" were equally comfortable with dark and even brooding material.

But Wilder the comic writer and director could also be a poet of cynicism and despair. His direction of novelist James M. Cain's "Double Indemnity" (which Wilder co-wrote with Raymond Chandler) in 1944 resulted in a film noir classic, and he startled audiences in 1950 when his "Sunset Boulevard," perhaps Hollywood's definitive look at itself, turned out to be narrated by a corpse.

In person, Wilder's verbal thrusts could be just as incisive as the dialogue he scripted. He counseled one actor, "You have Van Gogh's ear for music," advised Walter Matthau that "we're on the track of something absolutely mediocre," and wooed his wife by telling her, "I'd worship the ground you walk on if you lived in a better neighborhood."
Other Records of Billy Wilder
1906 - 2002 World Events
Refresh this page to see various historical events that occurred during Billy's lifetime
In 1906, in the year that Billy Wilder was born, President Theodore Roosevelt received the Nobel Prize for Peace. The award was considered controversial at the time because many thought that he was an imperialist. But he had brokered peace between Russia and Japan a year previous and had allowed a dispute between Mexico and the U.S. to go to arbitration, resolving the issue peacefully rather than resorting to military conflict. For these two reasons, the Nobel Prize committee chose him for the Peace Prize.
In 1920, Billy was merely 14 years old when the Volstead Act became law. Formally called the National Prohibition Act, the Volstead Act enabled law enforcement agencies to carry out the 18th Amendment. It said that "no person shall manufacture, sell, barter, transport, import, export, deliver, or furnish any intoxicating liquor except as authorized by this act" and defined intoxicating liquor as any beverage containing more than 0.5% alcohol by volume.
In 1935, by the time he was 29 years old, on August 14, the Social Security Act was signed into law. The purpose was to "provide federal assistance to those unable to work". The law established the Social Security Administration whose primary focus was to "provide aid for the elderly, the unemployed, and children". The Act survived many Supreme Court challenges and the Administration continues until today.
In 1970, he was 64 years old when on May 1st, US troops invaded Cambodia, expanding the Vietnam War. The invasion of Cambodia was a Nixon policy, although it was argued against by both his Secretary of State and his Secretary of Defense.
In 1990, Billy was 84 years old when on April 24th, the Hubble telescope was launched into space after long delays due to the Challenger explosion. An optical flaw was found within weeks of launch but was fixed within three years. The discoveries made possible by the Hubble have contributed to scientists' understanding of the universe.
Other Billy Wilders
Other Wilders
Other Bios
Success Stories from Biographies like Billy Wilder
Highlights of just a few of the many successes of sharing memories & family history at AncientFaces. From reuniting lost or 'orphan' photos with their families, seeing the faces of family for the first time, to connecting unknown and lost relatives.

These stories will warm your heart. Are you inspired to share photos and biographies of the people from your past?