Edward G. Robinson
(1893 - 1973)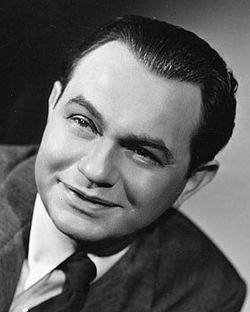 Edward G. Robinson was born on December 12, 1893 in Bucharest, Bucharest Romania. He died on January 26, 1973 in at 79 years old.

Born December 12, 1893 in Bucharest, Romania
Died January 26, 1973 in Hollywood, Los Angeles, California, USA (cancer) Buried in Brooklyn, NY.
Birth Name Emanuel Goldenberg
Nicknames Eddie and Manny.
Height 5' 7" (1.7 m)
Emanuel Goldenberg arrived in the United States from Romania at age ten, and his family moved into New York's Lower East Side. He took up acting while attending City College, abandoning plans to become a rabbi or lawyer. The American Academy of Dramatic Arts awarded him a scholarship, and he began work in stock, with his new name, Edward G. Robinson (the "G" stood for his birth surname), in 1913. Broadway was two years later; he worked steadily there for 15 years. His work included "The Kibitzer", a comedy he co-wrote with Jo Swerling. His film debut was a small supporting part in the silent The Bright Shawl (1923), but it was with the coming of sound that he hit his stride. His stellar performance as snarling, murderous thug Rico Bandello in Little Caesar (1931)--all the more impressive since in real life Robinson was a sophisticated, cultured man with a passion for fine art--set the standard for movie gangsters, both for himself in many later films and for the industry. He portrayed the title character in several biographical works, such as Dr. Ehrlich's Magic Bullet (1940) and A Dispatch from Reuters (1940). Psychological dramas included Flesh and Fantasy (1943), Double Indemnity (1944), The Woman in the Window (1944)and Scarlet Street (1945). Another notable gangster role was in Key Largo (1948). He was "absolved" of allegations of Communist affiliation after testifying as a friendly witness for the House Un-American Activities Committee during the McCarthy hysteria of the early 1950s. In 1956 he had to sell off his extensive art collection in a divorce settlement and also had to deal with a psychologically troubled son. In 1956 he returned to Broadway in "Middle of the Night". In 1973 he was awarded a special, posthumous Oscar for lifetime achievement.
Spouse (2)
Jane Robinson (16 January 1958 - 26 January 1973) ( his death)
Gladys Lloyd (21 January 1927 - 20 July 1956) ( divorced) ( 1 child)
Prideful, nasty and violent characters involved in the underworld
Unconventional, almost catfish-like mug. His short, squat frame.
The line "Yeah, See" but pronouncing See as Say for "Yeah, Say" which has become an iconic imitation.
ADVERTISEMENT BY ANCESTRY.COM
Edward G. Robinson Biography
Vital facts & highlights of Edward's life to share with the world.
Unknown. Did Edward move a lot? Where was his last known location?
Edward Robinson was born on in Bucharest, Bucharest County, Bucharest Romania
Edward Robinson died on in United States
Edward Robinson was born on in Bucharest, Bucharest County, Bucharest Romania
Edward Robinson died on in United States
There is no cause of death listed for Edward.
at Beth-El Cemeteries, 80-12 Cypress Hills St, in Brooklyn, NY, Queens County, New York United States 11385
Ethnicity & Lineage
I remember just before going onto the soundstage, I'd look in my dressing room mirror and stretch myself to my full 5'5" or 5'6"--whatever it was--to make me appear taller and to make me able to dominate all the others and to mow them down with my size.
Of course, I started as a collector. A true collector. I can remember as if it were only yesterday the heart-pounding excitement as I spread out upon the floor of my bedroom The Edward G. Robinson Collection of Rare Cigar Bands. I didn't play at collecting. No cigar anywhere was safe from me. My father and uncles and all their friends turned their lungs black trying to satisfy my collector's zeal. And then came cigarette cards, big-league baseball players. I was an insatiable fiend, and would cheerfully trade you three Indian Joes for one of that upstart newcomer, Ty Cobb.
Paintings never really belong to one of us. If we are fortunate, as I have been, we are allowed at most a lovely time of custody.
Acting and painting have much in common. You begin with the external appearance and then strip away the layers to get to the essential core. This is reality and that is how an artist achieves truth. When you are acting, you are playing a part, you are being somebody else. You are also, at the same time, being yourself.
Some people have youth, some have beauty--I have menace.
The sitting around on the set is awful. But I always figure that's what they pay me for. The acting I do for free.
[on Humphrey Bogart] I always felt sorry for him--sorry that he had imposed upon himself the character with which he had become identified.
[om writer/director Richard Brooks] As feisty, individual, unpredictable and honest as any man I've ever known.
[on being cast in The Ten Commandments (1956)] Cecil B. DeMille restored my self-respect.
Every one of us bears within him the possibility of all passions, all destinies of life in all its manifold forms. Nothing human is foreign to us.
[to good friend Jesse Lasky Jr., screenwriter of The Ten Commandments (1956)] You gave me the greatest exit a 'heavy' ever had. No actor would break friendship with a writer who created a tempest, then an earthquake, then opened a fissure and had me fall through into hell. Even in Little Caesar (1931) I never had an exit as good as that!
[on DeMille, who gave Robinson the role of Dathan at a time when the actor was blacklisted] No more conservative or patriarchal figure existed in Hollywood, no one more opposed to communism or any permutation or combination thereof, and no fairer one, no one with a greater sense of decency and justice.
Nationality & Locations Lived
American Citizen and for many years he lived in New York and Hollywood but chose to be buried in a Jewish cemetery in Brooklyn, NY.
Religion
Jewish. He was buried in Brooklyn, NY.
Education
Romania and the USA.
Professions
Famous actor.
Became a father at age 39 when his 1st [later ex] wife Gladys Lloyd gave birth to their son Edward G. Robinson Jr. on March 19, 1933.
Interred at Beth El Cemetery, Brooklyn, New York, in the Goodman Mausoleum.
Incredibly, never nominated for an Academy Award. He was awarded an Honorary Oscar two months after his death. His wife, who accepted for him, commented on how thrilled he was to learn he would be given the award.
Was originally slated to play Dr. Zaius in Planet of the Apes (1968) but dropped out due to heart problems.
Pictured on a 33¢ USA commemorative postage stamp in the Legends of Hollywood series, issued 24 October 2000.
Father of Edward G. Robinson Jr..
Died two weeks after he had finished filming Soylent Green (1973).
The inspiration for the voice of Chief Clancy Wiggum (Hank Azaria) on The Simpsons (1989).
Although best known for playing fierce, shady little men, Robinson was well liked by almost everyone off-screen, having been a sensitive, quiet, artistic type when not performing.
Was named #24 greatest actor on The 50 Greatest Screen Legends by the American Film Institute
According to the March 31, 1941, issue of "Time" magazine, he and Melvyn Douglas bid $3,200 for the fedora hat that Franklin D. Roosevelt had worn during his three successful campaigns for the presidency. They acquired the hat at a special Hollywood auction to benefit the Motion Picture Relief Fund. Both Robinson and Douglas were identified as "loyal Democrats". Robinson would later be "grey-listed" during the McCarthy Red Scare hysteria of the 1950s and have to make his living on stage.
Member of the jury at the Cannes Film Festival in 1953.
Lived in a Yiddish community in Romania until he was 9.
Donated $100,000 to the United Service Organization (USO) during WW2. Like many celebrities, Robinson also pitched in at the Hollywood Canteen and, being multilingual (he reportedly spoke seven languages fluently, among them Yiddish, Romanian and German), worked on broadcasts to countries occupied by the Nazis.
Spoke seven other languages besides English, including Yiddish, Romanian and German.
When he died in 1973, he left an estate valued at $2,500,000 which largely consisted of rare works of art.
Robinson's fellow student and close friend at the American Academy of Dramatic Arts was Joseph Schildkraut, who remembered, 'I looked at the girls, but Manny stuck to his work'.
Robinson suffered a heart attack while filming A Boy Ten Feet Tall (1963) in Africa,.
Other alumni of his P.S. 21 in Manhattan were George Gershwin, Paul Muni and US Sen. Jacob Javits.
Although it has been said that Robinson chose his stage name after an actor he had seen and admired, later he said he was just trying to keep his birth initials. He was unsure as to why he had settled on Robinson but would have chosen a shorter name if allowed to do it again as it takes a long time to write Robinson in an autograph.
He was considered for the role of Don Vito Corleone in The Godfather (1972) before Marlon Brando was cast.
He was originally offered the role of Little Bonaparte in Some Like It Hot (1959), but Robinson had vowed never again to work with George Raft, with whom he had a fist fight on the set of Manpower (1941) when for a scene Raft spun him around too hard. (Despite the avowal, Robinson did co-star with Raft in A Bullet for Joey (1955)) However, the role of Johnny Paradise, the kid homaging Raft's "cheap trick" of coin-flipping, is also the man with the Tommy gun in the birthday cake who mows down Spats and his gang. The actor is Edward G. Robinson Jr..
Became a grandfather at age 59 when his son Edward G. Robinson Jr. and his 1st [later ex] wife Frances Chisholm welcomed a daughter, Francesca Gladys Robinson, on March 27, 1953.
His great grandson Adam Edward Sanchez, via granddaughter Francesca and her husband Ricardo, was born 10 years after his death on February 5, 1983.
Starred in three Best Picture Academy Award nominees: Five Star Final (1931), Double Indemnity (1944), and The Ten Commandments (1956).
He hated guns. During production of Little Caesar (1931), Robinson's eyelids had to be taped open so he wouldn't flinch when he fired his weapon.
He was a great art lover, especially paintings. Robert Wagner, who knew him very well, revealed that Robinson bought a Cézanne painting which did not fit with his living room. So, he first changed the mantel of the living room, then the wall paper of the living room, then the furniture around the painting. But it did not make it. So he finally chose another apartment for the Cézanne painting.
Personal Life & Organizations
Received a special award from the Maryland State Council of the American Jewish Congress for his performance as Dathan in The Ten Commandments (1956).
According to an interview with Soylent Green (1973) costar Dick Van Patten , he worked with Edward G. Robinson for the first time while shooting the euthanasia scene and was somewhat embarrassed that he was so nervous they had to do several takes before he got use to not calling him "Mr. Robinson". The next day, before, shooting started, Charlton Heston called all the cast together to announce that "Eddie" has passed away during the night. One of the finest scenes ever worked by this classic icon fittingly became his swan song.
He has appeared in three films that have been selected for the National Film Registry by the Library of Congress as being "culturally, historically or aesthetically" significant: Little Caesar (1931), Double Indemnity (1944) and The Ten Commandments (1956).
Personal Quotes (19)
If I were just a bit taller and I was a little more handsome or something like that, I could have played all the roles that I have played, and played many more. There is such a thing as a handicap, but you've got to be that much better as an actor. It kept me from certain roles that I might have had, but then, it kept others from playing my roles, so I don't know that it's not altogether balanced.
[on Double Indemnity (1944)] It was, in fact, the third lead. I debated accepting it. Emanuel Goldberg told me that at my age it was time to begin thinking of character roles, to slide into middle and old age with the same grace as that marvelous actor Lewis Stone . . . The decision made itself . . It remains one of my favorites.
I have not collected art. Art collected me. I never found paintings. They found me. I have never even owned a work of art. They owned me.
To last you need to be real.
To be entrusted with a character was always a big responsibility to me.
To my mind, the actor has this great responsibility of playing another human being . . . it's like taking on another person's life and you have to do it as sincerely and honestly as you can.
Ah yes, I remember well what it was like to be a true collector, that soft explosion in the heart, that thundering inner "Yes!" when you see something you must have or die. For over 30 years I made periodic visits to [Auguste Renoir's] "Luncheon of the Boating Party" in a Washington museum, and stood before that magnificent masterpiece hour after hour, day after day, plotting ways to steal it.
Military Service
Did Edward serve in the military or did a war or conflict interfere with his life?
Average Age
Edward G. Robinson lived 11 years longer than the average Robinson family member when he died at the age of 79.
Looking for a different Edward Robinson?
View other bios of people named Edward Robinson
Back to Top
Edward G. Robinson Family Tree
Edward's Family Photos
Photos and snapshots taken of Edward G. Robinson, his Robinson family, and locations and places or events from his life.
ADVERTISEMENT BY ANCESTRY.COM
Edward Robinson Obituary
This obit of Edward G. Robinson is maintained by Edward's followers. Contribute to her obituary and include details such as cemetery, burial, newspaper obituary and grave or marker inscription if available.
Edward G. Robinson
ORIGINAL NAME Emanuel Goldenberg
BIRTH 12 Dec 1893
Bucharest, Bucuresti Municipality, Romania
DEATH 26 Jan 1973 (aged 79)
Hollywood, Los Angeles County, California, USA
BURIAL
Beth El Cemetery
Ridgewood, Queens County, New York, USA Show Map
PLOT Goodman Mausoleum
MEMORIAL ID 880 · View Source
Actor. He had a strong screen presence and is remembered for his roles as gangsters, which set standards for future tough guy actors. He attended the American Academy of Dramatic Arts then began appearing in summer stock after he changed his name to Edward G. Robinson. He debuted on stage in 1915 and became a noted stage actor for many years before becoming a motion picture actor. The 1931 film "Little Cesar" brought him to the attention of the American public and his popularity increased. Playing tough guy roles in the 1930s, he decided in the 1940s to play good guys, mostly businessmen, federal agents and scientists. Some of his memorable films of that period are "The Sea Wolf" (1941) and "Scarlet Street" (1945) co-starring Joan Bennet. One of his notable performances was a war crimes commissioner in the 1946 film "The Stranger" which Orson Welles directed and starred in along with Loretta Young. In the 1950s Edward G. Robinson experienced many personal problems, including being falsely connected to communist groups and called before the House Un-American Activities Commission. He was later cleared of all accusations and suspicion. He was also forced to sell his prized art collection as part of a divorce settlement with his wife Gladys Lloyd. He continued working in films and also on television before his death in 1973. That same year he was given a posthumous Oscar award. He also authored a posthumously published autobiography entitled "All My Yesterdays" (1973).
(Ortiz)
Other Records of Edward G. Robinson
1893 - 1973 World Events
Refresh this page to see various historical events that occurred during Edward's lifetime
In 1893, in the year that Edward G. Robinson was born, a songbook, called Song Stories for the Kindergarten, was published by sisters Patty and Mildred Hill. One of the songs included in the book was "Good Morning to All" - later the lyrics were changed and it became "Happy Birthday to You".
In 1900, by the time he was merely 7 years old, the U.S. helped put down Boxer Rebellion. The Boxer Rebellion took place in China, where the presence of "outsiders" (foreigners) was resented. The United States, along with Austria-Hungary, France, Germany, Great Britain, Italy, Japan, and Russia, had business interests in China and these countries all sent troops to put down the Rebellion and keep China open to their presence and to Christian missionaries.
In 1949, Edward was 56 years old when comedian Milton Berle hosted the first telethon show. It raised $1,100,000 for cancer research and lasted 16 hours. The next day, newspapers, in writing about the event, first used the word "telethon."
In 1951, by the time he was 58 years old, on June 25th, CBS began broadcasting in color. There were well over 10 million televisions by that time. The first show in color was a musical variety special titled "Premiere". Hardly anyone had a color TV that could see the show.
In 1973, in the year of Edward G. Robinson's passing, on January 28th, the Paris Peace Accord was signed - supposedly ending the Vietnam War. Hostilities continued between North and South Vietnam and the U.S. continued to bomb. But by August 15, 1973, 95% of American troops had left Vietnam. The war ended in 1975 with the fall of Saigon.
Other Robinsons
Other Bios
Success Stories from Biographies like Edward G. Robinson
Highlights of just a few of the many successes of sharing memories & family history at AncientFaces. From reuniting lost or 'orphan' photos with their families, seeing the faces of family for the first time, to connecting unknown and lost relatives.

These stories will warm your heart. Are you inspired to share photos and biographies of the people from your past?