Mervyn LeRoy
(1900 - 1987)
Mervyn LeRoy was born on October 15, 1900 in San Francisco, California. He died on September 13, 1987 at age 86. We know that Mervyn LeRoy had been residing in Beverly Hills, Los Angeles County, California 90210.

Film Director Mervyn LeRoy Dead at 86

SEP. 14, 1987 1
TIMES STAFF WRITER
Oscar-winning producer-director Mervyn LeRoy, the one-time San Francisco newsboy who set the tone of Hollywood movie making for 40 years with such films as "Little Caesar," "The Wizard of Oz," "Quo Vadis" and "Gypsy"--and co-founded Hollywood Park race track--died Sunday at his home in Beverly Hills.
He was 86, and members of the family said heart ailments had kept him bedridden for the last six months.
"Mervyn went peacefully, in his sleep," said Kitty LeRoy, his wife of 41 years. "His heart just gave way. He was dead when I came to wake him at 8 a.m. It was a good kind of death after a good kind of life.
'Good and Sweet Man'
"None of us could have wanted anything better for a good and sweet man. . . ."
In addition to his wife, he leaves a daughter, Linda Jacklow, a son, Warner LeRoy, and five grandchildren. Funeral services are pending.
One of the most successful products of the pre-World War II studio system, LeRoy's career was a reflection of the strengths of that system--while betraying almost none of its weaknesses.
He had been a full-fledged director at First National (later Warner Bros.) for only three years when his handling of "Little Caesar" and "I Am a Fugitive From a Chain Gang" boosted Edward G. Robinson and Paul Muni to stardom--and set the tone of fast-paced toughness that dominated Warners' products for a decade.
Later, at MGM, he presided over a series of lush, romantic vehicles that enhanced the careers of such stars as Vivien Leigh and Greer Garson, while displaying a total mastery of such diverse forms as musicals, historical spectaculars, action films and even children's fantasy.
He won an Oscar in 1942 for directing "Random Harvest," received an honorary Oscar three years later for producing a short subject, "The House I Live In," and was selected for the Irving Thalberg Memorial career achievement award in 1975.
"And through it all," studio mogul Jack Warner told a magazine interviewer in the 1960s, "he never seemed to have a box-office disaster. Maybe one or two that didn't do as well as they might--but no disasters. And mixed in there, several of the biggest winners of all time.
"Add the fact that you can't find anyone in town to call him a son of a bitch--and you've got a real giant.
"There's nobody like him and never will be. . . ."
In addition, LeRoy helped found the Hollywood Turf Club--which built Hollywood Park--five decades ago and served for three decades as president of the corporation that controlled the race track.
It was LeRoy who introduced Ronald Reagan to then-actress Nancy Davis. In a statement issued Sunday by the White House, the President and Mrs. Reagan called him "a special part of our lives.
"It was he who introduced us. And he was always a precious friend," the statement said. "Mervyn LeRoy was one of the pillars of the entertainment industry, responsible for some of the finest motion pictures ever. He was one of the greatest directors and producers of all time, knowing exactly how a scene should be and knowing just what to say to get his actors to make it right."
"He had a touch that was like no other," Lane Curtiz said in a 1981 appreciation. "The name 'Mervyn LeRoy' on the film meant that your intellect was not likely to be assaulted and your sense of fitness would emerge intact. There was an essential rightness about all that he did.
"You knew the film he made would be as decent and elegant as the man himself."
ADVERTISEMENT BY ANCESTRY.COM
Mervyn LeRoy Biography
edit Vital facts & highlights of Mervyn's life to share with the world.
Beverly Hills, Los Angeles County, California 90210
Mervyn LeRoy was born on in San Francisco, San Francisco County, California United States
Mervyn LeRoy was born on in San Francisco, San Francisco County, California United States
Mervyn LeRoy died on
There is no cause of death listed for Mervyn.
Do you know the final resting place - gravesite in a cemetery or location of cremation - of Mervyn LeRoy?
Ethnicity & Lineage
What is Mervyn's ethnicity and where did his parents, grandparents & great-grandparents come from?
Nationality & Locations Lived
Religion
Unknown. Was Mervyn a religious man?
Education
Did Mervyn finish grade school, get a GED, go to high school, get a college degree or masters? What schools or universities did Mervyn attend?
Professions
However, his beginnings were not elegant at all.
MERVYN LeROY'S FILMS Films directed by Mervyn LeRoy included: "No Place to Go," First National, 1927. "Flying Romeos," First National, 1928. "Harold Teen," First National, 1928. "Oh Kay!," First National, 1928. "Naughty Baby," First National, 1929. "Hot Stuff," First National, 1929. "Broadway Babies," First National, 1929. "Little Johnny Jones," First National, 1929. "Playing Around," First National, 1929. "Showgirl in Hollywood," First National, 1930. "Numbered Men," First National, 1930. "Top Speed," First National, 1930. "Little Caesar," First National, 1931. "Gentleman's Fate," First National, 1931. "Too Young to Marry," First National, 1931. "Broad Minded," First National, 1931. "Five Star Final," First National, 1931. "Local Boy Makes Good," First National, 1931. "Tonight or Never," United Artists, 1931. "High Pressure," Warner Bros., 1932. "Two Seconds," First National, 1932. "Big City Blues," Warner Bros., 1932. "Three on a Match," First National, 1932. "I Am a Fugitive From a Chain Gang," Warner Bros., 1932. "Hard to Handle," Warner Bros., 1933. "Elmer the Great," First National, 1933. "Gold Diggers of 1933," Warner Bros., 1933. "Tugboat Annie," MGM, 1933. "The World Changes," First National, 1933. "Hi, Nellie!" Warner Bros., 1934. "Heat Lightning," Warner Bros., 1934. "Happiness Ahead," First National, 1934. "Sweet Adeline," Warner Bros., 1935. "Oil for the Lamps of China," Warner Bros., 1935. "Page Miss Glory," Warner Bros., 1935. "I Found Stella Parish," First National, 1935. "Anthony Adverse," Warner Bros., 1936. "Three Men on a Horse," First National, 1936. "The King and the Chorus Girl," Warner Bros., 1937. "They Won't Forget," Warner Bros., 1937. "Fools for Scandal," Warner Bros., 1938. "Waterloo Bridge," MGM, 1940. "Escape," MGM, 1940. "Blossoms in the Dust," MGM, 1941. "Unholy Partners," MGM, 1941. "Johnny Eager," MGM, 1941. "Random Harvest," MGM, 1942. "Madame Curie," MGM, 1943. "Thirty Seconds Over Tokyo," MGM, 1944. "Without Reservations," RKO Radio, 1946. "Homecoming," MGM, 1948. "Little Women," MGM, 1949. "Any Number Can Play," MGM, 1949. "East Side, West Side," MGM, 1950. "Quo Vadis," MGM, 1951. "Lovely to Look At," MGM, 1952. "Million Dollar Mermaid," MGM, 1952. "Latin Lovers," MGM, 1953. "Rose Marie," MGM, 1954. "Strange Lady in Town," Warner Bros., 1955. "Mister Roberts," co-directed with John Ford, Warner Bros., 1955. "The Bad Seed," Warner Bros., 1956. "Toward the Unknown," Warner Bros., 1956. "No Time for Sergeants," Warner Bros., 1958. "Home Before Dark," Warner Bros., 1958. "The FBI Story," Warner Bros., 1959. "Wake Me When It's Over," 20th Century-Fox, 1960. "The Devil at 4 O'Clock," Columbia, 1961. "A Majority of One," Warner Bros., 1962. "Gypsy," Warner Bros., 1962. "Mary, Mary," Warner Bros., 1963. "Moment to Moment," Universal, 1966.
Personal Life & Organizations
Born Oct. 15, 1900, in San Francisco, LeRoy was the son of prosperous importer-exporter Harry Levy, whose business was wiped out in the earthquake and fire of 1906.
"My father broke his heart trying to build it all back," LeRoy recalled in later years, "and when he died in 1910, it was root hog or die. I went to work selling newspapers on the street and completed my schooling at that level.
"But I was lucky--the place I picked out to sell the papers (and had to fight someone just about every other day to keep) was in front of the Alcazar Theater. Talking to people there and listening to things that were said, I got the idea that there might be a better way to make a buck, so I entered the amateur-night contest."
His winning impersonation of Charlie Chaplin got him started on a vaudeville career as part of an act called "Two Kids and a Piano," which ended far short of the Palace. He wound up stranded in New York.
"But I liked the work a lot better than selling papers," he said, "and I decided to stay in show business."

A cousin who had already switched from vaudeville to the movies--whose name was Jesse L. Lasky--staked LeRoy to a rail ticket from New York to Hollywood and put him to work in the costume department of a studio called Famous Players-Lasky (later to be known as Paramount). LeRoy spent the next few months trying to make up his mind about whether he liked the town and the business.

"I decided I did," he said. "But I also decided I was in the wrong job."

LeRoy used a talent for inventing gags to break out of the costume department. He was soon inventing funny bits for Colleen Moore, who was instrumental in getting him his first feature directing assignment from First National, a 1928 effort called "No Place to Go," starring Lloyd Hughes and Mary Astor.

"It wasn't the greatest motion picture of all time," he said, "but it wasn't the worst, either, and I went on the payroll permanently."

Minor efforts such as "Flying Romeos," "Harold Teen" and "Hot Stuff" kept him occupied and enabled him to learn his craft during the next few years. First National slowly promoted him to more important pictures, such as "Oh, Kay!" and "Broadway Babies."

But the gangster era that was just beginning to make a major impact on the public consciousness and the opening years of the Great Depression combined to offer an opportunity that LeRoy seized with a picture that had originally been scheduled as a "programmer"--a low-budget exercise intended more to keep movie theaters running and film cameras turning than to make a statement in the world.

"But I saw the script we had could be something else," LeRoy said. "And I saw that the man cast in the lead could be a major force. So, I directed it that way."

'Little Caesar" Was Key

The result was "Little Caesar," which set box-office records across the country and established its star--and its director--as leaders in the film world.

The following year, after turning out a number of films such as "Five Star Final" and "Three on a Match," LeRoy scored again with "I Am a Fugitive From a Chain Gang."

It was also hailed as a major innovation in film technique. At the end, leading man Paul Muni's girlfriend cries after him, "How do you live?" and his fading voice replies--from absolute blackness--"I steal!"

"But the blackness was an accident," LeRoy said later. "A fuse blew while the camera was rolling, but the blackout ending was so effective I kept it instead of the slow fade that was in the script."

LeRoy was also at pains to deny one of Hollywood's most enduring myths--the story of how Lana Turner was discovered while she sipped a soda at Schwab's drugstore.

"Not true at all," LeRoy said. "She was in high school when Zeppo Marx, one of the Marx brothers, who was an agent at the time, brought her in to see me. The minute I saw her, I knew she would be a sensation on film, and I signed her for the first picture I could lay my hands on."

It turned out to be something called, "They Won't Forget," and no one in Hollywood ever did--except that the facts, as usual, got lost amid press-agent hype.

Diverse Efforts

As the years passed, LeRoy's fluency in and grasp of all film forms was shown in directing such diverse efforts as "Tugboat Annie," "Anthony Adverse," "Three Men on a Horse," "Waterloo Bridge," "Johnny Eager," "Random Harvest," "Madam Curie," "Thirty Seconds Over Tokyo," "Without Reservations," "Little Women," "Quo Vadis," "Million Dollar Mermaid," and "Mister Roberts."

He also produced--but did not direct--"The Wizard of Oz" and "At the Circus" in the late 1930s, and was both producer and director for "The Bad Seed," "No Time for Sergeants," "Home Before Dark," "A Majority of One," "The FBI Story" and "Gypsy."

His final picture was "Moment to Moment" in 1966, but he was also credited with assisting John Wayne in making "The Green Berets" in 1968.

"But it wasn't the end of my life," he said a decade later. "Yes, Virginia--there is life after movie making. I proved it because I had to. I certainly wasn't going to lie down and die just because I had made all the movies I wanted to make.

"There was a lot still to do."

One of the things to do was go to the race track.

LeRoy had been a breeder and racer of thoroughbred horses "since the first moment that I could afford to own a piece of one of them," and had already been president of Hollywood Park for a decade when he retired from film making. He continued as president for another 20 years--and became president emeritus in 1985.

His first marriage, to actress Edna Murphy, and second, to Doris Warner, daughter of Warner Bros. President Harry Warner, both ended in divorce. He was married to the former Kitty Spiegel in 1946.

"It's a good thing I wasn't writing a script for my life," he told a reporter in 1981, during a joint tribute from the racing and film communities. "I was always pretty inventive . . . but I couldn't have come up with anything as satisfactory as the way it really worked out."
Military Service
Did Mervyn serve in the military or did a war or conflict interfere with his life?
Average Age
Mervyn LeRoy lived 15 years longer than the average Leroy family member when he died at the age of 86.
Looking for a different Mervyn LeRoy?
View other bios of people named Mervyn Leroy
Back to Top
Mervyn's Family Photos
Photos and snapshots taken of Mervyn LeRoy, his Leroy family, and locations and places or events from his life.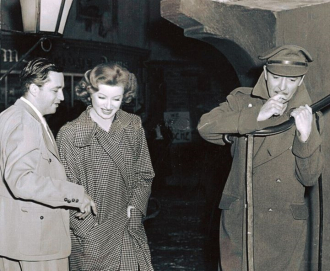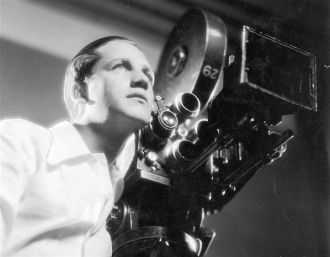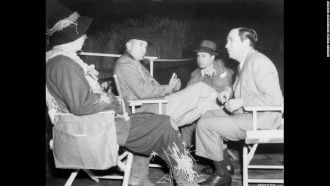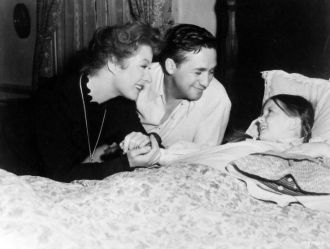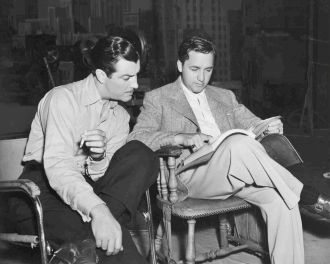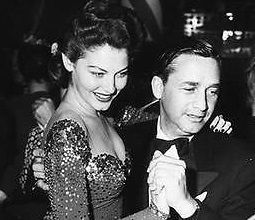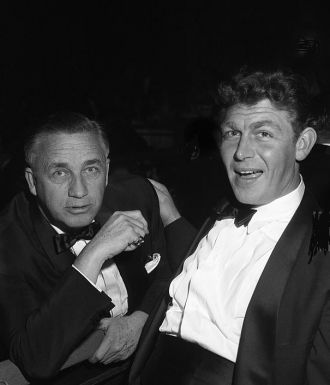 ADVERTISEMENT BY ANCESTRY.COM
Mervyn LeRoy Obituary
This obit of Mervyn LeRoy is maintained by Mervyn's followers. Contribute to her obituary and include details such as cemetery, burial, newspaper obituary and grave or marker inscription if available.
Date of Birth 15 October 1900, San Francisco, California, USA
Date of Death 13 September 1987, Beverly Hills, Los Angeles, California, USA (Alzheimer's disease)
Height 5' 7½" (1.71 m)
Bio
The great San Francisco earthquake and fire of 1906 was a tragedy for Mervyn LeRoy. While he and his father managed to survive, they lost everything they had. To make money, Leroy sold newspapers and entered talent contests as a singer. When he entered vaudeville, his act was "LeRoy and Cooper--Two Kids and a Piano". After the act broke up he contacted his cousin, Jesse L. Lasky, and went to work in Hollywood. He worked in the costume department, the film lab and as a camera assistant before becoming a comedy gag writer and part-time actor in silent films. His next step was as a director, and his first effort was No Place to Go (1927). He scored an unqualified hit with Harold Teen (1928). Earning $1,000 per week by the end of that year, he was nicknamed "The Boy Wonder" of Warner Bros., where his pictures were profitable lightweights. His motto, to paraphrase William Shakespeare, was "Good stories make good movies." LeRoy rounded out the decade assigned to more lightweights, such as Naughty Baby (1928) (his first talkie), Hot Stuff (1929), Little Johnny Jones (1929) and a primitive but rather inventive musical talkie, Broadway Babies (1929), all of which proved that he was equally adept at constructing a musical as any other genre he worked in.

In the depths of the Depression there was considerable disagreement within the studio on whether audiences wanted escapism or stories addressing issues pertaining to the stark realities of the day. LeRoy sided with studio exec Darryl F. Zanuck's tilt toward realism and threw himself into his next assignment--Little Caesar (1931). This smash hit started the gangster craze and Leroy gained a reputation as a top dramatic director (although his follow-up assignment was Show Girl in Hollywood (1930)). During the 1930s several of his films dealt with social issues, usually through the eyes of the underdog, the best example of that being I Am a Fugitive from a Chain Gang (1932). However, as one of Warner's war horses in its stable of contract directors, he was also assigned more digestible fare. He followed his landmark gangster picture with Gold Diggers of 1933 (1933), although it could be argued that it also contained a remarkable degree of social consciousness. Upon the death of Irving Thalberg Leroy was picked as head of production at MGM. He produced (and partly directed, without credit) that studio's classic The Wizard of Oz (1939), although it was not a classic at the box office when first released. Its poor reception convinced Leroy to quit producing pictures and go back to directing them. He always had a good relationship with actors and had discovered a number of people who would go on to become major stars, such as Clark Gable (who was rejected for a role in "Little Caesar" by Jack L. Warner over Leroy's objections), Loretta Young, Robert Mitchum and Lana Turner.

Leroy turned out numerous hits for MGM in the 1940s, such as Johnny Eager (1941), Random Harvest (1942) and one of the best patriotic films of the period, Thirty Seconds Over Tokyo (1944). He spent a year at RKO at the end of the war as a producer and director, but quickly returned to MGM, where he remained until 1954. The collapse of the studio system in the 1950s required him to re-assume a producer's role; along with other Hollywood players of day, he formed his own production company, which set up camp at Warner Brothers, and he produced and directed a number of films for that studio based on successful stage plays. Leroy had a reputation for taking on different types of films, and he seldom did the same type of picture twice, turning out comedies, dramas, fantasies and musicals. His output declined in the 1960s and he took a working retirement in 1965, disgruntled at the direction the film industry had taken. He was sorely tempted to tackle Pierre Boulle's Planet of the Apes (1968), but declined, deciding that the requirement to put up his own money was too risky for a man in his mid-60s. His last directorial effort was assisting old friend John Wayne for certain scenes in The Green Berets (1968). He took a figurehead position at Mego International in the 1970s and talked of producing westerns, but nothing came of it. However, as talented and successful as Leroy was as a director over his long career, and considering the number of classic films he was responsible for, the one thing he never managed to successfully get was an Oscar for Best Director. The man who joked he never made a total flop died in 1987.

Spouse
Katherine 'Kitty' Spiegel LeRoy (1 February 1946 - 13 September 1987) (his death) (2 children)
Doris Warner (2 January 1934 - 21 August 1945) (divorced) (2 children)
Edna Murphy (18 December 1927 - 30 June 1933) (divorced)
Trivia Interred at Forest Lawn (Glendale), Glendale, California, USA, in the Garden of Honor.
Credited with renaming "Judy" Turner as Lana Turner.
Father of Warner LeRoy, the restaurant impresario who created NYC's Maxwell's Plum and Tavern on the Green, and who revamped the Russian Tea Room, and also created the amusement park Great Adventure in New Jersey. Warner married twice and had four children -- Bridget, Carolyn, Max, and Jenny Oz LeRoy -- and died in 2001.
Cousin of producer Jesse L. Lasky.
Introduced actor Ronald Reagan to actress Nancy Reagan who both later married.
Biography in: John Wakeman, editor. "World Film Directors, Volume One, 1890-1945". Pages 651-657. New York: The H.W. Wilson Company, 1987.
Directed 13 different actors in Oscar-nominated performances: Paul Muni, Gale Sondergaard, Greer Garson, Van Heflin, Ronald Colman, Susan Peters, Walter Pidgeon, Leo Genn, Peter Ustinov, Jack Lemmon, Nancy Kelly, Eileen Heckart and Patty McCormack. Sondergaard, Lemmon and Heflin won Oscars for their performances in one of LeRoy's movies.
LeRoy was a family friend of Little Rascals star Tommy Bond and heavily influenced Bond's son, Producer/Director Thomas R. Bond II, in which Bond II owes to LeRoy and director Frank Capra most of his knowledge in directing and producing.
Biography in: "The Scribner Encyclopedia of American Lives". Volume Two, 1986-1990, pages 527-530. New York: Charles Scribner's Sons, 1999.
Since 1980, the Mervyn Le Roy Handicap has been run at Hollywood Park. LeRoy was one of the organizers of the racetrack and its president until 1985.
Did not mention being married to actress Edna Murphy in his 1974 autobiography, even though they were married for almost six years.
Daughter with wife Doris Warner: Linda LeRoy Janklow, wife of literary agent Mort Janklow.
Although he would later take credit for discovering actress Loretta Young, Young's daughter Judy Lewis wrote that actually silent film actress Colleen Moore discovered Young.
Profiled in "American Classic Screen Interviews" (Scarecrow Press). [2010]
Salary
I Am a Fugitive from a Chain Gang (1932) $13,200
Any Number Can Play (1949) $68,100
Other Records of Mervyn LeRoy
1900 - 1987 World Events
Refresh this page to see various historical events that occurred during Mervyn's lifetime
In 1900, in the year that Mervyn LeRoy was born, the German physicist Max Planck formulated an energy theory, postulating the existence of "quanta," which lays the groundwork for the quantum theory of modern physics. In December, he introduced a paper on the Planck postulate which stated that E=hv - the energy of a photon is proportional to its frequency times a constant. Planck won a Nobel Prize in 1918 for his work in theoretical Physics.
In 1930, Mervyn was 30 years old when on August 6th, N.Y. Supreme Court Judge Joseph Crater went through papers in his office, destroyed some of them, withdrew all his money from the bank - $5,150, sold his stock, met friends at a restaurant for dinner and disappeared after getting into a taxi (or walking down the street - his friends' testimony later changed). His disappearance was reported to the police on September 3rd - almost a month later. His wife didn't know what happened, his fellow Justices had no idea, and his mistresses (he had several) said that they didn't know. While his disappearance was front page news, his fate was never discovered and after 40 years the case was closed, still without knowing if Crater was dead or alive.
In 1950, Mervyn was 50 years old when on June 25th, the Korean War began when North Korean Communist forces crossed the 38th parallel. The Soviet Union and China backed North Korea and the U.N., primarily the United States backed South Korea.
In 1971, by the time he was 71 years old, in March, Congress passed the Twenty-sixth Amendment to the United States Constitution, which lowered the voting age to 18 (from 21). It was a response to the criticism that men could fight at 18, but not vote for the policies and politicians who sent them to war. The states quickly ratified the Amendment and it was signed into law on July 1st by President Richard Nixon.
In 1987, in the year of Mervyn LeRoy's passing, was the first time that a criminal in the United States - a serial rapist - was convicted through the use of DNA evidence.
Success Stories from Biographies like Mervyn LeRoy
Highlights of just a few of the many successes of sharing family history at AncientFaces. From reuniting lost or 'orphan' antique photos with their families, seeing the faces of your biological family for the first time, to connecting unknown and lost family members together.

These stories will warm your heart and inspire you to share photos and create biographies of the people from your past.