Thor Heyerdahl
(1914 - 2002)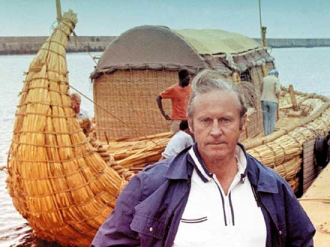 Born
October 6, 1914
Larvik, Norway.
Death
April 18, 2002
Italy
Other Names
Thor Heyerdahl
Summary
Thor Heyerdahl was born on October 6, 1914 at Larvik, Norway.. He died on April 18, 2002 in Italy at 87 years old.
Updated: November 12, 2020
1 Follower
Thor Heyerdahl
Thor Heyerdahl
(1914 - 2002)
Thor Heyerdahl
NORWEGIAN ETHNOLOGIST
WRITTEN BY: The Editors of Encyclopaedia Britannica
Thor Heyerdahl, (born October 6, 1914, Larvik, Norway—died April 18, 2002, Colla Micheri, Italy), Norwegian ethnologist and adventurer who organized and led the famous Kon-Tiki (1947) and Ra (1969–70) transoceanic scientific expeditions. Both expeditions were intended to prove the possibility of ancient transoceanic contacts between distant civilizations and cultures. For the most part, Heyerdahl's theories have not been accepted by anthropologists.
Heyerdahl attended the University of Oslo, studying zoology and geography, but left before graduating to travel to Polynesia. It was while on Fatu Hiva in the Marquesas that he began to wonder how Pacific inhabitants had reached the islands. On April 28, 1947, Heyerdahl and a small crew sailed from Peru in the primitive raft Kon-Tiki. Their arrival in Polynesia three and a half months later demonstrated the possibility that the Polynesians may have originated in South America. The story of the voyage was related in Heyerdahl's book Kon-Tiki (1950) and in a documentary motion picture of the same name.
Kon-Tiki crossing the Pacific Ocean, 1947.
National Library of Norway (blds_05860)
In 1969 Heyerdahl and a small crew crossed the Atlantic Ocean from Morocco to within 600 miles (965 km) of Central America in a facsimile of an ancient Egyptian reed boat, the Ra, thus confirming the possibility that the pre-Columbian cultures of the Western Hemisphere might have been influenced by Egyptian civilization. Again, the voyage was described by Heyerdahl in The Ra Expeditions (1971) and was the subject of a documentary film.
Late in 1977 Heyerdahl and an international crew embarked upon the Tigris expedition, a four-month, 4,000-mile (6,400-km) voyage in a craft made of reeds. The expedition began on the Tigris River in Iraq, traveling down the Persian Gulf, across the Arabian Sea to Pakistan, and ending in the Red Sea. The goal of the Tigris expedition was to establish the possibility that the ancient Sumerians might have used similar means to spread their culture through southwest Asia and the Arabian Peninsula. The voyage was recorded in Heyerdahl's book The Tigris Expedition (1979) and in a documentary film. He subsequently led research expeditions to the Maldive Islands, to Easter Island, and to an archaeological site in Peru.
The tallest standing Easter Island stone statue (about 37 feet [12 metres] high) after being excavated by Thor Heyerdahl (top right, leaning against statue); it was subsequently partially buried again.
The tallest standing Easter Island stone statue (about 37 feet [12 metres] high) after being excavated by Thor Heyerdahl (top right, leaning against statue); it was subsequently partially buried again.
Courtesy of Thor Heyerdahl; photograph, Walter Leonardi
Get unlimited access to all of Britannica's trusted content.
Start Your Free Trial Today
Heyerdahl's other books include Aku-Aku: The Secret of Easter Island (1958); Fatu-Hiva: Back to Nature (1974); and Early Man and the Ocean: A Search for the Beginnings of Navigation and Seaborne Civilizations (1979), in which he synthesized the findings of earlier expeditions and provided additional evidence for his theory of cultural diffusion.
The Editors of Encyclopaedia Britannica
This article was most recently revised and updated by Amy Tikkanen, Corrections Manager.
LEARN MORE in these related Britannica articles:
raft
…dramatically demonstrated by Norwegian scientist Thor Heyerdahl in 1947; to test his theory that the Pacific islands might have been settled by people from South America, he sailed a large balsa raft, the Kon-Tiki, from Peru to islands near Tahiti in a voyage of three and a half months. The…
Ra
…with which the Norwegian scientist-explorer Thor Heyerdahl crossed the Atlantic in 1969–70 to demonstrate the possibility of cultural contact between early peoples of Africa and Central and South America. The first was built in Egypt by boatbuilders Heyerdahl hired from Lake Chad, where reed boats are commonplace. Manned by seven…
Kon-Tiki
…in which the Norwegian scientist Thor Heyerdahl and five companions sailed in 1947 from the western coast of South America to the islands east of Tahiti. Heyerdahl was interested in demonstrating the possibility that ancient people from the Americas could have colonized Polynesia; to do so, he constructed Kon-Tiki (named…
newsletter icon
BORN
October 6, 1914
Larvik, Norway
DIED
April 18, 2002 (aged 87)
Colla Michari, Italy
Ra
SHIP
Ra, either of two papyrus boats with which the Norwegian scientist-explorer Thor Heyerdahl crossed the Atlantic in 1969–70 to demonstrate the possibility of cultural contact between early peoples of Africa and Central and South America. The first was built in Egypt by boatbuilders Heyerdahl hired from Lake Chad, where reed boats are commonplace. Manned by seven men chosen from seven nations, "Ra" sailed from Safi, Mor., May 25, 1969, but defects in design and cargo loading, the result of inexperience, caused it slowly to founder in July after sailing 3,000 miles. With nearly the same crew, but with a boat ("Ra II") built by Aymaro Indians of Lake Titicaca, Heyerdahl repeated his adventure in 1970, completing the crossing of the Atlantic from Safi to Barbados, West Indies, in 57 days (May 17 to July 12).
Share your memories, family stories, & photos so that Thor is always remembered.
Photos and snapshots taken of Thor Heyerdahl, his Heyerdahl family, and locations and places or events from his life.
Share Thor's obituary or write your own to preserve his legacy.
Thor Heyerdahl, Anthropologist and Adventurer, Is Dead at 87
By John Noble Wilford April 18, 2002
Thor Heyerdahl, the Norwegian anthropologist and adventurer who won acclaim navigating the Pacific, Atlantic and Indian oceans to advance his controversial theories of ancient seafaring migrations, died yesterday.
Mr. Heyerdahl, who was 87, died of cancer in Italy, where he had been vacationing, the family said. He had lived in recent years in Guimar, Tenerife, in the Canary Islands.
Fame came to Mr. Heyerdahl in 1947, at the age of 32. A tall, lean man in an appropriately Viking mold, he and five others crossed a broad stretch of the Pacific in the balsa-log raft Kon-Tiki, seeking to prove that the Polynesian islands could have been settled by prehistoric South American people.
The 101-day, 4,300-mile drifting voyage on the 40-square-foot raft, a replica of pre-Inca vessels, took them safely from Peru to Raroia, a coral island near Tahiti. This demonstrated to Mr. Heyerdahl's satisfaction that his theory could be fact. He was convinced that Polynesia's first settlers had come from South America, and not from Asia by way of western Pacific islands, as nearly all scholars thought.
Thor Heyerdahl was born Oct. 6, 1914, in Larvik, in southern Norway. He once noted that he did not share from birth the affinity for the sea that his Norwegian heritage and lifelong work might have presupposed.
"All my ancestors came from inland," he said in 1979. "I was dead scared of the water as a young man. If I had been a sailor, I would have believed that you couldn't cross the ocean in the Kon-Tiki. My ignorance was very lucky."
Young Thor's father owned a brewery and his mother was head of the local museum. It was her influence that led him to the study of nature and zoology. At the University of Oslo, he specialized in zoology and geography, but before graduating left on his first expedition to Polynesia, in 1937-38.
He went with his bride, Liv Coucheron Torp Heyerdahl (they were later divorced), "to spend a year living as Adam and Eve," as he wrote, on the island of Fatu Hiva in the Marquesas Islands. They lived there under primitive conditions, conducting research on the flora and fauna.
There he also began to contemplate the question of how the Pacific inhabitants reached these widely scattered islands. He came to believe that human settlers had arrived with the ocean currents from the west, just as much of the vegetation and animal life had done.
The time on Fatu Hiva — about which he was to publish a book, "Fatu-Hiva: Back to Nature," in 1974, and recall again in a 1996 book, "Green Was the Earth on the Seventh Day" (Random House) — turned him to the study of anthropology. He pursued his research in Peru, which made firmer his conviction that a group of tall, fair pre-Inca people, under the leadership of the legendary Kon-Tiki, sailed westward across to Polynesia. During World War II, Mr. Heyerdahl served in the Free Norwegian armed forces, mostly as a parachutist. After the war, he tried to interest publishers and scientists in his Polynesian theory, but came to realize that prevailing opinion was so strongly against it that a practical demonstration of its feasibility was the only answer.
He raised the money, overcame innumerable practical obstacles right down to the cutting of the long balsa logs he needed, recruited five friends to go with him and set off on the Kon-Tiki.
Mr. Heyerdahl's book "Kon-Tiki" was praised by Lewis Gannett in The New York Herald Tribune as "a superb adventure story." Harry Gilroy, in The New York Times, wrote: "Their saga, told by the expedition's organizer, is a revelation of how exciting science can become when it inspires a man with the heart of a Leif Ericsson and the merry story-telling gift of an Ernie Pyle."
The book was less successful with the scientific community. In 1958, for example, Dr. Alan S. C. Ross, a linguist at the University of Birmingham, England, said that language studies provided "an absolutely decisive disproof" of Mr. Heyerdahl's theory. There was Dr. Ross wrote, no relationship between Polynesian and any American language family.
Mr. Heyerdahl insisted, however, that in his mind he had proved his thesis — not that the crossing had been done, but that it could have been done. Next, Mr. Heyerdahl in 1953 led an archaeological expedition to the Galapagos Islands, 700 miles off the coast of Ecuador. He found evidence that convinced him that predecessors of the Inca had visited the islands, and that they had had the nautical sophistication to be able to return home against the wind.
In 1955 and 1956, Mr. Heyerdahl tackled the mystery of remote Easter Island. He experimented with the techniques that might have been used in creating and placing upright the enormous stone figures for which the island is famous. "Aku-Aku," published in 1958, was a vivid account of the expedition. He later published scholarly accounts of this and the Kon-Tiki voyages.
Mr. Heyerdahl argued that Easter Island was also colonized by South Americans, which led one critic, the British archaeologist Paul G. Bahn, to write, "It is unfortunate that he has allowed his obsession with a South American connection to overshadow the far more interesting and important subjects of the islanders' cultural history, way of life and destruction of their environment."
Mr. Heyerdahl then turned his attention to the possibility of a migration from Egypt to America, because of what he felt were striking cultural parallels, notably pyramid building. Most scholars doubted that the Egyptians had ships capable of so long a voyage. So Mr. Heyerdahl decided on a practical demonstration. Using ancient representations of Egyptian reed boats as his guide, he had a reed ship built and named it Ra, after the Egyptian sun god.
The first attempt, in 1969, fell short. The waterlogged ship had to be abandoned 600 miles from its destination in Barbados. Undaunted, Mr. Heyerdahl tried again the next year. It was on this successful 57-day journey, he said, that he first noted the "alarming" pollution of the ocean, a subject on which he continued to speak out forcefully.
Political strife shortened his 1977-78 voyage with another reed boat in the Indian Ocean and Red Sea. Reaching the coast of Ethiopia, he was refused permission to land because of warfare. He then abandoned the voyage, setting fire to the boat "to protest against the inhuman elements of the world of 1978." With these expeditions, Mr. Heyerdahl said, "I have proved that all the ancient pre-European civilizations could have intercommunicated across oceans with the primitive vessels they had at their disposal. I feel that the burden of proof now rests with those who claim the oceans were necessarily a factor in isolating civilizations. Most anthropologists think otherwise.
Mr. Heyerdahl's first wife, from whom he was divorced in 1949, died in 1969. He was also divorced from his second wife, Yvonne Dedekam-Simonsen Heyerdahl, who survives. In 1996, he married his present wife, Jacqueline Beer Heyerdahl, a French-born Hollywood actress.
Other survivors, besides the son Thor Jr. of Lillehammer, Norway, are another son, Bjorn, who lives in Italy; two daughters, Marian and Helene Elisabeth, both of Oslo; seven grandchildren and six great-grandchildren.
Refresh this page to see various historical events that occurred during Thor's lifetime.
In 1914, in the year that Thor Heyerdahl was born, President Woodrow Wilson signed a proclamation designating Mother's Day, the second Sunday in May, as a national holiday to honor mothers. Anna Jarvis had championed a Mother's Day for years but Congress had joked a few years earlier that then they would have to proclaim a "Mother-in-law's Day" as well. The President who championed a woman's right to vote also created a day in their honor.
In 1942, at the age of 28 years old, Thor was alive when on June 17th, Roosevelt approved the Manhattan Project, which lead to the development of the first atomic bomb. With the support of Canada and the United Kingdom, the Project came to employ more than 130,000 people and cost nearly $2 billion. Julius Robert Oppenheimer, a nuclear physicist born in New York, led the Los Alamos Laboratory that developed the actual bomb. The first artificial nuclear explosion took place near Alamogordo New Mexico on July 16, 1945.
In 1968, by the time he was 54 years old, on June 5th, Sen. Robert F. Kennedy was shot at the Ambassador Hotel in Los Angeles by Sirhan after celebrating his win in the California presidential primary. He died the next day at Good Samaritan Hospital.
In 1973, when he was 59 years old, on August 15th, amidst rising calls for the impeachment of President Richard Nixon, Congress imposed an end to the bombing of Cambodia.
In 1980, at the age of 66 years old, Thor was alive when on April 24th, a rescue attempt was begun in the Iranian Hostage Crisis. The attempt failed and 8 US servicemen were killed. Eight helicopters had been sent for the mission, but only 5 arrived in operating condition., Since the military had advised that the mission be aborted if there were fewer than 6 helicopters, President Carter stopped it. Upon leaving, a helicopter collided with a transport plane and the men were killed.
Other Thor Heyerdahls
Other Heyerdahls
Other Bios
Highlights of just a few of the many successes of sharing memories about the people important to us on AncientFaces. From reuniting lost or 'orphan' photos with their families, seeing the faces of relatives for the first time, to connecting unknown and lost family.

These stories will warm your heart and inspire you to share your memories of the people important to you.
Back to Top