Loading...one moment please

Carl J Barber
Date & Place:
Not specified or unknown.
People tagged
in this photo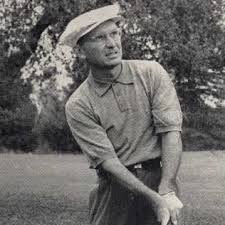 Professional Golfer, Won 7 PGA Majors (only 5 are counted today) most memorial win was the 1961 PGA Championship at the age of 45 & Captain of the Ryder Cup Team; "Putter of the Year" all in 1961. (Arnold Palmer and Gary Player were also on that same Ryder Cup Team.) US won the cup that year! The Head Professional at Wilshire CC in Los Angeles and later 1965 at Griffith Park, Los Angeles until his death. Designer and manufacture of Golden Touch Gold Clubs in 1960. Designed golf gloves for Parker Glove Co. in the 1950's. Started the Senior Tour with Doug Ford; then the Super Seniors. Holds the record est. at over 300 for "shooting his age or better". 1962 he made a hole in one winning a $5,200 Buick at the Buick Open in Flint, Mich. - it is believed to be the first hole in one captured on film. Also father of identical twins born on his birthday. While preparations for heart surgery were being made, he suffered a massive stroke on Sept. 19,1994 after watching Mon. Night Football.
Jeremy Henner
About me:
I haven't shared any details about myself.
Back to

Top