Agnes Moorehead
(1900 - 1974)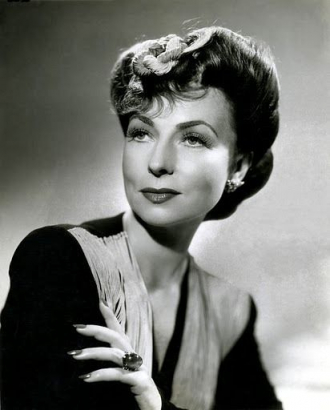 Agnes Moorehead was born on December 6, 1900 in Clinton, Massachusetts. She died on April 30, 1974 in Rochester, Minnesota at 73 years old. We know that Agnes Moorehead had been residing in Beverly Hills, Los Angeles County, California 90210.

People who knew her liked her very much.
ADVERTISEMENT BY ANCESTRY.COM
Agnes Moorehead Biography
Vital facts & highlights of Agnes's life to share with the world.
Beverly Hills, Los Angeles County, California 90210
Agnes Moorehead was born on in Clinton, Worcester County, Massachusetts United States
Agnes Moorehead died on in Rochester, Olmsted County, Minnesota United States
Agnes Moorehead was born on in Clinton, Worcester County, Massachusetts United States
Agnes Moorehead died on in Rochester, Olmsted County, Minnesota United States
Dayton Memorial Park Cemetery, 8135 North Dixie Drive, in Dayton, Montgomery County, Ohio United States 45414
Ethnicity & Lineage
What is Agnes's ethnicity and where did her parents, grandparents & great-grandparents come from?
Nationality & Locations Lived
Agnes was born of Anglo/Irish ancestry near Boston, the daughter of a Presbyterian minister (her mother was a mezzo-soprano) who encouraged her to perform in church pageants. Aged three, she sang, 'The Lord is my Shepherd' on a public stage and seven years later joined the St. Louis Municipal Opera as a dancer and singer for four years.
Religion
Unknown. Was Agnes a religious woman?
Education
In keeping with her father's dictum of finishing her education first (then being permitted to do whatever she wished with her career), Agnes attended Muskingum College (Ohio), and, subsequently, the University of Wisconsin. She graduated with an M.A. in English and public speaking and later added a doctorate in literature from Bradley University to her resume.
In 1928, she began training at the American Academy for Dramatic Arts and graduated with honors the following year. In order to supplement her income, Agnes had turned to radio early on. She had her first job in 1923 as a singer for a St. Louis radio station. Her love for that medium remained with her all her life.
Professions
Agnes Moorehead
Biography

Born December 6, 1900 in Clinton, Massachusetts, USA
Died April 30, 1974 in Rochester, Minnesota, USA (uterine cancer)
Birth Name Agnes Robertson Moorehead
Nicknames The Lavender Lady
Aggie
Madame Mauve
Bobby
Height 5' 4" (1.63 m)
Mini Bio (1)
When her family moved to Reedsburg, Wisconsin, where her father had a pastorate, Agnes taught public school English and drama for five years. In between, she went to Paris to study pantomime with Marcel Marceau.

She had her first job in 1923 as a singer for a St. Louis radio station. Her love for that medium remained with her all her life. From the 1930s to the 50s, she appeared on numerous serials, dramas and children's programs. She was Min Gump in "The Gumps" (1934), the 'dragon lady' in "Terry and the Pirates" (1937), Margot Lane of classic comic strip fame in "The Shadow", Mrs.Danvers in "Rebecca" and the bed-ridden woman about to meet her end in "Sorry, Wrong Number". Acting on the airwaves was so important to her that she would insist on its continuation as a precondition of a later contract with MGM. Significantly, through her radio work on "The Shadow"and "March of Time" in 1937, she met and befriended fellow actor Orson Welles. Welles soon invited her to join him and Joseph Cotten as charter members of his Mercury Theatre on the Air. Agnes was involved in the famous "War of the Worlds" broadcast of 1938 which attracted nationwide attention and resulted in a lucrative $100,000 per picture deal with RKO in Hollywood. The Mercury players (the other principals were Ray Collins, Everett Sloane, Paul Stewart and George Coulouris) packed up and went west.

An ebullient and versatile character actress, Agnes was impossible to typecast: she could play years older than her age, appear as heroine or villainess, tragedienne or comedienne. In her first film, the iconic Citizen Kane (1941), she played the titular character's mother. She received her greatest critical acclaim for her emotive second screen performance as Aunt Fanny Minafer in The Magnificent Ambersons (1942). In addition to being voted the year's best female performer by the New York Film Critics she was also nominated for an Academy Award. Through the years, Agnes would be nominated three more times: for her touching portrayal of the jaded but sympathetic Baroness Conti in Mrs. Parkington (1944); for her role as the title character's Aunt Aggie in Johnny Belinda (1948) and for playing Velma, the hard-boiled, suspicious housekeeper of Bette Davis in Hush...Hush, Sweet Charlotte (1964), co-starring her old friend Joseph Cotten. Other notable film appearances included Jane Eyre (1943), with Orson Welles, The Woman in White (1948) as Countess Fusco), The Lost Moment (1947) (as a 105-year old woman) and Dark Passage (1947), a classic film noir in which she had third billing behind Humphrey Bogart and Lauren Bacall as the treacherous , malevolent Madge Rapf. She had a rare starring role in the campy horror flick The Bat (1959), giving (according to the New York Times of December 17) 'a good, snappy performance'.

On Broadway, she appeared in such acclaimed plays as "All the King's Men" and "Candlelight". She enjoyed success with "Don Juan in Hell", touring nationally: the first time (1951-2) with Charles Laughton and Cedric Hardwicke, the second time (though receiving fewer critical plaudits) with Ricardo Montalban and Paul Henreid in 1973. She also starred with Joseph Cotten in "Prescription Murder" (1962). While not a great critical success, this was much liked by audiences and it introduced a famous detective named Lieutenant Columbo. From 1954, she also toured the U.S. and Europe with her own a one-woman show entitled "The Fabulous Redhead". Agnes performed numerous times on television before landing the role of Endora on Bewitched (1964). One particularly interesting part came her way through the director Douglas Heyes who remembered her from "Sorry, Wrong Number". He cast her in the starring - and indeed, only role in The Twilight Zone: The Invaders (1961). As the lonely old woman confronted by tiny alien invaders in her remote farmhouse, Agnes never utters a single word and cleverly acts her scenes as a pantomime of unspoken terror.

Of course, the genial Agnes Moorehead has been immortalized as Elizabeth Montgomery's flamboyant witch-mother, Endora, although that was not a role the actress wished to be remembered for (in spite of several Emmy Award nominations). Indeed, she had thought this whole witchcraft theme to be rather far-fetched and was somewhat taken aback by the show's huge popularity. Agnes had a special clause inserted in her contract which limited her appearances to eight out of twelve episodes which gave her the opportunity to also work on other projects. Commenting on the acting profession in one of her many interviews (New York Times, May 1, 1974), she found the key to success in being " sincere in your work " and to "just go right on whether audiences or critics are taking your scalp off or not".
- IMDb Mini Biography By: I.S.Mowis

Spouse (2)
Robert Gist (14 February 1953 - 11 March 1958) ( divorced)
Jack G. Lee (5 June 1930 - 11 June 1952) ( divorced)
Trade Mark (3)
Often played arrogant or haughty characters
Frequently worked with Orson Welles, Jane Wyman and Debbie Reynolds.
Seductive thick voice with New England accent
Trivia (29)
Following her death, she was interred at Dayton Memorial Park in Dayton, OH.
Her limousine is on display at the Peterson Automotive Museum in Los Angeles.
Received her Bachelor's degree, with a major in biology, from Muskingum University in New Concord, OH. She later received an honorary Litt.D degree from the university.
Attended New York's Academy of Dramatic Arts, studying alongside Rosalind Russell.
Received her Master's degree in English from the University of Wisconsin-Madison.
Taught high school, directed school plays and coached the oratory team in Soldiers Grove, WI. The team won numerous contests.
Daughter of Presbyterian minister Dr. John Henderson Moorehead.
Attended and graduated from Central High School in St. Louis, MO.
Took in foster son Sean shortly after final separation from first husband Jack G. Lee.
Initially turned down the role of Endora in Bewitched (1964), but reconsidered when Elizabeth Montgomery asked her in person, when they met in a department store. Moorehead joined the cast not expecting the series to last more than one season, let alone become a long-running hit.
First woman to co-host the Academy Awards (with Dick Powell) (1948).
During the first season of Bewitched (1964) she did not like aspects of the scripts, but felt she could not complain to director William Asher because he was star Elizabeth Montgomery's husband.
She did not enjoy filming Bewitched (1964), since it forced her to get up at 4:45 a.m., start makeup at 6:00 a.m. and continue filming often until 8:00 p.m.
In Italy, she was often dubbed by Wanda Tettoni, Giovanna Scotto or Franca Dominici. Occasionally, she was dubbed by Tina Lattanzi, Rina Morelli or by Dhia Cristiani.
Although her death has been reported as being caused by lung cancer, this is not true--it started in her uterus and spread to her lungs.
Remembered by many as the magical mother-in-law Endora on Bewitched (1964), though she preferred to be remembered for other roles.
Died of cancer, as did Susan Hayward, John Wayne and director Dick Powell, as well as other cast and many crew members on the film, The Conqueror (1956). Some people strongly believe that, unknown by those involved with it at the time, the film was shot on location at a site which received heavy fallout from atmospheric nuclear testing at the (then) Nevada Proving Grounds.
A devoutly religious woman, she often came to set with her script in one hand and her Bible in the other.
She was a staunch Republican and Christian conservative who supported the presidencies of men like Calvin Coolidge, Herbert Hoover, Dwight D. Eisenhower and Richard Nixon.
She was the favorite actress of Joan Crawford, who especially enjoyed watching her as Endora on Bewitched (1964).
With Orson Welles, she was founder and charter member of the famous Mercury Theater Players.
Biography in "Actresses of a Certain Character: Forty Familiar Hollywood Faces from the Thirties to the Fifties" by Axel Nissen.
She appeared in five Best Picture Oscar nominees: Citizen Kane (1941), The Magnificent Ambersons (1942), Since You Went Away (1944), Johnny Belinda (1948) and How the West Was Won (1962).
Orson Welles became enamored of her while she filmed the brief role of Charles Kane's mother in Citizen Kane (1941) but they remained friends and collaborators over a few subsequent films.
She was awarded a Star on the Hollywood Walk of Fame at 1719 Vine Street in Hollywood, California on February 8, 1960.
She was awarded a star on the St. Louis Walk of Fame at 6604 Delmar Boulevard in St. Louis, Missouri on May 15, 1994.
On August 27, 2018, she was honored with a day of her film work during the TCM Summer Under The Stars.
She was portrayed by Earlene Davis in the FX series, "Feud: Bette and Joan" (2017).
Survived by her mother, Mary Mildred (1883-1990), who was ninety when Agnes died in 1974. Mary (known as Mollie) died aged 106, in the year Agnes would have turned ninety.
Personal Quotes (9)
[on failing to receive an Academy Award after her fourth nomination] I guess I'll remain a bridesmaid for the rest of my life.
[when asked if there will be Brotherhood in the 1970s] Unless the country and the people in it go back to some Christian principles, there will be no peace. We must really care for each other. Just being polite is caring for your fellow man, but these times call for a great deal more than that. There is nothing more inspiring or so infectious as a good example. I am a religious person and I think that the hope of the world is in the Prince of Peace whose principles, if they were followed, would bring a great understanding between human beings.
[commenting that the youth of 1970 need more discipline] Materialism has brought about confusion and decadence. The youth of today have their eyes open to what harm has been done by measuring a man by the size of his bank account, and I feel sorry that so few of them know where to turn because they have lost respect for those closest to them.
Permissiveness in society springs from a lack of standards. There must be a rule of behavior, an appreciation of basic values.
[on "Oh, Calcutta", a play in which most of the cast sheds its clothes and appears nude onstage] Nudity begins at home. After all, who wants to see everybody flying around in their birthday suit? It takes all the magic and illusion out of the theatre.
[when asked if prostitution should be legalized] Legalizing prostitution wouldn't make any difference these days anyway. The whole country is loose, so what's the difference. I don't care what everybody else is doing. I just look at whether it's right or wrong.
[on Marlon Brando, after visiting the set of The Chase (1966)] A wild set--with the great Marlon Brando. You couldn't hear him speak. How do they get on? One take a day practically and he gets $1,000,000 a picture. It's beyond me.
[commenting on the "Method" school of acting] The Method school thinks the emotion is the art. It isn't. All emotion isn't sublime. The theater isn't reality. If you want reality, go to the morgue. The theater is human behavior that is effective and interesting.
It's an unavoidable truth. Fear of life closes off more opportunities for us than fear of death ever does.
Salary (1)
Citizen Kane (1941) $2,000 /week
Personal Life & Organizations
Share some highlights of Agnes's personal life & organizations in which they participated.
Military Service
Did Agnes serve in the military or did a war or conflict interfere with her life?
Average Age
Agnes Moorehead lived 4 years longer than the average Moorehead family member when she died at the age of 73.
Looking for a different Agnes Moorehead?
View other bios of people named Agnes Moorehead
Back to Top
Agnes Moorehead Family Tree
Agnes's Family Photos
Photos and snapshots taken of Agnes Moorehead, her Moorehead family, and locations and places or events from her life.
ADVERTISEMENT BY ANCESTRY.COM
Agnes Moorehead Obituary
Show you care by clicking the heart and adding to Agnes's obituary.
Agnes Moorehead died on April 30, 1974 in Rochester, Minnesota at 73 years of age. She was buried in Dayton Memorial Park Cemetery, Dayton, Ohio. She was born on December 6, 1900 in Clinton, Massachusetts. There is no information about Agnes's immediate family. We know that Agnes Moorehead had been residing in Beverly Hills, Los Angeles County, California 90210.
Other Records of Agnes Moorehead
1900 - 1974 World Events
Refresh this page to see various historical events that occurred during Agnes's lifetime
In 1900, in the year that Agnes Moorehead was born, a massive hurricane, known as the Great Galveston hurricane, hit Galveston Texas. Winds hit up to 145 miles an hour (category 4) and it remains the single most deadly event in U.S. history. Between 6,000 and 12,000 died (most estimates are around 8,000 dead). The population of Galveston at the time was about 36,000 people in 1900.
In 1929, when she was 29 years old, American Samoa officially became a U.S. territory. Although a part of the United States since 1900, the Ratification Act of 1929 vested "all civil, judicial, and military powers in the President of the United States of America".
In 1932, when she was 32 years old, on February 27th, actress Elizabeth Taylor was born in London. Her parents were Americans living in London and when she was 7, the family moved to Los Angeles. Her first small part in a movie was in There's One Born Every Minute in 1942 but her first starring role was in National Velvet in 1944. She became as famous for her 8 marriages (to 7 people) as she was for her beauty and films.
In 1953, when she was 53 years old, on July 27th, the Korean Armistice Agreement was signed. The Armistice was to last until "a final peaceful settlement is achieved". No peaceful settlement has ever been agreed upon.
In 1974, in the year of Agnes Moorehead's passing, on August 9th, Gerald R. Ford became the 38th President of the United States. He had been Vice President for 8 months when he became President due to the resignation of President Nixon.
Other Agnes Mooreheads
Other Mooreheads
Other Bios
Success Stories from Biographies like Agnes Moorehead
Highlights of just a few of the many successes of sharing memories about the people important to us on AncientFaces. From reuniting lost or 'orphan' photos with their families, seeing the faces of relatives for the first time, to connecting unknown and lost family.

These stories will warm your heart and inspire you to share your memories of the people important to you.