Dudley Moore
(1935 - 2002)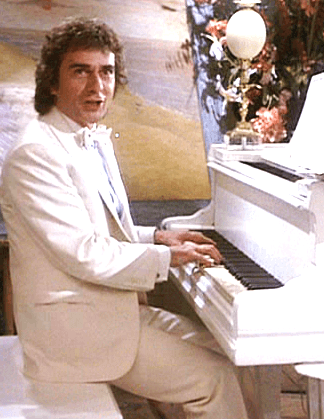 Add photo
Last Known Residence
Beverly Hills, Los Angeles County, California 90212
Summary
Dudley Moore was born on April 19, 1935. He died on March 27, 2002 at 66 years of age. We know that Dudley Moore had been residing in Beverly Hills, Los Angeles County, California 90212.
3 Followers
Updated: February 6, 2019
Dudley Moore
Dudley Moore
(1935 - 2002)
Dudley Moore
Biography
Born April 19, 1935 in Dagenham, Essex, England, UK
Died March 27, 2002 in Plainfield, New Jersey, USA (pneumonia)
Birth Name Dudley Stuart John Moore
The Sex Thimble
Height 5' 2½" (1.59 m)
Dudley Moore, the gifted comedian who had at least three distinct career phases that brought him great acclaim and success, actually started out as a musical prodigy as a child. He was born in Dagenham, Essex, England, in 1935, to working class parents, Ada Francis (Hughes), an English secretary, and John Havlin Moore, a Scottish railway electrician (originally from Glasgow). Dudley won a music scholarship to Magdalen College, Oxford, to study the organ. At university, he also studied composition and became a classically trained pianist, though his forte on the piano for public performance was jazz. After graduating from Magdalen College in 1958, Moore was offered a position as organist at King's College, Cambridge, but turned it down in order to go to London and pursue a music and acting career. Fellow Oxonian Alan Bennett (Exter Colelge, B.A., Medieval History, 1957) had already recommended him to John Bassett, who was putting together a satirical comedy revue called "Beyond The Fringe". "Beyond The Fringe" was to be Moore's first brush with fame, along with co-stars Bennett, future theatrical director Jonathan Miller (now Sir Jonathan, who studied Medicine at Cambridge and was a physician), and Peter Cook, who was destined to become Moore's comic partner during the 1960s and '70s.
It was Miller who had recommended Cook for "Beyond the Fringe", in much the same way that Bennett had bird-dogged Moore. Cook, who had studied modern languages at Cambridge, had been part of the famous Cambridge theatrical, the Footlights revue in 1959, had subsequently gone to London to star in a West End revue for Kenneth Williams, "Pieces of Eight". This old-fashioned review was such a success there was a sequel, "One Over The Eight". He was advised by his agent not to star in the fringe with the three others as he was a professional whereas they were amateurs. Ironically, the great success of "Beyond the Fringe", which was a new kind of satirical comedy, would doom the very old-fashioned reviews that Cook had just tasted success in. "Beyond the Fringe" not only won great acclaim in the UK, but it was a hit in the U.S.. The four won a special Tony Award in 1963 for their Broadway production of "Beyond The Fringe" and there was a television program made of the revue in 1964.
Moore and Cook were offered the TV show Not Only... But Also (1965) by the BBC in 1965. Peter Cook was on as a guest. Their pairing was so successful, it enjoyed a second season in 1966 and a third in 1970. They were particularly funny as the working-class characters "Pete" and "Dud". The duo then broke into the movies, including The Wrong Box (1966) and Bedazzled (1967). In 1974, the duo won their second Tony Award for their show "Good Night", which was the stage version of their TV series "Not Only... But Also".
In the mid- to late 1970s, they issued three comic albums in the guise of the characters "Derek" and "Clive" (Moore and Cook, respectively), two lavatory attendants that many viewed as reincarnations of their earlier TV characters "Pete" and "Dud". The albums, ad libbed in a recording studio while the two drank vast quantities of alcohol, were noted at the time for their obscenity. Their typical routine was a stream-of-consciousness fugue by Cook, interspersed with interjections by Moore. With their obscenity-laden, free-formed riffs, Derke and Clive presaged the more free-wheeling shock comedy of the 1980s and '90s.
After marrying American actress Tuesday Weld in 1975, Moore moved to the U.S. and began a second career as a solo screen comedian, stealing the show from Chevy Chase and Goldie Hawn as the horny conductor in the movie comedy, Foul Play (1978). When George Segal dropped out of the movie 10 (1979), director Blake Edwards cast Moore in the lead role as the composer undergoing a mid-life crisis. It was a huge hit, but was surpassed by his Oscar-nominated turn as the dipsomaniac billionaire in Arthur (1981). In the early 1980s, Moore was a top box office attraction. In 1983, the National Alliance of Theater Owners named him the Top Box Office Star-Male of the Year.
His career began petering out after he turned down the lead in Splash (1984), a role that helped establish Tom Hanks as a top movie comedian and position him for his transition into movie drama and super-stardom. As Hanks star waxed, Moore's star waned, and by 1985 he was reduced to playing an elf in Santa Claus: The Movie (1985), one of the all time turkeys. Even a second turn as "Arthur" in Arthur 2: On the Rocks (1988) couldn't revive his box office, the dependent clause of the title all too well describing his career. His TV series Dudley (1993) [TV-Series] was a bust, and the 1990s proved a wasteland for the once-honored and prosperous comedian.
Moore was deeply affected by the January 1995 death of Peter Cook by a gastrointestinal hemorrhage at the age of 57. Moore organized a two-day memorial to Cook in Los Angeles that was held in November 1995. Less than four years later, in September 1999, Moore announced that he was afflicted with progressive supra-nuclear palsy, a disease for which there is no treatment.
Dudley Moore was invested as a Commander of the Order of The British Empire (one step below knighthood) in June 2001. Moore personally attended the ceremony at Buckingham Palace to accept his CBE from Prince Charles, despite being unable to speak and being wheelchair-bound. He died in Watchung, New Jersey on March 27, 2002, from the pneumonia related to progressive supra-nuclear palsy. He was 66 years old.
Dudley Moore was married four times, to actresses Suzy Kendall, Tuesday Weld, Brogan Lane and 'Nicole Rothschild', and had two sons, one with Tuesday Weld and one with Nicole Rothschild.
- IMDb Mini Biography By: Jon C. Hopwood
Share your memories, family stories, & photos so that Dudley is always remembered.
Photos and snapshots taken of Dudley Moore, his Moore family, and locations and places or events from his life.
Share Dudley's obituary or write your own to preserve his legacy.
Dudley Moore

Dudley Moore, CBE

Born Dudley Stuart John Moore
19 April 1935
Hammersmith, London, UK
Died 27 March 2002 (aged 66)
Plainfield, New Jersey, US
Cause of death Progressive supranuclear palsy, pneumonia
Occupation Actor, comedian, musician
Years active 1961–1997
Spouse(s) Suzy Kendall (1968–72)
Tuesday Weld (1975–80)
Brogan Lane (1988–91)
Nicole Rothschild (1994–98)

Dudley Stuart John Moore, CBE (19 April 1935 – 27 March 2002) was an English actor, comedian, musician and composer.

Moore first came to prominence in the UK as one of the four writer-performers in the comedy revue Beyond the Fringe from 1960, and with one member of that team, Peter Cook, collaborated on the television series Not Only... But Also. The double act worked on other projects until the mid-1970s, by which time Moore had settled in Los Angeles to concentrate on his film acting.
His solo career as a comedy film actor was heightened by the success of hit Hollywood films, particularly Foul Play (1978), 10 (1979) and Arthur (1981). For the latter film, Moore was nominated for the Academy Award for Best Actor and won a Golden Globe Award. He received a second Golden Globe for his performance in Micki & Maude (1984).

Beyond the Fringe
In 1962, the show transferred to the John Golden Theatre in New York, with its original cast. President John F. Kennedy attended a performance on 10 February 1963. The show continued in New York until 1964.

On film, Moore and Cook appeared in the 1966 British comedy film The Wrong Box, before co-writing and co-starring in Bedazzled (1967)[4] with Eleanor Bron. The film was directed by Stanley Donen. The pair closed the decade with appearances in the ensemble caper film Monte Carlo or Bust and Richard Lester's The Bed Sitting Room, based on the play by Spike Milligan and John Antrobus.

The last significant appearance for the partnership was in 1978's The Hound of the Baskervilles, where Moore played Dr. Watson to Cook's Sherlock Holmes

Music
During the 1960s he formed the Dudley Moore Trio, with drummer Chris Karan and bassist Pete McGurk. Following McGurk's suicide in June 1968, Peter Morgan joined the group as his replacement.[6]

Moore's admitted principal musical influences were Oscar Peterson and Erroll Garner. In an interview he recalled the day he finally mastered Garner's unique left-hand strum and was so excited that he walked around for several days with his left hand constantly playing that cadence. His early recordings included "My Blue Heaven", "Lysie Does It", "Poova Nova", "Take Your Time", "Indiana", "Sooz Blooz", "Baubles, Bangles & Beads", "Sad One for George" and "Autumn Leaves". The trio performed regularly on British television, made numerous recordings and had a long-running residency at Peter Cook's London nightclub, the Establishment. Amongst other albums, they recorded The Dudley Moore Trio, Dudley Moore plays The Theme from Beyond the Fringe and All That Jazz, The World of Dudley Moore, The Other Side Of Dudley Moore and Genuine Dud.

Moore was a close friend of record producer Chris Gunning and played piano (uncredited) on the 1969 single "Broken Hearted Pirates" which Gunning produced for Simon Dupree and the Big Sound.[7] In 1976 he played piano on Larry Norman's album In Another Land, in particular on the song The Sun Began to Rain. In 1981 he recorded Smilin' Through with Cleo Laine.

He composed the soundtracks for the films Bedazzled (1967), 30 Is a Dangerous Age, Cynthia (1968), Inadmissible Evidence (1968), Staircase (1969), The Hound of the Baskervilles (1978) and Six Weeks (1982), among others.

Later career in film, television and music[edit]
In the late 1970s, Moore moved to Hollywood, where he had a supporting role in the hit film Foul Play (1978) with Goldie Hawn and Chevy Chase. The following year saw his breakout role in Blake Edwards's 10, which became one of the biggest box-office hits of 1979 and gave him an unprecedented status as a romantic leading man.

In 1981, Moore appeared in the title role of the comedy Arthur, an even bigger hit than 10. Co-starring Liza Minnelli and Sir John Gielgud, it was both commercially and critically successful, Moore receiving an Oscar nomination for Best Actor, whilst Gielgud won the Best Supporting Actor Oscar for his role as Arthur's stern but compassionate manservant. Moore lost to Henry Fonda (for On Golden Pond). He did, however, win a Golden Globe award for Best Actor in a Musical/Comedy. In the same year, on British television, Moore was the featured guest subject on An Audience With....

His subsequent films, Six Weeks (1982), Lovesick (1983), Romantic Comedy (1983) and Unfaithfully Yours (1984) were only moderate successes, but he had another hit in 1984, starring in the Blake Edwards directed Micki + Maude, co-starring Amy Irving. This won him another Golden Globe for Best Actor in a Musical/Comedy.

Later films, including Best Defense (1984), Santa Claus: The Movie (1985), Like Father Like Son (1987), Arthur 2: On the Rocks, a sequel to the original, Crazy People (1990), Blame It on the Bellboy (1992) and an animated adaptation of King Kong, were inconsistent in terms of both critical and commercial reception.

In addition to acting, Moore continued to work as a composer and pianist, writing scores for a number of films and giving piano concerts, which were highlighted by his popular parodies of classical favourites. He also appeared as Ko-Ko in Jonathan Miller's production of The Mikado in Los Angeles in March 1988.

He collaborated with the conductor Sir Georg Solti in 1991 to create a Channel 4 television series, Orchestra!, which was designed to introduce audiences to the symphony orchestra. He later worked with the American conductor Michael Tilson Thomas on a similar television series, Concerto! (1993), likewise designed to introduce audiences to classical music concertos.

Moore had been interviewed for The New York Times in 1987 by the music critic Rena Fruchter, herself an accomplished pianist, and the two became close friends. By 1995, Moore's film career was on the wane and he was having trouble remembering his lines, a problem he had never previously encountered. It was for this reason he was sacked from Barbra Streisand's film The Mirror Has Two Faces,[8] however, his difficulties were, in fact, due to the onset of the medical condition that eventually led to his death. Opting to concentrate on the piano, he enlisted Fruchter as an artistic partner. They performed as a duo in the US and Australia. However, his disease soon started to make itself apparent there as well, as his fingers would not always do what he wanted them to do. Further symptoms such as slurred speech and loss of balance were misinterpreted by the public and the media as a sign of drunkenness. Moore himself was at a loss to explain this. He moved into Fruchter's family home in New Jersey and stayed there for five years, but this, however, placed a great strain both on her marriage and her friendship with Moore, and she later set him up in the house next door.

Entrepreneur
Moore co-owned, with producer Tony Bill, a fashionable restaurant in Venice, California (1980s–2000), named 72 Market Street Oyster Bar and Grill. He played the piano whenever he was there.

Personal life[edit]
Moore was married and divorced four times: to actresses Suzy Kendall, Tuesday Weld (by whom he had a son in 1976), Brogan Lane, and Nicole Rothschild (one son, born in 1995).

He maintained good relationships with Kendall, Weld and Lane, but expressly forbade Rothschild to attend his funeral. At the time his illness became apparent he was going through a difficult divorce from Rothschild, despite sharing a house in Los Angeles with her and her previous husband.

In April 1997, after spending five days in a New York hospital, Moore was informed that he had calcium deposits in the basal ganglia of his brain and irreversible frontal lobe damage. In September 1997, Moore underwent quadruple heart bypass surgery in London. He also suffered four strokes.[11]

In June 1998, Nicole Rothschild was reported to have told an American television show that Moore was "waiting to die" due to a serious illness, but these reports were denied by Suzy Kendall.[12]

On 30 September 1999, Moore announced that he was suffering from the terminal degenerative brain disorder progressive supranuclear palsy (PSP), some of the early symptoms being so similar to intoxication that he had been reported as being drunk, and that the illness had been diagnosed earlier in the year.

Dudley Moore died on the morning of 27 March 2002,[4] as a result of pneumonia, secondary to immobility caused by the palsy, in Plainfield, New Jersey at age 66. Rena Fruchter was holding his hand when he died, and she reported his final words were, "I can hear the music all around me". Moore was interred at Hillside Cemetery in Scotch Plains, New Jersey. Fruchter later wrote a memoir of their relationship (Dudley Moore, Ebury Press, 2004).

Honours and awards[edit]
In 1981, Moore won the Golden Globe for Best Actor for his role in Arthur, for which he was also Oscar-nominated. In November 2001, Moore was appointed a Commander of the Order of The British Empire (CBE). Despite his deteriorating condition, he attended the ceremony at Buckingham Palace on 16 November to collect his honour in a wheelchair.[8] When asked by the press if he had ever expected to receive an honour, Moore replied, "No".
Source(s):
Social Security Death Index
Refresh this page to see various historical events that occurred during Dudley's lifetime.
In 1935, in the year that Dudley Moore was born, on September 8th, Louisiana Senator Huey Long was shot by Dr. Carl Weiss. Weiss was shot and killed immediately by Long's bodyguards - Long died two days later from his injuries. Long had received many death threats previously, as well as threats against his family. He was a powerful and controversial figure in Louisiana politics (and probably gained power through multiple criminal acts). His opponents became frustrated with their attempts to oust him and Dr. Weiss was the son-in-law of one of those opponents. His funeral was attended by 200,000 mourners.
In 1945, by the time he was only 10 years old, on February 19th, US Marines landed on the island of Iwo Jima and the Battle of Iwo Jima began. Lasting 5 weeks, it was some of the bloodiest and fiercest fighting in the Pacific theater during World War II. The occupying Japanese forces were heavily armed and there were 21,000 Japanese soldiers on the island at the beginning of the battle. Only 216 Japanese soldiers were captured afterwards - the rest had been killed in action or committed suicide. 6,800 American soldiers died but the Americans took control of the island.
In 1965, he was 30 years old when on March 8th, the first US combat troops arrived in Vietnam. The 3500 Marines joined 23,000 "advisors" already in South Vietnam. By the end of the year, 190,000 American soldiers were in the country.
In 1973, at the age of 38 years old, Dudley was alive when on January 28th, the Paris Peace Accord was signed - supposedly ending the Vietnam War. Hostilities continued between North and South Vietnam and the U.S. continued to bomb. But by August 15, 1973, 95% of American troops had left Vietnam. The war ended in 1975 with the fall of Saigon.
In 1993, at the age of 58 years old, Dudley was alive when on January 20th, William J. Clinton became the 42nd President of the United States. He beat incumbent George H.W. Bush who was seeking his second term. Clinton won 43.01% of the popular vote to Bush's 37.45%. An independent candidate, Ross Perot, won 18.91% - the most votes for an independent candidate since Teddy Roosevelt's run for President in 1912.
Women In Dance In The Early 20th Century
From skimpy costumes to being covered head to toe, dancers in the first half of the 20th century were a diverse lot. But ...
These Crazy Photos of Our Ancestors Need Explanation
Laughter is good for the soul - and as we now know, according to scientists and doctors, the body. Our ancestors intuitive...
Toys Were Much Simpler In The Past
Toys were much simpler in the days before video games, smart phones & computers. The most popular children's gifts were of...
"Thank you for helping me find my family & friends again so many years after I lost them. I get the chance to remember them all this time later."

Highlights of just a few of the many successes of sharing memories on AncientFaces. From reuniting lost or 'orphan' photos with their families, seeing faces of relatives for the first time, to the many connections made with family & friends.

These special moments are why it's important we share.
Back to

Top