Ernest Hemingway
(1899 - 1961)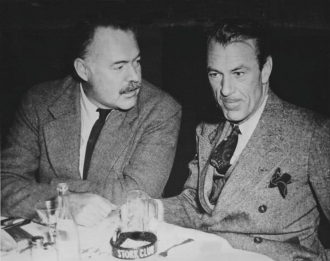 Born
July 21, 1899
Oak Park, Illinois US
Death
July 2, 1961
Ketchum, Idaho US
Other Names
Ernest Miller Hemingway
Summary
Ernest Hemingway was born on July 21, 1899 in Oak Park, Illinois. He died on July 2, 1961 in Ketchum, Idaho at 61 years old.
2 Followers
Ernest Hemingway
Ernest Hemingway
(1899 - 1961)
July 2, 1961
Special to The New York Times
Ketchum, Idaho, July 2--Ernest Hemingway was found dead of a shotgun wound in the head at his home here today.
His wife, Mary, said that he had killed himself accidentally while cleaning the weapon.
The New York Times
Hemingway's obituary ran on the front page of The New York Times on July 3, 1961.
Mr. Hemingway, whose writings won him a Nobel Prize and a Pulitzer Prize, would have been 62 years old July 21.
Frank Hewitt, the Blaine County Sheriff, said after a preliminary investigation that the death "looks like an accident." He said, "There is no evidence of foul play."
The body of the bearded, barrel-chested writer, clad in a robe and pajamas, was found by his wife in the foyer of their modern concrete house.
A double-barreled, 12-gauge shotgun lay beside him with one chamber discharged.
Mrs. Hemingway, the author's fourth wife, whom he married in 1946, issued this statement:
"Mr. Hemingway accidentally killed himself while cleaning a gun this morning at 7:30 A.M. No time has been set for the funeral services, which will be private."
Mrs. Hemingway was placed under sedation.
Coroner Ray McGoldrick said tonight that he would decide tomorrow, after speaking to Mrs. Hemingway, whether to hold an inquest.
The writer was discharged from Mayo Clinic in Rochester, Minn., last Monday after two months of treatment for hypertension (high blood pressure) and what a Mayo spokesman called a "very old" case of hepatitis.
He had been treated there last year for the same conditions and had been released Jan. 23 after fifty-six days.
About a month ago, Mr. Hemingway's physician at the clinic described his health as "excellent."
The author had been worried about his weight, 200 pounds. He was six feet tall.
Mr. Hemingway and his wife, who drove from Rochester, arrived Friday night at this village on the outskirts of Sun Valley.
Chuck Atkinson, a Ketchum motel owner who has been a friend of Mr. Hemingway for twenty years, was with him yesterday. He said, "He seemed to be in good spirits. We didn't talk about anything in particular. I think he spent last night at home."
However, Marshal Les Jankow, another friend and the first law officer to reach the scene, said residents had told him that Mr. Hemingway had "looked thinner and acted depressed."
At the time of the shooting, Mrs. Hemingway, the only other person in the house, lay asleep in a bedroom upstairs. The shot woke her and she went down the stairs to find her husband's body near a gun rack in the foyer.
Mrs. Hemingway told friends that she had been unable to find any note.
Expert on Firearms
Mr. Hemingway was an ardent hunter and an expert on firearms.
His father, Dr. Clarence E. Hemingway, was also devoted to hunting. He shot himself to death at his home in Oak Park, Ill., in 1928 at the age of 57, despondent over a diabetic condition. The death weapon was a Civil War pistol that had been owned by the physician's father.
The theme of a father's suicide cropped up frequently in Mr. Hemingway's short stories and at least one novel, "For Whom the Bell Tolls."
Mr. Hemingway was given his first shotgun at the age of 10.
As an adult, he sought out danger. He was wounded by mortar shells in Italy in World War I and narrowly escaped death in the Spanish Civil War when three shells plunged into his hotel room.
In World War II, he was injured in a taxi accident that took place in a blackout. The author nearly died of blood poisoning on one African safari; he and his wife walked away from an airplane crash in 1954 on another big-game hunt.
Mr. Hemingway, who owned two estates in Cuba and a home in Key West, Fla., started coming to Ketchum twenty years ago. He bought his home here from Robert Topping about three years ago.
It is a large, ultramodern concrete structure that sits on a hillside near the banks of the Wood River. The windows give upon a panoramic view of the Sawtooth Mountains.
To Be Buried in Ketchum
"The funeral and burial will be in Ketchum," Mr. McGoldrick said. "This was Mr. Hemingway's home, he loved it here."
Under a new Idaho law that took effect yesterday, the chief law-enforcement officer must make an investigation into every case of violent death and determine the cause. He may hold an inquest if he wishes, but it is not mandatory.
Late in the day, Mr. McGoldrick said about the shooting:
"I can only say at this stage that the wound was self-inflicted. The wound was in the head. I couldn't say it was accidental and I couldn't say it was suicide. There wasn't anybody there."
The coroner said that the Sheriff did not have to hand in his report on the death "for several days."
"If anything comes up indicating foul play, he may hold an inquest," he said. "I don't think he'll hold an inquest but, based on new evidence, it could be called at any time."
He added: "He doesn't have to state in his report whether it was accidental or suicide."
Confers With Friends
"Mary felt it was accidental and I hope that's the way it will go out," Mr. Atkinson said. "But maybe we will have to change our plans and hold an inquest. I know that 'Papa' [Mr. Hemingway's nickname] wouldn't give a damn how it came out in the papers."
Previously, Mr. Atkinson had been busy trying to reach members of Mr. Hemingway's immediate family. He telephoned Mrs. Jasper J. Jepson, the novelist's sister, who said that she would fly to Ketchum immediately.
The author's 28-year-old son Gregory, a University of Miami medical student, will fly here from Miami tomorrow. Another son, Patrick, according to Mr. Atkinson, is on a safari in Africa and a third, John, is fishing in Oregon.
Mourned by Kennedy
Hyannis Port, Mass., July 2 (UPI)--President Kennedy mourned tonight the death of Ernest Hemingway, whom he called one of America's greatest authors and "one of the great citizens of the world."
The President, who is spending the Fourth of July weekend here with his family, issued a statement after hearing of Mr. Hemingway's death.
Share your memories, family stories, & photos so that Ernest is always remembered.
Photos and snapshots taken of Ernest Hemingway, his Hemingway family, and locations and places or events from his life.
Share Ernest's obituary or write your own to preserve his legacy.
Ernest Hemingway
Born July 21, 1899 in Oak Park, Illinois, USA
Died July 2, 1961 in Ketchum, Idaho, USA (suicide by gunshot)
Birth Name Ernest Miller Hemingway
Nickname Papa
Height 6' (1.83 m)
Mini Bio (1)
Ernest Hemingway was an American writer who won the Pulitzer Prize (1953) and the Nobel Prize in Literature (1954) for his novel The Old Man and the Sea, which was made into a 1958 film The Old Man and the Sea (1958).
He was born into the hands of his physician father. He was the second of six children of Dr. Clarence Hemingway and Grace Hemingway (the daughter of English immigrants). His father's interests in history and literature, as well as his outdoorsy hobbies (fishing and hunting), became a lifestyle for Ernest.
- IMDb Mini Biography By: Steve Shelokhonov
Spouse (4)
Mary Welsh (14 March 1946 - 2 July 1961) ( his death)
Martha Gellhorn (5 November 1940 - 21 December 1945) ( divorced)
Pauline Marie Pfeiffer (10 May 1927 - 4 November 1940) ( divorced) ( 2 children)
Elizabeth Hadley Richardson (3 September 1921 - 10 March 1927) ( divorced) ( 1 child)
Trade Mark (3) Often makes reference to his own interests such as boxing and fishing
Minimalist writing style Recurring theme of nature in his works
Was awarded the 1954 Nobel Prize in literature.
Pictured on a 25¢ US commemorative postage stamp in the Literary Arts series, issued 17 July 1989.
Grandfather of Joan Hemingway and actresses Mariel Hemingway and Margaux Hemingway (also a suicide, in 1996, as was her great-grandfather, Ernest's father).
It's estimated Hemingway left behind over 8,000 personal and business letters, and plans were announced in May 2002 to attempt to collect and publish most of them in a set that could exceed 10 volumes.
Grandfather of actresses Mariel Hemingway, Margaux Hemingway and Joan Hemingway.
Unlike his contemporaries F. Scott Fitzgerald, William Faulkner and John Steinbeck, Hemingway never wrote for the movies, but had no objection to selling his novels and short stories.
A.E. Hotchner, in his 1966 memoir of his friendship with "Papa Hemingway", reports that Hemingway chose him in the late 1950s as his emissary to Hollywood to sell the Nick Adams stories. Hemingway, hobbled by mental illness and bad health, wanted an unprecedented $1 million for the movie rights to the stories, but Hotchner was only able to get him $100,000. The stories are the basis for Martin Ritt's film Hemingway's Adventures of a Young Man (1962), which came out the year after Hemingway's death. Hotchner wrote the screenplay, as he did for The Seven Lively Arts: The World of Nick Adams (1957).
Hemingway suffered from bipolar disorder, then known as manic depression, and was treated with electroshock therapy at the Menninger Clinic. The therapy, he claimed, had destroyed his memory--other sources have claimed that the effects of it were what drove him to suicide-- and he told his friend A.E. Hotchner that his memory loss was one of the reasons he no longer wanted to live. The condition was hereditary: Hemingway's father Clarence likely suffered from it, as did at least one of his sisters, Ursula, and his only brother, Leicester, as did one of his sons, Gregory, and his granddaughter Margaux Hemingway. In addition to Ernest, Hemingway's father Clarence, his siblings Ursula and Leicester, and his granddaughter Margaux all committed suicide. His son Gregory died in police custody after being picked up in a stupor shortly after a sex change operation.
His house in Key West, FL--where he wrote a good deal of his works--is a museum in his honor. The cats that live there have six toes on each foot, a condition that can be traced back to Hemingway's own cats.
One son, Jack Hemingway with first wife; two sons, Patrick and Gregory, with second. Only Patrick survives as of this writing (June 2005).
He was married four times, and dedicated a book for each wife during the time he was married to them.
He admired Russian writers Ivan Turgenev, Leo Tolstoy, Fyodor Dostoevsky and Anton Chekhov.
Long considered a likely Nobel Laureate for Literature, he was disappointed when in 1950, William Faulkner became the first American writer of their generation to be awarded the Prize. Hemingway's 1949 novel "Across the River and Into the Trees" had been a notable failure, and likely cost him the honor of being the first American to win the prize since Eugene O'Neill did in 1938. Hemingway returned to his original, simple style for "The Old Man and the Sea", his 1952 novella that won him the Pulitzer Prize. After two plane crashes gave him the opportunity to read his own obituary, he finally won the Nobel Prize in 1954, in large part due to the extraordinary success of "Old Man". Hemingway himself was initially involved in the translation of the book into a film (The Old Man and the Sea (1958)), although the extent of his participation after selling his book was to go marlin-fishing off the coast of Peru to try to find a fish worthy enough for the picture. In the end, the producers used a rubber marlin and stock footage of marlin fishing in which Hemingway didn't participate. After seeing the film he expressed his disappointment and said that Spencer Tracy looked less like a Cuban peasant fisherman and more the rich old actor that he was. Tracy received an Oscar nomination for the role.
Hemingway, perhaps the most prominent of the American supporters of the Spanish Republic during its struggle against the fascist rebellion led by Gen. Francisco Franco's Falangists--heavily supported by the Nazi regime of Adolf Hitler--said that Alvah Bessie's Spanish Civil War novel "Men in Battle" (1939) was one of the best war novels of its time. Hemingway's own Spanish Civil War novel, "For Whom the Bell Tolls" (1943), won the 1940 Pulitzer Prize for fiction and was a best-seller.
Much of his writing reflects his dissatisfaction with modern culture.
The city of Key West, FL, has an Ernest Hemingway lookalike contest every year.
Although it was not used, he proposed the following epitaph for his tombstone: "Pardon me for not getting up.".
Journalist Hunter S. Thompson was an admirer of Hemingway and his writing. Thomnpson wrote an article about Hemingway's later life and death titled, "What Lured Hemingway to Ketcham". The article can be found in Thompson's book, "The Great Shark Hunt".
When he died in 1961, his estate consisted of $418,933 in various stocks and bonds, $801,766 in real estate and $189,611 in notes, cash and mortgages.
His granddaughter Mariel Hemingway co-starred in Woody Allen's movies Manhattan (1979) and Deconstructing Harry (1997). Allen later played Hemingway himself in Midnight in Paris (2011).
Lampooned by FOX ADHD.
Direct descendant of writer Geoffrey Chaucer through his fathers line.
Personal Quotes (21)
As you get older, it is harder to have heroes, but it is sort of necessary.
A cat has absolute emotional honesty: human beings, for one reason or another, may hide their feelings, but a cat does not.
All things truly wicked start from an innocence.
There are events which are so great that if a writer has participated in them his obligation is to write truly rather than assume the presumption of altering them with invention.
All my life I've looked at words as though I were seeing them for the first time.
If the book is good, is about something that you know, and is truly written, and reading it over you see that this is so, you can let the boys yip and the noise will have that pleasant sound coyotes make on a very cold night when they are out in the snow and you are in your own cabin that you have built or paid for with your work.
God knows people who are paid to have attitudes toward things, professional critics, make me sick; camp following eunuchs of literature. They won't even whore. They're all virtuous and sterile. And how well meaning and high minded. But they're all camp followers.
A man's got to take a lot of punishment to write a really funny book.
Remember this too: all bad writers are in love with the epic.
Always do sober what you said you'd do drunk. That will teach you to keep your mouth shut.
Never mistake motion for action
There is no hunting like the hunting of men, especially armed men, and those who have done this long enough to like it . . . they never care for anything else thereafter.
What is moral is what you feel good after and what is immoral is what you feel bad after.
[on Marlene Dietrich] If she had nothing but her voice, she could break your heart with it. But she also has that beautiful body and the timeless loveliness of her face.
When I dream of afterlife in heaven, the action always takes place in the Paris Ritz.
The best way to find out if you can trust somebody is to trust them.
I drink to make other people interesting.
If you are lucky enough to have lived in Paris as a young man, then wherever you go for the rest of your life it stays with you, for Paris is a moveable feast.
How I admire your straight thinking, your head, your heart and your very lovely hands and I pray God always that he will make up to you the very great hurt that I have done you--who are the best and truest and loveliest person that I have ever known.
[on the Spanish Civil War] High in the sky and shining silver, death came to all who had no place to run, no place to hide.
There is nothing to writing. All you do is sit down at a typewriter and bleed.
Salary (4)
Men Without Women (1930) $500
The Killers (1946) $36,700
The Sun Also Rises (1957) $10,000
Hemingway's Adventures of a Young Man (1962) $100,000
Source(s):
Refresh this page to see various historical events that occurred during Ernest's lifetime.
In 1899, in the year that Ernest Hemingway was born, on February 14th, the first voting machines were approved by Congress for use in federal elections. Several states were already using voting machines in their elections and the Federal government was finally convinced of their safety and accuracy.
In 1908, at the age of merely 9 years old, Ernest was alive when Henry Ford developed the first Model T automobile, often called the Tin Lizzy or flivver. Produced from 1908 through 1927, it first sold for $850 - which made it affordable for every middle class family. Previously, cars were the province of the upper class and the introduction of the Model T and its availability changed U.S. culture. Within days of its release, over 15,000 cars had been ordered.
In 1913, he was merely 14 years old when Henry Ford installed the first moving assembly line for the mass production of an entire automobile. It had previously taken 12 hours to assemble a whole vehicle - now it took only two hours and 30 minutes! Inspired by the production lines at flour mills, breweries, canneries and industrial bakeries, along with the disassembly of animal carcasses in Chicago's meat-packing plants, Ford created moving belts for parts and the assembly line was born.
In 1945, he was 46 years old when on April 12th, President Roosevelt died of natural causes and Harry S. Truman, his Vice-President, became the 33rd President of the United States.
In 1961, in the year of Ernest Hemingway's passing, on April 17th, about 1,000 CIA trained Cuban exiles invaded Cuba with the intention of igniting a rebellion and overthrowing Castro. They were defeated within three days. Although the operation began under Eisenhower, Kennedy approved it and the operation, named the Bay of Pigs for the beach where they landed, was a humiliation for the United States.
Highlights of just a few of the many successes of sharing memories about the people important to us on AncientFaces. From reuniting lost or 'orphan' photos with their families, seeing the faces of relatives for the first time, to connecting unknown and lost family.

These stories will warm your heart and inspire you to share your memories of the people important to you.
Back to Top