Guy Muldavin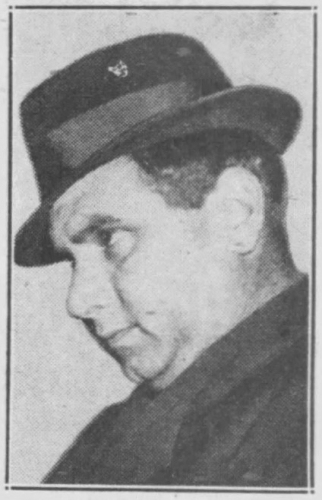 Guy Muldavin of Salinas, Monterey County, CA was born on October 27, 1923 in New York, New York United States to
Albert Muldavin
and
Sylvia Muldavin
. He had a brother
Michael S Muldavin
. Guy Muldavin died at age 78 years old on March 14, 2002 in Salinas, CA.
Raoul Guy Rockwell, Guy Raoul Rockwell, Guy Muldavin Rockwell
Salinas, Monterey County, CA 93908
New York, New York, United States
Salinas, Monterey County, California, 93908, United States
ADVERTISEMENT BY ANCESTRY.COM
This page exists for
YOU
and everyone who remembers
Guy.
Share what you know,
even ask what you wish you knew.
Invite others to do the same,
but don't worry if you can't...
Someone, somewhere will find this page,
and we'll notify you when they do.
Guy Muldavin's History: 1923 - 2002
Uncover new discoveries and connections today by sharing about people & moments from yesterday.
Guy Rockwell Muldavin, aka Raoul Guy Rockwell, was adopted by Abram Albert Zadworanski Muldavin (1894-1967) and Sylvia 'Lily' Silverblatt (1902-1972), and had a brother Michael Semyon J. Muldavin (1920-2005). There are numerous birthdates recorded for Guy, but it is likely he was born on either October 26th or 27th in Brooklyn New York. A number of passenger lists show that when Guy was young, he travelled with his family to Havana Cuba, Hamburg Germany, Genoa Italy, and Le Havre France from 1925 through the early 1930s. In 1942 Guy was living in Manhattan New York and attending the American Academy of Dramatic Arts. He was disqualified from active service in the military due to a mastoid infection. On May 11th, 1946, while working as a professor, he married Joellen Mae Loop (1924-2002) in Bellevue Pennsylvania. The couple lived in New York, California, and then Seattle Washington where he worked as a disk jockey. The couple divorced on July 16th, 1956. Two years later, Raoul Guy Rockwell married Manzanita Aileen 'Manzy' Ryan on September 30th, 1958, in Kootenai Idaho and she died sometime between April 1st and April 3rd, 1960. Manzanita had a daughter from a previous marriage, Dolores Ann Mearns who was 18 when she and her mother disappeared on April Fool's Day in 1960. Guy was a prime suspect when they found Manzanita and her daughter's body Dolores in the septic tank of the couple's home in Seattle. See

Rockwell Asks to Talk With Catholic Priest

for details. Shortly thereafter, Guy married Evelyn Marie (Rockwell) Emerson (born 1919) on July 29th, 1960, in King County Washington, and they married again a second time on August 10th, 1963, in Los Angeles. This time he used the name "Guy R. Muldavin", which his adopted parents had given him. The marriage did not last, and he married twice again - once on February 16th, 1974, to Teri Marie Vizina (real name Ruth Marie Terry) in Reno Nevada, and then again to Phyllis Roper on October 18th, 1975, in Los Angeles. The marriage to Phyllis lasted until Guy's death in 2002. See

Guy Muldavin: Obituary

. On November 2nd, 2022, the FBI released the identity of a body found in Provincetown, Massachusetts on July 26th, 1974, as that of Ruth Marie Terry and they named Guy Muldavin as the prime suspect. The investigators used a combination of DNA and genealogical research to identify Muldavin. In 1960, Guy was a prime suspect of two killings in Humboldt County. See

Rockwell Sought for Questioning in California

for details.

Birthdate

New York, New York United States

Birthplace

His biological parents are unknown. His adoptive father Abram Albert Zadworanski Muldavin was born in Poland and died in Alameda County California. His adoptive mother Sylvia "Lily" Silverblatt was born in Brooklyn and died in Santa Clara CA. Her parents were both born in Russia.

Guy's obituary says that he was born in Santa Fe, New Mexico on October 26th 1923, but there are other records which show his birth date and location being in December in New York. In his early years, while living with his adopted parents, he travelled extensively across the world. His childhood home was in Manhattan, New York. As an adult, he spent a significant amount of time living in various locations in and around Seattle Washington, Los Angeles, California, and Humboldt County, California. Guy lived the last 22 years of his life in Salinas, California.

Rockwell Guy Muldavin was schooled by private tutors, and in Switzerland, New York at the Academy of Dramatic Arts, and Connecticut as well as tutored privately on his family cattle ranch at Ribera, New Mexico.

Around 1942 Guy was disqualified from active service due to mastoid infection.

Guy worked a number of jobs throughout his life. He worked as a tutor, a line cook at one of his father-in-law's restaurants, a disk-jockey, as an antiques dealer, an artist, and as a buyer with Bullocks. For insight into how Muldavin was viewed by some of the antique dealers in New York see

Nab Village Casanova on Grisly Find

.

Guy Muldavin went by many names. He was adopted and lived a rather privileged life in his early years. He was married at least 5 times, is connected to possibly 5 murders, and had a history of borrowing money without repayment.

Death date

Salinas, Monterey County, California 93908, United States

Death location

The following appeared in The Californian in Salina California on Friday March 15th 2002: Guy Muldavin, 78, of Salinas, died Thursday, March 14, 2002, at his home following a lengthy illness. He was born Oct. 26, 1923, in Santa Fe, N.M., and lived in Salinas for 22 years. He was a buyer with Bullocks and an artist, actor and poet. Survivors: Wife, Phyllis Muldavin of Salinas; and sister, Joan Towers of Salinas. Services: Private serves to be held at a later date. Memorials: Visiting Nurse Associate Hospice of the Central Coast, 957A Blanco Circle, Salinas 93901. Cremation: Healey Crematory Co., 405 N. Sanborn Road, Salinas.

ADVERTISEMENT BY

Looking for more information?
10 Memories, Stories & Photos about Guy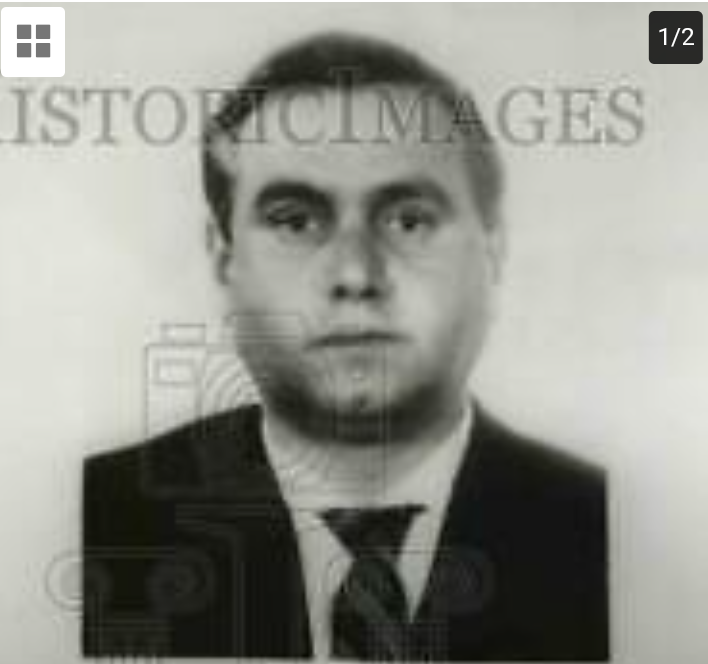 Maeve Watson

26 favorites
01/27/2021
Guy Muldavin
Date & Place: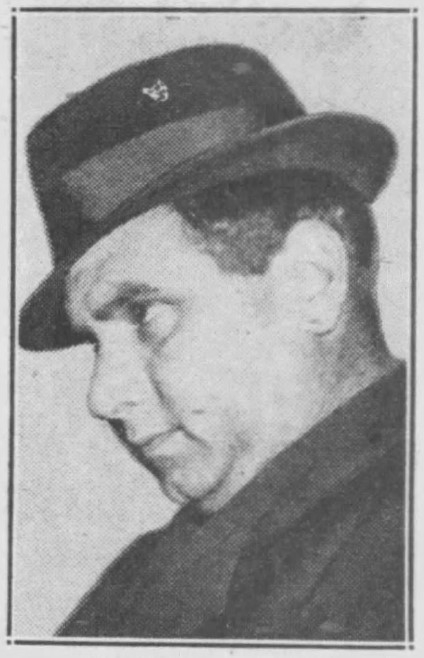 Guy Muldavin U.S. Court House
This photo was taken by Bill Meurer as Guy Rockwell Muldavin entered the U.S. Court House and appeared in the Daily News on December 2nd 1960 on page 33.
A transcription of the article can be found at
Nab Village Casanova on Grisly Find
.
Date & Place: at Greenwich Village in New York, New York County, New York United States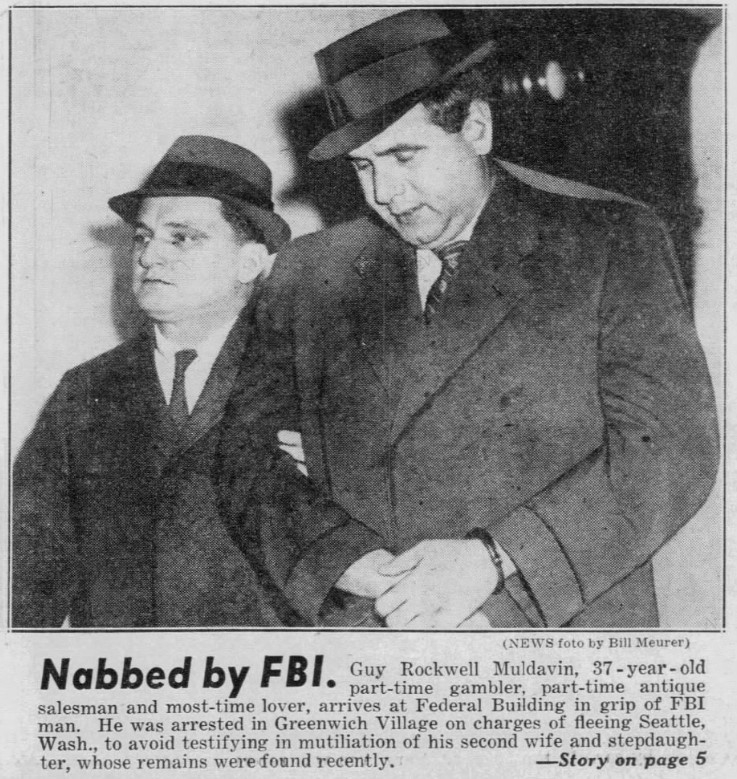 Nabbed by FBI - Muldavin 1960
Nabbed by FBI. Guy Rockwell Muldavin, 37-year-old salesman and most-time lover, arrives at Federal Building in grip of FBI man. He was arrested in Greenwich Village on charges of fleeing Seattle, Wash., to avoid testifying in mutiliation (sic) of his second wife and stepdaughter, whose remains were found recently.
A transcription of the article which appeared in The Daily News can be found at
Nab Village Casanova on Grisly Find
.
Date & Place: at Greenwich Village in New York, New York County, New York United States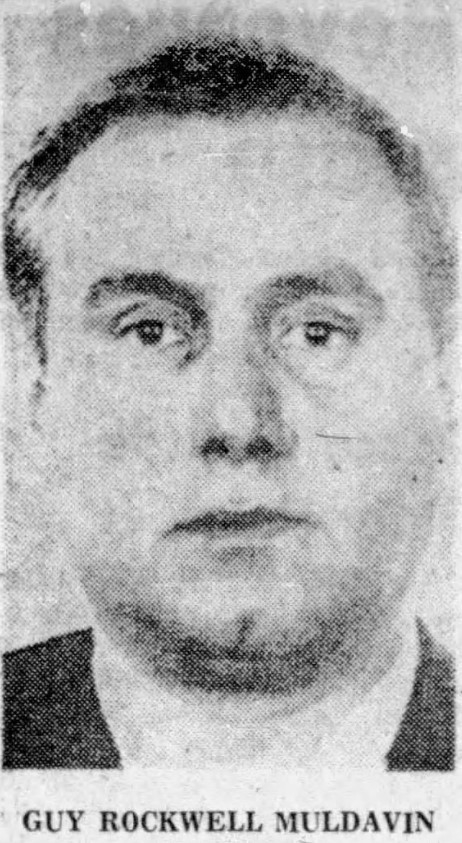 Guy Rockwell Muldavin
The photo of Guy Rockwell Muldavin that appeared in the Tri-City Herald on Thursday December 1st 1960 on page 9.
For a transcription of the article see
Seattle Suspect Captured
.
Date & Place: at Greenwich Village in New York, New York County, New York United States
Seattle Suspect Captured
The following appeared in the Tri-City Herald on Thursday, Dec. 1, 1960. on page 9:
NEW YORK (AP) - A man wanted by Seattle, Wash., authorities for questioning in the disappearance last summer of his wife and her daughter by a former marriage was arrested in Greenwich Village early today by the FBI.
The man, Guy Rockwell Muldavin, was charged with unlawful flight to avoid giving testimony relating to "the mutilation of human remains," the FBI said. The agency added the warrant was obtained in Seattle after bits of human flesh were found in a newly sealed septic tank at the Muldavin home.
The FBI gave this account: Muldavin, 37, a native of New York City, married Manzanita Mearns after the divorce of his first wife in 1956. She was reported missing to Seattle police last August by her former husband, William Mearns. An investigation indicated Manzanita and her 18-year-old daughter Delores Ann Mearns had disappeared about April 1.
The human remains were found by investigating officers on the grounds of Muldavin's home and antique shop. In July, however, Muldavin had divorced Manzanita on grounds of desertion and married Evelyn Emerson. Soon after the marriage he obtained $10,000 from the Emerson woman's stepmother, Germaine Winkler, as a loan for purchasing antiques in Canada for quick sale in Seattle.
Seattle police are also holding a warrant charging Muldavin with obtaining $10,00 fraudulently. On Nov. 1 the King County (Seattle) prosecutor obtained a warrant charging a "John Doe" with the mutilation of human remains. A material witness warrant was then obtained for Muldavin.
See
Guy Rockwell Muldavin
for an image of Muldavin which appeared with the article.
Nab Village Casanova on Grisly Find
The following appeared in the Daily News on Friday December 2nd 1960 on page 33 and was written by Norma Abrams and Sidney Kline:
Hipster, bunco artist and great lover, Guy Rockwell Muldavin, 37, was seized in his curio-cluttered Greenwich Village apartment yesterday by the FBI. The arrest ended a search launched by Seattle, Wash., police in August, when bits of human remains believed to be those of Muldavin's second wife and a stepdaughter were found.
Hulking Muldavin - he stands 6-foot-2, weighs close to 250 pounds and has brown hair dyed red-offered no resistance when the federal men broke in on the pad at 45 Carmine St. which he rented as "Michael Strong."
Accepts 50G Bail Calmly - Neither did he protest when U.S. Commissioner Earle N. Bishopp fixed $50,000 bond pending hearing next Thursday on charges of unlawfully fleeing to avoid giving testimony before a grand jury concerning mutilation of a human being. "If I had the money, I would not put it up," Muldavin said. "Are you willing to go back to Seattle?" demanded Bishopp with some surprise. "Yes, sir," Muldavin replied. "Am I supposed to have fled to avoid arrest?" "No," said the commissioner. "To avoid giving testimony." The presioner apepared relived.
Authorities said Muldavin had three wives and many sweethearts. New York-born, educated by private tutors, well read, Muldavin settled in Seattle several years ago as Raoul Rockwell. He and his first wife were divorced in 1956. He married Mrs. Manzanita Mearns, 39, in the same year. She and her daughter, Dolores Ann, 18, moved into Muldavin's two-story lakeside home in Seattle.
Before moving to Seattle, Muldavin had been an actor and disk jockey in California. in his new home he started an antique shop which rarely opened its doors before 6 P.M. In it, nightly, clustered beatniks, art lovers, celebrities and celebrity hunters, all bound by Muldavin's magnetism and offbeat philosophy.
Early last April, Manzanita and her daughter vanished. On July 21, charging his wife with desertion, Muldavin obtained a divorce. A week later, he married his third wife, Evelyn, step-daughter of socially prominent Mrs. Caroline Winkler of Seattle.
His Trouble Grow - He promptly borrowed $10,000 from Mrs. Winkler with which, he said, he planned to buy antiques in Canada for quick and profitable resale in Seattle. Instead of going north, he went south, to San Francisco, with an attractive Eurasian housewife, Mrs. Irene Gregory, 27, of Seattle. Mrs. Gregory told police she spent Aug. 4 and 5 with him in a San Francisco hotel and then went, at Muldavin's request, to see a doctor - who turned out to be nonexistent. When she returned to the hotel Muldavin was gone.
Now his troubles in Seattle began to pile up. Mrs. Winkler filed swindling charges against him. Manzanita's first husband William Mearns, father of Dolores Ann, voiced suspicions of foul play. On Aug. 30, police searching Muldavin's home noticed fresh concrete sealing on the septic tank. They broke in. They found human flesh and bones, some of it seared by flames, which Dr. Gale Wilson King, a pathologist, said were those of a girl 16 to 20. And in the Columbia River, a few hundred miles from Seattle, mutilated portions of a human body believed to be that of Manzanita were recovered by authorities.
Nationwide Search - The search for Muldavin became nationwide. Cities up and down the West Coast, New York City, major cities in the East were scoured by the FBI. Said one Seattle antique dealer; "We though him something of a rascal and full of hot air, but he was forceful and interesting."
Assistance U.S> Attorney James McK. Rose Jr. said yesterday that Muldavin had been a restaurant worker here. Said Mrs. Ben Sapienza, wife of the building superintendent of the Carmine St. apartment house, concerning Muldavin: "He was in and out at all hours. He was always alone."
Photos that appeared in this article can be found at:
Nabbed by FBI - Muldavin 1960
&
Guy Muldavin U.S. Court House
Loading...one moment please

Family, friend, or fan...
share memories, stories,
photos, or simply leave
a comment to show
you care.

Remember the past to connect today & preserve for tomorrow.
Be the 1st to share and we'll let you know when others do the same.
ADVERTISEMENT BY ANCESTRY.COM
Guy Muldavin's Family Tree & Friends
9 Followers & Sources

ADVERTISEMENT BY ANCESTRY.COM
About the AncientFaces Community
Guy Muldavin
Back to Top