Joaquin Miller (1837 - 1913)
updated February 06, 2019
Joaquin Miller was born on September 8, 1837. He died on February 17, 1913 at age 75.

JOAQUIN MILLER
September 8, 1837 – February 17, 1913
Born Cincinnatus Hiner Miller
September 8, 1837
Fulton County, Indiana
Died February 17, 1913 (aged 75) Oakland, California
Cincinnatus Heine Miller, better known by his pen name Joaquin Miller, was an American poet and frontiersman. He is nicknamed the "Poet of the Sierras" after the Sierra Nevada, about which he wrote in his Songs of the Sierras (1871).
Joaquin Miller's parents were Hulings Miller and Margaret (née Witt), who married January 3, 1836, in Union County, Indiana.
While Miller was a young boy, probably between 1850 and 1852, his family moved to Oregon and settled in the Willamette Valley, establishing a farm in what would become Lane County. As a young man, he moved to northern California during the California Gold Rush years, and had a variety of adventures, including spending a year living in a Native American village, and being wounded in a battle with Native Americans.
A number of his popular works, Life Amongst the Modocs, An Elk Hunt, and The Battle of Castle Crags, draw on these experiences. He was wounded in the cheek and neck with an arrow during this latter battle, recuperating at the Gold Rush-era mining town of Portuguese Flat.
He accompanied William Walker on the latter's 1855 filibustering expedition to Nicaragua. In the spring of 1857, Miller took part in an expedition against the Pit River Tribe after they killed a white man on Pit River. Years later, he claimed that he had sided with the Native Americans and was run out of town for it. He was widely rumored to have married an Indian woman, possibly a Wintu princess who nursed him back to health after he was wounded by Modocs, and to have fathered with her a daughter named Cali-Shasta, or "Lily of the Shasta." Although Miller soon left the area to pursue other adventures, in the 1870s he sought out Cali-Shasta, then in her teens, and took her to San Francisco to be educated by his friend Ina Coolbrith. Contemporaries believed that Miller's "Indian wife" was the woman later kidnapped by Modocs and held in captivity for some years until rescued by a man named Jim Brock (whom she married), but when "Amanda Brock" died in 1909, Miller denied news reports describing his supposed romance with her. He credited her with saving his life, but said she had always been a platonic friend.
Spending a short time in the mining camps of northern Idaho, Miller found his way to Canyon City, Oregon by 1864 where he was elected the third Judge of Grant County. His old cabin in Canyon City is still standing.
Miller's exploits included a variety of occupations: mining-camp cook (who came down with scurvy from only eating what he cooked), lawyer and a judge, newspaper writer, Pony Express rider, and horse thief. On July 10, 1859, Miller was caught stealing a horse gelding valued at $80, a saddle worth $15, and other items. He was jailed briefly in Shasta County for the crime, and various accounts give other incidents of his repeating this crime in California and Oregon. Miller earned an estimated $3,000 working as a Pony Express rider, and used the money to move to Oregon. With the help of his friend, Senator Joseph Lane, he became editor of the Democratic Register in Eugene, a role he held from March 15 to September 20, 1862. Though no copies survive, it was known as sympathetic to the Confederacy until it was forced to shut down because of its treasonable character. That year, Miller married Theresa Dyer on September 12, 1862, in her home four days after meeting her in Port Orford, Oregon. He had corresponded with her after exchanging poems with her for critique and chasing away a competing suitor. She published poetry under the pen name Minnie Myrtle. The couple had three children: Maud, George, and Henry, although Miller would later claim the baby Henry was not his own. In 1868, Miller paid for the publication of 500 copies of his first book of poetry, Specimens. It was unnoticed and Miller gave away more copies than he sold. Few have survived. The author's despair and disappointment was reflected in his second book, Joaquin et al., the next year. Dyer filed for divorce on April 4, 1870, claiming they had a third child, Henry Mark, the year before and that Miller was "wholly" neglectful. The court declared them divorced on April 19 and Dyer was granted custody of the baby while the two older children were left in the care of her mother. Miller was ordered to pay $200 per year in child support. Miller believed the divorce prevented him from being nominated for a seat on the Oregon Supreme Court. He never denied her charges that he was neglectful of her and their children and was rarely home. He also may have had an affair with actress Adah Isaacs Menken shortly into the marriage.
Joaquin Miller, 1903
Miller had sent a copy of Joaquin, et al. to Bret Harte, who offered advice that he avoid "faults of excess" and encouragingly wrote, "you on your way to become a poet." The next summer, July 1870, Miller traveled to San Francisco with borrowed money and there befriended Charles Warren Stoddard and Ina Coolbrith. Stoddard was the first to meet him at the dock and, as he recalled, Miller's first words to him were, "Well, let us go and talk with the poets." Miller went to England, where he was celebrated as a frontier oddity. There, in May 1871, Miller published Songs of the Sierras, the book which finalized his nickname as the "Poet of the Sierras". It was well received by the British press and members of the Pre-Raphaelite Brotherhood, particularly Dante Gabriel Rossetti and William Michael Rossetti. While in England, he was one of the few Americans invited into the Savage Club along with Julian Hawthorne, son of Nathaniel Hawthorne. The younger Hawthorne referred to Miller as "a licensed libertine" but admitted to finding him "charming, amiable, and harmless". Rather abruptly, Miller left England in September 1871 and landed in New York. At the encouragement of family, he made his way to Easton, Pennsylvania to visit his dying brother before returning to Oregon; his father died shortly thereafter. Miller eventually settled in California, where he grew fruit and published his poems and other works.
In 1877, Miller adapted his First Fam'lies of the Sierras into a play, The Danites, or, the Heart of the Sierras. It opened on August 22 in New York with McKee Rankin as the main character.[38] The anti-Mormon play, which featured Danites hunting the daughter of one of the murderers of Joseph Smith, became one of the most commercially successful in a series of anti-Mormon dramas at the time. The Spirit of the Times, however, attributed its success to curious audience members expecting a disastrous failure and instead discovering a good show: "The play proved to possess more than ordinary merit, and if it is not a great work, it is decidedly not a very bad one." The Danites was extended from a run of only a few days to one of seven straight weeks before moving to another theatre and, ultimately, was performed to such a degree that it rivaled the popularity of Uncle Tom's Cabin. It was published in book form later in 1877. Miller later admitted that he regretted the anti-Mormon tone.
Miller married for a third time on September 8, 1879, Abigail Leland, in New York City.
Miller circa 1905
In 1886, Miller published The Destruction of Gotham, a book which was one of the earliest to depict a prostitute as a heroine. That year, he moved to Oakland, California, and built a home for himself he called "The Hights" [sic]. He remained there until his death in 1913.
In 1897, Miller traveled to the Yukon as a newspaper correspondent. He saw Alaska for the first time on July 30. His dispatches, many of which were written before reaching Alaska, incorrectly implied an easy and inexpensive trip. Miller himself nearly froze to death; two toes were lost to frostbite. Miller died on February 17, 1913, surrounded by friends and family. His last words were recorded as "Take me away; take me away!" The poet had asked to be cremated by friends in the funeral pyre he built at The Hights with no religious ceremony and without being embalmed. His wishes were mostly ignored and the funeral on February 19 drew thousands of curious onlookers. The preacher who spoke referred to Miller as "the last of America's great poets." On May 23, members of the Bohemian Club of San Francisco and the Press Club returned to Miller's funeral pyre to burn the urn which contained his ashes, allowing them to scatter. He had left no will and his estate — estimated at $100,000 — was divided between his wife, Abigail and daughter, Juanita.
Miller in later years
Life Amongst the Modocs (1873)
Specimens (1868)[41]
Joaquin et al. (1869)[41]
Pacific Poems (1871)
Songs of the Sierras (1871)[61]
Songs of the Sun-Lands (1873)[62]
Life Amongst the Modocs (1873)[62]
Arizonian (1874)[41]
First Fam'lies of the Sierras (1875–76)[41]
The One Fair Woman (1876)[41]
The Baroness of New York (1877)[41]
The Danites (1878)[41]
Songs of Italy (1878)[41]
Memorie and rime (1884)
The Destruction of Gotham (1886)
Songs of the Soul (1896)[63]
True Bear Stories (1900)[64]
Chants for the Boer (1900)[64]
The Complete Poetical Works of Joaquin Miller (1902)[64]
As It Was in the Beginning (1903)[64]
The Building of the City Beautiful (1905)[64]
Light: A Narrative Poem (1907)[64]
Joaquin Miller's Poems, with an introduction and autobiography (6 vols., San Francisco, 1909–1910)[11][64]
The Danites in the Sierras (1910)[64]
49: The Gold-Seekers of the Sierras (1910)[64]
An Elk Hunt
The Battle of Castle Crags
ADVERTISEMENT BY ANCESTRY.COM
Vital facts & highlights of Joaquin's life to share with the world
Most Commonly Known Name
Joaquin Miller
First name
Joaquin
Middle name
Last Name(s)
Nickname(s) or aliases
Cincinnatus Heine (Miller)
Gender
Male
Birth
Joaquin Miller was born on
Death
Joaquin Miller died on
Cause of death
There is no cause of death listed for Joaquin.
Burial / Funeral
Do you know the final resting place - gravesite in a cemetery or location of cremation - of Joaquin Miller?
Obituary
Ethnicity & Lineage
What is Joaquin's ethnicity and where did his parents, grandparents & great-grandparents come from?
Nationality & Locations Lived
Religion
Unknown. Was Joaquin a religious man?
Last Known Residence
Unknown. Did Joaquin move a lot? Where was his last known location?
Education
Did Joaquin finish grade school, get a GED, go to high school, get a college degree or masters? What schools or universities did Joaquin attend?
Professions
AUGUST 21, 2012
Miller: the whole desolate twelve days

He paid $65 for his second-class cabin on board the steamer Europa, which set out from New York towards Europe on August 21, 1870. It was well worth the money: during this trip Cincinnatus Hiner Miller solidified his image as the poet Joaquin Miller, the self-styled Western American that captivated British intellectuals like the Rossetti brothers.

He was armed not only with a pseudonym, but an entirely new persona (encouraged in part by San Francisco writer Ina Coolbrith, who equally re-branded herself). Dressing the part of a rough cowboy, both in manner and speech, Miller had also printed up a few business cards with his self-appointed nickname, "Joaquin Miller: Byron of the Rockies." In California, he had been a charming novelty, increasing his already ballooning self-esteem. His trip to New York, however, burst his bubble a bit: an attempt to use his European trip for financial gain as an overseas correspondent for the New York Tribune was a failure, as editor Horace Greeley had never heard of him and refused to see him.

Instead, Miller started his voyage in sadness. "I don't think I spoke a dozen words in the whole desolate twelve days," he admitted. Later, he would earn a reputation as an avid chatterbox and storyteller. Still, he intended to get himself noticed in England. Stopping at the grave of Lord Byron, his self-styled hero, he began loudly reciting an ode to the poet, attracting a crowd:

O master, here I bow before a shrine;
Before the lordliest dust that every yet
Moved animate in human form divine.
Lo! dust indeed to dust. The mould is set
Above thee, and the ancient walls are wet,
And drip all day in dark and silent gloom;
As if the cold gray stones could not forget
They great estate shrunk to this sombre room,
But learn to weep perpetual tears above thy tomb.

Sure enough, the American wearing cowboy boots (complete with spurs), often wielding a riding crop or a whip, with a massive cowboy hat atop his long unkempt locks of hair, received ample attention in England, fitting a certain expectation (or stereotype) among British fans.

*For much of this information, I am indebted to the cheeky biography Splendid Poseur: Joaquin Miller - American Poet (1953) by M. Marion Marberry.
Personal Life & Organizations
Poet, Writer, Miner
Military Service
Did Joaquin serve in the military or did a war or conflict interfere with his life?
Average Age
Joaquin Miller lived 4 years longer than the average Miller family member when he died at the age of 75.
Life Expectancy
Looking for a different Joaquin Miller?
View other bios of people named Joaquin Millers
Back to Top
Joaquin Miller Family Tree
Photos and snapshots taken of Joaquin Miller, his Miller family, and locations and places or events from his life.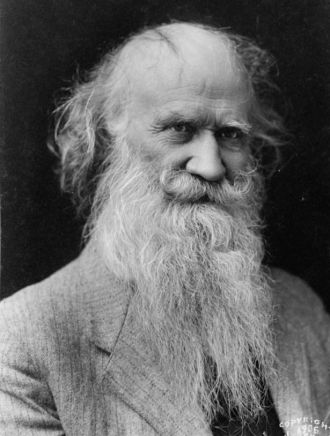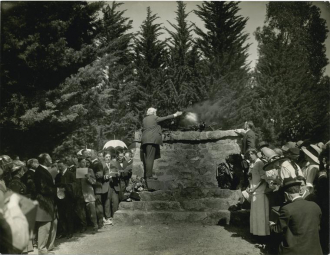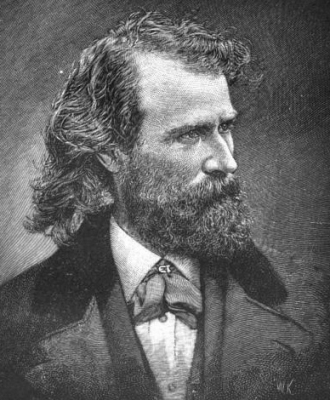 ADVERTISEMENT BY ANCESTRY.COM
This obit of Joaquin Miller is maintained by Joaquin's followers. Contribute to her obituary and include details such as cemetery, burial, newspaper obituary and grave or marker inscription if available.
JOAQUIN MILLER PASSES
"POET OF SIERRAS" ENTERS PEACE Conscious to Last. He Meets End Confident
Ashes to Mingle With Dust of Loved Ones Joaquin Miller is dead. The venerable "Poet of the Sierras," in his seven-ty-third year, breathed his last at his picturesque home at "The Hights," in the beautiful hills back of Fruitvale, at 3 o'clock yesterday. Miller passed away,in the presence of his wife, Abby Miller, and daughter Miss Juanita Miller. He was partly conscious at the last and was aware that death was about to occur. "I would give 10 years of my life." sobbed Juanita, "if I could have saved father."
The death of Mr. Miller was due to uremic poison and arteriai sclerosis, together with organic complications. He was attended by Dr. J. C. Stout. In the little cottage where he breathed his last he has lived for two years, he named "Juanita Cottage." after his daughter. It is the newest of the houses on "The Hight.s," which are dotted with quaint homes, and was built two years ago. He gave it to his daughter a year ago for her own.
SERVICES NEXT WEDNESDAY The bodv of the last of the three immortal writers of the state is at "Juanita,** and will lie In state until "Wednesday morning. The family will have a quiet service before the remains are removed to an Oakland crematory, where a public ceremony be held at 9 o'clock. Rev. William Day Simonds, pastor of the First Unitarian church of Oakland, will read a simple service. Joaquin had expressed a wish that preachers of every denomination should act. but this was found inexpedient. The ashes will be conveyed to "The Hights" , again, when a public memorial will be held, and then the last ashes of the "poet of the Sierras" will be strewn in the top of the funeral pyre and given to the four winds.
Knowing as early as yesterday morning that his hours on earth were few, the poet resigned himself to his journey into the infinite. During the day simple services were read by Miller, Miss Juanita and Mrs. Miller in the little home, and Juanita sang some old favorite hymns. She also made light his declining moments by playing some of his favorites on her mandolin. At sunset the old man requested that he be propped up in his couch so that he might see the glories of the declining day, to which his soul was ever in tune. He watched the sun in its setting, tracing the paths of gold which corssed his very doorstep, and musing over bits of touching poetry glorifying the beauties of the passing day. Though he was resigned to "crossing the bar." the aged man's last few days were not easy, as he was in considerable bodily pain. WAR NEWS SHOCKED HIM One of the saddest of his last moments was the one in which he was reminded of the carnage which is shocking the entire world — tha Balkan war. Mr. Miller had not seen a news- : paper since Friday, and Sunday he asked for one. After gazing at the headlines picturing the horrors of the war In Europe. he was shocked. "Blood, blood, bloodshed." he sighed; " take it away, take it away."' He has always been a stern advocate of peace and has compiled upward of thirty poems of peace. "Ah! that noble Carnegie, and the work of The Hague, all gone for naught, for here is blood, bloodshed." The ashes of the famous man will mingle with the last remains of his old mother. who died in 1905 at the age of 94, and of his daughter, Maude Miller, by his former wife, who died in 1907, both having been buried on "The Hl\ights." Joaquin Miller enjoyed the good health attending a hale and hearty constitution up to two years ago. when he was taken suddenly ill and removed to the Fabiola hospital in February. 1911. He was kept there for some time and grave hopes were held for his recovery, but he seemed to rally and in the latter part of March, returned to "'The Hights." to resume his old life, but with a weakened constitution. He was never the same after that illness. and grew steadily weaker, although still able to work about his home and ride on his horses with his daughter Juanita. who with his wife had come from New York. He also appeared at several public celebrations", including the Admission day celebration and the celebration of Columbus day. In Oakland. when he accompanied Juanita and recited "Westward." His last public appearance was during the recent presidential election cam. paign. when he was a stanch supporter of the democratic party, he being a Jeffersonian democrat. He introduced Gertrude Atherton at a democratic campaign meeting in the Macdonogh theater on the eve of the election. FAILURE COMMENCES Miller's condition continued worse in the winter, and it was seen that he was losing his crip on life. He was still able to be about and enjoy the beauties of nature seen from his home, but was growing weaker and more feeble. It was not until about five or six weeks ago that he reached his last decline. Then he arose later in the mornings and gradually failed to leave his bed for days at a time. He also secured the services of Dr. J. C. Stout, who put forth his best efforts, although he saw that Mr. Miller had only a few weeks to live. The patient was seldom out of his bed during the last few weeks, although he did rise at intervals to mount his faithful old horse and ride slowly over the grounds in company with his companion and daughter. Four days ago the last decline set in and the poet took to his bed for his final rest on Friday of last week. He then knew that he was about to stand on the "Great Divide," and began to prepare for death. which to him opened a new vista of beautiful life, for the poet of the Sierras was a firm believer in a beautiful fuller life after passing the portals. His nourishment consisted then of eggs. milk and light cereal. He spent Friday and Saturday in recalling in dreaming musings some of the pieces from his favorite poems and authors and in watching eagerly every bit of nature to be seen from his window. SERVICES LAST SUNDAY Sunday morning the poet awakened at 9 o'clock and had a light breakfast of eggs and milk, after which he gathered his wife and daughter about him for a morning service. Mrs. Miller read the Episcopal service to the poet and Juanita sang hymns to him, the port also reciting bits of the bible. During the afternoon his wife and daughter were never, away from his | bedside. He sat propped up in his, couch the better part of the day. In the evening after be had eaten a light supper he again asked to be propped up on bed and for some time sat on the edge of his couch, during the last moments of the day. He awakened yesterday after a good rest during the night which he spent very easily. All through his illness Mr. Miller enjoyed good rests and this fact aiding him to keeping up as well as he did. m from springs and which he dug with his own hands. He made lakes with embankments and planted water greens in the ponds, and to the natural charms of the place to the eye he added the tinkle of a falling water as music to the ear.
The death of Joaquin Miller is a genuine loss for the state of California for. with the exception of Edward Rowland Sill, no more genuine poet has arisen in the west. Professor Sill represented the poetry of thought, reflection and philosophy as perhaps no other Californian has expressed it. But Joaquin Miller expressed the poetry of life, of action and of patriotism as few poets of America expressed it. "I think I may assuredly say that Joaquin Miller's best verse will maintain a position among the enduring poetry of America for generations to come. His was a charming, romantic and poetic personality, and his loss will be sincerely mourned not only by his friends on this side of the Atlantic, but also by his numerous admirers in England."

s ago, his daughter, Juanita, and himself in front of his home, and the tomb in which he will rest.
Other Records of Joaquin Miller
Refresh this page to see various historical events that occurred during Joaquin's lifetime
In 1837, in the year that Joaquin Miller was born, on January 26th, Michigan became the 26th state admitted to the United States. Previously part of the Northwest Territory, the area bordered four of the five Great Lakes. The Erie Canal opened up the area, bringing settlers and therefore statehood.
In 1853, he was 16 years old when in May, Levi Strauss & Co. was founded in San Francisco. In the 1870's, the company began manufacturing denim overalls and their first pair of Levis 501 jeans were introduced in the 1890s.
In 1873, by the time he was 36 years old, on March 3rd, the U.S. Congress enacted the Comstock Law. The law made it illegal to send any "obscene, lewd, or lascivious" material through the U.S. mail. This included erotica, contraceptives, sex toys, abortifacients, information about these items, and "personal letters alluding to any sexual content or information".
In 1904, Joaquin was 67 years old when the Russo-Japanese war began. The Russian Empire and the Japanese Empire began fighting over the territories of Manchuria and Korea. Russia wanted a warm water port on the Pacific Ocean while Japan feared growing encroachment from Russia into Asia. So the Japan fleet launched a surprise attack on the Russian Navy and a one year war began. President Roosevelt of the United States brokered peace between the two nations. It was the first time in the modern era that an Asian power showed its dominance over a European power.
In 1913, in the year of Joaquin Miller's passing, ratified in February the 16th Amendment, establishing a Federal income tax, became law. Previously, customs duties (tariffs) and excise taxes were the primary sources of federal revenue. With the passage of the 16th Amendment, incomes of couples exceeding $4,000, as well as those of single persons earning $3,000 or more, were subject to a 1% Federal tax (that would be about $98,000 and $74,000 now). Rates rose to 7% for incomes over half a million dollars. Less than 1% of the population was subject to income tax.
Other Joaquin Millers
Other Millers
Other Bios
Popular Topics in History
Success Stories from Biographies like Joaquin Miller
I have to tell you a VERY special story about how AncientFaces helped to reunite our family. For 13 years, I have been searching for my grandmother's missing sister. She just disappeared from the family in the 1930s without a trace. No one ever knew where or when she died or where she was buried. My years of searching have just run into dead ends, so I had given up. Today, out-of-the-blue, a young lady called me and said that she had seen a photograph on AncientFaces and one of the women in the photo was her grandmother! Little did I know that she had left a small child behind when she died so young of TB. You can imagine our shock and excitement at finding each other and a whole new family that we never knew existed. We only live one state away from each other and very soon plan to have all family members meet to share our sides of "the story" and of course, many, many more picturesl AncientFaces...... without you, this family may never have been complete and Aunt Grace would have been lost to us forever. I hope you realize what a valuable service you provide and how grateful we are to have found you. Thank you!!!! -Lynda B.
I never knew my biological family. My family is my mother and father who raised me. But, as I got older I got curious about my heritage. It took me years of investigation to finally discover my parents' names. Well, I get goosebumps just writing this, I have found my biological family because of AncientFaces. Yes!! I did a search for my [parents' names] and was shocked to find a photo of them on AncientFaces! I cannot tell you the feeling that came over me when I saw this photo - to see the faces of my biological parents…JUST LIKE THAT. I left a comment on the photo and you won't believe this - the owner of the photo is MY SISTER!!! Yes, I have a LITTLE sister! It turns out my parents were too young when they had me and had to give me up. My little sister knew I existed and wanted to find me but had no way of doing it. Thanks to you I am meeting my little sister for the first time next month. GOD BLESS YOU ANCIENTFACES. -Anonymous
We have found our missing relative entirely thanks to AncientFaces. We have received a much clearer photo of Captain Grant from his Son. The picture we on AncientFaces is an old yellowed newspaper photo. I am attaching the new photo and ask that you take the old one out and put the new clear picture in its place. With our Canadian Remembrance Day here in 2 days - the timing could not be better. Thank You, AncientFaces. My long lost Aunt is now 86 years old and her Son and I are talking by phone and e-mails. Captain Grant was his Father and died in France in 1944 and is buried there. By posting pictures of the visit to his gravesite - we connected through one of his brothers. Amazing that our prayers have been answered. Thank you -Beth B.
I came home for lunch yesterday and decided to look at my email before going back to work. The weekly newsletter that I subscribe to from the Logan Family History Center had this message in it about AncientFaces. I clicked on the link and the first search I did was for Woodruff, and Mamie was the first picture that came up. I could hardly stand it. I was late getting back to work. I had to add comments and write to you. Thank you for noticing her in the store and for the website. I can't help but wonder how many other family pictures may have ended up in that store and why. I also can't help but feel that it was meant to be and that there is a purpose that this picture is coming home as you say. What are the chances of this all just happening? It's amazing that you even picked it up at the store and then went to all the extra effort to post it. It makes me feel as though you have been my friend forever. It certainly has given me a connection to you, and I have a love for what you do. I just can't tell you how excited I am. I can't even hold it in. -Cathy K., Utah
I have previously submitted several pictures of my grandfather August Zemidat. I have tried for many years to find anyone with that name, and I have searched many genealogy web sites to no avail. Recently I was contacted by someone who saw my pictures on AncientFaces who may well be a cousin. She also provided me with information that seems to indicate her grandparents were my grandfather's siblings. Considering the many years I have been searching for the name Zemidat, I find this is absolutely amazing that I have finally found a family member. Thank you AncientFaces -Ron D.
I love AncientFaces, a while back I saw that you had labeled Garcia surname pictures. At the time I didn't have all my family facts for my research. Anyway, I wandered into your site just to check it out AND NOW 1 YEAR LATER I received a picture from an 87 year old aunt and guess what you had this very same picture on your site!! (They were my great aunts and my great-grandmother!). Thank you… -Angela M.
I have loved AncientFaces since I first found it, it's the first thing I check when I turn on the computer. There was a time when even in the most modest households there were three cherished possessions, a family Bible. a family album and a fancy lamp. It was usual for the family to gather in the parlour, generally on Sunday and talk, tell stories of family and friends with the photos in the albums as illustration. Sadly in our modern electronic age we have fallen away from the oral tradition and interest in history has waned. I was quite shocked on the anniversary of the sinking of the Titanic to see so many comments from younger people who were surprised to learn that the Titanic wasn't just a movie. This is why AncientFaces is so important, to me it's the electronic age version of the oral tradition on a global scale and the sheer volume of people who follow, comment and contribute seems to prove the point. We are all grateful to you all for providing us with this wonderful site. - Arba M.