Johnny Waldo Green
(1908 - 1989)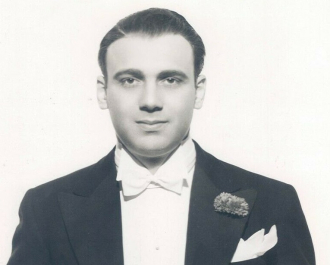 Johnny Waldo Green was born on October 10, 1908 in New York, New York. He died on May 15, 1989 in Beverly Hills, California at age 80.

Johnny Green
John Waldo Green (October 10, 1908 – May 15, 1989) was an American songwriter, composer, musical arranger, conductor and pianist.
Born October 10, 1908 in New York City, New York, USA
Died May 15, 1989 in Beverly Hills, Los Angeles, California, USA (undisclosed)
Birth Name John Waldo Green
Composer-pianist-arranger Johnny Green was born in Far Rockaway, New York. The son of musical parents, Green was accepted by Harvard at the age of 15, and entered the University in 1924. Between semesters, bandleader Guy Lombardo heard his Harvard Gold Coast Orchestra and hired him to create dance arrangements for his nationally famous orchestra. He gained a thorough education in music, history, economics, and government before returning to pursue a master's degree in the field of English literature. His father interrupted Johnny's education and forced him to become a stockbroker, and with great unhappiness, Johnny tried it for six months. His young bride Carol (to whom he dedicated Out of Nowhere) encouraged him to leave Wall Street and cultivate his many musical talents. She remarked, "We didn't have children, we had songs" (indeed, it was during his first marriage that most of his hit standards were composed, including "I Cover the Waterfront," You're Mine, You," "Easy Come, Easy Go," "Rain Rain Go Away" and "I Wanna Be Loved."). During the lean years, he arranged for dance orchestras, most notably Jean Goldkette on NBC. He was accompanist/arranger to stars such as James Melton, Libby Holman and Ethel Merman. It was while writing material for Gertrude Lawrence that he composed Body and Soul, the first recording of which was made by Jack Hylton and His Orchestra, eleven days before the song was copyrighted. 'Nathaniel Shilkret' and Paul Whiteman commissioned him to write larger works for orchestra, and he scored numerous films at Paramount's Astoria Studios. He conducted in East Coast theatres and toured vaudeville as musical director for Buddy Rogers. During his two-and-a-half years at Paramount Studios, he was able to learn more about arranging from veterans Adolph Deutsch and Frank Tours. In 1934, he returned from London, where he had composed a musical comedy for Jack Buchanan. At the age of 25, he had several hit songs under his belt. William Paley, the president of the Columbia Broadcasting System and an investor in New York's St. Regis Hotel, encouraged John W. Green to form what became known as Johnny Green, His Piano and Orchestra. (Green added, "My arm didn't need much twisting.") His orchestra made dance records for the Columbia and Brunswick companies, in a depressed era when record sales were inconsequential to a song's popularity. In 1935, Green starred on the Socony Sketchbook, sponsored by Socony-Vacuum Oil Co. He lured the young California songstress Virginia Verrill to headline with him on the Friday evening broadcasts. His "regular" cast of vocalists included former débutante Marjory Logan, Jimmy Farrell, and the four Eton Boys, all of whom appeared in films and on stage. Green's piano playing is intricate, and his musical ideas are exceedingly clever. Green was at the top of his field in New York, and he continued conducting on radio and in theatres into the 1940s, until he decided to move to Hollywood and make his mark in the film business.
Personal Quotes (7)
I am interviewed a lot about 'Body and Soul'...and these klutzes say, 'Tell me, when you were writing 'Body and Soul' did you know that you were writing a classic?' I say, 'A classic? What are you talking about? I knew I was writing it for Wednesday.'
[on Frank Sinatra] I ran the gamut with Sinatra from where pictures were concerned he wouldn't work without me to where I got dumped. A hundred percent pro, but he is so mercurial that even a great pro can have trouble with him.
[on Howard Keel] A very special guy. Practically seven feet tall! A virile, manly, western voice. He used to have his voice teacher in at five in the morning when he had an eleven o'clock recording! A frightened guy, but in his way a good performer.
[on Judy Garland] Could there be a better actress than Judy was? She was a real honest to God musical theater performer. Sang like an angel. A great showman. Hell of a dancer and a heart-rending actress!
[on Deanna Durbin] I loved working with her; she was fascinating. She was a good enough actress and still sang like an angel.
[on Julie Andrews] Julie Andrews is the best of the crop. She's got so much talent that it's just not to be believed! I'd rather work with her than almost anybody I know. She doesn't seem to me to have that "everybody's nanny" effect. I think she is very sexy.
[on Fred Astaire] When you talk about Fred Astaire, you talk about heaven! What more can I say?
See also
Other Works | Publicity Listings | Official Sites


His most famous song was one of his earliest, "Body and Soul" from the revue, Three's A Crowd.
He composed a lot of original music for the movie Oliver!
Profession: Songwriter, Composer, Music Arranger.
Film: Raintree County, Easter Parade, An American in Paris....
Born: October 10, 1908, New York City
Compositions: Body and Soul, Out of Nowhere
ADVERTISEMENT BY ANCESTRY.COM
John Waldo Green Biography
Vital facts & highlights of John's life to share with the world.
Unknown. Did John move a lot? Where was his last known location?
John Green was born on in New York, New York United States
John Green died on in Beverly Hills, Los Angeles County, California United States
John Green was born on in New York, New York United States
John Green died on in Beverly Hills, Los Angeles County, California United States
There is no cause of death listed for John.
Do you know the final resting place - gravesite in a cemetery or location of cremation - of Johnny Waldo Green?
Ethnicity & Lineage
What is John's ethnicity and where did his parents, grandparents & great-grandparents come from?
Nationality & Locations Lived
Religion
Unknown. Was John a religious man?
Professions
His credits as musical executive, arranger, conductor and composer are lengthy, but include such highlights as Raintree County (1957), Bathing Beauty (1944), Something in the Wind (1947), Easter Parade (1948) (Academy Award), Summer Stock (1950), An American in Paris (1951) (Academy Award), Royal Wedding (1951), High Society (1956) and West Side Story (1961) (Academy Award). Married three times, he had a daughter with actress Betty Furness and two daughters with MGM "Glamazon" Bunny Waters. He was a respected board member of ASCAP and guest conductor with symphonies around the globe, including the Hollywood Bowl, Denver Symphony, the Philadelphia Orchestra, Los Angeles Philharmonic and more. He was a chairman of the music branch of the Academy of Motion Picture Arts & Sciences and a producer of television specials.
- IMDb Mini Biography By: pmintun@mac.com

Joining ASCAP in 1931, his chief musical collaborators included Gus Kahn, 'E.Y. Harburg' ("Yip"), Billy Rose, Johnny Mercer, Edward Heyman, Paul Francis Webster, and Mack David. His popular-song compositions include "Body and Soul," "Coquette," "I'm Yours," "Oceans of Time," "Out of Nowhere," "Weep No More My Baby," "I Cover the Waterfront," "An Hour Ago This Minute," "Rain, Rain, Go Away," "Easy Come, Easy Go," "You're Mine, You," "The Steam Is on the Beam," "I've Got a Heavy Date," "I Wanna Be Loved," "Hello, My Lover, Goodbye," "Something in the Wind," "The Turntable Song," and "The Song of Raintree County."

One of his songs, "Body and Soul," was used in the Broadway revue "Three's A Crowd," and his stage scores include "Mr. Whittington" (London) and "Beat the Band" and "Here Goes the Bride" (Broadway).

He had his own radio series, "World of Music," and led the orchestra for several radio programs including Jack Benny's and Philip Morris' shows between 1933 and 1940, and was also accompanist for Ethel Merman, Gertrude Lawrence, and James Melton. In addition, he conducted orchestras for night clubs and recordings and was guest conductor at the Hollywood Bowl, the Denver Symphony, Philadelphia Orchestra and the San Francisco Symphony. He conducted the Los Angeles Philharmonic in its Symphonies for Youth and Promenade Concerts between 1959 and 1963, and for the Los Angeles Music Center opening in 1964.

He served as chairman of the Music Board at the Academy of Motion Picture Arts and Sciences and was a life member and a member of the Board of Governors.
- IMDb Mini Biography By: Hup234!

Spouse (3)
Bunny Waters (20 November 1943 - 15 May 1989) ( his death) ( 2 children)
Betty Furness (26 November 1937 - 1943) ( divorced) ( 1 child)
Carol Falk (29 April 1930 - 22 November 1937) ( divorced)
Trivia (9)
Father of Babbie Green and Kathe Green.
Led the Academy Award Orchestra a total of seventeen times on Oscar Nights over the years.
Composer of numerous song standards, most notably "Body and Soul" but also "Coquette," "I Cover the Waterfront," "I'm Yours," "Out of Nowhere" and "Song of Raintree County".
Was the bandleader on The Jack Benny Program (1950) prior to Phil Harris.
Recipient of thirteen Oscar nominations, five of which he actually won.
In the 1940s, along with orchestrator Conrad Salinger, he was one of the musicians most responsible for changing (and, many would say, improving) the overall sound of the M-G-M Orchestra, partially through the re-seating of some of the players. This is why the overall orchestral sound of M-G-M's musicals from the mid 1940s onward is different from the orchestral sound of those made from 1929 until about 1944.
Inducted into the Songwriters Hall of Fame in 1972.
Johnny's daughter Kathe was brought in when it was found the singing voice of Mark Lester wasn't quite what was wanted for the song "Where Is Love" in Oliver! (1968).
Won Best Music, Scoring of a Musical Oscars for three films which also won Best Picture: An American in Paris (1951), West Side Story (1961) and Oliver! (1968).
Personal Life & Organizations
John Green
Film: North side of the 6900 block of Hollywood Boulevard
Composer | Conductor
Born Oct. 10, 1908 in New York, NY
Died May 15, 1989 of pulmonary edema in Beverly Hills, Calif.
John Green was a composer, conductor, pianist and music executive whose film work won him five Academy Awards and whose songs include "Body and Soul," "Out of Nowhere" and "I Cover the Waterfront."
Green, who wrote his first hit, "Coquette," while he was still a senior at Harvard, was a dapper, confident and uncommonly articulate man whose trademark was the fresh carnation he wore in his lapel every day. He said the flower was to remind him of the beauty in the world and of his obligation to protect and extend it if he could.
When he was 12 he was taken to a party honoring George Gershwin, a friend of the family. The boy was asked to perform for the composer and, marching to the piano, played his own arrangement of one of Gershwin's songs.
Gershwin was evidently impressed and Green became a Gershwin protege and lifelong friend. Green remembered, at 16, attending the premiere of "Rhapsody in Blue" in New York. "The bloody place blew up," Green said.
In later years Green arranged much of Gershwin's music for movies and records, including a delightful album of vocals by Fred Astaire. One of Green's Oscars was for the scoring of "An American in Paris," based on Gershwin's music. Green also frequently performed Gershwin in concert.
Green graduated from Harvard in 1928 at only 19. Despite the fact that his early song "Coquette" was the biggest sheet-music seller in the country, he bowed to his father's will and took a job on Wall Street.
Then, after six months, he defied his father, quit his job and became a rehearsal pianist at the Paramount studio in Astoria, Long Island, for $50 a week.
He was also writing songs, often partnered with lyricist Edward Heyman, a friend of friends, a wealthy young Midwesterner whose family had prospered in sausage casings. In 1931, they wrote a package of four songs for Gertrude Lawrence for $250.
"One of them had to be a comedy number, one an up-tempo item, one a ballad, one a torch song. The torch song was 'Body and Soul,' " Green said. Did he know he was writing a classic? a reporter asked him. "I only knew I was writing for Gertie for Wednesday," Green said.
During his Astoria stay with Paramount, Green did his first bit of movie-scoring, an arrangement of "You Brought a New Kind of Love to Me" for Maurice Chevalier. Green is also credited with the music for a forgotten 1930 film called "The Sap from Syracuse."
In 1932, Green conducted the house orchestra for the Richard Rodgers and Lorenz Hart musical "By Jupiter," and at the time his principal ambition was to write for the musical theater. He wrote show tunes for Jack Buchanan and other performers, but the one musical he wrote a few years later closed out of town, in Boston, and he did not try another.
Green was also the orchestra leader on several coast-to-coast radio programs, including the "Philip Morris Hour," the "Packard Hour" with Fred Astaire and the "Jell-O Show." His sidemen on the early radio shows included Artie Shaw and Benny Goodman (in the same reed section), Tommy Dorsey and Bunny Berigan.
In 1942, Green left New York for Los Angeles. He did a season as musical director of the Jack Benny radio show, doubling as a comic foil specializing in dialects. He also began his major work as a film composer, initially at Metro Goldwyn Mayer, where he scored, among others, "Bathing Beauty," "Easter Parade" (for which he won an Oscar), "The Great Caruso," "Brigadoon" and "Raintree County."
He left MGM for a similar role as musical director at Desilu and, after a brief stint, became a freelancer, winning two more Oscars for the musical direction of "West Side Story" in 1961 and "Oliver!" in 1968.
Green recalled seeing his first performance at the Hollywood Bowl in 1921, a concert version of "Carmen." He returned to the Bowl as a guest artist in 1945. Then in 1949, he began a series of appearances as a guest conductor of pops concerts that lasted without interruption until 1966, when he was away in London for two years working on "Oliver!"
During this period Green also conducted the Los Angeles Philharmonic's Promenade concerts of light classics (1959-63). He continued to conduct at the Bowl for several years after his return from London, making his 32nd appearance in the summer of 1984.
In later years, he appeared as conductor and pianist with several symphony orchestras across the country.
— Charles Champlin in the Los Angeles Times May 17, 1989
Military Service
Did John serve in the military or did a war or conflict interfere with his life?
Average Age
Johnny Waldo Green lived 12 years longer than the average Green family member when he died at the age of 80.
Looking for a different John Green?
View other bios of people named John Green
Back to Top
Johnny Waldo Green Family Tree
John's Family Photos
Photos and snapshots taken of Johnny Waldo Green, his Green family, and locations and places or events from his life.
ADVERTISEMENT BY ANCESTRY.COM
John Green Obituary
Show you care by clicking the heart and adding to John's obituary.
Johnny Waldo Green died on May 15, 1989 in Beverly Hills, California at 80 years of age. He was born on October 10, 1908 in New York, New York. We have no information about John's immediate family.
Source(s):
Other Records of Johnny Waldo Green
1908 - 1989 World Events
Refresh this page to see various historical events that occurred during John's lifetime
In 1908, in the year that Johnny Waldo Green was born, a mysterious Siberian explosion leveled over 770 square miles of forest. There were no human casualties. Explanations of the explosion have included a comet, meteorite, natural atomic explosion, or a crashed UFO. Although it is called an impact event - the largest one in recorded earth history - there is no crater and it is widely thought that the explosion was caused by a meteor exploding 3 to 6 miles above the earth.
In 1915, John was merely 7 years old when the Superior Court in Fulton County Georgia accepted the charter for the establishment of the new Ku Klux Klan, succeeding the Klan that flourished in the South in the late 1800's. This iteration of the Klan adopted white clothing and used many of the code words from the first Klan, adding cross burnings and mass marches in an attempt to intimidate others.
In 1931, by the time he was 23 years old, in March, "The Star Spangled Banner" officially became the national anthem by congressional resolution. Other songs had previously been used - among them, "My Country, 'Tis of Thee", "God Bless America", and "America the Beautiful". There was fierce debate about making "The Star Spangled Banner" the national anthem - Southerners and veterans organizations supported it, pacifists and educators opposed it.
In 1976, at the age of 68 years old, John was alive when The United States celebrated the Bicentennial of the adoption of the Declaration of Independence. It was a year long celebration, with the biggest events taking place on July 4th.
In 1989, in the year of Johnny Waldo Green's passing, on January 20th, George Herbert Walker Bush became the 41st President of the United States. Previously Ronald Regan's Vice President, he ran against Michael Dukakis and won the popular vote by 53.4% to 45.6%.
Success Stories from Biographies like Johnny Waldo Green
Highlights of just a few of the many successes of sharing memories about the people important to us on AncientFaces. From reuniting lost or 'orphan' photos with their families, seeing the faces of relatives for the first time, to connecting unknown and lost family.

These stories will warm your heart and inspire you to share your memories of the people important to you.