Marlon Brando
(1924 - 2004)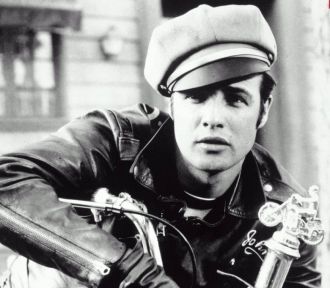 Born
April 3, 1924
Omaha, Douglas County, Nebraska United States
Death
July 1, 2004
UCLA Medical Center in Los Angeles, Los Angeles County, California United States
Other Names
Marlon Brando
Summary
Marlon Brando was born on April 3, 1924 in Omaha, Nebraska. He died on July 1, 2004 at UCLA Medical Center, Los Angeles, California at 80 years old.
4 Followers
Marlon Brando
Marlon Brando
(1924 - 2004)
Marlon Brando
Born April 3, 1924 in Omaha, Nebraska, USA
Died July 1, 2004 in Westwood, Los Angeles, California, USA (pulmonary fibrosis)
Birth Name Marlon Brando Jr.
Nicknames Bud
Height 5' 9" (1.75 m)
Marlon Brando is widely considered the greatest movie actor of all time, rivaled only by the more theatrically oriented Laurence Olivier in terms of esteem. Unlike Olivier, who preferred the stage to the screen, Brando concentrated his talents on movies after bidding the Broadway stage adieu in 1949, a decision for which he was severely criticized when his star began to dim in the 1960s and he was excoriated for squandering his talents. No actor ever exerted such a profound influence on succeeding generations of actors as did Brando. More than 50 years after he first scorched the screen as Stanley Kowalski in the movie version of Tennessee Williams' A Streetcar Named Desire (1951) and a quarter-century after his last great performance as Col. Kurtz in Francis Ford Coppola's Apocalypse Now (1979), all American actors are still being measured by the yardstick that was Brando. It was if the shadow of John Barrymore, the great American actor closest to Brando in terms of talent and stardom, dominated the acting field up until the 1970s.
He did not, nor did any other actor so dominate the public's consciousness of what WAS an actor before or since Brando's 1951 on-screen portrayal of Stanley made him a cultural icon. Brando eclipsed the reputation of other great actors circa 1950, such as Paul Muni and Fredric March. Only the luster of Spencer Tracy's reputation hasn't dimmed when seen in the starlight thrown off by Brando. However, neither Tracy nor Olivier created an entire school of acting just by the force of his personality. Brando did.
Marlon Brando, Jr. was born on April 3, 1924, in Omaha, Nebraska, to Marlon Brando, Sr., a calcium carbonate salesman, and his artistically inclined wife, the former Dorothy Julia Pennebaker. "Bud" Brando was one of three children. His ancestry included English, Irish, German, Dutch, French Huguenot, Welsh, and Scottish; his surname originated with a distant German immigrant ancestor named "Brandau." His oldest sister Jocelyn Brando was also an actress, taking after their mother, who engaged in amateur theatricals and mentored a then-unknown Henry Fonda, another Nebraska native, in her role as director of the Omaha Community Playhouse. Frannie, Brando's other sibling, was a visual artist. Both Brando sisters contrived to leave the Midwest for New York City, Jocelyn to study acting and Frannie to study art. Marlon managed to escape the vocational doldrums forecast for him by his cold, distant father and his disapproving schoolteachers by striking out for The Big Apple in 1943, following Jocelyn into the acting profession. Acting was the only thing he was good at, for which he received praise, so he was determined to make it his career - a high-school dropout, he had nothing else to fall back on, having been rejected by the military due to a knee injury he incurred playing football at Shattuck Military Academy, Brando Sr.'s alma mater. The school booted Marlon out as incorrigible before graduation.
Anthony Quinn, his Oscar-winning co-star in Viva Zapata! (1952) told Brando's first wife Anna Kashfi, "I admire Marlon's talent, but I don't envy the pain that created it."
Brando enrolled in Erwin Piscator's Dramatic Workshop at New York's New School, and was mentored by Stella Adler, a member of a famous Yiddish Theatre acting family. Adler helped introduce to the New York stage the "emotional memory" technique of Russian theatrical actor, director and impresario Konstantin Stanislavski, whose motto was "Think of your own experiences and use them truthfully." The results of this meeting between an actor and the teacher preparing him for a life in the theater would mark a watershed in American acting and culture.
Brando made his debut on the boards of Broadway on October 19, 1944, in "I Remember Mama," a great success. As a young Broadway actor, Brando was invited by talent scouts from several different studios to screen-test for them, but he turned them down because he would not let himself be bound by the then-standard seven-year contract. Brando would make his film debut quite some time later in Fred Zinnemann's The Men (1950) for producer Stanley Kramer. Playing a paraplegic soldier, Brando brought new levels of realism to the screen, expanding on the verisimilitude brought to movies by Group Theatre alumni John Garfield, the predecessor closest to him in the raw power he projected on-screen. Ironically, it was Garfield whom producer Irene Mayer Selznick had chosen to play the lead in a new Tennessee Williams play she was about to produce, but negotiations broke down when Garfield demanded an ownership stake in "A Streetcar Named Desire." Burt Lancaster was next approached, but couldn't get out of a prior film commitment. Then director Elia Kazan suggested Brando, whom he had directed to great effect in Maxwell Anderson's play "Truckline Café," in which Brando co-starred with Karl Malden, who was to remain a close friend for the next 60 years.
During the production of "Truckline Café," Kazan had found that Brando's presence was so magnetic, he had to re-block the play to keep Marlon near other major characters' stage business, as the audience could not take its eyes off of him. For the scene where Brando's character re-enters the stage after killing his wife, Kazan placed him upstage-center, partially obscured by scenery, but where the audience could still see him as Karl Malden and others played out their scene within the café set. When he eventually entered the scene, crying, the effect was electric. A young Pauline Kael, arriving late to the play, had to avert her eyes when Brando made this entrance as she believed the young actor on stage was having a real-life conniption. She did not look back until her escort commented that the young man was a great actor.
The problem with casting Brando as Stanley was that he was much younger than the character as written by Williams. However, after a meeting between Brando and Williams, the playwright eagerly agreed that Brando would make an ideal Stanley. Williams believed that by casting a younger actor, the Neanderthalish Kowalski would evolve from being a vicious older man to someone whose unintentional cruelty can be attributed to his youthful ignorance. Brando ultimately was dissatisfied with his performance, though, saying he never was able to bring out the humor of the character, which was ironic as his characterization often drew laughs from the audience at the expense of Jessica Tandy's Blanche Dubois. During the out-of-town tryouts, Kazan realized that Brando's magnetism was attracting attention and audience sympathy away from Blanche to Stanley, which was not what the playwright intended. The audience's sympathy should be solely with Blanche, but many spectators were identifying with Stanley. Kazan queried Williams on the matter, broaching the idea of a slight rewrite to tip the scales back to more of a balance between Stanley and Blanche, but Williams demurred, smitten as he was by Brando, just like the preview audiences.
For his part, Brando believed that the audience sided with his Stanley because Jessica Tandy was too shrill. He thought Vivien Leigh, who played the part in the movie, was ideal, as she was not only a great beauty but she WAS Blanche Dubois, troubled as she was in her real life by mental illness and nymphomania. Brando's appearance as Stanley on stage and on screen revolutionized American acting by introducing "The Method" into American consciousness and culture. Method acting, rooted in Adler's study at the Moscow Art Theatre of Stanislavsky's theories that she subsequently introduced to the Group Theatre, was a more naturalistic style of performing, as it engendered a close identification of the actor with the character's emotions. Adler took first place among Brando's acting teachers, and socially she helped turn him from an unsophisticated Midwestern farm boy into a knowledgeable and cosmopolitan artist who one day would socialize with presidents.
Brando didn't like the term "The Method," which quickly became the prominent paradigm taught by such acting gurus as Lee Strasberg at the Actors Studio. Brando denounced Strasberg in his autobiography "Songs My Mother Taught Me" (1994), saying that he was a talentless exploiter who claimed he had been Brando's mentor. The Actors Studio had been founded by Strasberg along with Kazan and Stella Adler's husband, Harold Clurman, all Group Theatre alumni, all political progressives deeply committed to the didactic function of the stage. Brando credits his knowledge of the craft to Adler and Kazan, while Kazan in his autobiography "A Life" claimed that Brando's genius thrived due to the thorough training Adler had given him. Adler's method emphasized that authenticity in acting is achieved by drawing on inner reality to expose deep emotional experience
Share your memories, family stories, & photos so that Marlon is always remembered.
Biography
Los Angeles, Los Angeles County, California 90025
Marlon Brando was born on in Omaha, Douglas County, Nebraska United States
Marlon Brando died on at UCLA Medical Center in Los Angeles, Los Angeles County, California United States
Marlon Brando was born on in Omaha, Douglas County, Nebraska United States
Marlon Brando died on at UCLA Medical Center in Los Angeles, Los Angeles County, California United States
Heritage
Ethnicity & Lineage
Actor
Nationality & Locations
United States
Childhood
Education
Libertyville High School
Adulthood
Professions
Marlon Brando was a famous movie and theater actor.
Obituary
Average Age
Marlon Brando lived 19 years longer than the average Brando family member when he died at the age of 80.
Looking for a different Marlon Brando?
View other bios of people named
Marlon Brando
Photos and snapshots taken of Marlon Brando, his Brando family, and locations and places or events from his life.
Share Marlon's obituary or write your own to preserve his legacy.
After A Streetcar Named Desire (1951), for which he received the first of his eight Academy Award nominations, Brando appeared in a string of Academy Award-nominated performances - in Viva Zapata! (1952), Julius Caesar (1953) and the summit of his early career, Kazan's On the Waterfront (1954). For his "Waterfront" portrayal of meat-headed longshoreman Terry Malloy, the washed-up pug who "coulda been a contender," Brando won his first Oscar. Along with his iconic performance as the rebel-without-a-cause Johnny in The Wild One (1953) ("What are you rebelling against?" Johnny is asked. "What have ya got?" is his reply), the first wave of his career was, according to Jon Voight, unprecedented in its audacious presentation of such a wide range of great acting. Director John Huston said his performance of Marc Antony was like seeing the door of a furnace opened in a dark room, and co-star John Gielgud, the premier Shakespearean actor of the 20th century, invited Brando to join his repertory company.
It was this period of 1951-54 that revolutionized American acting, spawning such imitators as James Dean - who modeled his acting and even his lifestyle on his hero Brando - the young Paul Newman and Steve McQueen. After Brando, every up-and-coming star with true acting talent and a brooding, alienated quality would be hailed as the "New Brando," such as Warren Beatty in Kazan's Splendor in the Grass (1961). "We are all Brando's children," Jack Nicholson pointed out in 1972. "He gave us our freedom." He was truly "The Godfather" of American acting - and he was just 30 years old. Though he had a couple of failures, like Désirée (1954) and The Teahouse of the August Moon (1956), he was clearly miscast in them and hadn't sought out the parts so largely escaped blame.
In the second period of his career, 1955-62, Brando managed to uniquely establish himself as a great actor who also was a Top 10 movie star, although that star began to dim after the box-office high point of his early career, Sayonara (1957) (for which he received his fifth Best Actor Oscar nomination). Brando tried his hand at directing a film, the well-reviewed One-Eyed Jacks (1961) that he made for his own production company, Pennebaker Productions (after his mother's maiden name). Stanley Kubrick had been hired to direct the film, but after months of script rewrites in which Brando participated, Kubrick and Brando had a falling out and Kubrick was sacked. According to his widow Christiane Kubrick, Stanley believed that Brando had wanted to direct the film himself all along.
Refresh this page to see various historical events that occurred during Marlon's lifetime.
In 1924, in the year that Marlon Brando was born, J. Edgar Hoover, at the age of 29, was appointed the sixth director of the Bureau of Investigation by Calvin Coolidge (which later became the Federal Bureau of Investigation). The Bureau had approximately 650 employees, including 441 Special Agents. A former employee of the Justice Department, Hoover accepted his new position on the proviso that the bureau was to be completely divorced from politics and that the director report only to the attorney general.
In 1933, Marlon was merely 9 years old when the day after being inaugurated, the new President, Franklin Roosevelt, declared a four-day bank holiday to stop people from withdrawing their money from shaky banks (the bank run). Within 5 days of his administration, the Emergency Banking Act was passed - reorganizing banks and closing insolvent ones. In his first 100 days, he asked Congress to repeal Prohibition (which they did), signed the Tennessee Valley Authority Act, signed legislation that paid commodity farmers to leave their fields fallow, thus ending surpluses and boosting prices, signed a bill that gave workers the right to unionize and bargain collectively for higher wages and better working conditions as well as suspending some antitrust laws and establishing a federally funded Public Works Administration, and won passage of 12 other major laws that helped the economy.
In 1955, by the time he was 31 years old, in January, President Eisenhower sent direct aid to South Vietnam. In February, U.S. advisors were sent to train troops.
In 1974, Marlon was 50 years old when on February 5th, Patty Hearst, age 19 - granddaughter of William Randolph Hearst and daughter of publisher of the San Francisco Examiner Randolph Hearst - was kidnapped by the Symbionese Liberation Army, a left wing terrorist group. She was found, alive, 19 months later.
In 1994, when he was 70 years old, on May 6th, former political prisoner, lawyer, and activist Nelson Mandela was elected the first black President of South Africa. He was 75 when he was elected and he served one five-year term.
Other Marlon Brandos
Other Brandos
Other Bios
Highlights of just a few of the many successes of sharing memories about the people important to us on AncientFaces. From reuniting lost or 'orphan' photos with their families, seeing the faces of relatives for the first time, to connecting unknown and lost family.

These stories will warm your heart and inspire you to share your memories of the people important to you.
Back to Top