Library of Congress photo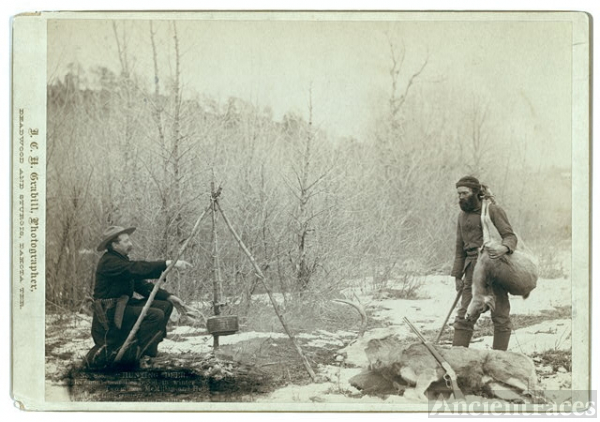 This 1887 photo of two men hunting, contained in the Library of Congress collection, was taken while the Jefferson Building was being conceived of and built.
1890 - Construction of the Jefferson Building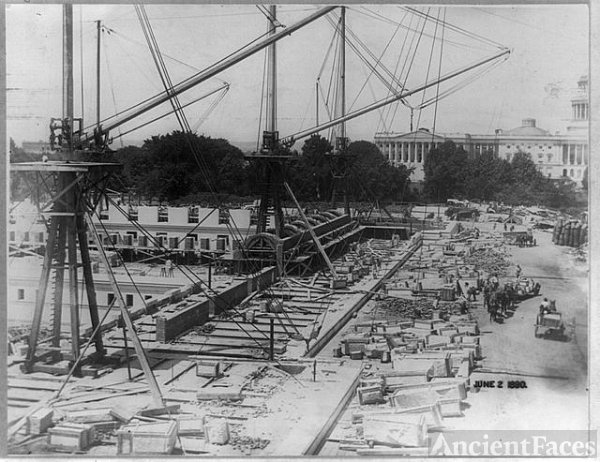 The history of the Library of Congress Benjamin Franklin created the Library Company of Philadelphia in 1731 but it was with an act of Congress, signed into law by John Adams in 1800 and transferring the library from Philadelphia to Washington D.C., the new capitol, that the United States truly began a national library. In 1814, invading British troops burned down the small building that housed the library, destroying all that had been collected to that point. Thomas Jefferson quickly offered his own large library - considered to be the most extensive and valuable collection of the time - to replace what had been lost. Congress accepted his offer and paid him $23,950 for his 6,487 books (can you imagine a personal library of that size?!). Because of the 1870 copyright law, which required everyone to send two copies of their copyrighted work to the Library, then in a wing of the Capitol Building, it quickly ran out of space.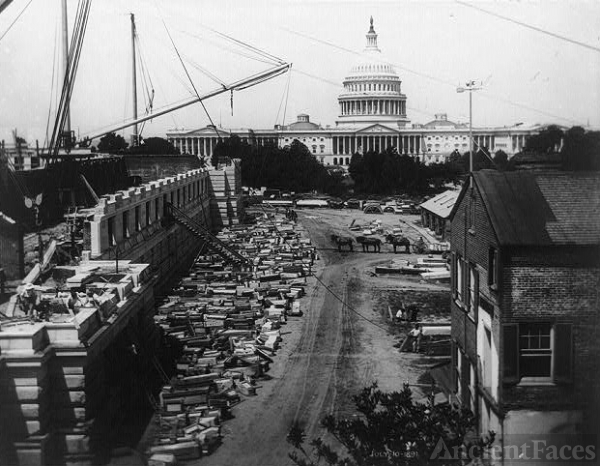 So it was in 1873 that the Congress authorized a new building for the Library of Congress - a building specifically designed to hold the national library - the books, recordings, maps, photographs, sheet music, and manuscripts of the United States. The Thomas Jefferson building - one of three buildings that hold the Library of Congress - opened to the public in 1897 after 11 years planning and construction. In 1938, the John Adams building was opened and in 1976, another building - the James Madison building - was added. From a wing of the Capitol to three buildings, the Library of Congress has grown by leaps and bounds.
Ceiling mural in the Jefferson Building
Showing "valor, fortitude, courage, and achievement"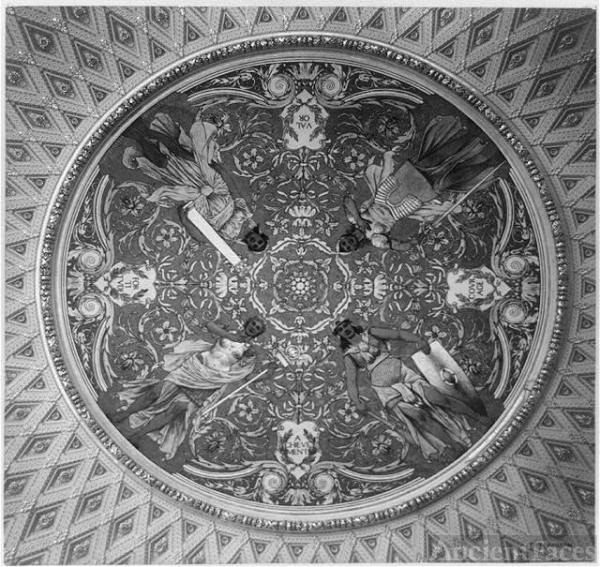 The Library of Congress emphasizes the principles and values that truly make America great. On the outside of the Madison Building is inscribed: KNOWLEDGE WILL FOREVER GOVERN IGNORANCE: AND A PEOPLE WHO MEAN TO BE THEIR OWN GOVERNOURS, MUST ARM THEMSELVES WITH THE POWER WHICH KNOWLEDGE GIVES.
Madison to W.T. Barry, August 4, 1822
1863 The dead at Gettysburg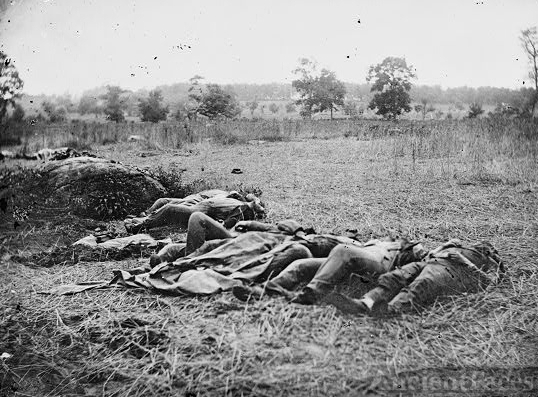 All aspects of daily life are chronicled by the Library including our saddest, and most divisive, moments.
Former slave Wallace Quarterman in 1935
In 1935, a project was created to record the memories of former slaves who were still alive. You can hear part of his actual recording here:
Voice of Wallace Quarterman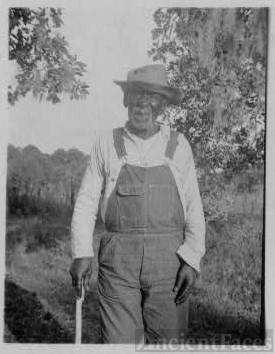 Transcript of Interview with Wallace Quarterman, Fort Frederica, St. Simons Island, Georgia, June 1935
Wallace Quarterman: [seems to quote religious text] The Lord gave the whole earth my grace with thee.
Unidentified Woman Interviewer: Uh huh.
Wallace Quarterman: For them that do [loud dog bark] and trust my word he shall be saved. [barking] [unintelligible]. But he that won't believest [shall go to hell (?)] [four barks].
Unidentified Woman Interviewer: Uh huh.
Wallace Quarterman: I make him great [loud barking] commission. Know that he is preach my gospel truth by all the work that him can do, that all the wonder I will do.
Unidentified Woman Interviewer: Uh huh.
Wallace Quarterman: You must teach all nation my command, I am with you until the world shall end. Well I think that's enough [I had enough (?)]. [barking and yelping]
Unidentified Woman Interviewer: Uh humm. Okay.
Wallace Quarterman: Okay
[short pause before Wallace Quarterman sings]
I Surrender
Oh, let me come on i-in.
I surrender, and open the door.
Let me come in open up.
Yeah, let me come i-inn.
Oh, let me come i-i-i-innn.
I surrender, yes open the door, and let me come in.
I said baby don't you cry, mothers and father are born to die.
I surrender [recording gets stuck].
Oh, let me come i-inn.
I surrender and open the door and let me come in.
Wallace Quarterman: [heavy cough, singing stops] I can't sing much.
Unidentified Woman Interviewer: Humm. [brief pause in recording]
Wallace Quarterman: Born in 1844.
Unidentified Woman Interviewer: What's your name sir?
Wallace Quarterman: Huh?
Mary Elizabeth Barnicle: What's your name?
Wallace Quarterman: My name is Wallace Quarterman in and through the state of Georgia. [brief pause in the recording-- interview resumes in the middle of conversation] Morning I was toting in breakfast in the house.
Unidentified Woman Interviewer: Yeah.
Wallace Quarterman: And the, the, the big gun shot--
Unidentified Woman Interviewer: Uh huh.
Wallace Quarterman: --suppose to have.
Unidentified Woman Interviewer: Yes.
Wallace Quarterman: The big gun shot so I buy a ??? take back within the house. The overseer ask me: "What is that, if that is thunder?" I tell him I don't know. I know what the Yankees. [background noise] I'm sorry.
Alan Lomax: That's all right.
Wallace Quarterman: Three time and he commence to shoot until the plate commence to rattle on the table. And he call me and told me to run down in the field and tell Peter to turn the people loose, that the Yankee coming. And so I run down in the field and, and whooped and holler, they done, he done told them Mr. [Gaeggles (?)] said turn the people loose because the Yankee coming.
Alan Lomax: And who was Peter?
Wallace Quarterman: The driver. And so he said that, uh, Wallace is lying if he, he said so, then he said so, then the Yankee [beat to the landing the drum (?)]. You understand? [starts to recite] Way Down South getting mighty poor. Say they, used to drink coffee but now they drinking rye. They said, left [music Union Band (?)] make the rebel understand. To leave our land for the sake of Uncle Sam. Way down South getting might poor. Shot at the wildcat and see the Rebel run. I ain't going [anywhere them see me (?)] again. I've been to war already I--
Unidentified Woman Interviewer: ???
Wallace Quarterman: Yeah, yeah. And that, the people then throws away their hoe then. They throwed away they hoe, and, and they call we all up, you know and, and give we all freedom because we are just as much as free as them. Now you understand. But the Yankees saying we must go back to the South they'll help we. Well they didn't. Of course there was so much doubt, and [it seems to me (?)] I, they would have done more, but it so much doubt in the way. They couldn't because the colored people sure [been (?)] poor, and some white people sure [went (?)] poor too. You understand and they rather help them than, uh, help we. I satisfied so far, for the Lord has done for me, I come through, through all the, been up and downs through the ??? .
Unidentified Woman Interviewer: Well tell me about how they went to Hawkinsville and drove the sword down in the ground?
Wallace Quarterman: They told them, said now you--