Amos Leroy Gregson
Loading...one moment please

Amos Leroy Gregson
WWII before leaving for service
Date & Place:
Not specified or unknown.
People tagged
in this photo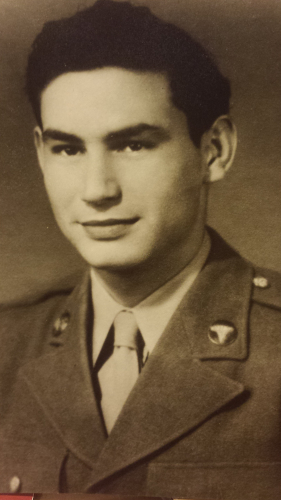 Funeral services for Amos Leroy Gregson, 93, of Bullard, Texas will be Sunday August 12th at 2pm at the Dickie Allen funeral home chapel. Visitation will be from 1-2pm at the funeral home on Sunday. Graveside service will follow at Walkers Chapel Cemetery in Reklaw. After two months of pancreatic cancer, while at the home of his granddaughter Lisa, Mr. Gregson joined his savior Jesus Christ, his sweetheart Dot, and his son Johnny in heaven. Angels rejoiced as he accepted Jesus and was baptized on July 4th, 2018, along with grandson Brandon and great grandson Jace. His impact on countless lives will be felt indefinitely. He was a talented storyteller, sharing many stories, intertwined with a wealth of knowledge and wisdom. For our comfort, he often said "I've had a good life. I've had a full life. I've had a lot of fun!" He was born December 23rd, 1924 in Houston, Texas to Charles and Laura Laird Gregson. Mr. Gregson was an Army veteran who served in WWII as a Military Medic/Surgical Technician. Mr. Gregson was a dairy farmer in Cut 'n Shoot, Texas, where he served as Fire Chief of the first volunteer fire department. He later moved to Reklaw, where he spent the next 30 years. There he was a cattle rancher and served his community as City Marshal of Reklaw and Constable of Cherokee County. His favorite hobbies were hunting and fishing. He told the story of baling his last bale of hay at 80 years of age. He said he rolled 104 rolls that day. He found humor in almost everything and wanted to make you laugh. Even though he was unable to speak earlier this week he was seen snickering at a caregiver who was having trouble with something in his room. He was Mr. G to daughter in law Vicki Gregson, and Papa/Poppa to his grandchildren Lisa Williams, Brandon Gregson, Alicia Sabaska (and husband Brandon), Barrett Gregson, Jessie Rowe; great grandchildren Conner Sciarrini, Jace Williams, Sloan Gregson, Kelsey and Kayden, and Riley and Kylie. He is also survived by Colleen and Jessie Smith and Patricia as well as numerous beloved nieces and nephews.
Daniel Pinna
I am interested in the last names Pinna, Benning, Kroetsch, Finazzo, and Kroetch.
My family pays a lot of attention to the past which heavily influenced us to start
AncientFaces
.
Kathy Pinna
I'm a Founder of AncientFaces and support the community answering questions & helping members make connections to the past (thus my official title of Founder & Content and Community Support ). For me, it's been a labor of love for over 20 years. I truly believe with all of my heart that everyone should be remembered for generations to come. I am 2nd generation San Jose and have seen a lot of changes in the area while growing up. We used to be known as the "Valley of Heart's Delight" (because the Valley was covered with orchards and there were many canneries to process the food grown here, which shipped all over the US) - now we have adopted the nickname "Capital of Silicon Valley" and Apple, Ebay, Adobe, Netflix, Facebook, and many more tech companies are within a few miles of my current home in San Jose (including AncientFaces). From a small town of 25,000, we have grown to 1 million plus. And when you add in all of the communities surrounding us (for instance, Saratoga, where I attended high school, living a block from our previous Mayor), we are truly one of the big cities in the US. I am so very proud of my hometown. For more information see
Kathy - Founder & Content and Community Director
My family began AncientFaces because we believe that unique photos and stories that show who people are/were should be shared with the world.
AncientFaces
This account is shared by Community Support (
Kathy Pinna
&
Daniel Pinna
&
Lizzie Kunde
) so we can quickly answer any questions you might have. Please reach out and message us here if you have any questions, feedback, requests to merge biographies, or just want to say hi!
2020 marks 20 years since the inception of AncientFaces. We are the same team who began this community so long ago. Over the years it feels, at least to us, that our family has expanded to include so many. Thank you!
Back to

Top
Amos Leroy Gregson