General Joshua L. Chamberlain
General Joshua L. Chamberlain
Loading...one moment please

AncientFaces

360k+ followers 399 favorites
01/04/2012
General Joshua L. Chamberlain
A photo of General Joshua L. Chamberlain\
People tagged
in this photo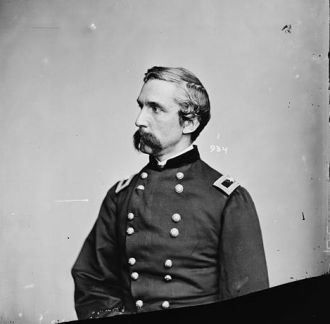 Civil War Union Brigadier General, Congressional Medal of Honor Recipient, Maine Governor. This is such an impressive individual that we made an article about his life located here:
Joshua Lawrence Chamberlain: Lion of the Union
Before the U.S. Civil War he was a college professor living in Brunswick Maine. He served in Maine's 20th under Colonel Adelbert Ames and was present with his regiment during the Battles of Antietam and Fredericksburg. He was promoted to Colonel and assumed command of the unit after the Battle of Chancellorsville, leading with distinction during the Gettysburg Campaign. On the second day during the battle of Gettysburg (July 2nd 1863) he commanded the 20th Maine in its famous defense of Little Round Top. His unit, posted as left flank of the Union Army, fended off repeated Confederate attacks throughout the day, and broke the Confederate lines by a bayonet charge ordered and led by Col. Chamberlain. His actions on that day earned him a Medal of Honor and he assumed command of a brigade in August 1863 where he participated in the Battles of the Wilderness, Spotsylvania, Cold Harbor. His troops were among the first to reach Petersburg, where he was severely wounded and was put out of action for months.
AncientFaces
This account is shared by Community Support (
Kathy Pinna
&
Daniel Pinna
&
Lizzie Kunde
) so we can quickly answer any questions you might have. Please reach out and message us here if you have any questions, feedback, requests to merge biographies, or just want to say hi!
2020 marks 20 years since the inception of AncientFaces. We are the same team who began this community so long ago. Over the years it feels, at least to us, that our family has expanded to include so many. Thank you!
Back to

Top
General Joshua L. Chamberlain