When The Corner Store Was THE Place To Go
Do you remember walking to the corner store, buying some penny candy (or if you were flush, a nickel candy bar), having a coke, maybe getting a yo-yo or coloring book? The corner store was a popular spot for kids and adults alike - where you could get everything you would need from food to sending a letter.

These general store photos will remind you of all these memories and more.
Topics: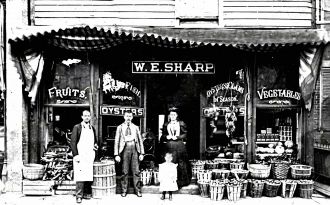 When The Corner Store Was THE Place To Go
Brooms, candy, canned goods - the whole magillah!
This neat and clean Cuban bodega had it all in 1938.
701 Bourbon Street - New Orleans
The Bayou Pom Pom Grocery store.
Can you imagine life without Coke?
Outside of a store/cafe in Florida circa 1940.
Prince Albert in a can
Do you have Prince Albert in a can? Let him out! Doesn't this corner store look just like you remember?
Biking to the corner store for a cold Coke and some penny candy
Outside a 1950's corner store.
Just steps from home to work
The Glaeser & Campe General Store was next door to the Campe home in 1909. The store also was the Post Office. SO convenient!
In Germany, you just walked downstairs to work
The Kuhnberg store, Germany.
Fruits, vegetables, oysters, and clams, oh my!
The Sharp family in front of their store in 1903.
Back to Top