Daniel Joseph Pinna
(born 1981)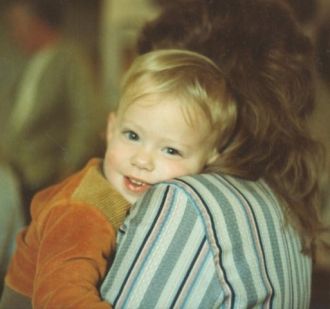 Daniel Joseph Pinna
1981 - living
Daniel Joseph Pinna was born on January 11, 1981 at Good Samaritan Hospital, San Jose, California United States of America. He was born to
Kathleen Rae (Kroetch) Pinna
and
Leonard Michael Pinna
, and we currently have no other siblings in his family tree. He was baptized at St. Frances Cabrini Parish, San Jose, California. Daniel married
Lisa Kinslow
on June 14, 2014.
I was born in San Jose, California and have lived in the Silicon Valley Bay Area my entire life. In fact, I'm 3rd generation San Jose which is a rarity these days. I was raised solely by my mother Kathy Pinna with the help of my grandmother Joyce Vandever (Marian Joyce Benning). I spent my early years in the Cambrian area of San Jose, a few years in Palo Alto, and own homes in Cambrian and Willow Glen California. I attended St. Francis Cabrini k-8th grade, Bellarmine College Preparatory and Santa Clara University.
My passion has been business since an early age. I worked at the Santa Clara Valley Contractors Association (SCVCA) while attending high school and each weekend answering the phones (aka switchboard) for the Jesuit Priests on a work scholarship program. I continued to work at SCVA while attending college where I began the Santa Clara Entrepreneur Organization (SCEO), was active in the Student Senate and Off Campus Student Association, and in my sophomore year began the first version of AncientFaces.
Post graduation I went on to manage a sub-contracting kitchen & bath remodeling company for three years, then worked as VP of Business Development at an eDiscovery company in Palo Alto from 2006 until the end of 2010. In early 2011, I began working full time on AncientFaces and have been at it ever since.
I married Lisa Michelle Kinslow on June 14th, 2014, and currently reside in Willow Glen California approximately 4 miles away from where both sets of my grandparents used to live around the 1950's.
ADVERTISEMENT BY ANCESTRY.COM
Daniel Joseph Pinna Biography
With today's technology we are able to write and share our own history which lasts forever online. Our ancestors never had a chance to document their lives. This biography is dedicated to memorialize the life of Daniel Pinna, honor his ancestry & genealogy, and his immediate Pinna family.
Most Commonly Known Name
Daniel Joseph Pinna
First name
Daniel
Middle name
Joseph
Last Name(s)
Nickname(s) or aliases
Gender
Male
Birth
Daniel Pinna was born on at Good Samaritan Hospital, 2425 Samaritan Dr, in San Jose, Santa Clara County, California United States of America 95124
Ethnicity & Lineage
I'm Caucasian or what I call a fairly standard 'white European mix'. On my father's side he is 100% Italian/Sicilian, and on my mother's side is a combination of Scottish, Welsh & German.

My 23andMe genetics report says that I'm 36% Italian (primarily Sicilian), 19% British & Irish, 16% German & French.
Nationality & Locations Lived
I was born at Good Samaritan hospital in Cambrian San Jose and spent the first 5-6 years of my life living with my mother on Carm Ave in Los Gatos. Afterwards, mom and I lived at 4472 Waimea Ct. in San Jose, CA until I moved out after college in 2003.

I lived in my first apartment in Los Gatos for a grand total of 3 months and discovered that living in 'newer' construction places was important to me. I then spent from 2003-2007 at 3170 Rubino Dr. in San Jose at what was then called "Archstone Willowglen". I absolutely loved that apartment. It had a balcony that overlooked the pool on the 2nd floor. Funny enough, so many years later, my cousin lives just a couple apartments over on the same floor.

I then moved to Palo Alto to be near to my office at the time and lived in Woodland Creeks Condominiums located on W. Bayshore. My condo was on West Bayshore and my office at the time was on East Bayshore. It made for a very nice commute and favorable conditions since my business at the time was 24x7 and had three shifts.

In April 2009 I moved back to San Jose and purchased my first home from Summerhill developers at the Redwood Collection at Parkwood located on Hendy Ln. It was rather funny because this house is on the same street where I was born, less than 2 miles from where I lived on Carm Ave, and only 8 minutes to where I lived with my mother at Waimea.

I lived there until April 2016 when my wife and I bought another home in Willow Glen where we currently live.
Religion
I was raised Roman Catholic having attended mass each Sunday and a monthly mass while at St. Francis Cabrini. I was exposed to various religious and spiritual belief systems and spent the last 8 years of my education in Jesuit institutions. I believe strongly in identifying, understanding & applying universal truths and systems that are commonly found in all religions and spiritual practices.
Baptized
at St. Frances Cabrini Parish, 15333 Woodard Rd, in San Jose, Santa Clara County, California United States 95124
Last Known Residence
Willow Glen, in San Jose, Santa Clara County, California United States
Education
I attended St. Francis Cabrini on Woodard Rd in San Jose (Cambrian) from kindergarten through 8th grade. Our class had maybe 50 kids split between two 'home rooms' and we all built a very strong bond during those years.

After SFC I attended Bellarmine College Prep. where I learned the importance of 'learning to learn', applying critical thinking and a die-hard work ethic. After Bellarmine I attended Santa Clara University where I studied Business Management & Analysis with an emphasis in Entrepreneurship. I worked with President Fr. Locatelli & Dean Posner to grandfather in an Entrepreneurship minor at Santa Clara University which became available in the later 2000's.
Professions
Small business owner in various industries. Founder & CEO of AncientFaces llc., President at Voice2Biz Inc.

I began working at a young age. My first 'side hustle' (as is a popular term today) was when I was 6-8 years old I grew lavender. Really my grandmother did - I appreciated an extra pair of hands at an early age ;). We then dried it and packaged it in tidy little packages and I went door to door selling in her retirement community at Cal Hawaiian mobile home park.

I was fortunate enough to have a mentor at an early age, and after I returned from the U.K. in the summer of my 8th grade, right before high school, my mentor Larry Gates would pick me up from my house or my high school and drive me to his office where I would log 3-4 hours and then return me back home. He lived not far from where I lived and had known me during carpool days to St. Francis Cabrini from 6th through 8th grade. Working with Larry at the Santa Clara Valley Contractors Association I was introduced to an office job where I first began to explore various business principles - working efficiently, getting elevation to see if there were better processes that could be adopted, servicing and influencing clients and numerous 3rd parties, and etc. The primary function of SCVCA was to negotiate fair wages with the local unions (shout out to Plumbers & Steamfitters 393) and plumbing contractors. Larry also had various other roles which is where I learned the ability to multi-task on numerous businesses at the same time.

I worked at SCVCA from the summer before freshman year at Bellarmine College Preparatory through my senior year at Santa Clara University. I would go to class, often arrange my class schedule around work, and then work as close to an 8 hour shift that I could. In addition, while at Bellarmine I answered the 'switchboard', or the phones, for the Jesuits and Bellarmine business offices every weekend Saturday and Sunday in the early mornings so that I could have the rest of my days.

The moment I turned 16 I bought my first car and with my own means of transportation I began my first business - Classic Gardening Services (CGS) - which lasted probably 1.5-2 years. This time I returned to Cal Hawaiian as a landscaper servicing the mobile homes in this community and the surrounding areas. I thought I was very clever: 1.) doing a 'feel good' business helping older individuals, 2.) keeping my costs low by utilizing electrical power tools (outlets are readily available on the outside of mobile homes) and all while 3.) going to a college prep school while working 30-35 hours a week at SCVCA. It was with CGS where I learned a number of other business principles - including don't hire your best friends ;)

While at Santa Clara University, while working at SCVCA, I got heavily involved with various organizations. I started the Santa Clara Entrepreneurship Organization (SCEO) in 2000 which is still going strong as of 2019, was a student Senator a number of years in charge of budgeting funds to all the student organizations, speaker at numerous...numerous...events, and etc. It was in 2000 while at SCU that I began AncientFaces.

After a failed attempt with a few acquaintances at starting a human curated platform to search the internet (this was before Google) I had developer and graphic artist resources and just needed an idea. The initial concept of AncientFaces was the brainchild of my Aunt (I call Ant) Pam Marks who was and is a die-hard genealogist. Her idea was to add photos to family trees by allowing distant relatives to scan and add these unique one of a kind treasures online.

AncientFaces has been with me now for more than half of my life. At the time of writing this (12/19) we are about to celebrate 20 years in business while I am 38. I am very grateful to AncientFaces for more reasons than I can list on here right now. However, to put it bluntly, AncientFaces has transformed, struggled, adapted, morphed and then evolved numerous times. It has kept pace with me and allowed me a venue to immediately apply all of my life & business lessons each and every step of the way.

Immediately after college, while all my friends accepted jobs at Google I continued my small business path by going into business for myself (yet again) as an adviser to two businesses: Ray Sarto's WildCard - a custom fabricated hot rod shop, and my father's business Classic Tile Signatures, a 3-4 tile crew, slab shop subcontracting business that focused on high end bathroom & kitchen remodels. I remained in this role for just over 3 years, the latter 2 focused purely on running CTS.

I needed a life change and for the first time searched for a job. Through the SCU connections I had, I found a copy & light e-discovery vendor in Palo Alto named Copydox. I started there on 6/6/6 (no joke) and during my time in Palo Alto I started as a sales rep, became the top producing salesman (representing 80%+ of revenue), grew a sales team, completely re-created billing protocols and line items and then became the VP of Business Development where I led the renaming, rebranding, and creation of additional service offerings to BlackStone Discovery.

In December of 2010 I decided to go full time on AncientFaces. I knew I would get married soon and that with the additional responsibility my time to 'risk it all' was prime. Of course, I had just bought my first house a number of months earlier so it was a real gamble. Since December 2010 AncientFaces has grown significantly. It has provided a handful of folks, including my mother & coFounder Kathy Pinna, a quality living while working on a product that we believe the world deserves. It's been one heck of an adventure and I'm enjoying every moment of it.

In the last decade of full time with AncientFaces I have continued my pattern of concurrently running numerous businesses. Including my current role at Voice2Biz where I work with Tim Kinslow and Mario Jimenez developing technology that powers unique voice first applications across numerous industries.

When asked what I do for a living I say: "I connect the dots & help make things happen". More often than not I help things grow, but sometimes things need to 'die' to create opportunities. So I keep it with 'help make things happen'. I currently tell folks I have three primary businesses: AncientFaces, Voice2Biz and Personal Finances. Personal Finances should be run like a business. It never ceases to amaze me that people will work 70% of their life to earn dollars, and then put zero thought into managing those dollars.I know to achieve your goals it takes two things: Applying Common Sense & Action.
Personal Life & Organizations
Santa Clara University Entrepreneur Organization, Santa Clara University Student Senate, Santa Clara University Off Campus Student Association, 32nd degree Scottish Rite, Freemasons and Ferrari Club of America
Military Service
I never joined the military and are the first male on my mother's side in many generations to not join the Navy. It wasn't exactly a popular option in San Jose during the 1990s/early 2000s.
Average Age
Daniel's average age compared to other Pinna family members is unknown.
Life Expectancy
The average age of a Pinna family member is 67.
Back to Top
Founder & CEO, AncientFaces
I began AncientFaces in 2000 while a sophomore in college while Santa Clara University in Santa Clara California. The original AncientFaces was a genealogy photo sharing site - the 1st of it's kind dedicated to sharing old family photos. A number of months were spent developing AncientFaces before the original launch of the website. We mapped out & designed the website, built the code and scanned then uploaded hundreds of our own family photos to 'seed' the database. I recall vividly when we launched and knew we'd be around a while when new photos were added by our first few visitors. In 2000 it wasn't a simple process to preserve old photos. The only way to digitize them were to physically scan them in. After a few months we even did some give-aways of scanners to some of our early members.

At lot has changed in the 20 years we've been in business. AncientFaces exists today so that history will no longer be forgotten. For the first time in recorded history, instant communication provides collaboration among millions of people spread out across the world. What were once unique photographs are digitized and are shared online. Individual recollections of people and places once verbally communicated during family gatherings are now typed and searchable. AncientFaces is the platform to show these memories and tell the story of the people and places from our past. Through collaboratively built & maintained bios we paint accurate portraits of our loved ones and the people before us.

I'm cut for time right now. But I'll update here with the story later on.
Daniel Joseph Pinna Family Tree
Daniel's immediate relatives including parents, siblings, partnerships and children in the Pinna family tree.
Parents:

Kathleen Rae (Kroetch) Pinna
Born: 1949
Campbell, CA, United States

Leonard Michael Pinna
Born: May 27, 1951
Relationships:
edit
Daniel Joseph Pinna & Lisa Michelle (Kinslow) Pinna
June 14, 2014
Spouse:
Friends:
Photos and snapshots taken of Daniel Joseph Pinna, his Pinna family, and locations and places or events from his life.
ADVERTISEMENT BY ANCESTRY.COM
Share Memories about Daniel
What do you remember about Daniel Joseph Pinna? Share your memories of special moments and stories you have heard about him. Or just leave a comment to show the world that Daniel is remembered.
Daniel Joseph Pinna is reported by the community as alive. If he has since passed, contribute to his obituary and include details such as cemetery, burial, newspaper obituary and grave or marker inscription if available.
Other Records of Daniel Joseph Pinna
Add Daniel's birthday or the date he died to see a list of historic events that occurred during Daniel's lifetime. Refresh the page for new events.
In 1981, in the year that Daniel Joseph Pinna was born, on August 1st, MTV debuted. It was the first music video TV channel. The first music video played was the Buggles' "Video Killed the Radio Star" - the second was Pat Benatar's "You Better Run".
In 1994, on May 6th, former political prisoner, lawyer, and activist Nelson Mandela was elected the first black President of South Africa. He was 75 when he was elected and he served one five-year term.
In 1995, on May 19th, the deadliest terrorist attack on American soil - before 9/11 - took place in Oklahoma City. A truck bomb went off outside the Alfred P. Murrah Federal Building in downtown - killing 68 people, injuring more than 680 others, and destroying one-third of the building. The most disturbing images were of children - a daycare center was hit by the bomb. The deadliest incident of domestic terrorism ever, Timothy McVeigh, Terry Nichols, and Michael Fortier were convicted of the bombing.
In 1996, on April 3rd, Theodore Kaczynski (nicknamed the Unabomber) was arrested. His mailed or hand-delivered bombs, sent between 1978 and 1995, killed three people and injured 23 others. Diagnosed as suffering from paranoid schizophrenia, Kaczynski is serving 8 life sentences without the possibility of parole.
In 1998, on December 19th, the House of Representatives initiated impeachment charges against U.S. President Bill Clinton. He was subsequently acquitted of these charges by the Senate on February 12th.
Popular Topics in History
Success Stories from Biographies like Daniel Joseph Pinna
I have to tell you a VERY special story about how AncientFaces helped to reunite our family. For 13 years, I have been searching for my grandmother's missing sister. She just disappeared from the family in the 1930s without a trace. No one ever knew where or when she died or where she was buried. My years of searching have just run into dead ends, so I had given up. Today, out-of-the-blue, a young lady called me and said that she had seen a photograph on AncientFaces and one of the women in the photo was her grandmother! Little did I know that she had left a small child behind when she died so young of TB. You can imagine our shock and excitement at finding each other and a whole new family that we never knew existed. We only live one state away from each other and very soon plan to have all family members meet to share our sides of "the story" and of course, many, many more picturesl AncientFaces...... without you, this family may never have been complete and Aunt Grace would have been lost to us forever. I hope you realize what a valuable service you provide and how grateful we are to have found you. Thank you!!!! -Lynda B.
I never knew my biological family. My family is my mother and father who raised me. But, as I got older I got curious about my heritage. It took me years of investigation to finally discover my parents' names. Well, I get goosebumps just writing this, I have found my biological family because of AncientFaces. Yes!! I did a search for my [parents' names] and was shocked to find a photo of them on AncientFaces! I cannot tell you the feeling that came over me when I saw this photo - to see the faces of my biological parents…JUST LIKE THAT. I left a comment on the photo and you won't believe this - the owner of the photo is MY SISTER!!! Yes, I have a LITTLE sister! It turns out my parents were too young when they had me and had to give me up. My little sister knew I existed and wanted to find me but had no way of doing it. Thanks to you I am meeting my little sister for the first time next month. GOD BLESS YOU ANCIENTFACES. -Anonymous
We have found our missing relative entirely thanks to AncientFaces. We have received a much clearer photo of Captain Grant from his Son. The picture we on AncientFaces is an old yellowed newspaper photo. I am attaching the new photo and ask that you take the old one out and put the new clear picture in its place. With our Canadian Remembrance Day here in 2 days - the timing could not be better. Thank You, AncientFaces. My long lost Aunt is now 86 years old and her Son and I are talking by phone and e-mails. Captain Grant was his Father and died in France in 1944 and is buried there. By posting pictures of the visit to his gravesite - we connected through one of his brothers. Amazing that our prayers have been answered. Thank you -Beth B.
I came home for lunch yesterday and decided to look at my email before going back to work. The weekly newsletter that I subscribe to from the Logan Family History Center had this message in it about AncientFaces. I clicked on the link and the first search I did was for Woodruff, and Mamie was the first picture that came up. I could hardly stand it. I was late getting back to work. I had to add comments and write to you. Thank you for noticing her in the store and for the website. I can't help but wonder how many other family pictures may have ended up in that store and why. I also can't help but feel that it was meant to be and that there is a purpose that this picture is coming home as you say. What are the chances of this all just happening? It's amazing that you even picked it up at the store and then went to all the extra effort to post it. It makes me feel as though you have been my friend forever. It certainly has given me a connection to you, and I have a love for what you do. I just can't tell you how excited I am. I can't even hold it in. -Cathy K., Utah
I have previously submitted several pictures of my grandfather August Zemidat. I have tried for many years to find anyone with that name, and I have searched many genealogy web sites to no avail. Recently I was contacted by someone who saw my pictures on AncientFaces who may well be a cousin. She also provided me with information that seems to indicate her grandparents were my grandfather's siblings. Considering the many years I have been searching for the name Zemidat, I find this is absolutely amazing that I have finally found a family member. Thank you AncientFaces -Ron D.
I love AncientFaces, a while back I saw that you had labeled Garcia surname pictures. At the time I didn't have all my family facts for my research. Anyway, I wandered into your site just to check it out AND NOW 1 YEAR LATER I received a picture from an 87 year old aunt and guess what you had this very same picture on your site!! (They were my great aunts and my great-grandmother!). Thank you… -Angela M.
I have loved AncientFaces since I first found it, it's the first thing I check when I turn on the computer. There was a time when even in the most modest households there were three cherished possessions, a family Bible. a family album and a fancy lamp. It was usual for the family to gather in the parlour, generally on Sunday and talk, tell stories of family and friends with the photos in the albums as illustration. Sadly in our modern electronic age we have fallen away from the oral tradition and interest in history has waned. I was quite shocked on the anniversary of the sinking of the Titanic to see so many comments from younger people who were surprised to learn that the Titanic wasn't just a movie. This is why AncientFaces is so important, to me it's the electronic age version of the oral tradition on a global scale and the sheer volume of people who follow, comment and contribute seems to prove the point. We are all grateful to you all for providing us with this wonderful site. - Arba M.