Marilyn Monroe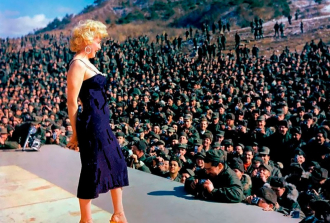 Marilyn Monroe
1926 - 1962
Norma Jeane Mortenson was born on June 1, 1926 in Los Angeles, Los Angeles County, California United States to
Gladys Pearl Monroe Baker
, and had a sister
Berniece Inez Gladys (Baker) Miracle
. She married
James Dougherty
in 1942 and they later divorced in 1946. She also married
Joe DiMaggio
in 1954 and they later divorced in 1955. She and
Arthur Miller
married in 1956 and they later divorced in 1961. Norma Mortenson died at age 36 years old on August 5, 1962 in Brentwood, and was buried on August 8, 1962 at Pierce Brothers Westwood Village Memorial Park and Mortuary 1218 Glendon Ave, in Los Angeles.
Norma Jeane Baker, The Blonde Bombshell, MM, Norma Jeane, Skip
---
Los Angeles, Los Angeles County, California, United States
---
Brentwood, Los Angeles County, California, USA
---
ADVERTISEMENT BY ANCESTRY.COM
Norma Jeane Mortenson's History: 1926 - 1962
Uncover new discoveries and connections today by sharing about people & moments from yesterday.
Marilyn Monroe was one of the most iconic actresses and models of the 20th century, known for her captivating beauty and charm on and off the screen. Born Norma Jeane Mortenson on June 1, 1926, in Los Angeles, California, she endured a tumultuous childhood marked by abandonment, abuse, and frequent moves between foster homes and orphanages.

Despite her difficult upbringing, Monroe showed a natural talent for acting and modeling from a young age. She began her career as a pin-up model in the late 1940s, and soon caught the attention of Hollywood executives who recognized her potential as a movie star. In 1950, she signed a contract with 20th Century Fox and began appearing in small film roles.

Over the course of the 1950s, Monroe's career skyrocketed as she starred in a series of hit movies, including "Gentlemen Prefer Blondes" (1953), "The Seven Year Itch" (1955), and "Some Like It Hot" (1959). Her performances earned critical acclaim and she became a beloved cultural icon, renowned for her sultry voice, impeccable comedic timing, and timeless beauty.

Beyond her accomplishments on screen, Monroe also used her platform to advocate for important causes, including civil rights and women's rights. She was a vocal supporter of the NAACP and worked tirelessly to end racial discrimination in Hollywood. Additionally, she spoke out about her own experiences with sexual harassment and abuse, helping to raise awareness about these issues long before they entered the public discourse.

Although Monroe's life was cut tragically short when she died of a drug overdose in 1962 at the age of 36, her legacy continues to inspire and captivate audiences to this day. See

The Wonderful Marilyn Monroe

. Her films and photographs remain timeless classics, and her enduring influence on fashion, beauty, and popular culture is a testament to her enduring impact.

Birthdate

Los Angeles, Los Angeles County, California United States

Birthplace

Marilyn Monroe's ethnicity and family history have been the subject of much speculation and debate over the years. She was born Norma Jeane Mortenson, but her paternity has never been definitively established. Her mother, Gladys Pearl Baker, was of mixed heritage, with English, Scottish, and Irish ancestry, as well as some Native American and Mexican roots. Gladys struggled with mental illness and was unable to care for Norma Jeane, so she spent much of her childhood in foster homes and orphanages. She was passed around between various family members and caregivers, and her early years were marked by instability and neglect. As a result of her difficult upbringing, Monroe had a deep longing for connection and belonging. She once said, "I knew I belonged to the public and to the world, not because I was talented or even beautiful, but because I had never belonged to anything or anyone else."

Monroe was born in Los Angeles, California, and spent much of her early childhood in the surrounding area. However, her mother was frequently institutionalized for mental illness, and she was placed in foster care and orphanages throughout Southern California. As a teenager, Monroe was placed in the care of Grace and Doc Goddard, who lived in Van Nuys, California. It was during this time that she began to dream of becoming an actress, and she took drama classes at Van Nuys High School. In 1942, when Monroe was 16 years old, the Goddards moved to West Virginia, and she went with them. She attended high school in the state, but eventually returned to California, where she began working as a model. Over the course of her career, Monroe lived in several different locations in and around Los Angeles. She lived in Hollywood, Beverly Hills, and Brentwood, among other neighborhoods, and owned several different homes throughout her life. One of Monroe's most famous residences was the Brentwood home she shared with her husband, baseball legend Joe DiMaggio, in the early 1950s. The home, located on 5th Helena Drive, became a symbol of their brief and tumultuous marriage. Monroe also spent time living in New York City, where she studied at the Actors Studio and appeared in several Broadway productions. She lived in a number of different apartments throughout the city, including a penthouse on Sutton Place.

Monroe attended Van Nuys High School in Van Nuys, California for a brief period when she was living with her foster parents, Grace and Doc Goddard. However, she was forced to leave school when the Goddards moved to West Virginia in 1942. She eventually returned to California and began attending University High School in Los Angeles, but she struggled academically and dropped out after just one year. Later in life, Monroe pursued more formal education opportunities. In 1951, she began taking literature and history courses at UCLA, but her busy schedule as an actress and model made it difficult for her to attend classes regularly. She later took private tutoring sessions in literature and writing with the famous Hollywood acting coach, Michael Chekhov.

Monroe's mother and Aunt Ana practiced Christian science and introduced Marilyn to the religion, "Nearly everybody I knew talked to me about God. They always warned me not to offend Him," - Marilyn. When Marilyn married playwright Arthur Miller she converted to Judaism.

Marilyn Monroe's military involvement began in 1944 when she worked at the Radio Plane Munitions Factory in Burbank, California. She inspected and tested parachutes that were used by the United States Army Air Forces during World War II. In 1950, after her career had taken off, Monroe traveled to Korea to entertain U.S. troops stationed there during the Korean War. She performed in a number of shows, singing and dancing for the soldiers and boosting morale among the troops. Her performances were well-received and widely praised, and she was seen as a symbol of American beauty and glamour. See

Marilyn Monroe interrupted her honeymoon with Joe DiMaggio in order to entertain the troops.

. Monroe's involvement with the military continued throughout her career. In 1954, she was appointed as an honorary colonel in the California National Guard, in recognition of her contributions to the military and her support for servicemen and women. In 1956, Monroe returned to Korea to perform for U.S. troops once again, this time as part of a USO tour. She spent several days in Korea, performing in front of thousands of soldiers and spreading cheer and goodwill among the troops.

Marilyn Monroe was one of the most iconic actresses and models of the 20th century, known for her stunning beauty, charismatic personality, and captivating on-screen presence. Monroe began her career as a model, working for a number of different agencies and photographers in Los Angeles in the late 1940s. She quickly became known for her photogenic looks and natural charisma, and she began to attract attention from the film industry. Monroe's breakthrough came in 1950, when she signed a contract with Twentieth Century Fox and appeared in her first major film role in "The Asphalt Jungle". The following year, she starred in the classic film "All About Eve" and began to establish herself as one of Hollywood's most promising young actresses. Over the next several years, Monroe appeared in a number of high-profile films, including "Gentlemen Prefer Blondes", "How to Marry a Millionaire", and "The Seven Year Itch". Her performances were marked by a unique blend of vulnerability, sensuality, and comedic timing, and she quickly became one of the most beloved and sought-after actresses in Hollywood. In addition to her work on the big screen, Monroe also pursued a successful career as a singer. She recorded several popular albums, including "Marilyn Monroe Sings" and "Some Like It Hot", and she was known for her sultry and seductive vocal style.

Marilyn Monroe's personal life was marked by a number of challenges, including struggles with mental health, addiction, and relationships. Monroe was married three times, and had several high-profile romantic relationships with some of the most famous men of her era. Monroe's first marriage was to James Dougherty, whom she married when she was just 16 years old. The marriage lasted for four years, but ultimately ended in divorce when Monroe began to pursue her career as an actress. In 1954, Monroe married the baseball player Joe DiMaggio. The marriage was marked by intense media scrutiny and public attention, and it ultimately ended in divorce just nine months later. Despite their short-lived marriage, DiMaggio and Monroe remained close friends for many years, and he reportedly remained deeply in love with her until his death. Monroe's third and final marriage was to the playwright Arthur Miller. The marriage lasted for five years, but was marked by a number of challenges, including Miller's struggles with depression and Monroe's own difficulties with addiction and mental health. Throughout her life, Monroe also had a number of high-profile romantic relationships with other famous men, including Marlon Brando, Frank Sinatra, and John F. Kennedy. These relationships were often tumultuous and marked by intense media scrutiny, and they contributed to Monroe's reputation as a tragic figure in American popular culture. In addition to her romantic relationships, Monroe's personal life was also marked by struggles with addiction and mental health. She was known to struggle with anxiety and depression, and she reportedly had difficulty coping with the intense pressures and demands of her career.

Death date

It is said that she died of a drug overdose. But it's whispered she was killed due to possible political ties with a popular family. In fact there are a number of 'conspiracy' theories out there.

Cause of death

Brentwood, Los Angeles County, California USA

Death location

August 8, 1962

Funeral date

Pierce Brothers Westwood Village Memorial Park and Mortuary 1218 Glendon Ave, in Los Angeles, Los Angeles County, California 90024, United States

Burial location

Probably the most celebrated of all actresses, Marilyn Monroe was born Norma Jean Mortenson on June 1, 1926, in Los Angeles General Hospital. Thirty-six years later, on August 5, 1962, her housekeeper found her dead body, nude and lying face down on her bed, apparently the victim of an overdose of sedatives. She made only 30 films in her lifetime, but her legendary status and mysticism will remain with film history forever. Abandoned by her father, she grew up in poverty with her mentally-ill mother who had a series of relationships, further confusing her daughter as to who it was who fathered her. In 1942, at the age of 16, Norma Jean married 21-year-old aircraft plant worker James Dougherty. The marriage only lasted four years, and they divorced in 1946. By this time Marilyn began to model swimsuits and bleached her hair blond. Bit parts in the movies followed but movie fans remembered her ditzy but very sexy blonde performance. In 1951, Marilyn got a fairly sizable role in 'Love Nest.' She had an intoxicating quality of volcanic sexuality wrapped in an aura of almost childlike innocence. In 1952, she made 'Monkey Business', where she was seen for the first time as a platinum blonde, a look that became her trademark. Over the next decade she made a several classic movies, including 'Gentlemen Prefer Blondes ' and 'How to Marry a Millionaire,' and became an unmatched sex symbol and superstar. In 'The Seven Year Itch', which showcased her considerable comedic talent and contained what is arguably one of the most memorable moments in cinema history: Marilyn standing above a subway grating and the wind from a passing subway blowing her white dress up. In 1953, Marilyn married American baseball legend JoeDiMaggio. The union lasted only eight months. Signs of her troubled emotional state begun to appear and she was suspended by Fox for not reporting for work on 'How to Be Very, Very Popular'. Her work was slowing down, due to her habit of being continually late to the set, her illnesses (whether real or imagined) and generally being unwilling to cooperate with her producers, directors, and fellow actors. In 'Bus Stop' in 1956, however, Marilyn finally showed critics that she could play a straight dramatic role. It was also the same year she married playwright, Arthur Miller (they divorced in 1960), dubbed by the press as, 'the great American brain marrying the great American beauty.' After a year off in 1958, Marilyn returned to the screen the next year for the delightful comedy, 'Some Like It Hot' with Tony Curtis and Jack Lemmon. The film was an absolute smash hit, with Curtis and Lemmon pretending to be females in an all-girl band, so they can get work. This was to be Marilyn's only film for the year. Her last film 'The Misfits '(1961) also proved to be the final film for the legendary Clark Gable , who died later that year of a heart attack. The film was popular with critics and the public alike. In 1962 Marilyn was chosen to star in Fox's 'Something's Got to Give'. Again, her absenteeism caused serious delays and she was fired. It looked as though her career was finished. Studios just didn't want to take a chance on her because it would cost them thousands of dollars in delays. She went into seclusion in her home in L.A; and it was there, on August 5, that she was discovered - dead of either an accidental or intentional overdose of sedatives.
47 Memories, Stories & Photos about Norma
Norma Mortenson's Family Tree & Friends

Gladys Pearl Monroe Baker
Parent
Marriage
Divorce
Cause of Separation

Marilyn Monroe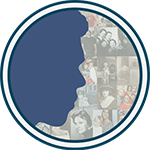 James Dougherty
Child
Family, friend, or fan, this family history biography is for you to remember James Dougherty.
Marriage
Divorce
Cause of Separation

Marilyn Monroe

Joe DiMaggio
Child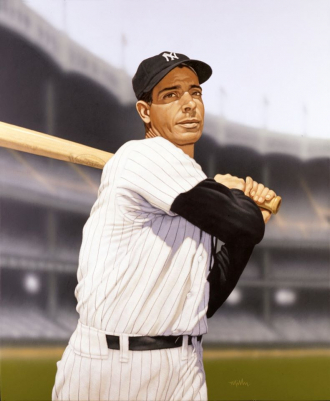 Joe DiMaggio of Hollywood, Broward County, FL was born on November 25, 1914, and died at age 84 years old on March 8, 1999.
Marriage
Divorce
Cause of Separation

Marilyn Monroe

Arthur Miller
Child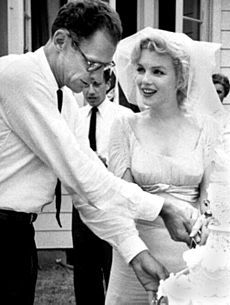 Arthur Miller of Roxbury, Litchfield County, CT was born on October 17, 1915, and died at age 89 years old on February 10, 2005.
19 Followers & Sources
Kathy Pinna
I'm a Founder of AncientFaces and support the community answering questions & helping members make connections to the past (thus my official title of Founder & Content and Community Support ). For me, it's been a labor of love for over 20 years. I truly believe with all of my heart that everyone should be remembered for generations to come. I am 2nd generation San Jose and have seen a lot of changes in the area while growing up. We used to be known as the "Valley of Heart's Delight" (because the Valley was covered with orchards and there were many canneries to process the food grown here, which shipped all over the US) - now we have adopted the nickname "Capital of Silicon Valley" and Apple, Ebay, Adobe, Netflix, Facebook, and many more tech companies are within a few miles of my current home in San Jose (including AncientFaces). From a small town of 25,000, we have grown to 1 million plus. And when you add in all of the communities surrounding us (for instance, Saratoga, where I attended high school, living a block from our previous Mayor), we are truly one of the big cities in the US. I am so very proud of my hometown. For more information see Kathy - Founder & Content and Community Director
My family began AncientFaces because we believe that unique photos and stories that show who people are/were should be shared with the world.
Lizzie Kunde
My name is Lizzie Kunde and I am the newest member of the AncientFaces Support team! See more info about me here: Lizzie - Community Support and I look forward to getting to know our wonderful members. Feel free to reach out with any questions, happy to help :)
My mom's side of the family is Swedish (and still lives in Sweden) and she instilled in me lots of Swedish heritage and traditions which has made me who I am today. My dad's side of the family is German and Irish and the most likely the side of the family I get all my freckles from. Family is so important, and welcome everyone to discover more about them, their history, and share about their loved ones who make up the history of who we are!
Amanda S. Stevenson
For fifty years I have been a Document Examiner and that is how I earn my living. For over 50 years I have also been a publicist for actors, singers, writers, composers, artists, comedians, and many progressive non-profit organizations. I am a Librettist-Composer of a Broadway musical called, "Nellie Bly" and I am in the process of making small changes to it. In addition, I have written over 100 songs that would be considered "popular music" in the genre of THE AMERICAN SONGBOOK.
My family consists of four branches. The Norwegians and The Italians and the Norwegian-Americans and the Italian Americans.
Daniel Pinna
I want to build a place where my son can meet his great-grandparents. My grandmother Marian Joyce (Benning) Kroetch always wanted to meet her great-grandchildren, but she died just a handful of years before my son's birth. So while she didn't have the opportunity to meet him, at least he will be able to know her. For more information about what we're building see About AncientFaces. For information on the folks who build and support the community see Daniel - Founder & Creator.
My father's side is full blood Sicilian and my mother's side is a combination of Welsh, Scottish, German and a few other European cultures. One of my more colorful (ahem black sheep) family members came over on the Mayflower. He was among the first to be hanged in the New World for a criminal offense he made while onboard the ship.
Daniel Pinna
I am interested in the last names Pinna, Benning, Kroetsch, Finazzo, and Kroetch.
My family pays a lot of attention to the past which heavily influenced us to start AncientFaces.
Sheila Smith
About me: I haven't shared any details about myself.
ADVERTISEMENT BY ANCESTRY.COM
Find records of Norma Mortenson
About the AncientFaces Community
Marilyn Monroe
Back to Top