Sandy Wilson
(1924 - 2014)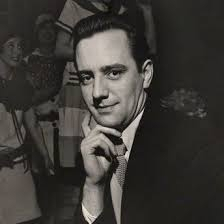 Sandy Wilson was born on May 19, 1924 in Sale, United Kingdom. He died on August 27, 2014 in Taunton, England United Kingdom at 90 years of age.

Sandy Wilson obituary
Composer and lyricist. He was best known for The Boy Friend, a fresh and revolutionary musical that took the West End by storm
Michael Freedland and Michael Coveney
Wed 27 Aug 2014 11.01

The Boy Friend at the Players' theatre, London, in 1953. It opened in the West End the following year. Photograph: Kurt Hutton/Getty Images
The composer and lyricist Sandy Wilson, who has died aged 90, achieved his greatest success while still in his 20s – and what a success it was. In the 1950s, The Boy Friend ran for more than five years at Wyndham's theatre in London and spent more than a year on Broadway. When it opened in the West End, in January 1954, it was revolutionary, a totally new and different kind of musical.
Big American shows such as Oklahoma!, Annie Get Your Gun and Carousel had dominated musical theatre for years. They were big and brash, full of women in gingham dresses and men in big hats chewing cigars. Here came a show that was a throwback to the flappers of the roaring 20s. Young women were seen with flattened chests and cloche hats; young men wore bell-bottomed trousers and all but said, "Anyone for tennis?" Set in a finishing school in the south of France, The Boy Friend revolved around the romance of a wealthy boy and girl who are each attempting to keep their family's fortune a secret.
Could it work? Amazingly, it did. And when the show opened in New York in September 1954, its startlingly brilliant leading lady was Julie Andrews, making her Broadway debut. It was Wilson's plangent, plaintive songs, such as I Could Be Happy With You and A Room in Bloomsbury, that really made the show. The tunes became standards, and for a time everyone wanted to do the charleston: the packed audiences found some kind of relief from the austerity of the postwar years in this romantic tribute to a more lighthearted age. The Irish playwright and journalist Hugh Leonard later proclaimed it to be "as English as muffins and monocles". The show ran in London for more than 2,000 performances, outstripped only by Agatha Christie's runaway success with The Mousetrap.

Wilson was born in Sale, Cheshire, the son of George and Caroline (nee Humphrey). He was educated at Elstree preparatory school, in Berkshire, Harrow school and Oriel College, Oxford, where he gained an English degree.
He had first thought about writing The Boy Friend while he was at Oxford, where he was declared an "idol" in the university's magazine, Isis, in 1947. He produced and wrote a mass of student shows, and in his mid-20s contributed to the West End revues Slings and Arrows and Oranges and Lemons. He wrote a pair of shows, See You Again (1951) and See You Later (1952), then originated The Boy Friend at the Players' and Embassy theatres before it opened at Wyndham's. While The Boy Friend was still running, two more of Wilson's shows opened in London: The Buccaneer, a play about a magazine, was created with the hope of cashing in on the craze for horror comics. It had originally been presented at the tiny New Watergate theatre in London in September 1953. Without any real investment, it had flopped, but since The Boy Friend had succeeded so remarkably, Wilson brought it back a couple of years later in an extended version at the Lyric Hammersmith and then the Apollo; its cast included Kenneth Williams.
Wilson then adapted Ronald Firbank's novel Valmouth, set in an Edwardian spa, for a production that picked up good reviews at the Lyric Hammersmith, where it opened in 1958. It then moved to the Savile theatre, where Cleo Laine joined Fenella Fielding in the cast.
Though he did not need the money, Wilson would have liked another show to run and run. A sequel to The Boy Friend entitled Divorce Me, Darling! (Globe theatre, 1965), which took the characters into the 1930s, failed to repeat the triumph. The critic Bernard Levin called it "relentlessly incomprehensible".
In 1970, a revival of The Boy Friend with Judy Carne ran for three months on Broadway and the following year the musical became a much-hyped, multi-coloured film, starring Twiggy, Christopher Gable and Tommy Tune, and directed by Ken Russell, who seemed more interested in replicating the Hollywood musicals of the 30s than Wilson's original setting. Wilson did not like the idea of the film at all and refused to attend the premiere. More happily in 1971, he put on a one-man show, Sandy Wilson Thanks the Ladies, and also had a success at the Hampstead theatre with His Monkey Wife, about a man's relationship with a female chimp, although it did not reach the West End.
His autobiography, I Could Be Happy (1975), ends with a vivid account of The Boy Friend in London and New York, and a hurt appraisal of Russell's movie (although he retained great sympathy for Twiggy, whom he liked). That year he also published a lavish and loving memorial biography of Ivor Novello. In 1979, he created a non-pantomime musical version of Aladdin that came and went at the Lyric Hammersmith.
In 1994, in an Observer interview marking a 40th anniversary production of The Boy Friend at the Players', he was asked what he thought of contemporary popular music. "I've hated it since 1950," he replied. "Since rock'n'roll I've turned a deaf ear."
The Boy Friend has proved indomitably endearing, despite some slightly overblown West End revivals. In 1982 there was a revival at Chichester of Valmouth, which came to be widely acknowledged as Wilson's masterpiece. Fifteen years later, Divorce Me, Darling! was also revived at Chichester, and the cabaret performer Liliane Montevecchi stopped the show with the spoof Marlene Dietrich number, Blondes for Danger.
In an age of blockbuster musicals, Wilson's talent for intimate revue and stylish musical theatre might have seemed an anachronism. But his work was unique, always well-finished and full of charm and good taste.
For many years he lived with his partner, Chak Yui, in a South Kensington flat full of scores, records, books and memorabilia, and of course a grand piano.
Surprisingly, perhaps, Wilson was a lifelong subscriber to the New Statesman magazine. In later years he spent an increasing amount of time at his country home near Taunton, Somerset, watching old films and indulging in his favourite pastime of reminiscing.
Michael Freedland
Michael Coveney writes: Although he could perform his own material very adeptly, it is probably fair to say that Sandy Wilson was perhaps a better draughtsman than a pianist. He had studied the styles and fashions of the 20s and 30s so closely that he could reproduce the effect on the page at least as well as on the stage.
He particularly liked the theatrical cartoons of the Swedish artist Einar Nerman, who worked for the Tatler in the 20s, and he provided an exquisitely elegant introduction to Nerman's 1976 book Caught in the Act. Every year, Wilson would make his own Christmas cards, and every year he would produce a collector's item, usually featuring flappers, pierrots or harlequins in a mimimal setting of crescent moons and floating balloons.
His uneasy relationship with his Oxford contemporary Kenneth Tynan ("I never found that I could penetrate that aura of brilliance and daring to discover the person behind it") was reflected in a mournful review he wrote in Plays and Players magazine of Carte Blanche, Tynan's sad sequel to Oh! Calcutta! On the other hand, his review of Michael Blakemore's 1973 revival of Nöel Coward's Design for Living, starring Vanessa Redgrave, set the seal on the restoration of that great comedy in the repertoire. And no critic has ever written so well, or so thoroughly, about theatrical costume.
• Sandy Wilson (Alexander Galbraith Wilson), composer, lyricist, and playwright, born 19 May 1924; died 27 August 2014
ADVERTISEMENT BY ANCESTRY.COM
Sandy Wilson Biography
Vital facts & highlights of Sandy's life to share with the world.
Alexander Galbraith Wilson
Unknown. Did Sandy move a lot? Where was his last known location?
Sandy Wilson was born on in Sale, Cheshire County, United Kingdom
Sandy Wilson died on in Taunton, England United Kingdom
Sandy Wilson was born on in Sale, Cheshire County, United Kingdom
Sandy Wilson died on in Taunton, England United Kingdom
There is no cause of death listed for Sandy.
Do you know the final resting place - gravesite in a cemetery or location of cremation - of Sandy Wilson?
Ethnicity & Lineage
British. Born, Raised and Died in England.
Nationality & Locations Lived
Religion
Unknown. Was Sandy a religious man?
Education
Alexander Galbraith "Sandy" Wilson (19 May 1924 – 27 August 2014)
was an English composer and lyricist, best known for his musical,The Boyfriend.
Biography
Wilson was born in Sale, Cheshire, England, and was educated at Harrow School and Oriel College, Oxford. While at Oxford he wrote revues for the Oxford University Experimental Theatre Club and then attended the Old Vic Theatre School on a production course.

Most of his work for the stage was material for revues, such as Hermione Gingold's Slings and Arrows, Laurier Lister's Oranges and Lemons, and See You Later, starring such performers as Peter Cook. He wrote the book, music and lyrics for The Boy Friend for the Players' Theatre in 1953. Its success resulted in a longer version being produced in the West End at Wyndhams Theatre. After its opening in January 1954, over 2,000 performances were put on there. It opened on Broadway in 1954, at the Royale Theater, and introduced Julie Andrews in her Broadway debut. The show ran on Broadway for over 480 performances.
Wilson wrote the musical Valmouth in 1958, based on a Ronald Firbank novel set in a seaside resort. In 1964 he wrote Divorce Me, Darling!, a sequel to The Boy Friend. His last work was a version of Aladdin (1979) for the Lyric Theatre, Hammersmith.
His autobiography, published in 1975, is titled I Could Be Happy.

Sandy Wilson died in Taunton, England in 2014, aged 90. His longtime partner was Chak Yui. Wilson was a member of the Labour Party and contributed to the Elizabethan magazine during his years of greatest fame.

In 1999, Wilson donated his papers to the Harry Ransom Center.[7] The papers include produced and unproduced plays, mostly musicals but also plays for stage and TV, as well as drafts of Wilson's published and unpublished works including an autobiography, illustrated book, novels, articles, and short stories, along with correspondence.

Musicals
Caprice (1950)
The Boy Friend (1953)
The Buccaneer (1955)
Valmouth (1958)
Pieces of Eight (1959)
Divorce Me, Darling! (1964)
As Dorothy Parker Once Said (1969)
His Monkey Wife (1971)
The Clapham Wonder (1978, based on the novel The Vet's Daughter by Barbara Comyns Carr)
Professions
GIFTED LIBRETTIST COMPOSER OF MUSICALS.
Personal Life & Organizations
Chak Yui.
Military Service
During the war he served in the Royal Army Ordnance Corps in Great Britain, Egypt and Iraq.
Average Age
Sandy Wilson lived 21 years longer than the average Wilson family member when he died at the age of 90.
Looking for a different Sandy Wilson?
View other bios of people named Sandy Wilson
Back to Top
Sandy's Family Photos
Photos and snapshots taken of Sandy Wilson, his Wilson family, and locations and places or events from his life.
ADVERTISEMENT BY ANCESTRY.COM
Sandy Wilson Obituary
This obit of Sandy Wilson is maintained by Sandy's followers. Contribute to her obituary and include details such as cemetery, burial, newspaper obituary and grave or marker inscription if available.
Sandy Wilson bows out in style, still clinging to the past
The composer of The Boy Friend displayed 'taste, charm and style in every lyric and bar of music that he wrote'
AuthorMichael CoveneyNationwide28 August 2014

No judgement would have wounded Sandy Wilson more than Noël Coward's on his sequel to The Boy Friend, Divorce Me, Darling!: "Some good tunes, but pretty dismal on the whole."

It so happens I disagree with Coward to such an extent that I have often thought that the sequel was superior to the 1953 original, especially so when Lilianne Montevecchi knocked us dead with her coruscating version of "Blondes for Danger" in a Chichester revival. But it's certainly true that Wilson had a great problem in repeating his first popular success.

There was a time when The Boy Friend was performed somewhere in the world every two minutes. For all I know, it still is. It was an absolute smash, running for five years in the West End, a record at the time, and although there have been some galumphing London revivals - and the Ken Russell film, which Sandy loathed, is enjoyable for all the wrong reasons, though Twiggy is delightful - I've never failed to be beguiled by it.

The last revival in Regent's Park was particularly good. Sandy, impeccably dressed as always, in a cream summer suit and Panama hat, sat behind me with his life partner, Chak Yui. As I extracted my notebook and pen from my jacket pocket, he leant forward and hissed: "Put that f—-ing notebook away you little ----." I ignored him. The review duly appeared in the Observer the following Sunday and he rang me before lunch to thank me fulsomely for it.

Not everyone is as keen on The Boy Friend as I am. I think it's as perfect as Fabergé egg, an exemplary concoction in style and scale, and as good a score as those of the 1920s musicals it so affectionately parodies. Simon Callow, on the other hand, once described me as "a friend of the fringe with a surprising weakness for Sandy Wilson" (although this was long before Simon himself came out as a fan of Ivor Novello, about whom Sandy wrote a beautiful book of homage) and Richard Eyre hated The Boy Friend so much - he recounts in his memoir, Utopia and Other Places - that he gave up acting altogether while appearing in a 1965 revival at the Leicester Phoenix: "...I found its winsome melodies, its camp, smug, self-regarding milieu, as alien to me as an Aztek sacrifice, and at least as repulsive." So he directed Mary Poppins instead.

Sandy, like Coward, Cole Porter and Lionel Bart, wrote book, lyrics and music, and like Andrew Lloyd Webber today, found the "book" part of any musical the biggest problem. Although he scored an artistic bulls-eye - though never a great success - with his exquisite version of Ronald Firbank's Valmouth, brilliantly revived at Chichester in 1982 by John Dexter - he simply couldn't find anything else to write a musical about.

"He was a prickly and 'difficult' man.. but immensely gifted and clever"

Divorce Me, Darling! in 1964 was followed by a tame compilation show, As Dorothy Parker Once Said, in 1969, an oddball collector's item, His Monkey Wife, in 1971, and finally— such a long time ago! - Aladdin in 1979, the inaugural pantomime of the newly re-built and re-furbished Lyric, Hammersmith, with a great cast including Aubrey Woods and Elizabeth Welch. Welch was an idol for Sandy, one of his personal galère of musical comedy stars who included Julie Andrews (who made her name in The Boy Friend on Broadway), Hermione Gingold, Beatrice Lillie, Sally Ann Howes, Mary Ellis and Olive Gilbert.

He lived with Chak in a beautiful South Kensington apartment and a country house near Taunton in Somerset called "Valmouth". He was a prickly and "difficult" man - more like Richard Rodgers in that regard than, say, Lionel Bart, both of whom he admired - but immensely gifted and clever. He was fairly reactionary in his show business preferences, but he'd often surprise you with a paean of praise for a new play at the Royal Court, loved classical ballet and American modern dance, and subscribed to the left-wing magazine the New Statesman for many years.

His autobiography, I Could Be Happy, which ends, significantly, with The Boy Friend opening on Broadway, is a masterpiece of background and build-up to the destiny of his "little" musical, which began life so tentatively in the bowels of the Players' Theatre in Charing Cross. And his Christmas cards, hand-crafted each year with harlequins and pierrots - and "poor little rich girls" posed exquisitely in moonscapes with balloons and streamers - will be a permanent reminder to his friends and colleagues of the taste, charm and style in every lyric and bar of music that he wrote.
Other Records of Sandy Wilson
1924 - 2014 World Events
Refresh this page to see various historical events that occurred during Sandy's lifetime
In 1924, in the year that Sandy Wilson was born, in May, wealthy college students Nathan Leopold and Richard Loeb kidnapped and killed 14 year old Robert Franks "in the interest of science". Leopold and Loeb thought that they were intellectually superior and that they could commit the perfect crime and not be caught. They were brought in for questioning within 8 days and quickly confessed. Clarence Darrow was hired as their defense lawyer, getting them life imprisonment instead of a death sentence. Loeb was eventually killed in prison - Leopold was released after 33 years, dying of a heart attack at age 66.
In 1931, by the time he was merely 7 years old, on May 1st, the Empire State Building opened in New York City. At 1,454 feet (including the roof and antenna), it was the tallest building in the world until the World Trade Center's North Tower was built in 1970. (It is now the 34th tallest.) Opening at the beginning of the Great Depression, most of the offices in the Empire State Building remained unoccupied for years and the observation deck was an equal source of revenue and kept the building profitable.
In 1964, he was 40 years old when on February 9th, the Beatles appeared on The Ed Sullivan Show. 73 million people watched - although the Beatles couldn't be heard because of the loud screaming of the female teenage audience.
In 1972, at the age of 48 years old, Sandy was alive when on November 7th, Richard Nixon won re-election, amidst the dawning knowledge of the Watergate scandal, by 60.7% to anti-war candidate George McGovern's 37.5%.
In 1996, Sandy was 72 years old when on April 3rd, Theodore Kaczynski (nicknamed the Unabomber) was arrested. His mailed or hand-delivered bombs, sent between 1978 and 1995, killed three people and injured 23 others. Diagnosed as suffering from paranoid schizophrenia, Kaczynski is serving 8 life sentences without the possibility of parole.
Success Stories from Biographies like Sandy Wilson
Highlights of just a few of the many successes of sharing memories & family history at AncientFaces. From reuniting lost or 'orphan' photos with their families, seeing the faces of family for the first time, to connecting unknown and lost relatives.

These stories will warm your heart. Are you inspired to share photos and biographies of the people from your past?