Born in Detroit on February 4, 1902 at the home shown below, Charles Augustus Lindbergh was the son of U.S. Congressman Charles August Lindbergh and Evangeline Lodge Land Lindbergh.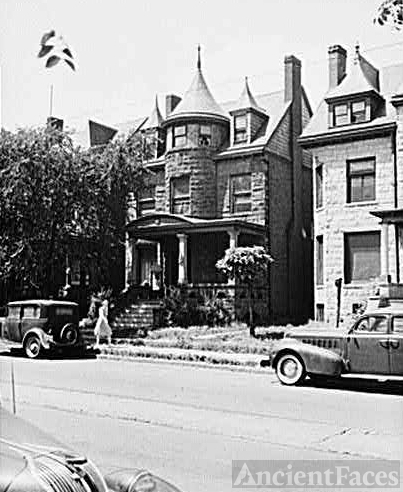 Charles studied mechanical engineering in college but quit college after 2 years and enrolled in flight school because the new technology of flying caught his fancy.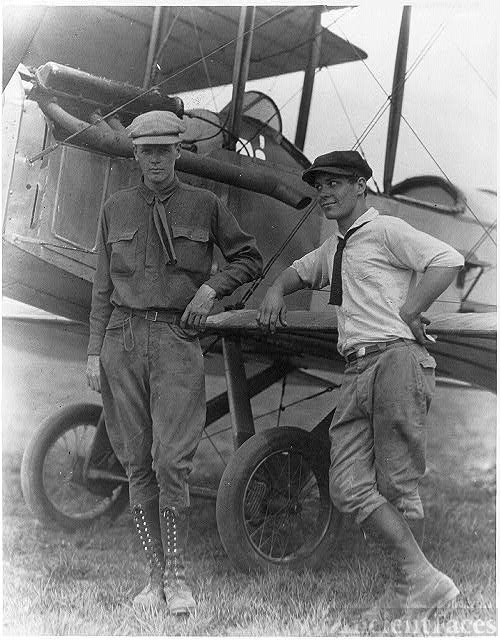 In his biography, he said: "The life of an aviator seemed to me ideal. It involved skill. It brought adventure. It made use of the latest developments of science. Mechanical engineers were fettered to factories and drafting boards while pilots have the freedom of wind with the expanse of sky. There were times in an aeroplane when it seemed I had escaped mortality to look down on earth like a God."
After flying as a barnstormer, he enlisted in the Army so that he could be further trained as a pilot and, after completing the course, he went on to be a air mail carrier for the U.S. Postal Service.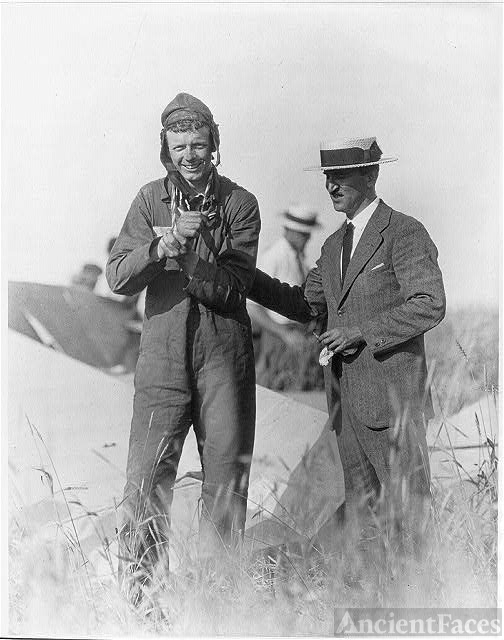 But a $25,000 prize that had been offered since 1919 by Raymond Orteig caught his attention (the equivalent of $300k in 2017). Orteig's challenge: he would award the prize to the first aviator who flew non-stop from New York to Paris. By 1927, many pilots had tried but no one had succeeded (either being killed or injured).
To compete in this challenge, the charismatic Lindbergh persuaded 9 investors to back him, and with their help designed and commissioned a new plane he named the 'Spirit of St. Louis'.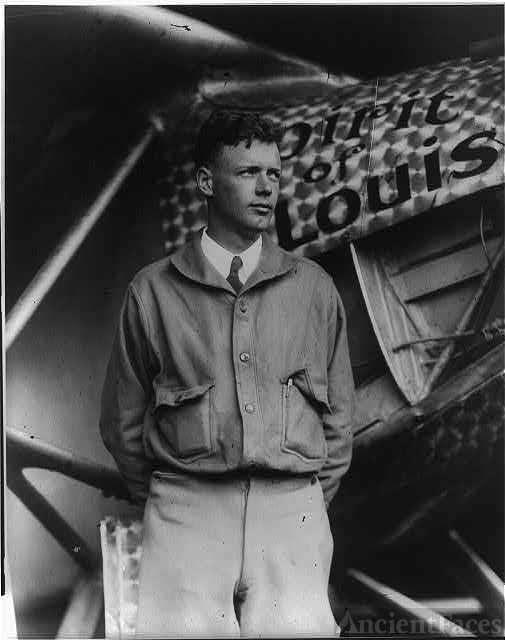 He began his solo journey from New York to Paris on May 20th, 1927, and arrived near Paris at 10:21p local time on May 21st. In total, Charles flew 3,600 miles in 33 1/2 hours, across the Atlantic, by himself, making him an instant international celebrity. It was said that people were "behaving as though Lindbergh had walked on water, not flown over it."
Shown here Charles is enjoying his post transatlantic flight fame, standing on a podium being introduced by President Coolidge near the Washington Monument in Washington D.C.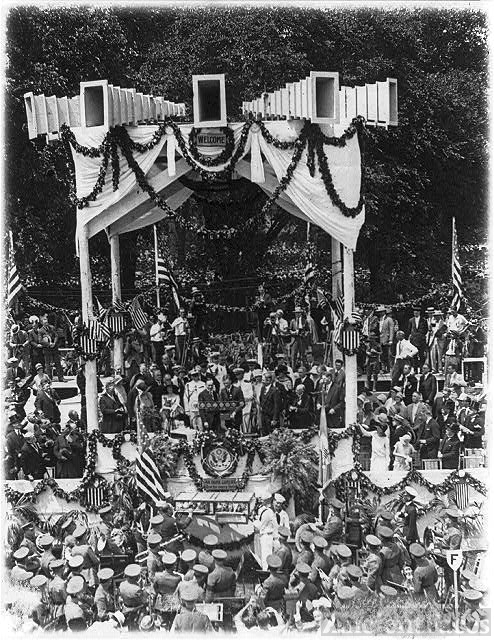 In December 1927, the celebrity embarked on a goodwill tour through Latin America for the U.S. government.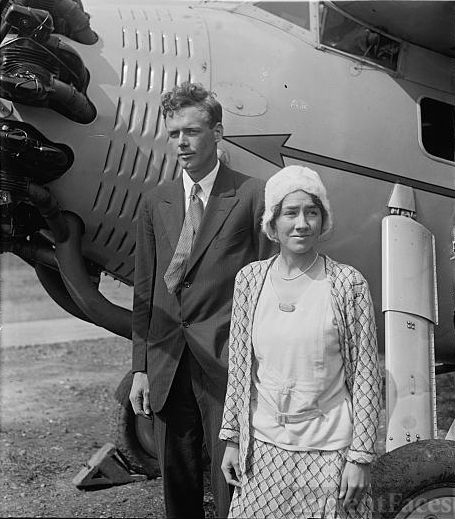 This is where in Mexico Charles met his future wife, the daughter of the U.S. Ambassador, Anne Morrow. They fell in love, married two years later in 1929, and on June 22, 1930 had their first child, Charles Augustus Lindbergh, Jr.
On the night of March 1st 1932, while Anne was pregnant with their second child, the Linderbergh's first child Charles Jr. was abducted from his crib in the second floor bedroom of their New Jersey home.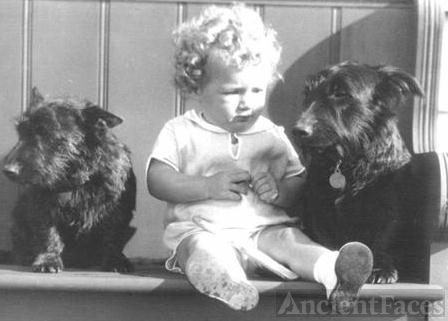 The public was shocked and outraged over the abduction of Charles Lindergh Jr. A massive hunt was launched, and on April 2nd a man claiming to be the kidnapper picked up a cash ransom of $50,000. The ransom was a trap to capture the kidnapper. Funds were paid in gold certificates which were soon to be removed from circulation, and the bills' serial numbers were recorded.

However, while the ransom was taken, the baby was never returned. Sadly, on May 12th the remains of Charles Lindbergh Jr. were found in the woods not far from the Lindbergh home. It was thought that he had died, perhaps in a fall, on the night of the kidnapping.
Over two years later, in September of 1934, under suspicion of being involved in the Lindbergh kidnapping, Richard Hauptmann, a 34-year-old German immigrant carpenter, was arrested near his home in the Bronx, New York.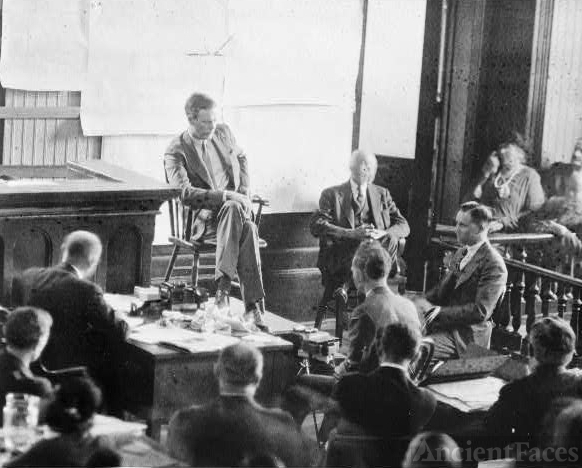 $13,760 of the ransom money was found in his home. Prosecutors believed the booby trap ransom had worked, and put Hauptmann on trial for kidnapping, murder and extortion on January 2, 1935. This reignited public outrage, and as had happened when Charles Jr. was originally kidnapped, all big newspapers followed each and every moment of the trial.

Hauptmann was convicted on February 13 and electrocuted at Trenton State Prison on April 3, 1936. Until she died, Hauptmann's wife fought to prove her husband's innocence.
Anne and "Lucky Lindy" went on to have 5 more children but after the kidnapping, they lived a much more private life, fearful of other kidnappings.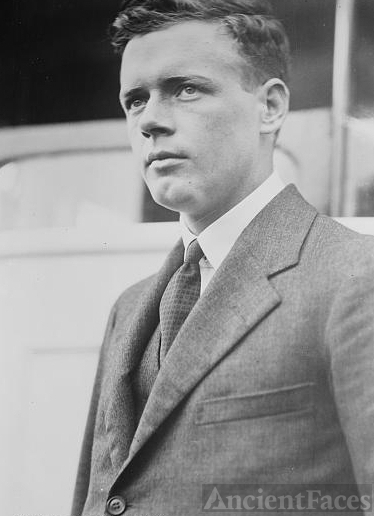 It wasn't until 1974, after the death of Charles Lindbergh, that another part of the Lindbergh family story came out. Beginning in 1957, Charles had long term relationships with 3 women in Europe (2 of them sisters) and fathered 7 children by them. While the women knew who he was, and he visited the families in Europe often, their children didn't know their father's true identity until well after his death. Ironic for a man, who, in his autobiography, derided womanizing pilots he met as "barnstormers" and Army cadets for their "facile" approach to relationships, stating that the ideal romance was stable and long-term, with a woman with keen intellect, good health, and strong genes and that his "experience in breeding animals on our farm (had taught him) the importance of good heredity".
The importance of family history: (Photo of Lindbergh's father, Charles August Lindbergh)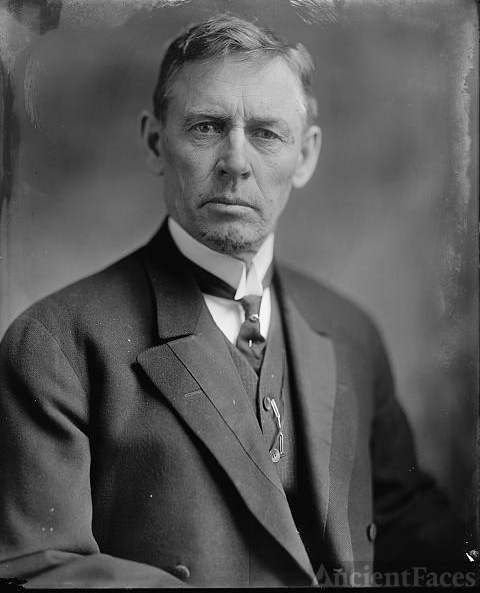 Charles August Lindbergh, father of "Lucky Lindy" was born Carl Månsson in Sweden. His father was Ola Månsson, a bank manager, and his mother was Lovisa Carlén, Ola's 19-year-old mistress. Accused of bribery and embezzlement, Ola fled Sweden (leaving behind his wife and 7 children, never divorcing her), changed his name to August Lindbergh, and moved to Minnesota with his mistress Lovisa and infant Carl (now called Charles). (They had 6 more children in Minnesota.) The Mansson/Lindbergh men were not only prolific, they seemed to have a penchant for multiple partners!
Have photos that you'd like to see included? Share
your photos
or discover photos of the Great Depression on the next page.