Easter Traditions - Religion, Candy And The Scary Easter Bunny
Easter is celebrated on the first Sunday after the first full moon of Spring. Because of this, there are many traditions associated with Easter that have little to do with the religious holiday and a lot to do with the Spring season. While many Christians go to church or celebrate outdoors with sunrise services, others visit the Easter Bunny, hunt for eggs, enjoy Easter candy and wear their best dress/suit and hat.

Many of these customs are shown on the following pages - including a new one, the scary Easter Bunny!

Did you know? In 1939, scientists were developing ways for hens to lay eggs in colors - threatening the Easter Bunny? Check out the photo on page 2.
Topics: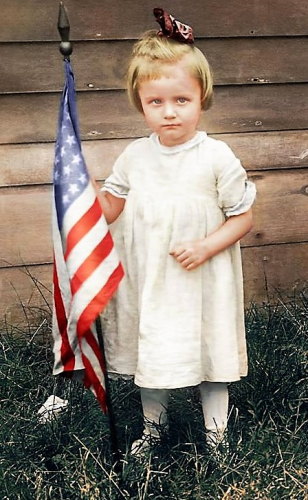 Easter Traditions - Religion, Candy And The Scary Easter Bunny
Pussy willows, Easter eggs, and a sweet little girl
This 1916 photo from Norway has it all.
French Victorian beauty - Happy Easter!
Not only is the woman beautiful, this Easter card was beautifully colored. We want those eggs!
Russian Easter Card - wow!
This circa 1900 Easter card is beautiful art.
I'll get you, my pretty!
This Easter Bunny is just plain disturbing - ask the baby on his lap!
He's thrilled with his White House basket!
The prize basket at the 1923 Easter Egg Roll had lots of little critters - hope it had some candy, too.
MOMMY . . . I'll be good!!
These children wouldn't feed - or take candy from - this Easter Bunny! (And we don't blame them.)
This boy isn't sure about the Easter Bunny . . .
It looks like he's asking "Are you sure this isn't a unicorn?" (We're not sure either!)
Hey Mom!
The Easter Bunny wears a vest and is half human!
But the little girl looks calm about the whole Easter Bunny confusion.
Who's faster?
Superman or the Easter Bunny?
We're betting on Superman. After all, he's faster than a speeding bullet - and the Easter Bunny is just dressed for a fancy dance.
Sunrise service on Mt. Rubidoux
The Easter sunrise service on Mt. Rubidoux began in 1909 and is the longest running outdoor service in the U.S. - except for Easter 2020, when services are cancelled due to the cornoavirus.
Sweet bunny . . .
So cute - 1929 Easter Egg Roll. She's feeding her candy to the stuffed bunny.
Dance the Maypole!
Generally associated with May Day (May 1), the Easter Egg Roll at the White House in 1929 had a Maypole.
Greek Catholic Easter
A celebration of Easter in the Greek Catholic Church, 1985 Hungary
Mmm Mmmm . . . good!
At the 1911 White House Easter Egg Roll, these two boys only cared about the candy.
In their Easter finest
Off to church in 1950 Texas.
Back to Top