On Saint Patrick's Day We Are ALL Irish
Updated on Mar 17, 2019. Originally added on Mar 17, 2018 by
Kathy Pinna
It's often been said that on St. Patrick's day, we are all Irish. And certainly, on March 17th all around the world people - especially across the U.K., U.S., Canada, and Australia - celebrate the Irish culture and their traditions. Who doesn't love a good Irish ale with corn beef and cabbage while chasing the mythical leprechaun, a red-haired colleen or lad, or doing a step dance? Today is the day to celebrate the Irish people and their traditions across cultures - or to just party!

Did you know that new DNA analysis shows that the original inhabitants of Ireland were from the Iberian Peninsula and are closely linked genetically to the Basque people? Some later intermarriage has resulted in Celtic (and English!) blood as well but on St Patrick's Day, when you celebrate, remember that you could just as well dance a Basque sword dance!

An interesting custom At the end of the night, an old custom is the "drowning of the shamrock". A shamrock is placed at the bottom of a glass, the glass is filled with whiskey, beer, or cider, and then St. Patrick is toasted. After drinking the contents of the cup, the shamrock is swallowed or tossed over your shoulder for good luck.
Topics: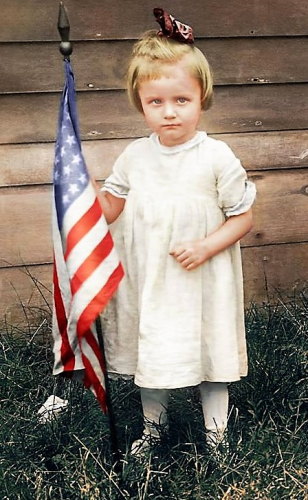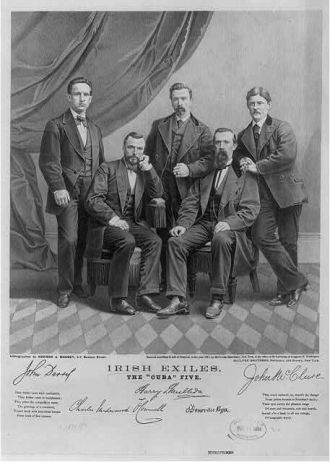 On Saint Patrick's Day We Are ALL Irish
Two "lassies" in Bob Barrett's Pipers and Drummers
Killarney, 1899
Three Irish women traveling to a funeral.
"Happy Hooligan's Trip Around the World"
A 1907 Broadway show.
A strong tradition of Irish sailors
Irish Coast Guard, 1916.
Hunting and fighting with these beautiful dogs
The Irish wolfhound may have been brought to Ireland as early as 7000 BC. They were originally war hounds and later became used for wolf hunting.
Kilkenny Castle, Ireland
Oh! Irish castles are so haunting!
It's a shillelagh (sail éille), not a club
Vintage St. Pat's Day postcard - shamrocks for luck, a shillelagh symbolizing Ireland.
Caoimhín de Barra, Irish freedom fighter
Kevin Barry (born Caoimhín de Barra, here in 1920 just before he died) was the first Irish republican to be executed by the British since the leaders of the Easter Rising (in 1916 - just over 100 yrs ago) were killed by a firing squad.
Molly Brown didn't need her Irish red hair to be feisty.
The unsinkable Molly Brown (born Margaret Tobin to Irish immigrant parents) receiving an award for her heroic actions during the sinking of the Titanic.
World War I war hero
Michael O'Leary was awarded the Victoria Cross for heroism in World War 1. He was lauded for "single-handedly charging and destroying two German barricades defended by machine gun positions" near the French village of Cuinchy.
Fighting for the Union -faugh a ballagh!
In the American Civil War, the Irish Brigade was predominantly made up of Irish-Americans and fought on the side of the Union. Their battle cry was "faugh a ballagh" - clear the way.
We will be heard!
Irish protesters at the White House, 1920. Signs read "Americans: Can we stand by while England butchers Irishmen at our very door?" and "Uncle Sam: Can you watch John Bull murder the poor old woman?"
The Irish are known for their singing
First generation Irish American and famous Irish tenor, Chauncey Olcott in 1902.
Born in Ireland, singing in America
John McCormack in 1918, another famous Irish-American tenor.
Back to Top