Our Beloved Friends And Playmates - Dolls!
Who was your closest friend in childhood? It may have been a brother, sister, cousin, or neighbor - but if you were a girl, your dolls ranked at the top. Do you recognize some of these dolls? Do you like them or find them kind of creepy? If you don't like them, one thing is sure - you would have loved all of them growing up!
Topics: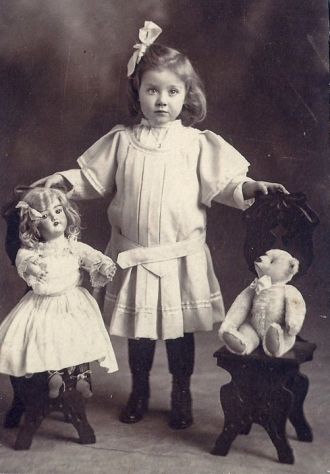 Our Beloved Friends And Playmates - Dolls!
The cat's meow
The doll and the little girl are both very stylish for 1908 - they look like they belong in the '20's.
Twin girls, twin dolls
A great 1928 tea party!
Do you remember troll dolls?
They first became a fad in the 1960's.
She takes center stage
This 1925 doll was named by the President's wife.
Native American Dolls
We'd love these doll tipis!
Three Cheyenne girls with their dolls and tipi doll houses. 1907
The doll is beautiful
But the entire tableau is perfect!
The horror!
This is a doll manufacturing plant in 1910. It looks like a massacre!
Shhh . . . they're sleeping
Yes, dolls need their nap time too.
Back to Top