What Life Was Like 100 Years Ago in 1917
In 1917 (100 years ago this year), President Woodrow Wilson was just beginning his second term in office. The United States entered World War I - the Great War (which began in Europe in 1914). The University of Oregon won the 3rd Rose Bowl and the Chicago White Sox were the world champions. The most popular names were Mary, Helen, Dorothy, John, William, and James. Electricity and indoor plumbing were luxuries and everyone who could (including the middle class), had servants. Charlie Chaplin, Mary Pickford, and Theda Bera were big movie stars (in silent films). Jazz music was becoming popular (so scandalous!). Women were still seeking the right to vote and labor and race disputes (and riots) were common, while Jeannette Rankin of Montana became the first woman in the U.S. House of Representatives (Montana had given women the right to vote in 1914). Tsar Nicholas II abdicated and Lenin and the Bolsheviks took over Russia, making it a communist country.

In other words, while technology and fashion have drastically changed, the challenges people face remain much the same. There was war, labor and racial unrest, and America began its path of "making the world safe for democracy" - in the words of President Wilson. These are the pictures of everyday life in 1917 - 100 years ago this year.
Topics: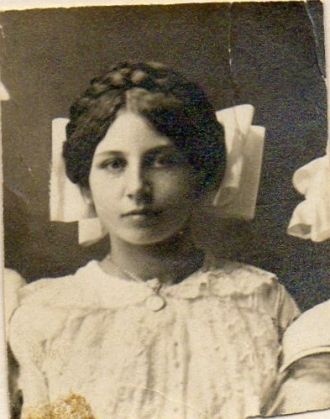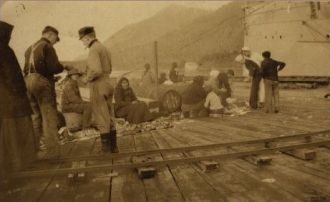 What Life Was Like 100 Years Ago in 1917
Army buddies, 1917
Beautiful baby boy, 1917
Vogue magazine, January 1917
That's Gertrude Vanderbilt Whitney, Gloria Vanderbilt's aunt - or for the younger crowd, Anderson Cooper's great aunt.
58th Infantry, 1917
Before going off to World War 1
Enid Oklahoma, 1917
Boy Scout band, Oklahoma
NYC Subway Guard, 1917
New Jersey wedding, 1917
Michigan wedding, 1917
Pennsylvania bride, 1917
Suffragette Doris Stevens
She spent 60 days in jail in 1917, protesting for the right to vote for women.
Subway worker
New York City, 1917
Red Cross burial packet, 1917
Back to Top